by
posted on June 19, 2017
Support NRA American Rifleman
DONATE
Back in 2012, software developers Bryan Haaker and Jake Wyman made the jump into firearm components design and manufacturing when they founded Tandemkross [TK]. Like many innovators in this industry, they were fed up with not being able to find the components and upgrades they wanted for their preferred rimfire platforms. Applying the same problem solving skills inherent in software design, the TK team has worked hard to resolve the shooting concerns of its customers by providing innovative solutions.

The first set of TK components I had an opportunity to work with were incorporated into a Ruger 10/22 Takedown at-home custom build earlier this year. I was impressed by the quality and performance of these parts. While researching parts for the build, I noticed that TK offers upgrades for several makes and models, including the new Ruger MK IV 22/45 Lite .22 pistol.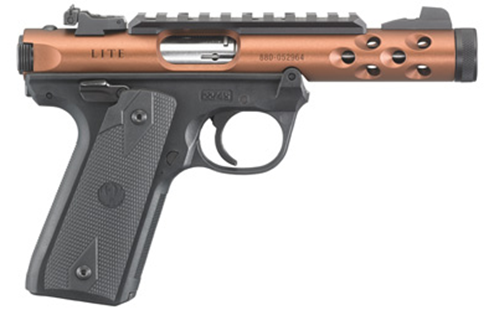 After testing the MK IV, I sent Ruger a check so that my family and I could keep it. There was nothing that really needed to be fixed with this handy little pistol. But much like the 10/22 carbine, the Mark series is easy to work on and upgrade without the need for the services of a professional gunsmith. The market is replete with cool and useful components for these guns. 
When I decided to start seriously researching upgrades for the MK IV, I started with the TK website and found there was no need to look any further. Thanks to an extensive lineup of in-house parts and 3rd-party product offerings, the company offers everything needed to dress up an MK IV with one-stop-shopping convenience.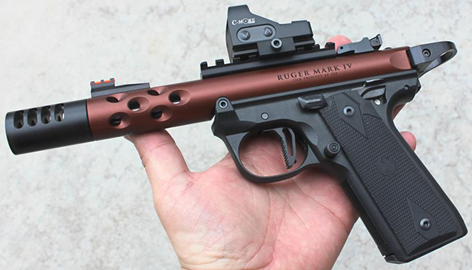 The MK IV proved to be easy to work on thanks to the new tool-less takedown system. TK provides quality instructional videos for the more challenging installations. These folks understand web design too because the videos can be accessed on the same pages that list the parts and their descriptions.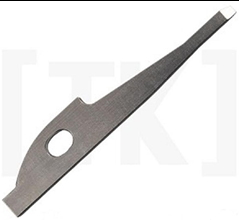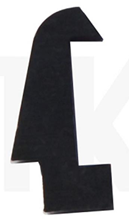 The upgrades to the MK IV began with two changes to the bolt assembly. The TK Fire Starter titanium firing pin is 40 percent lighter than steel. It's resistant to mushrooming, provides reduced lock time for improved accuracy and is non-corrosive. The lighter pin causes less deformation of the .22 cartridge case rims which can assist in more reliable extraction. The factory extractor was replaced with the hardened tool steel TK Eagle's Talon extractor. Its hooked design works to cut down on failures to eject and stove-pipe jams.
I'm a long-time fan of the Williams Gun Sight Company's fiber optic Fire Sights. These systems are clear, bright and a pleasure to work with no matter what your experience level may be. TK stocks the Williams MK IV 22/45 LITE set with a bright red fixed blade sight in front and a fully adjustable green two-dot sight at the back. The front sight is traded out by loosening a single screw. The rear sight can be removed and replaced without the need to knock the sight base out of the dovetail. Instead, removing a roll pin and an adjustment screw is all that's required.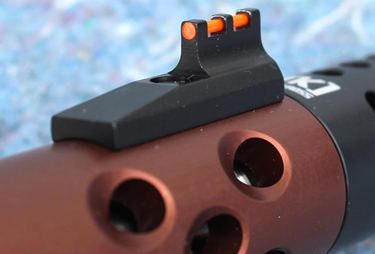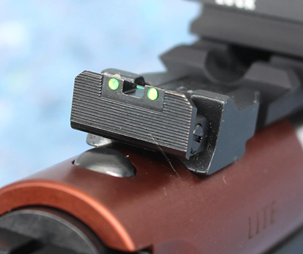 Although this version of the MK IV arrives with a sight rail, I went ahead and traded it out for the shorter, lighter TK Shadow aluminum Picatinny rail. The Shadow rail provides a deep central groove that allows the iron sights to be seen (when no optic is in place) and a relieved ejection port area to help minimize failures to eject.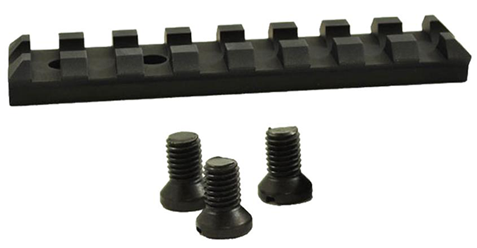 A love-it-or-leave-it feature of Ruger Mark series .22 pistols is the gripping surface of the internal bolt assembly. The grooved "ears" of the bolt must be grasped with a thumb and forefinger, slingshot style, in order to pull the bolt back to load the chamber. When the bolt locks into the open position, the left-side slide catch is too stiff to release the bolt, so it's necessary to pull it back again in order to cycle it.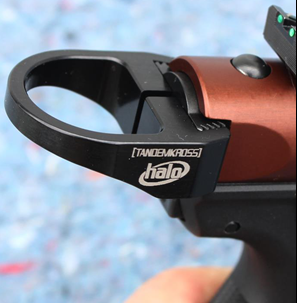 Although the bolt's operational arrangement is by no means a deal breaker, it can be challenging when the operator is in a hurry to cycle the bolt (during a competition) or if your hands are cold and wet. TK offers a handy, easy-to-install, intuitive-to-use solution with the Halo aluminum charging ring. This smooth, curved, ambidextrous pull ring snaps into place to provide added leverage for operating the bolt.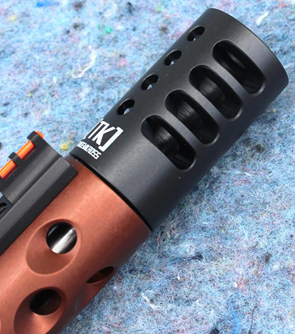 For the threaded business end of the pistol, TK offers the lightweight aluminum Game Changer compensator. With a total of 12 ports, four round ports on the top and four oblong ports on each side, this muzzle device substantially reduces muzzle rise for improved shot placement. TK's extended magazine release is 20 percent longer than the original, making it easy to find and operate by touch. It's ideal for folks with smaller hands or when a thicker grip is installed.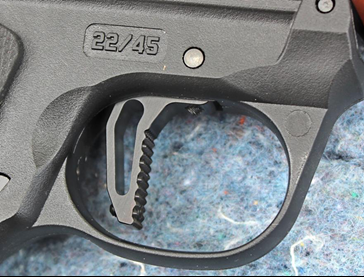 When I think of custom trigger upgrades, I usually expect to see price tags of $150 or more due to my work with AR-15 aftermarket parts. So it was something of a shock to see that the TK adjustable Victory Trigger was less than $40. The skeletonized trigger has a deeply checkered flat face designed specifically to help shooters manage their trigger-finger placement. If you feel the edges of the trigger face pressing into the index finger pad near the tip or near the joint, then you know you need to flatten the finger tip more precisely for better shot placement. This trigger has pre- and post-travel adjustment screws that allow it to be tuned to the user's preferences. I left just a hint of pre-travel in place but tuned out the over travel completely.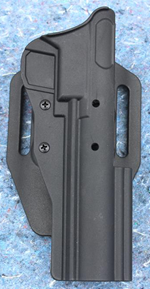 Of course a handy rimfire pistol needs a secure holster whether it's going to be carried in the field or into competion. TK stocks the Black Dog Machine Kydex Red Dot holster that fits just about every Ruger Mark series pistol ever made. Available in reversible (right or left hand) high-ride and low-ride configurations, the pistol clicked firmly into place while remaining easy to draw. This holster accepts up to 2" wide belts and has two screws that allow the retention level to be adjusted. A wide opening along the front edge of the holster leaves plenty of room for sight rails and the optics of your choice. This holster was perfectly compatible with the Williams Fire Sights upgrade and the Game Changer compensator.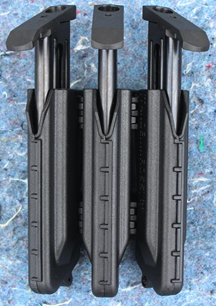 A particularly clever item in TK's catalog is the Quick Grip .22 Magazine Pouch which is sold in sets of two. These ridged Zytel polymer pouches feature molded-in belt loops and tension adjustment screws. They stand out from the accessory crowd with their interlocking design. Multiple units can snap together to form a hinged single unit that remains upright while allowing each pouch to curve around the user's belt line.
The pistol needed just one more accessory to finish it off, a high-quality red dot optic. TK now stocks three top-notch options from C-MORE Systems. I opted to go with the compact RTS2R Mini Red Dot sight that has an aluminum body and ships with a Picatinny compatible rail mount in the box. A sight like this is ideal when quick target acquisition is a must. The one MOA click adjustments make for precise height and windage settings. Two control buttons on the left side of the housing allow the six MOA red dot to be turned on and off and adjusted through 10 brightness settings.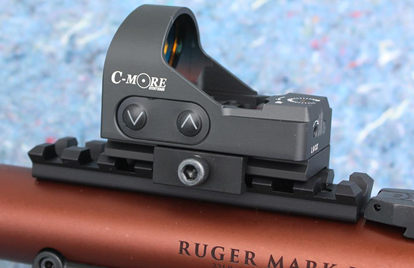 A battery tray on the right side allows the single CR2032 battery to be replaced without removing the sight from either the pistol or the rail mount. The RTS2's lenses are made of hard-coated glass for increased scratch resistance and improved light transmission. C-MORE kindly provides a snap-on polymer cover to protect the sight when not in use. I like the RTS2 when it's paired with the MK IV rimfire, so I have a sneaking suspicion that this red dot will be finding its way onto center-fire handguns and rifles as well.
Here's what the finished rig looks like.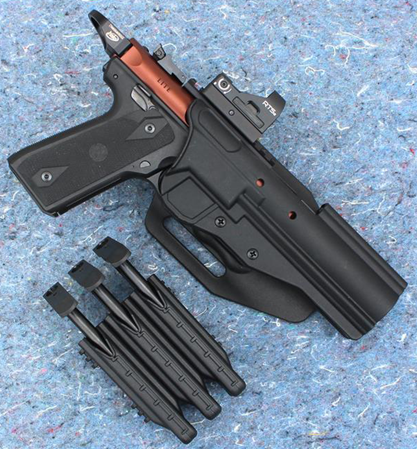 This slicked up and tricked out MK IV is ready for a day of rimfire competition, small-game hunting, teaching less-experienced enthusiasts to shoot or a casual afternoon of plinking with the family. I'm looking forward to years of enjoyable trigger time with this rig. The innovative products produced by Tandemkross are made in the USA, affordably priced and ship with a lifetime guarantee.
Upgrades Available from TandemKross [TK]:
TK Fire Starter Titanium Firing Pin (TK05N0011SSL1) $22.99
TK Eagle's Talon Extractor (1705N0012SSL1) $9.99
Williams Gun Sight Company Fiber Optic Fire Sights 71053 (0302N0089EGL1) $49.99
TK Shadow Aluminum Picatinny Rail, Black (TK05N0014BLK1) $34.99
TK Halo Aluminum Charging Ring, Black (TK24N0) $44.99
TK Game Changer Aluminum Compensator, Black (TK04N0005BLK1) $34.99
TK 22/45 Extended Magazine Release (TK02N0001SSL1) $24.99
TK MK IV Adjustable Victory Trigger (TK04N0085BLK1T) $37.99
Black Dog Machine High Ride Red Dot Holster (0404N0021HIG1) $32.99
TK Quick Grip .22 Magazine Pouches (2205N0065BLK1) $24.99 for two
C-MORE Systems RTS2R Mini Red Dot Sight with Rail (4519N0235BLK1) $418.99