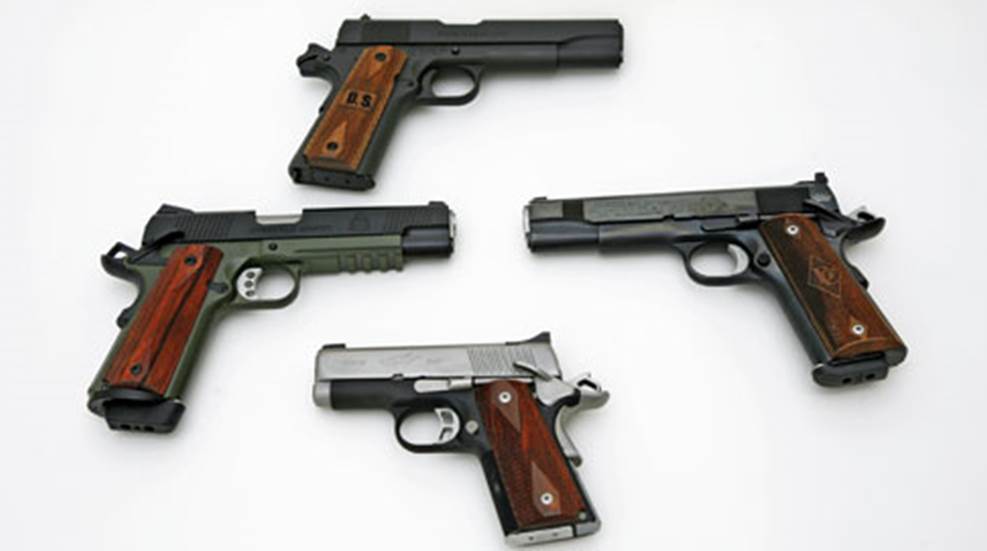 In the early 1960s, a retired Marine lieutenant colonel who taught history at the University of Southern California, along with several other gun guys began exploring what could be done with the combat pistol. Most of them drifted toward the 1911, and they held competitions near Big Bear, Calif. It was during that time that Col. Jeff Cooper developed what is now known as the Modern Technique of the Pistol.
For years the 1911 had a reputation as a hard-kicking pistol of lackluster accuracy. While somewhat true within the context of a pure military pistol—shooting one-handed with a relatively loose fitting of its parts to facilitate reliable functioning under battle conditions—Cooper found that using the off-hand to support the pistol during firing and some careful gunsmithing produced an arm that was accurate, powerful and fast to shoot. A cottage industry of pistolsmiths emerged with the primary purpose of modifying and enhancing the 1911's capabilities. Men like Armand Swenson, Arnold "Al" Capone—both, sadly, have gone to their reward—and Richard Heinie tinkered with, modified, polished, cut down and elongated the 1911 pistol to no end.
Al Capone—no relation to the notorious mobster—opened King's Gun Works in southern California in 1949. Like a lot of pistolsmiths, Capone did "accurizing" work for bullseye shooters throughout the 1950s and into the '60s. When Cooper began his work with the Modern Technique he often worked with Capone to do things like opening up the ejection port so that brass had an unimpeded access out of the gun. Another popular modification was "throating" the rear of the barrel to allow reliable feeding of hollow-point and semi-wadcutter bullets. Trigger jobs were, of course, obligatory, as were high-profile sights that could be picked up quickly in the new action sport.
Armand Swenson was famous for squared trigger guards and extended ambidextrous manual safeties on his enhanced 1911 pistols. Swenson—with the encouragement of Cooper—was one of the first pistolsmiths to "dehorn," or soften the sharp edges on a fighting pistol. The next time you pick up any pistol with checkering on the frontstrap, thank Armand Swenson. He was a fanatic about accuracy and would not let a pistol out of his shop if it didn't group into a single hole at 20 yards. Any competent pistolsmith can fit a barrel bushing to a barrel, thus minimizing movement during firing to facilitate identical shot-to-shot positioning, but Swenson took it to the next level by fabricating his barrel positioner. He would drill a hole in the left side of the ejection port at the centerline of the barrel. Then he would weld a rod in place and hand-fit it to restrain the rear of the barrel during the firing process. Today, barrels come oversized and the pistolsmith simply has to fit it in the locking recesses, but Swenson was the one who did it in the beginning some 30 years ago—and all by hand. He was also one of the first to bevel the magazine well, allowing for quicker reloads.
Richard Heinie was something of a latecomer, compared to Capone and Swenson. He opened up shop in 1973, but he hit the ground running producing some exquisite examples of the modern fighting pistol on the 1911 platform. Much of Heinie's business is now oriented toward extraordinary high-quality pistol sights, but he was one of the so-called "big three" 1911 guys of a generation ago.
Each of these men, as well as a host of other pistolsmiths, took a GI 1911 or, perhaps, a Series 70 Colt and performed his magic on them—by hand. His clients were not just competitive shooters. Law officers and military men dug deep into their pockets in order to have the very best pistol.
Today the innovations these men pioneered are available from the factory. Colt, Springfield Armory, STI and Smith & Wesson all produce enhanced 1911 pistols with all of these features. Smaller manufacturers have gotten into the market, so much so that every time I hear of another 1911 being produced I wonder when the marketplace will finally cry "Uncle!" But even though the design is 100 years old, and with competition from dozens of new designs and calibers, the market remains strong for this tenured war horse.