by
posted on July 20, 2023
Support NRA American Rifleman
DONATE
Most pistol shooters think that the 10 mm Auto round conceived by Col. Jeff Cooper was invented in 1983. However, the story goes back at least another decade. In the early '70s, an editor at Guns & Ammo magazine, Whit Collins, became greatly interested in the experiments of a wildcat cartridge by writer George C. Nonte on a .40-cal. cartridge based upon a shortened .41 Magnum case with its rim turned down to a rebated style to fit a 9 mm Luger breechface. Nonte's work began in 1965, but the complications of forming cases and turning the rimmed case into a rebated rim sort of fizzled out. Collins picked it up and determined that using a .30 Remington case shortened to 0.866" and reamed to hold a 180-grain .38-40 WCF bullet, the only .40-cal. bullet available at that time.
Col. Cooper was in on this project, having touted the idea of a 200-grain .40-cal, bullet at 1,000 f.p.s. to be an improvement on the .45 ACP in terms of both stopping power and effectiveness past 50 yards. Between barrelmaker Irv Stone of Bar-Sto Precision and John French, a master gunsmith, a Browning Hi-Power pistol was converted to the new wildcat christened the .40 G&A. The project created a bit of interest in both cartridge and pistol, but Collins wanted more velocity and, therefore, power.
Collins envisioned driving a 200-grain bullet at 1,200 f.p.s., a .40 G&A Magnum. To do that, he needed a stronger case to withstand the increased pressure needed to achieve 1,200 f.p.s.. Collins found that .224 Weatherby Magnum case shortened to the same 0.866" and reamed to accept the .4005" bullets would result in 1,200 f.p.s. using 180-grain bullets and more than 1,000 f.p.s. with 200 grainers. This became the .40 G&A Magnum cover featured in the February 1977 issue of American Rifleman.
Col. Cooper bailed out of California and founded the American Pistol Institute—now called Gunsite—near Paulden, Arizona, in 1976. He, too, had the experimental bug and coincidentally discovered the CZ-75 pistol that addressed some of the functional inequities of the M1911. Along with Collins, Stone and a few others, they hammered out the idea for a newer version of the .40 G&A Magnum. The new cartridge ditched the magnum belt and added some 0.122" to the original length for a case that is 0.992". Now they needed manufacturer and soon found FFV Norma AB—now known as Norma Precision—to manufacture the cartridge.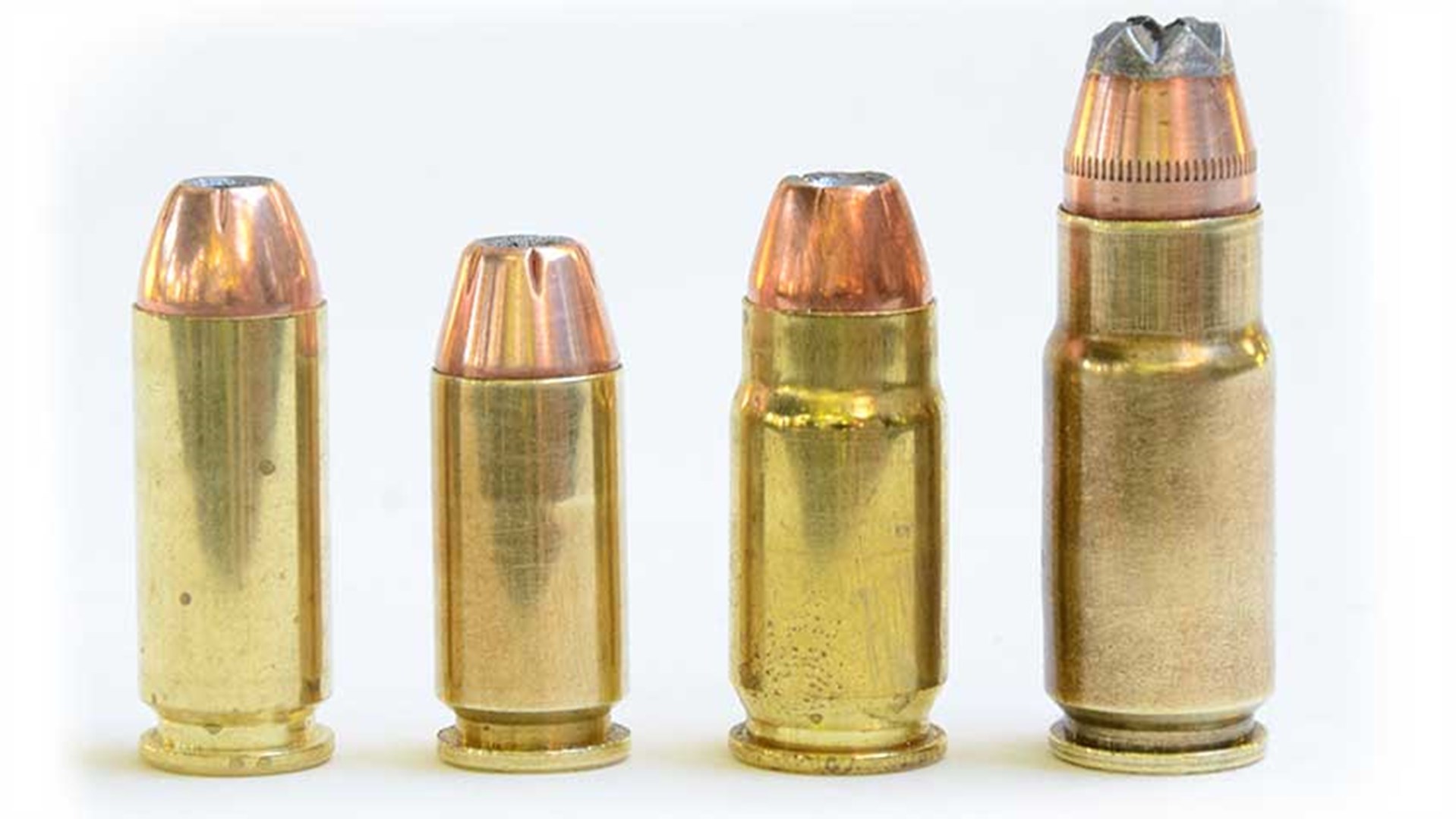 The 10 mm Auto (far l.) stands next to (l. to r.) the .40 S&W and the little-used, bottle-necked .40 Super and 10 mm Wildey Mag. cartridges.
Thomas F. Dornaus and Michael W. Dixon formed a company in 1979 to develop a new pistol that could replace the M1911. Col. Cooper was in on the project as a consultant, contributing design criteria and technical advice. Dornaus & Dixon incorporated in 1981, and a year later, it opened its manufacturing plant in Huntington Beach, Calif. The pistol that was developed was based upon the CZ-75, but it was extensively modified. Introduced in 1983 with much fanfare, the Bren Ten, as it was called, was plagued with failures. Most of the failures were cracked and broken slides caused by low-quality investment castings. The magazines were subject to failure, as well.
Part of the reason there were so many failures is that Dornaus & Dixon specified that 170- and 200-grain bullets had muzzle velocities of 1,400 and 1,300 f.p.s., respectively. This required the mean average pressure of 37,000 p.s.i. with a maximum of 44,400 p.s.i. A .44 Magnum tops out at 36,000 p.s.i., the 9 mm Luger maximum is 35,000 p.s.i., and the .45 ACP maxes out at 21,000 p.s.i., for comparison. Since their pistol was literally cracking up with these powerful loads, Dornaus & Dixon lowered the pressure of the Norma ammo, hence lower velocities.
Dornaus & Dixon only were able to get 1,500 copies of the Bren Ten out the door before a combination of lack of operating capital and a lack of manufacturing capability forced the company into bankruptcy in 1986. Things began to look dim that the 10 mm Auto cartridge would survive, but in 1987, Colt brought out its M1911 chambered for the round, calling the new pistol the Colt Delta Elite. This pistol garnered a lot of attention early on, but the Delta Elite began having its own reliability issues centered around being beat to death by the powerful cartridge. It took a redesign of the recoil springs to mitigate the pressure-caused slide velocity.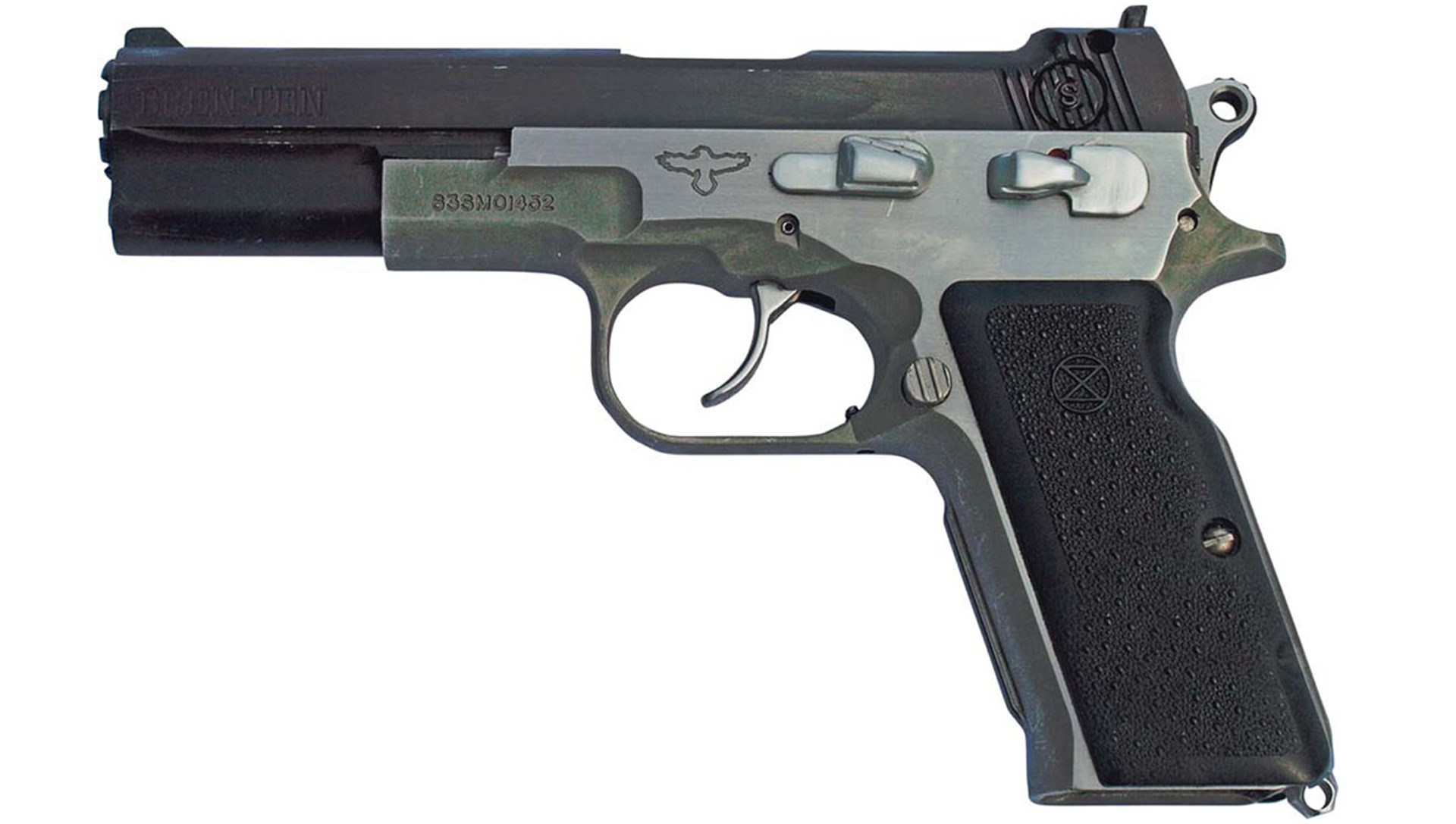 Other manufacturers jumped on the 10 mm Auto bandwagon, especially after the FBI trials were announced, having been spurred by the notorious Miami shootout in 1987. The 10 mm Auto was declared the best for law-enforcement purposes in 1989, but it needed a pistol to contain it. Colt and Smith & Wesson submitted entries, but the Colt was dead on arrival. Specs included a double-action/single-action capability and an 11+1 magazine capacity; the Colt's single-stack magazine fell short. The Smith & Wesson Model 1076 got the FBI's nod. It is a stout, stainless steel pistol without a manual safety, a bobbed hammer and a frame-mounted decocker. It, too, utilized a single-stack magazine holding nine rounds, but extended magazines holding 11 and 15 rounds were made available. Complaints of excessive recoil from agents in the field eventually led the FBI to lower the velocity with 180-grain bullets. Smith & Wesson shortened the case some 0.142" and lightened the pistol a bit, thus creating the .40 S&W round.
In 1990, Glock introduced its G20 pistol chambered in 10 mm Auto, and it has been a regular in the company's line ever since. Dan Wesson, Kimber, Para, STI and many other custom M1911 makers chamber the 10 mm Auto cartridge. EAA Corp. imports the Tanfoglio Witness made in Italy in 10 mm Auto. Even Heckler & Koch chambered its MP5 submachine gun in the cartridge. To top it off, Smith & Wesson chambered its N-frame Model 610 revolver in 10 mm Auto, adding full moon clips as part of the bargain.
Shooting the 10 mm Auto is about like shooting the .41 Mag.; the ballistics are nearly identical. This has ushered in a resurgence of interest in the pistols chambered for it often by handgun hunters. The 10 mm Auto is perfectly capable of humanely taking deer-size game out to 75 yards and perhaps a bit further if equipped with an optical sight that can hold up to the cartridge.
Despite its tattered start, the 10 mm Auto has emerged as a stalwart round for savvy law enforcement officers, especially for high-risk tactical teams. Now, it is breaking new ground in the holsters of hunters.