by
Maj. John L. Plaster, U.S. Army (Ret.)
posted on April 6, 2020
Support NRA American Rifleman
DONATE
The Canadians fitted .303 British Ross Mk III rifles with American-made 5.2X Warner & Swasey Model of 1913 Telescopic Musket Sights for use by snipers. This example is in the collection of the Canadian War Museum. 
Of all the Allied countries fighting Germany in 1914-1916, only one, Canada, included modern aborigines within its ranks. Raised in Canada's woodlands and barren north, these Chippewa, Cree, Blackfeet, Mohawk, Iroquois and Inuit grew up as hunters and trappers with an appreciation for stealth, camouflage and marksmanship—essentially snipers from birth.

In fact, all six of Canada's highest-scoring World War I snipers were of Indian heritage. "They are crack marksmen," noted Lt. Col. Samuel Donaldson, commander of the 188th (Prince Albert) Battalion, "and they are as tough a class of people as I have ever met in this country." Many would serve with distinction, but many would not make it home.
A 1916 article in the Montreal Star described Pvt. John Ballendine, a Cree warrior from Battleford, Saskatchewan, the 8th Canadian Battalion's most accomplished sniper. "[Ballendine] learned to handle a rifle at the age of ten years, and has been shooting ever since," the account says. "At the present time he carries thirty-six notches in the butt of his rifle," representing the Germans he had shot. One notch, Ballendine pointed out, was longer than the rest—a German officer, he explained.
The reporter continued: "He has a telescopic sight attached to his rifle, and goes about as he likes. He is a most silent man, hardly talking to anyone. He wanders about the trenches and waits for a chance to pick off a German. One German sniper was recently giving a lot of trouble. Officers with glasses tried in vain to locate him. The Indian came along and, without saying a word to anyone, was seen to fire at a big tree. Down fell the sniper. The Indian saw with his naked eye what the officers with their glasses failed to discover."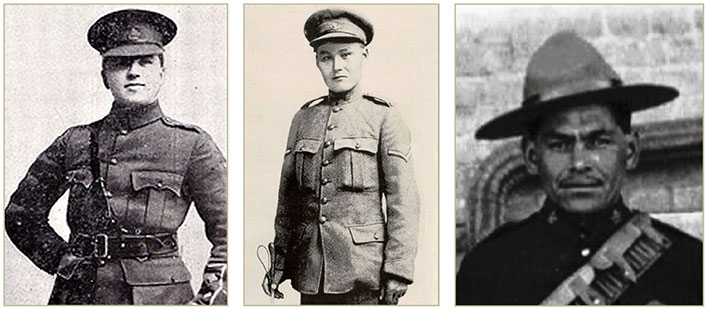 Private Phillip McDonald, a Mohawk from St. Regis, Quebec, and also an 8th Battalion sniper, had 26 notches in his stock. Eventually his rifle would display 42 notches, verifiable today at the Royal Winnipeg Rifles Museum, in Winnipeg, Manitoba, where his Ross rifle can be viewed. McDonald died in action, not by a German sniper but by an artillery shell near Messines.
Still another 8th Battalion sniper, Patrick Riel, from Port Arthur (today's Thunder Bay, Ontario), was a Métis, a Canadian of mixed European and Indian heritage. A direct descendant of Louis Riel, who'd founded Manitoba Province and led an 1885 rebellion, the former lumberjack had grown up in the wilds and learned to shoot as a youth. Riel had killed 30 Germans by Jan. 14, 1916, when incoming artillery killed him. His sniper rifle today is displayed at the Manitoba Museum of War.
Another sniper of historical note was Lt. Cameron Brant, the Mohawk great-great grandson of Chief Joseph Brant, Britain's foremost Indian ally during the American Revolution. Leading his battalion's sniper section, Brant died in a poison gas attack in 1918.
One of Canada's finest aboriginal snipers, L/Cpl. Johnson Podash, a Chippewa with the 21st Battalion, was awarded the Military Medal, "For distinguished gallantry in saving life under heavy fire and warning that the enemy was preparing to counter-attack Hill 70." The enemy assaulted 25 minutes later, only to be repulsed, thanks to L/Cpl. Podash's alarm. Later awarded the Distinguished Service Medal, Podash accounted for 88 Germans and survived the war to be a civil servant and champion of treaty rights.
An Inuit sniper with the Royal Newfoundland Regiment, L/Cpl. John Shiwak had become a crack shot hunting caribou in his native Labrador. "He said sniping was like 'swatching' [stalking] seals," a fellow soldier recalled. Captain Robert Tait considered the Inuit sniper, "An excellent scout and observer and a thoroughly reliable fellow in every way." Like Phillip McDonald, during the Battle of Cambrai, on Nov. 20, 1917, Cpl. Shiwak lost his life to an artillery shell.
Another Indian scout-sniper, Pvt. Rod Cameron, considered the finest shot in his brigade, fought with the 52nd Battalion. He, too, was killed in action.
Snipers, and brothers, Samson and Peter Comego both served with distinction in the Canadian 21st Infantry Battalion. Samson, chief of the Chippewa Alderville Reserve, served as a cook until he demonstrated his shooting skill; he was credited with killing 28 Germans before an incoming rifle grenade took his life. His brother, Peter, proved to be an equally fine shot. "When [Peter Comego] leveled his rifle's sights on a man in the enemy's trench," one account notes, "that man's life ceased to be a good insurance risk." Peter survived the war.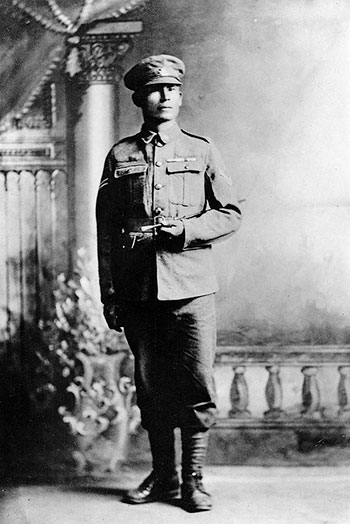 Private George Stonefish, an Iroquois from southwest Ontario, another distinguished sniper, returned to his hometown of Chatham to a city-wide celebration, "in recognition of his exceptional services."
Another distinguished Indian sniper, Cpl. Joseph Gregory, a Métis of Blackfeet heritage, fought in both World Wars. Serving with the 1st Canadian Mounted Rifles, he was wounded at Sanctuary Wood in June 1916, and two years later at Oppy Wood. Taking up a sniper rifle again, in 1939 he enlisted in the South Saskatchewan Regiment, barely a week after World War II erupted. He drew international fame for his role in the 1942 Dieppe Raid—including a feature article in Time magazine—where he killed several German snipers and was awarded the Military Medal "for his distinguished services." Seriously wounded,
Cpl. Gregory spent the rest of the war on duty in Canada.
Two Canadian Indian snipers performed such commendable World War I service that their stories demand elaboration. Henry Norwest, a Métis of Cree-French heritage, was an Alberta rodeo star and a Royal Northwest Mounted Policeman before he enlisted in 1915 at age 31. Physically tough and hardened by years as a cowboy and lawman, Norwest demonstrated such superb marksmanship that he was appointed a sniper with the 50th Canadian Infantry Battalion.

A fellow battalion veteran recalled Norwest's eyes as, "discs of polished black marble, enigmatic yet hypnotic, strangely piercing yet mellowly compassionate, deadly serious yet humorously twinkling." In France he soon established a reputation for courage and skill, picking off enemy soldiers by the dozens. Sometimes he lay motionless all day, waiting for a shot. A comrade wrote that Norwest: "Went about his work with passionate dedication and showed complete detachment from everything while he was on the line … . [Yet] we found him pleasant and kindly, quite naturally one of us, and always an inspiration."
Despite his combat prowess, Norwest proved so shy around women—"ducking" or avoiding them—that his buddies nicknamed him "Ducky." In combat, though, he never shirked from duty, and, at the 1917 Battle of Vimy Ridge, he boldly took on German forces while his unit consolidated on captured ground. His Military Medal citation noted Norwest's, "great bravery, skill and initiative in sniping the enemy" which "saved a great number of our men's lives."
There was no glory-seeking or bloodthirstiness about Norwest because, a friend explained, "he believed his special skill gave him no choice but to fulfill his indispensable mission." As his score neared 100 enemy soldiers, the keen-eyed Canadian was awarded another Military Medal, this time for his courage during the Battle of Amiens where he expertly eliminated German machine gun crews and snipers.

Then, on Aug. 18, 1918, as Norwest and his sniper teammate stalked a particularly deadly nest of German snipers near Amiens, his luck ran out: A sniper's bullet instantly took his life. He left behind a wife and two children. Norwest's official tally was 115 kills, which, according to the Canadian Archives, made him the most accomplished Commonwealth sniper in France. The King's Own Calgary Regiment Museum in Calgary, Alberta, today displays one of Henry Norwest's sniper rifles.
An equally legendary Canadian sniper was Francis Pegahmagabow—nicknamed "Peggy"—a Chippewa from Lake Huron's Perry Island Band, who joined the 1st Canadian Infantry Battalion. He landed in France in February 1915 and was in action within a month. Lean and sinewy, he demonstrated great skill at stalking and shooting as well as scouting in No Man's Land and even behind German lines.
Pegahmagabow three times was awarded the Military Medal, one of only 39 Canadians to thrice receive this award in the Great War. At Ypres in April 1915, where his battalion lost half its men during three bloody days, Peggy took a bullet through his right leg. As quickly as he healed, though, he was back in combat.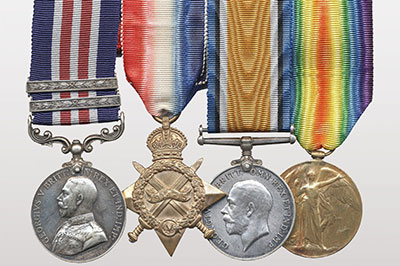 Steadily, he kept picking off enemy soldiers and countering their snipers, accumulating an ever-growing tally of kills. His scouting proved to be just as important, with his nighttime recons identifying key enemy positions, gaps between German units and threats to his own lines. The records are incomplete, but it seems his first Military Medal recognized his heroism at the 1916 Battle of Mount Sorrel, where he captured many German prisoners.

The following year, at Passchendaele, the Ojibwa sniper earned another Military Medal for providing crucial intelligence that allowed, "the success of the attack," after which he guided reinforcing units to stave off a German counter-attack. At one point exploding artillery buried him alive, but Pegahmagabow dug himself out.
The citation accompanying his third Military Medal has been lost, so we know no details—only that the young warrior fought with consistent courage throughout the war. His best shot, he once wrote, was "about nine hundred yards away, long distance sniping. Man on horseback. Yes, I got him."
It's uncertain how many Huns fell to Pegahmagabow's well-aimed shots. One estimate says 378, but documentation is thin and for lack of records, a century later it's difficult to say. But his tally must have been considerable, for, except for a short convalescence after his 1915 wound, Peggy fought to the very end of the war. His total kills likely exceeded Henry Norwest's.
After the war, like his father and grandfather, Francis Pegahmagabow served as chief of the Perry Island Ojibwa Band. Before he passed away in 1952, he was inducted into Canada's Indian Hall of Fame. In 2003, the great sniper's medals and a sniper rifle thought to have been his—valued by collectors at more than $100,000—were donated by his grandchildren to the Canadian War Museum. A humble, easy-going man who rarely spoke of his wartime exploits, Francis Pegahmagabow remains the most highly decorated Indian in Canadian history.