Support NRA American Rifleman
DONATE
America Remembers has announced the Colt "Spirt of American Freedom" Tribute pistol, issued on the classic, working, officially licensed Colt .45 stainless steel pistol with color artwork. In addition to being considered by many firearm enthusiasts to be one of the finest pistols ever made, it is also considered to be one of the most "American" of firearms. The pistol is dedicated to the American spirit, and all Americans who treasure the freedoms and liberties of our great nation.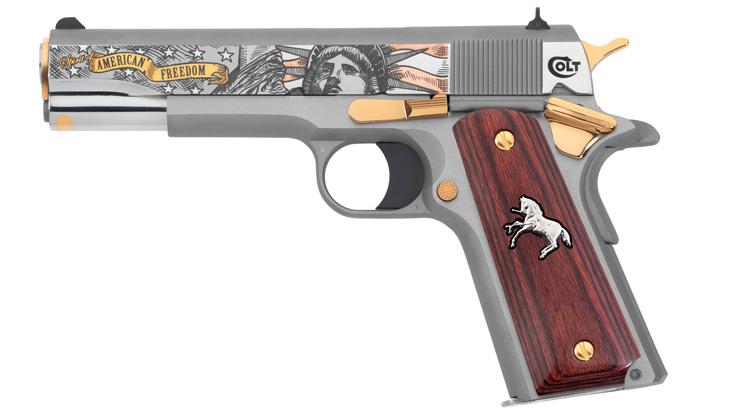 Craftsmen commissioned specifically for this project by America Remembers have decorated the Tribute with artwork featured in a multi-tone finish of 24-karat gold and copper with a matte-finish stainless steel background. As a final touch, the hammer, slide stop, magazine release, barrel bushing, thumb safety and grip screws are also finished in lustrous 24-karat gold.
The Colt "Spirit of American Freedom" pistol is issued in a limited edition of only 500 pistols. Each museum-quality Tribute is accompanied by a Certificate of Authenticity, numbered to that specific pistol. Delivery of your working Tribute is available through the licensed firearms dealer of your choice.



The left side of the slide features the Statue of Liberty. "The Lady with the Lamp" has stood as a symbol of our national freedom for over a century. Behind her flies the red and white stripes of the American flag. To the left, a banner flies across the stars of the American flag reading: Spirit of American Freedom. Both sides of the Tribute feature the official Colt logo at the breech end of the slide. Both sides feature a handsome Rampant Colt inset into the custom rosewood grips.



The right side of the slide features the words Freedom Forever over the red and white stripes of the American flag. In the center, you'll find the Declaration of Independence—expertly drawn with remarkable detail, capturing the magic of this iconic document, and stirring our hearts with American pride. To the right of that, the majestic American bald eagle is featured with a powerful countenance and proud gaze.

For more on this pistol, please visit AmericaRemembers.com.