by
posted on July 20, 2016
Support NRA American Rifleman
DONATE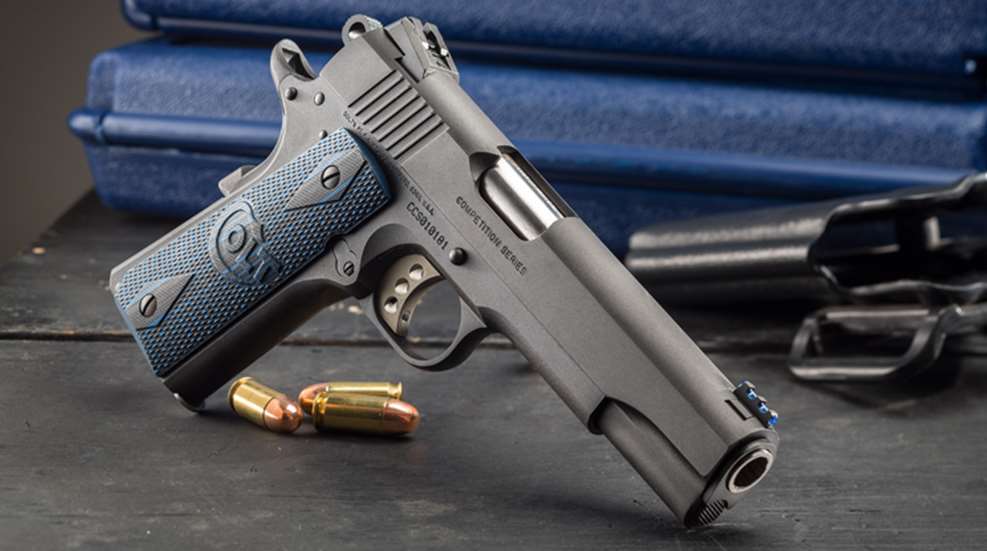 It's a fact. Americans have gone to war wearing Colts since Texas Rangers used those first Paterson revolvers in the 1830s. And it's not just the military that has chosen Colt—countless peace officers and private citizens armed themselves with handguns made in Hartford, Conn., and continue to do so, because the guns that came from that plant are unfailingly reliable. As a matter of fact, one Colt or another was the official service handgun of the United States armed services for a span of 112 consecutive years—that's an impressive credential. As most handgunners know, Colt is coming out of some severe financial problems. For a long while, the Colt catalog has been relatively thin, consisting of two major products that have kept the plant running—the AR-15-based rifle and the M1911A1 pistol. The company is exploring new products as well, but for the immediate future, it looks like those two Colts will run side-by-side deep into the 21st century. It is my happy lot to tell you about the new versions of the grand old M1911 pistol.
At a writer's seminar late in 2015 at Gunsite in Paulden, Ariz., I was introduced to some new M1911 model variations and a couple of reintroductions. Colt is aware of the number of excellent pistolsmiths that modify its M1911 pistols for various roles and would like to provide more potential buyers with guns that are closer to what they really want. I had the opportunity to fire them all in Arizona, and I came away impressed. Returned to the line was the original Commander in two versions (9 mm Luger and .45 ACP), and new models included the Colt Combat Unit Gun and Colt Rail Gun. Finally, there was a very interesting new M1911 variant called the Colt Competition Pistol. For this story, I received samples of two of the new Colts—the Commander and the Competition, both in .45 ACP.
Historians remember the Commander as the first American-made 9 mm Luger pistol. It dates to the early 1950s, when the post-World War II U.S. Army cast about for a newer, lighter and more compact service pistol chambered in the popular 9 mm Luger cartridge. To meet the military requirements, Colt shortened the slide and barrel of the M1911 by 3/4" and, along with the Cobra revolver, the Commander had a receiver made from an aluminum alloy called—no kidding—Coltalloy. They were the world's first alloy guns. While the first Commanders were 9 mms (for U.S. Ordnance evaluation), they were closely followed by .45s (for commercial sale). The Commander has been made in these chamberings, as well as .38 Super, ever since. Understand that the term "Commander" originally meant a lightweight .45. In the 1970s, a number of combat shooters lobbied Colt to build an all-steel version. Once on the market, the new shorty turned out to be unexpectedly popular as the "Combat Commander." By any name, the M1911 with 3/4" less barrel and slide, and that unusual round spur hammer, has become an icon in the realm of fighting handguns. It has 60-plus years of very active history.
The original gun has not been produced in several years, so Colt decided to offer it with the completely new variants of the M1911. It is finished in a dull blue-black color (lightly polished slide flats) and comes with several features the '50s-era handgunner could only have dreamt about. For one thing, the hard-to-find fixed sights of all service pistols of those days have been replaced by today's superb Novaks, fitted with a popular three-dot system. Instead of the smooth frontstrap of the '50s, this Commander has a panel of deep vertical serrations. I am a devoted fan of precise metal checkering, but I could get along with this grip. I also like the G10 stocks, which have the double diamond of pre-World War I days, along with the script "Colt" in the middle. There is a beavertail grip safety with bump pad, as well as a slightly extended thumb safety and long trigger.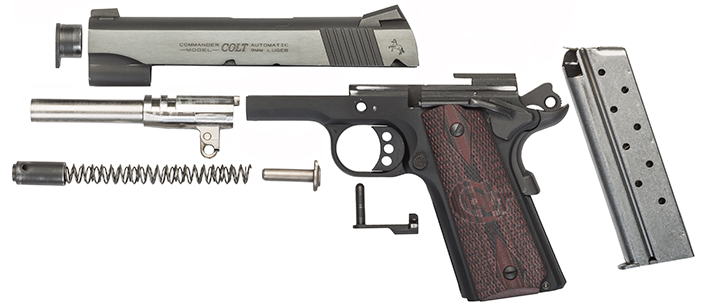 Recoil reduction was the basic cause for the company to develop a heavier gun than the original Lightweight. The new Lightweight takes a different approach to harnessing recoil, utilizing a new, factory-installed double-spring system where a second spring of lesser diameter nests inside the original recoil spring. It's just a little harder to disassemble, but no major problem. Recoil is somewhat subjective in how it is perceived; but, by my feeling, this system does have a worthwhile positive effect in making the new Lightweight Commander easier to shoot.
A question yet to be answered is what type of lockwork arrangement is used on the new-old Commander. Although not marked as such, it is the Series-80 type with spring-loaded firing pin safety. An entry-level pistol with a pony on the slide, a few upgrades and above all, premium sights, is a welcome addition to the carry-gun market.
When World War II ended and people returned to sport shooting, there was exactly one type of competition in which a match-grade M1911 was commonly used. That was NRA Outdoor Pistol, a bullseye game that ended every summer at Camp Perry, Ohio, and the National Matches. In the intervening years, we have seen many different games using the Government Model—IPSC, IDPA, Single Stack, Bowling Pins and others. There is also renewed interest in personal defense shooting with the M1911, using the same gun for defensive carry and competition. For years, shooters have taken their Colt M1911s to the nation's leading pistolsmiths for a variety of modifications.
Enter the Colt Competition, a pistol with enhancements for sport shooting at an attractive price. Made in both .45 ACP and 9 mm Luger, the Competition is a full-size, all-steel Government model with a typical Series 80 firing-pin safety. The gun has a dull black finish on the receiver and slide, the right side of which reads "Competition Series." Controls are pretty standard—long, three-hole trigger, upswept beavertail grip safety, extended thumb safety and stock magazine catch. The hammer is of a type seen on competition guns of many makes with an elongated hole in the spur.
There are several other features that really stand out. First, look at the stocks. Made of the ultra-durable G10 material, they are colored in a royal blue and black pattern that is attractively different. They're checkered in the double-diamond pattern with Colt script, and have a thumb recess aft of the magazine catch on the left side. I took one panel off and found the trademark of VZ Grips inside. They work well and look sharp. Atop the slide there is a new variation of the venerable Novak LoMount rear sight. This one is adjustable for elevation, but looks the same and has the other no-snag virtues of the Novak system. The front sight is a typical fiber-optic dot. Colored an attractive royal blue, the dot fits right in with the Colt color scheme these days. Finally, the Competition comes with a National Match barrel. As we shall presently see, it has a very positive effect.
All of my shooting was at a range in the high desert country of northern Nevada, where the air is clear and the primary background color is tan/brown. It was a wind-free day in the mid-60s—just about perfect. I ran a couple of boxes of mixed loads through each gun before I mounted the two .45s into the Ransom Rest for accuracy work. During informal shooting, I tried limp-wristing the guns as well as firing them upside-down and on their sides. This was all done in an effort to determine if they were position-sensitive. I was not able to induce a malfunction, no matter what I tried.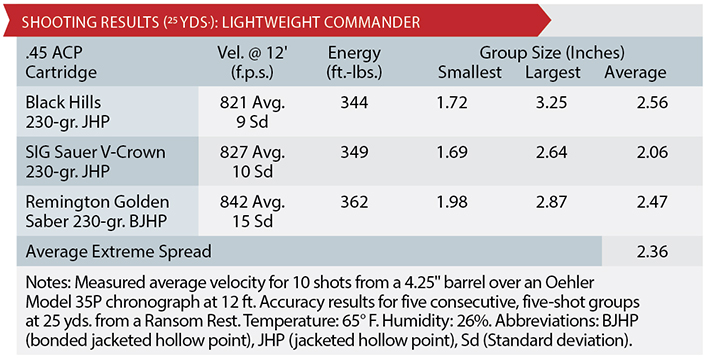 The lightweight and short M1911 is one of my favorite guns, so I was intent on seeing how this new version from Colt was going to perform. I have fired guns with multiple recoil spring systems, and this gun was as soft-shooting as anything you can get chambered for .45 ACP. Since I had another brand of pistol (of the same style) with me, I fired a pair with each, then another, etc. Judged in that fashion, I am certain there is noticeably lighter recoil with the new Colt. Many shooters have come to admire the three-dot sighting arrangement; if you like the concept at all, you are bound to like this Novak version.
Speaking of sights, let's look at the fiber-optic type used on the Competition gun. In theory, light shining through the translucent polymer rod displays as a bright blue dot. In fact, the nature of the material shows as several shades of blue. I found it to be difficult to work with, and that's about the only criticism I have about the Competition. The trigger pull is much the same as the Commander's at around 4 lbs. There is a slight amount of creep in both.
As seen in the accuracy results, the addition of a National Match barrel makes a world of difference. While the Commander's groups were slightly larger, yielding an overall average of 2.36", this is still a very good result for a purely defensive handgun.
The Commander's fighting pedigree is well-established, and I see the Competition as an entry-level .45 for several kinds of work, including personal defense. Colt wants $949 for the Lightweight Commander and $899 for the Competition, and at those prices, I consider both to be pretty good buys.