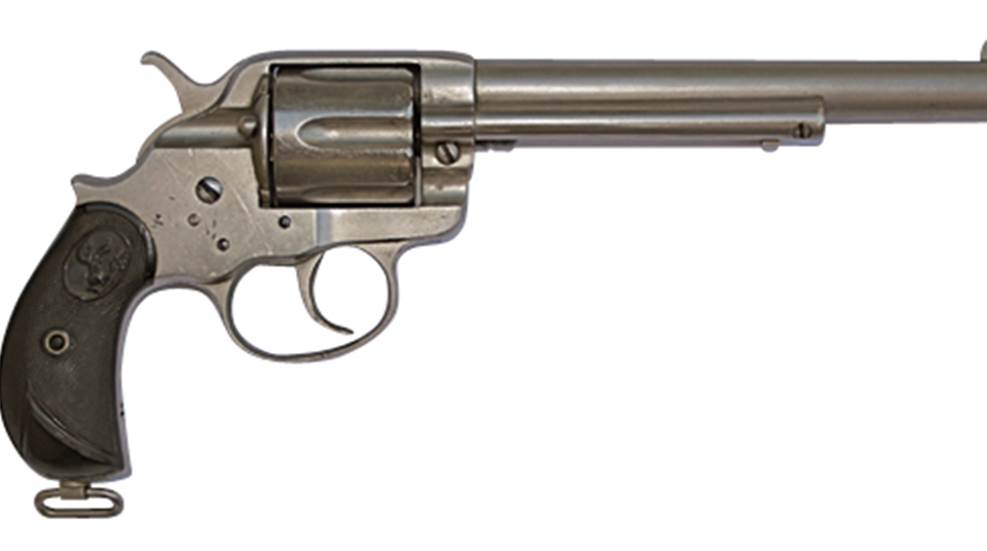 Samuel Colt died in 1862, so he never saw his cylinder guns reach their evolutionary pinnacle: the double-action revolver. In 1877, Colt came out with its first double-action, the medium-frame Lightning. The company immediately followed with the Model 1878, a big-bore, double-action brother to the Single Action Army (SAA). In fact, it was popularly called the Double Action Frontier, even though it was originally chambered only in .45 Colt. But the introductory announcement heralded the Double Action Frontier as "Colt's New Double Action, Self-Cocking, Central Fire, Army Six Shot .45 in. caliber, Revolving Pistol." For those unfamiliar with the concept, the circular explained: "It can be cocked by the thumb, if preferred, or can be cocked and fired by pulling the trigger."
The 1878 was blued with checkered walnut stocks or nickeled with gutta percha. It used the same angled ejector and 4¾", 5½" and 7½" barrels as the SAA, (plus 2½" to 12" rarities), and featured a similar, albeit flatter, loading gate. The frame incorporated the same grooved topstrap as the SAA, and some scarce flat-top models were produced as well. Also, the 1878 was chambered for most of the same cartridges as the SAA. But that is where the similarities ended.
The graceful frame and bird's head grip were one-piece, and the trigger guard was separate. The Model 1878 had a lowered and shortened hammer spur, with a circular panel on the frame's left side to provide access to the internal mechanism. To make "self cocking" effective, the mainspring was lighter than normal, which unfortunately resulted in misfires. In addition, the complex mechanism, as intricate as a pocket watch but less precise, repeatedly got out of time-a characteristic found with many 1878s encountered today. Produced until 1905-including 4,600 enlarged trigger guard "Alaskan" variations-a total of 51,210 Model 1878s were made.
The .45 Colt, 7½" Model 1878 shown here is in the early 34,000 serial number range, which puts its manufacture in 1894. It retains half its original nickel finish, which has drifted to grey. The bore and cylinder chambers are unblemished, and both its single- and double-action modes function. Unfortunately, the screws, sideplate, and cylinder pin show unskilled disassembly, and there is a small chip missing from the left stock. In its "Very Good" NRA Antique condition, it has a Blue Book value of $900, although a more realistic gun show price would be $1,250. A similar gun recently sold at auction for $1,500. Interestingly, this gun was purchased for $700 in the late 1990s, showing how much the values of these early DAs have escalated.