by
Brian C. Sheetz, Editor In Chief
posted on March 11, 2020
Support NRA American Rifleman
DONATE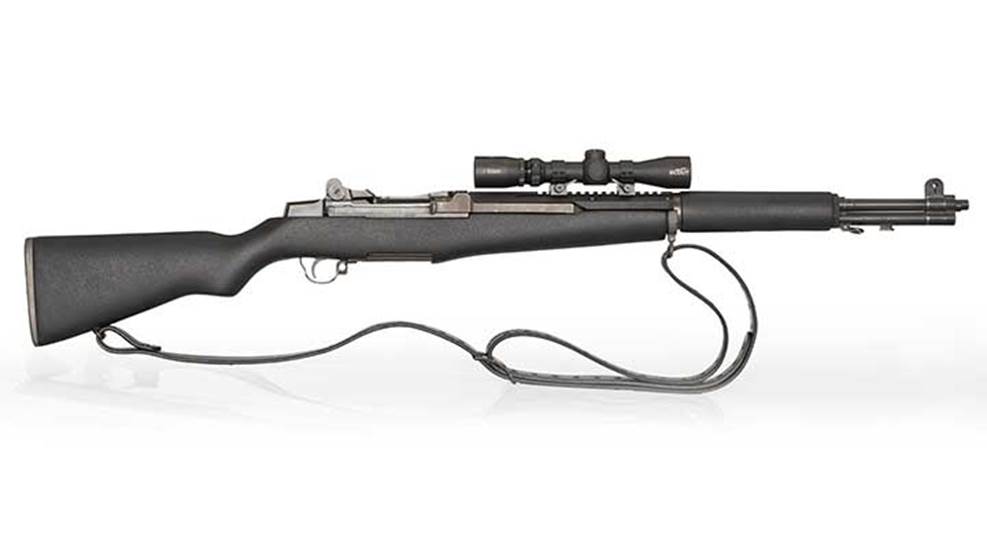 Caution: The following contains images of a modified M1 Garand rifle. While no M1s were permanently altered during the making of this project, collectors with a strong affinity for original-issue military arms may find it offensive. Reader discretion is advised.
Seriously, if the thought of modernizing the M1 Garand is anathema to you, please avoid unnecessary stress by not reading further. The goal here is not to suggest that a historically significant rifle be denigrated, rather it is to propose that John C. Garand's classic old warhorse can become, with a few judiciously chosen updates, a modern general-purpose rifle.
The M1 was made in such great quantities, nearly 5.5 million, and for such a timespan, 1934 to 1957, that re-routing a few post-Korean War examples with no particular martial history should not pose a conflict for anyone. The late-1953 Harrington & Richardson M1 featured here is a perfect example. After acquiring it, I set about to modify it using off-the-shelf components that would increase its utility while keeping its overall weight to a reasonable limit. All were "bolt-on" and did not require gunsmithing or permanent changes to the rifle. Additionally, they were accomplished using only modest skills along with a few screwdriver bits and Allen wrenches.
As is, the M1 Garand is a highly capable rifle—rugged, hard-hitting, possessed of fine sights and an excellent trigger, and traditional in appearance and format—but with a few carefully considered modifications it can be an even more effective tool for all sorts of applications. In the past, it has been knocked for being (in no particular order): difficult to scope; ammunition-sensitive; finicky to load; heavy; and burdensome to fire unsupported. With the goal of correcting those deficiencies and reconfiguring it into a more useful tool, my first change involved scoping it.

The solution was a relatively recently devised one, and it is offered by more than one maker. Best of all, it gets the shooter on target more precisely without resorting to such tricks as the offset optical axis employed in the U.S. military's M1C and M1D sniper variants. The model I chose, the M12 Forward Optic Mount ($185) by
UltiMAK
, replaces the rear handguard with a 15-slot section of Picatinny rail. The U.S.-made unit is machined of 6061-T6 aluminum and matt black anodized. It bolts directly to a standard G.I.-profile barrel with two machined 4140 steel clamps and comes with thorough installation instructions and the Allen wrenches necessary to attach it.
Once mounted, its minimalist profile positions the optical axis of a riflescope or red-dot sight low to, and directly over, the bore—in fact, co-witnessing of the iron sights is possible with the latter. I decided to go with a tried-and-true model of the former from
Burris
, the 2-7X 32 mm Scout ($429). With the company's Ballistic Plex compensating reticle, the lower half of the scope's vertical stadia line offers three short horizontal holdover references that can be calibrated to specific ranges depending on power setting and ammunition choice.
At low power, the optic serves in the both-eyes-open, snap-shooting role popularized by the scout rifle concept, and at higher power it offers excellent longer-range precision aiming nearly twice as powerful as that afforded the average World War II sniper. A set of 1" Low QRW detachable rings ($60) from
Leupold
preclude the need for an add-on cheek riser and make for quick, tool-less access to the iron sights should it be damaged.
Many modern factory loads exist for the .30-'06 Sprg. that exceed the specifications set for military ammunition originally intended for the Garand. To take advantage of some of them, and to avoid damage to the rifle, a change to the gas system is necessary. A few different concepts have been devised, usually involving modification of the gas plug. I chose the Ported Gas Plug ($40) by
Garand Gear
, an install-it-and-forget-it solution.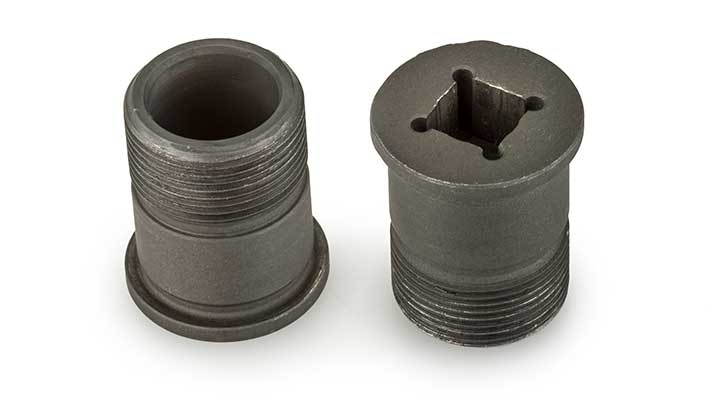 In essence, its hollowed-out base increases the gas cylinder's overall volume, thereby effectively flattening the pressure curve of propellant gases acting on the piston at the end of the operating rod. Think of it as insurance against a bent operating rod and limited license to explore a wider range of ammunition offerings. Installation simply involves turning out the original gas plug and turning in the new one, which accepts 1/4"-square socket drive bit.
As is often the case with firearm projects, scouring gunshows and online sites is sometimes the only way to acquire all of the pieces of the puzzle. Two of the items detailed here fell into that category. The first was popularized as the "Holbrook device" after the veteran who formalized its manufacture and sale—although homemade versions have existed for many years and instructions on making one can be found online.
This modified operating rod catch simply swaps out with the original but significantly changes the M1's method of operation in the following ways: A full or empty eight-round en bloc clip can be inserted into the rifle and will "click" into place, but the bolt will not close even on a slowly withdrawn thumb—thus the commercial version's "thumbsaver" moniker. Then, the first round is loaded into the chamber by pulling back the operating rod handle and letting it fly forward. Also, an empty clip locked into the rifle can be loaded with from one to seven rounds singly. Finally, the device remains in the gun, with the bolt locked back, after the last round is fired and ejects from the rifle only after the clip latch has been manually depressed.
In short, the Holbrook device makes the M1 operate more like an M1A. The second item of uncertain availability is a synthetic stock—something that, at various times, mainstream manufacturers such as
Bell & Carlson
and
Ramline
, along with a few boutique makers, have produced for the M1 Garand. But demand has apparently receded to the point that no major maker currently offers a model. Still, I was fortunate enough to find a Bell & Carlson, and its black, pebble-finished lightweight fiberglass construction has transformed my M1 into a stronger, lighter, more weather-resistant and modern-looking rifle than could ever be achieved with walnut or laminates.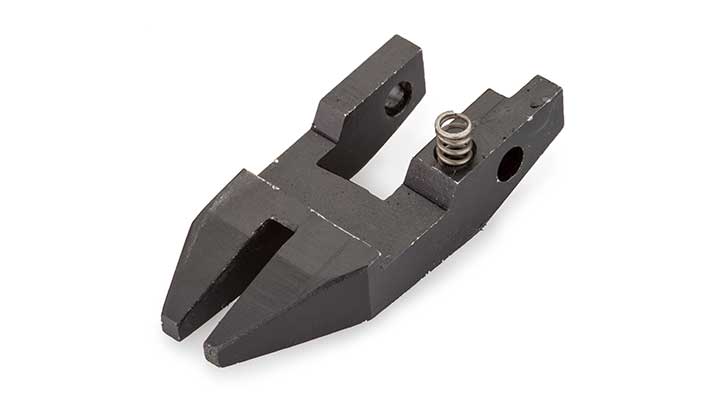 While a variety of slings are available for the Garand, most were intended either as simple carry straps or as full-on competition rigs for highpower shooting. One that strikes a balance between those roles, and that stands alone for its combination of simplicity and utilitarian elegance, is the 1¼" Rhodesian Sling ($76) by
Andy's Leather
. Made of bridle leather and featuring solid brass hardware, it is available in all-black with a Cerakoted buckle. Once adjusted, its front loop section is easily engaged by the user's support arm triceps, helping to get the rifle on target reasonably quickly and keep it there with amazing stability. It also serves well to carry the somewhat heavy M1 at the shoulder or diagonally across the back without additional adjustment.
Once all the parts were assembled, the modernized M1 Garand detailed here came in at 11 lbs. overall unloaded, which will likely shock those whose primary frame of reference is small-caliber aluminum-and-polymer modern sporting rifles. But it bears repeating that we're looking at a 24"-barreled rifle chambered in .30-'06 Sprg. that is capable of delivering a 200-gr. bullet with nearly 1,000 ft.-lbs. of energy remaining at 500 yds.
But because the rifle's mass is so well-distributed along its slender profile, and because of its smooth underbelly, carrying it, even with one hand at the side, it convenient. Indeed, the modernized M1 seems little more burdensome than the original appears to have been for millions of G.I.s. And, if anything, despite its increased capabilities, it still tends more toward "sporting" than "military" in appearance.
When it came to shooting the one profiled here off a bench using bags or from the standing position, recoil was reasonably mild—especially considering the power being sent downrange. After sighting in at 50 yds., at least one five-shot group using 175-gr.
SIG Sauer
V-Crown Elite Match Grade ammunition could be covered by a nickel.
With no worries about damaging the gun or getting "Garand thumb" while loading it, I was able to concentrate on shooting. And while replicating the exact configuration described here may be, admittedly, nigh impossible, it nonetheless serves to illustrate that the a modernized M1 Garand leverages classic strengths with updated ideas to provide the modern shooter with a rugged, capable general-purpose rifle.