Support NRA American Rifleman
DONATE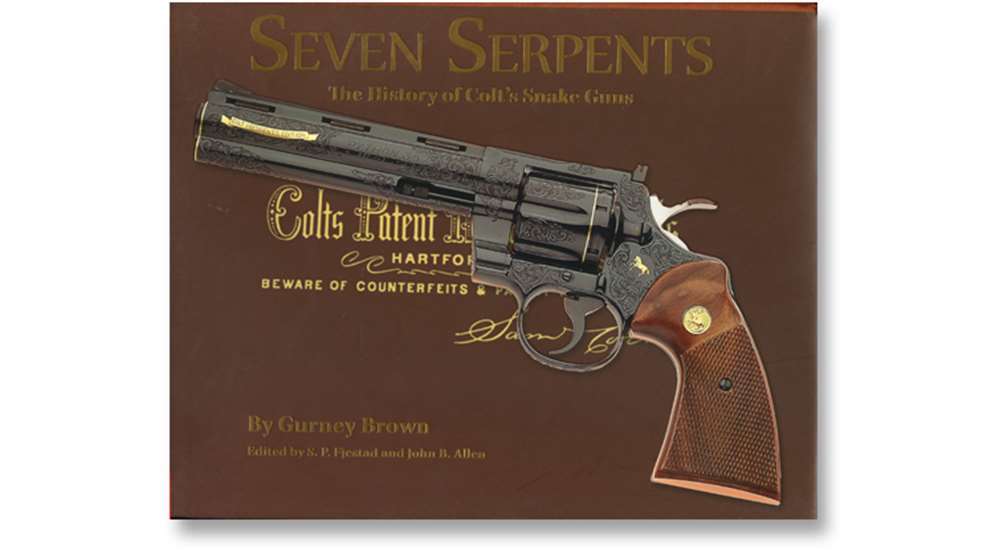 Tried to buy a Colt Python recently? In Seven Serpents—The History of Colt's Snake Guns, author Gurney Brown (of Cherry's and the Colt Collectors' Ass'n) covers seven of the hottest firearms on the market today. Although suitable for a coffee table, this is an impressive book filled with lavish, high-quality photography that also serves investors and collectors alike with detailed information on the guns, their histories, markings, features (including finishes, barrel lengths, stocks, chamberings and sights), engraved and special-editions guns, serial numbers, production figures and variations. 
Brown covers the double-action Colt Cobra, Python, Diamondback, Viper, Boa, King Cobra and Anaconda, although most of the book is devoted to the flagship Python (140 out of the 343 pages). Also included are original Colt ephemera, including price lists, dealer correspondence, manuals, hang tags, advertising and even copies of Colt factory letters. 
The Blue Book of Gun Values team also generated an innovative "Performance Spreadsheet" that tracks how the prices on these wheelguns have risen during the past 55 or so years—and how they have performed against gold, silver and other commodities. Is there such a thing as a "blue chip revolver?"
Although not inexpensive, this 9¼" by 11¼" hardbound, landscape-format book contains more than 350 high-resolution images and is the most impressive single reference work on these guns done to date. If you enjoyed Blue Book of Gun Values' Steve Fjestad's article in the September 2015 issue of American Rifleman, "Snake Venom Epidemic Paralyzes Colt Collectors," then this book belongs on your shelf—or coffee table. Price: $100. Contact: Blue Book Publications, Inc., 8009 34th Ave. S., Suite 250, Minneapolis, MN 55425; (800) 877-4867; bluebookofgunvalues.com.