by
posted on December 31, 2014
Support NRA American Rifleman
DONATE
Numbers from the FBI's 2013 Uniform Crime Report, the latest available, are staggering. A burglary took place in the United States every 16.4 seconds-1,928,465 in all. Total monetary loss was $4.5 billion, and 74 percent of all burglaries took place at a home or apartment, the majority of them in the daytime.
The most sobering statistic for gun owners comes in the average value of items taken in a burglary, $2,311-roughly the price of a single, budget-friendly AR-15 with glass and a few accessories. That figure alone proves firearm theft is more lucrative than the average heist and they carry a lot easier out the back window than big-screen TVs and sound systems.
Responsible gun owners recognize this fact and employ a variety of home-protection devices to safeguard their collections-with a safe considered the ultimate solution. Unfortunately, even that won't stop a professional criminal with enough time and the right tools.
A quality safe prevents opportunistic amateurs from gaining access, and presents the kind of barriers that make getting in dangerously slow for even knowledgeable safecrackers. The 2012 introduction of ArmaKnox AR-500 steel as on option in Fort Knox Vaults took things to an all new-nearly bulletproof-level for the homeowner, though.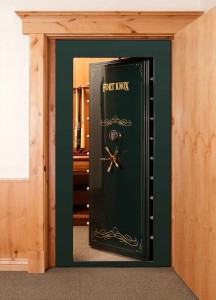 "We were looking for additional barriers to attack when it comes to safes," said Doug Tarter, marketing director of Fort Knox Vaults. "After a review of what AR500 is currently used for, as well as our own testing, we felt like this metal was a great barrier to attackers with a good dollar value."
Abrasion-resistant 500 steel (AR-500) is employed widely in the mining, construction and forestry industries because it's tough enough to survive the rigors of moving rock, hauling dirt and holding tons of trees safely on the way to the mill. It has a Brinell hardness rating of between 460 and 544, compared to mild steel's anemic 120.
How tough is AR-500? It's the steel used by MGM Targets and, assuming pistol cartridges are used exclusively, the company stands behind the material with a lifetime warranty. That's rugged use, if not downright abuse.
The ringing endorsement wasn't enough for Fort Knox Vaults, though. The company hired Oregon Ballistic Laboratories to conduct a ballistic-resistance test on a plate of the steel that goes into its safes. It survived three shots from a .44 Mag. and earned a Level 3 Ballistics Rating.
AR-500 steel isn't exactly the smoothest material, though. "The metal has a slightly rougher texture to it," Tarter explained. "In painting this surface, it does not fall within our acceptable tolerances when it comes to our high-gloss-auto finish, so we offer it as an interior option only." ArmaKnox AR-500 liners are 7 gauge (3/16-inch thick), cover all six interior sides, including the door, and are available on several vaults. Expect it to add 200 to 500 pounds to the safe, depending on size.
"In an attack situation, a second level of steel protection is a great thing," Tarter said. "Again, you are buying time. With the second lining of steel, it takes longer to breach, thus making the likelihood of a burglar attempting the second layer not likely. Take that next level to AR-500 and you have compounded the attacker's time and efforts beyond that of standard steel. At Fort Knox we want our products to outperform, not barely meet, minimum criteria. This is why we offer the AR-500, stainless steel liners as well as additional layers of 10-gauge steel liners up to 1/2-inch thick or a combination of them all."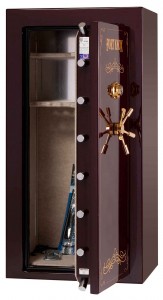 Tarter cautioned that many people lose sight of the fact a good safe is a long-term investment to protect some of life's most valuable heirlooms and possessions. Why go bargain basement when what's inside is priceless, perhaps irreplaceable, to the entire family? "The reality of today is that the word 'safe' [implies] a certain level of security…," he said. "Manufacturers have that figured out and have been exploiting it for years. A $200 'safe' at a box store is not the same as a $2,000 safe elsewhere. Consumers don't see that and don't get it. If they understood that safes are more like a commodity-like gold and silver-the more you have, the more it costs-they would be so much further ahead."
In a world where cost-cutting production methods are so commonplace we've become numb to the reduction in quality, it's refreshing to discover this Orem, Utah-based company has a different business model. You visit the website to select a safe, customize the interior, exterior paint scheme, add options, and then it's hand made just for you-in America, by the way, by people who understand the gun industry. You can also talk to a live person at (801) 224-7233.
"Most of the other manufacturers are volume producers, where they manufacture 300 a day with the same color and options, and cannot customize their products," Tarter said. "We do a smaller volume, but give the consumer the education and product to protect all of their valuables, not just think they are."
Fort Knox Vaults come with a lifetime warranty, and the company leads the way in fire protection with a proprietary blend of hydrogen-bonded fireboard anchored in the interior.  The Inferno Shield 90 maintains a temperature below 350 degrees Fahrenheit in a fire by the use of dead air space in the vault (like a thermal-pane window), heat-sensitive expanding seal, and more, earning it a fire rating of 90 minutes at 1,680 degrees. I know that's hard to believe, but here's one of the Fort Knox Vault dealers putting a safe to the test.
"On the market today there are a lot of 'misdirections' that manufacturers use," Tarter warned. "They claim lifetime warranties, but when you read the fine print…it is the consumer's home-owner's policy covering the safe, not the manufacturer. They use words like composite door, rather than defining what the composition is. Without definitions, there is no legal recourse for the consumer. If they buy a 5-inch-thick composite door….that can be five inches of cardboard, or the metals can be changed based on what was on sale that day. This type of business practice is not what Fort Knox is or does. We want the consumer to have full disclosure of what they are buying so that way if someday we run into a customer, we are not apologizing for an inferior product."
And, the quality and peace of mind greatly outweigh the prices. Do a quick Internet search and I think you'll be pleasantly surprised-I sure was. Better yet, use the Fort Knox Vault website to customize one for yourself. I prefer the Flame Red exterior paint finish, but I'm certain my wife will prefer the Champagne. If not, we still have 18 more choices.
As for the ArmaKnox AR-500 option, "Professional safecrackers and random home invasions just typically don't go together," Tarter said. "So the questions become what tools are on the site for the burglar to use, how long will you be gone and what is the prize in the safe?"
Fort Knox Vaults has been keeping American firearms and heirlooms secure from criminals and safe in fires since 1982. The company has never wavered from its mission, either, according to Tarter. "The statement that Fort Knox focuses on and has always used as our driving force is to make sure we produce products that live up to, 'The Most Trusted Name in Security.'"