posted on December 5, 2014
Support NRA American Rifleman
DONATE
I've learned a lot about shooting positions, both from my own experiences and through discussions with those of my students who have been involved in actual shootings. I've found that, whether their background is with the military or law enforcement, a pretty clear picture has emerged. Around 93 percent of such encounters occur when the shooter is in a position other than prone. That doesn't mean we shouldn't practice prone; but rather it suggests there should be some level of focus on other positions that are more likely to occur in a real-world shooting incident. To reinforce the point, many hunters and competition shooters will attest that they are often forced into non-standard shooting positions when practicing their craft. It may also be true that getting steady in a less than optimal position will require the use of support from a fence post, guard rail, parapet, corner of a building or the hood of a car.
Staying as close to the ground as possible is key to having sound positions. In other words, don't stand when you can kneel, don't kneel when you can sit, and don't sit when you can go prone.
Sitting Position
When possible, using the standard sitting position should be the goal, but understand that there may be times when you just can't get into this position, maybe because of physical limitations or your present environment. If you have a large waistline, you may need to use a slightly modified position to get stable, comfortable and be able to maintain the position as long as necessary. Likewise, body armor may eliminate the possibility of your standard sitting position. There are also terrain features that aren't suitable for shooting while sitting, for example sitting on a steep hill can feel unstable-like you are about to start rolling on down.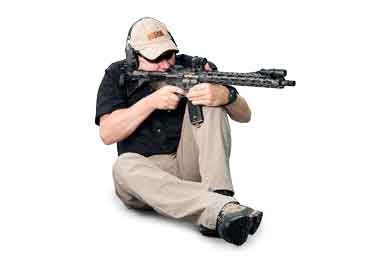 Knee Up
If you feel like the standard sitting position isn't going to work, you may want to try lifting your front leg and using your knee for support. This works very well if you are planning to shoot downhill as well. You can use this position with an AR or a standard bolt-action with very good results. This position is also very comfortable and allows the use of bone-to-muscle and, sometimes, even rifle-to-bone support-a huge plus for stability.
For a right-handed shooter, lift the left knee while trying to keep the sole of your boot on the ground. For best stability the left foot must be flat on the ground, this will also eliminate the "sewing-machine" shakes when you become fatigued. Granted, there are times when you won't be able to do this, such as when sitting on a steep hillside. I wrap my support arm around my left leg and support the rifle either tight to my leg or actually rest the magazine and pistol grip over my leg to help with recoil as well as stability.
If you are using a quick-adjust two-point sling, such as the VTAC, you can reach back and pull the free running end to further cinch down the rifle to your knee. Comfortably tight is how I employ this setup. Try to stay somewhat tight on the rifle, as that will help with follow-through for faster and more accurate fire.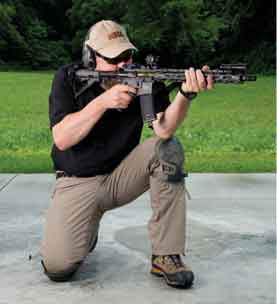 Muscle-On-Bone & Bone-On-Muscle
When you build your position it is important that there is no bone-on-bone contact. This means that your elbow should not be directly on your knee. You should drop your elbow inside the crook of your knee or lean even farther forward and drop your triceps to the front of your knee. It may be awkward trying to achieve the right position, but do what you can. Remember, lower is better.
Natural Point Of Aim
Be sure to acquire a proper natural point of aim; if you assume a shooting position and find you have to force your sights onto the target, then you are not positioned correctly. Make a few small adjustments to the orientation of your lower body, then try to get into position again. It will take some time to become proficient at simply dropping into positions that are aligned to your natural point of aim.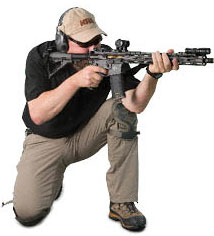 Kneeling Position
The kneeling position is extremely hard to use correctly and accurately, but it is a very frequently needed position. If you are having difficulty with it, spend a few hours on the range working on the specifics as well as accuracy and, soon, comfort, or at least confidence, will come. From the standard kneeling position I normally see shooters place their elbows on their knees, bone-on-bone. This isn't the best technique. If at all possible, try to drop your elbow to the front of your knee, triceps to knee. If that isn't comfortable you may try dropping the elbow inside your knee and rolling the magazine and magazine well of the carbine down to make contact. That should help with stability.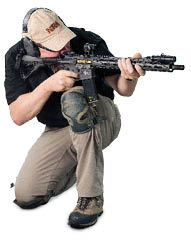 Carbine On Knee
My favorite kneeling position, which is also very non-standard, is placing the rifle on my support-side knee. It will require that you twist your body slightly or more obliquely to the target to achieve a good natural point of aim. I straddle my knee with the magazine and pistol grip of the rifle. I guarantee that it will feel weird at first, but with practice you will get used to it. You should also see increased sustainability with carbine-on-knee position, as well as less movement of your sights on target.
Don't forget to use your sling when possible to add stability. Also remember to drop your elbows; that will increase stability while offering less of a target to your threat. I, for one, do not want to get shot in the elbow.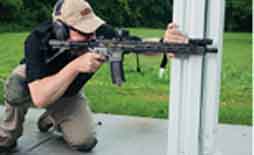 Kneeling Supported
Ideally you will have something to use for a support when getting into the kneeling position. You may even be lucky enough to have a material that serves as cover, not just concealment, which would be even better.
Contrary to what is being taught in many circles, I prefer to lift my firing-side leg so as to use the knee for support of the firing-side elbow. If executed correctly you will be exponentially more stable and not expose any more of your body than you would with other techniques.
If your cover or concealment is lower to the ground, you can even go as far as dropping the elbow and triceps in front of the knee; putting pressure between the knee and triceps will add increased stability to the position while allowing you to get even lower to the ground.
You won't get comfortable with these positions without dry-fire and live-fire training. Add this to your range time and you will quickly see improvements in all of your shooting, not just positional work.
Check out the author's recommendations for accessories that will elevate your AR's performance to a new level.