posted on December 5, 2014
Support NRA American Rifleman
DONATE
Now that we are training in a few new shooting positions, it's worth taking a look at a few of your rifle's components that can greatly enhance functionality. As you become more and more aware of the great performance of the AR you will also start to appreciate the modularity of the system. There are hundreds, if not thousands, of accessories that are available to create the customized AR. I try to keep things simple because gadgets, generally speaking, don't really enhance the performance of your rifle. Instead, I want to detail the four minimal changes I would make to a factory carbine to get its performance elevated to a new level.
Free-Float Tube
All things being equal, the easiest way to improve performance (accuracy-wise) is with the installation of a free-float tube system. What does that do? It allows the barrel to be free from disturbances throughout the firing sequence, which in turn leads to better accuracy and repeatability. Having a free-float rail system also gives you the extra space in most cases to hang extra accessories-vertical grip, backup iron sights, a light, sling attachments-or whatever else an AR owner might need. Some systems do require gunsmith installation but there are also several out there that don't. I use a VTAC/Troy Alpha Rail on most of my carbines, as I helped to design the system with features that I know will work. The stock barrel nut can be used, and it is a simple matter of attaching and tightening three clips and screws. There is also not a plethora of rail; we have removed all of the excess except on the top of the tube while replacing the normal rail areas with slots that allow you to attach rails where you want them, when you want them.
A free-float rail may not fulfill all of your precision-related needs, but if you have a good barrel it will definitely improve accuracy-especially if you are resting your carbine against obstacles for support.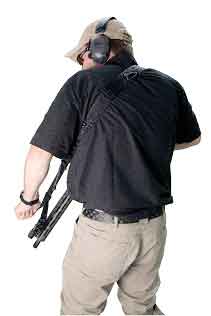 Sling
A general-purpose AR just isn't complete without a sling. If you plan to carry the rifle or stabilize it while shooting, you must have a sling. I use a quick-adjust, two-point type, the VTAC sling. It allows the user to carry the carbine muzzle down as well as quickly cinch the rifle tight to his chest or loosen it for shooting or transitioning. The sling can be slightly tightened while building a shooting position to greatly increase stability. If you choose to use a single-point or three-point sling you will lose the ability to also have the built-in shooting aid. The single-point lets the rifle dangle, merely there in case you have to transition to your sidearm. I find that less-secure configuration may also allow it to crack you in the family jewels or on the knees, depending on the adjustment.
Sighting Systems
Perhaps the most controversial equipment choice for an AR shooter is the optic that will top the gun. I for one shoot much better with a red-dot sight or low-powered optic on the rifle. I like to have backup iron sights for emergencies, but I mostly focus on the optic.
If you choose a red dot I would recommend a co-witnessed setup, meaning that if you flip up your sights you will be able to put the dot on the front sight with the rear sight aligned. I prefer this to the "lower third" setup that some manufacturers push. The best guidance I can give you in choosing optics is the old addage "you get what you pay for." My top choices would be the EO-Tech XPS and the Aimpoint Micro T-1. Both are fine sights, the XPS has a larger screen to look through and uses a CR-123 battery, the Aimpoint uses a CR-2032 battery and offers long run time without the need for a change.
If you have visual impairments or want an optic that helps when shooting at extended range, a low-power, magnified optic will be good for you. There are many to choose from, but high on my list is the Leupold VX-6 1-6X and the Trijicon ACOG. Both sights are very rugged, the ACOG has served with the U.S. military for many years during the global war on terror. The Leupold VX-6 has the added benefit of dialing from 1X for close range to 6X for extended ranges-this is a nice feature.
Don't be fooled into thinking you must have an optic either. If this rifle will be thrown in your vehicle for long periods of time or set to the side for emergency use, iron sights may be your perfect setup.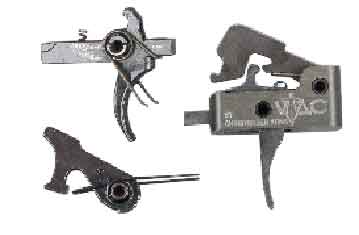 Trigger
Stock AR triggers normally leave a lot to be desired, they are usually very safe but have a very heavy pull weight. I prefer to have a trigger that is close to my pistols' trigger pull weights, which normally hover between 3 lbs., 8 ozs. and 4 lbs., 8 ozs. That gives me a safe trigger even when wearing gloves, which I wear most of the time when I am conducting classes as well as when I am running the AR hard and fast.
When you decide to choose a trigger, you better hang onto your hat because there are literally hundreds of them on the market. First you should decide if you prefer a  single-stage or a two-stage system.
Single-Stage
A single-stage trigger should break without an overabundance of movement. In other words, you will start feeling the weight of the trigger as soon as you apply pressure. I personally prefer a single-stage trigger on a .223 Rem./5.56x45 mm AR. In my opinion, that type of trigger allows for quicker shooting than a two-stage. I like the fact that when the trigger resets it also stops right there, no additional movement.
Two-Stage
A two-stage trigger has two distinct phases of the trigger pull sequence. The first is just the takeup of the trigger, loading with just the weight required to get the trigger to stop at the second stage. It is normally very light, just enough to let you know you are touching the trigger. As you hit the second stage, you will feel extra weight and have to add pressure to get the trigger to break. Two-stage triggers work well on rifles that you are trying to get superb accuracy from as well as rifles or carbines that are precision-type guns. I like a two-stage trigger in my .30-cal. ARs but they are a little too slow for me when shooting fast.
Because there are so many triggers available, it is important to ensure that your safety functions properly after installing one. Some triggers allow you to place the carbine on safe with the firing pin forward-if this is the case you have a problem.
There are also modular triggers on the market that can be dropped into the rifle as one tuned module, not separate parts. They are great for ease of installation. Nonetheless, even if you don't use a modular system, a basic understanding of the AR's fire control should enable you to install most aftermarket triggers.
I have come to prefer triggers that do not have built-in adjustment mechanisms. If I do use one that has adjustment screws, it usually bites me when I get too much solvent on the fire control group. Once the cleaning solvent dissolves the Loctite used to secure the adjustment screws, the trigger is out of whack, which is definitely not good. Not only could this affect the trigger's pull weight, it may even stop working altogether-a very unsafe situation.
These basic positions and rifle components will get you headed in the right direction. There's no need to go overboard and buy everything you see on the web. Start simple and see what works for you. Get on the range and work with what you have. You will soon see what is really needed to make your carbine and skill set more effective.