by
John Zent, Editor Emeritus
posted on August 30, 2016
Support NRA American Rifleman
DONATE
Within the next two to three weeks, Crimson Trace's much-anticipated LiNQ laser-sight/LED weaponlight for AR-style rifles will come on sale at dealers. While laser sights have previously been installed on ARs in various ways, the LiNQ is a unique wireless system that relies on radio frequency (RF) to sync separate grip and fore-end components. The idea is to give AR shooters the same user experience that has made Crimson Trace lasergrips a game-changer in the personal-protection handgun arena, notably the instinctive activation that results in beam-on the instant the shooter's hand finds its natural grip. 



Last week I visited the Crimson Trace plant in Oregon, saw the LiNQ in production, briefly took a spot on the assembly line (more on this below) and then got to shoot the LiNQ and few other new CT products in the company's on-site, state-of-the-art test range.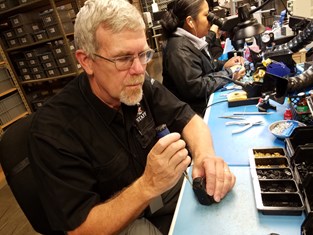 Production manager factory turned out to be smaller than I expected, and based on the real-time tally boards tracking the day's workflow, productivity is off the charts. The workforce there, particularly in the assembly shop, is both highly skilled and highly trained. Much of their work requires the painstaking installation of tiny components into very tight confines, often involving the precise application of a single drop of solder.
And so it was kind of a joke when a guy whose fine motor skills are taxed tapping a keyboard joined virtual artisans on line 22 and line 18 to help make his very own LiNQ. It sure made me appreciate their focus and steady hands. Under the watchful supervision of group leader Thong Nguyen, I epoxied and then measured the fore-end module's LED unit, then later seated the RF transmitter and screwed it down inside the grip. Finally Thong showed me how to "pair" the two components electronically so that they work as one. Though my efforts temporarily derailed the lines' productivity, my co-workers were all very nice and perhaps a bit amused.
Not only did I see just what an intricate job it is to build such compact electronic devices, but I came away impressed at how intent these folks are on quality. Every last Crimson Trace laser unit is calibrated in state-of-the-art optical-test instrumentation right there on the line where it was built, then for extra assurance, 10 percent of each run is re-tested. Not satisfied with that, the LiNQ was subjected to ugly torture trials: extensive drop testing that broke other furniture on the gun and left the LiNQ components dented and scarred; submersion of the grip in water; and heated-treating to 140 degrees—all that, and the LiNQ wouldn't quit.  
By comparison it wasn't such an exacting test when we made our way to the range and I got to shoot the LiNQ for the first time, but it sure felt right and made me think. As I dumped the first magazine's 9 mm rounds into a 7-yard target, a ragged, baseball-sized hole took shape. To the extent possible, I was not aiming deliberately, but instead trying to act in a threat-response mindset, firing as quickly as I could while keeping the green laser in the hit zone. It required concentration, but perhaps a different sort of sight-picture/trigger squeeze coordination than occurs when one is shooting for ultimate precision. My experience reinforced what I learned some years back upon my initial intro to Crimson Trace lasergrips, namely, this sight gives me an intuitive shortcut. On close-in targets, at least, I can run the gun—pistols and now rifles—faster, without sacrificing practical accuracy.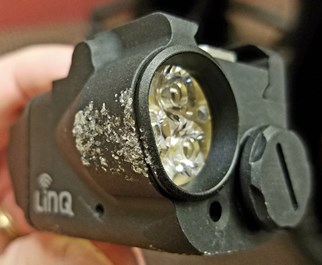 And it doesn't stop there, because, at the press of the finger on the grip's ambidextrous Mode button, the LiNQ also zaps the dark with a long-lived 300-lumen LED. That versatility in a single unit could prove valuable indeed in a crisis.
Recently there's been heated discussion comparing the virtues of rifles and pistols for self- and home-defense, and plenty of experts advocate for the former, at least as part of a home-defense battery. If an AR is part of your personal defense plan, the Crimson Trace LiNQ could make it even better.