by
posted on April 25, 2018
Support NRA American Rifleman
DONATE
At the NRA Annual Meeting & Exhibits in Dallas, American Rifleman will host six Special Presentations, with Maj. John L. Plaster headlining with "Snipers In World War II." Field Editor Martin K.A. Morgan will present "The Guns Of Vietnam," "Inside The Civilian Marksmanship Program" and "The Long Shadow Of John Garand." Donna Worthy and Casey Jackson—a mother/daughter team who run a successful gun shop—will present "Women And The Gun Buying Experience." Mark Keefe will deliver "NRA, American Rifleman and the M1 Garand Rifle." The two-hour presentations are free to NRA members. The schedule is as follows:

"The Guns Of Vietnam"
Friday, May 4, 2018: 11 a.m. to 1 p.m.
KBHCC, Room D167 & 174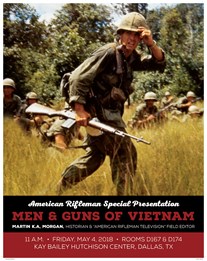 This presentation from Martin K.A. Morgan covers the evolution of firearms from the start of the Advisory Period and the subsequent Americanization of the conflict all the way through to the Tet Offensive, the Cambodian Incursion, the Vietnamization of the conflict, the U.S. withdrawal in 1973 and the eventual Fall of Saigon and the evacuation of the Embassy during Operation Frequent Wind.  

"The Long Shadow Of John Garand"
Saturday, May 5, 2018: 11 a.m. to 1 p.m. 
KBHCC, Room D167 & 174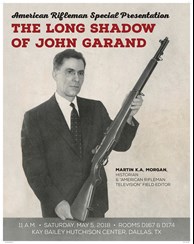 "The greatest battle implement ever devised"—the M1 rifle—made a dramatic contribution to victory during the Second World War and it went on from there to arm U.S fighting forces in Korea. For another decade beyond that, the M1 served the U.S. military albeit in a diminishing role. But just because more modern designs would eventually take its place does not mean that the Garand era was over. This presentation with Martin K.A. Morgan describes the other users of the M1 rifle, the subsequent designs that it inspired, and the ways that its longevity has reached across the decades all the way to the present.

"Snipers In World War II"
Saturday, May 5, 2018: 1:30 p.m. to 3:30 p.m.
KBHCC, Room C140 & 142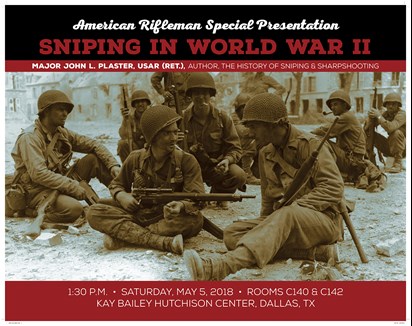 When it comes to sniping, Major John L. Plaster, USAR (Ret.), is an authority not only on the modern, practical side—he is the author of the Ultimate Sniper after all—but he is also the top author and historian when it comes to the history of snipers and the equipment they used. In this presentation, Major Plaster will discuss and show imagery of the snipers, their tactics and their equipment from World War II. He will cover both Allied and Axis armament, training and tactics of snipers in the Pacific and European Theaters of Operations. When it comes to the war in Europe, he will cover both the Eastern Front as well as snipers in France and Italy.

"Women And The Gun Buying Experience"
Saturday, May 5, 2018: 2 p.m. to 3:30 p.m. 
KBHCC, Room D163 & 165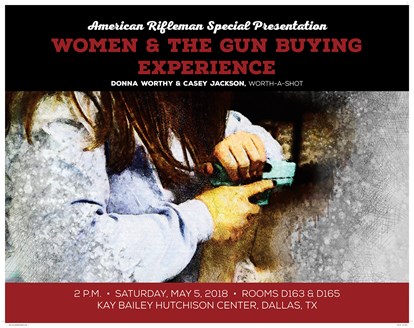 Were you turned off by your last gun-buying experience? Patronized or ignored? Were you talked into a handgun you dislike—and now it sits idle in your nightstand? This mother/daughter team—gun store owners— will arm you with the valuable information and questions you need to ask so you can walk out having purchased the right gun. Not just for ladies, anyone who wants to learn about women and firearms is welcome to attend. 

"Inside The Civilian Marksmanship Program"
Sunday, May 6, 2018: 11 a.m. to 1 p.m. 
KBHCC, Room: C141, 143 & 149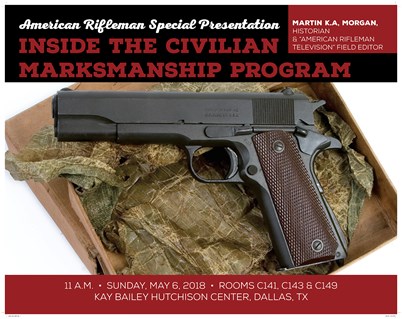 For over a century now, a program that was established by Theodore Roosevelt's presidential administration has promoted the development of marksmanship skills for civilians. This presentation from Martin K.A. Morgan discusses the history of the DCM/CMP, and describes the ways that the program continues to fulfill its mission in the 21st Century.

"NRA, American Rifleman and the M1 Garand Rifle"
Sunday, May 6, 2018: 1:30 p.m. to 3:30 p.m. 
KBHCC, Room 141, 143 & 149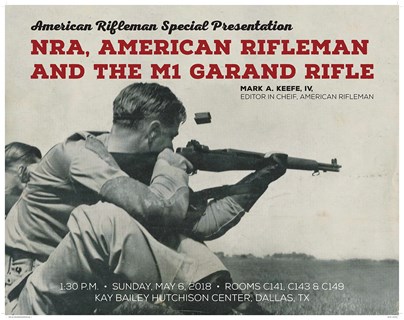 The "U.S. Semi-Automatic Rifle, Caliber .30, M1" was a remarkable achievement. It was the first general issue semi-auto rifle of any nation. But the rifle that went to war in 1941 wasn't the rifle the U.S. Army adopted 1936. And it was a rifle that the Army did not want the NRA to evaluate. What were they hiding? From adoption until the start of World War II, the U.S. Army and the National Rifle Association were at odds over the M1 rifle. Did NRA hate the M1 rifle? Why would the United States Army not talk to the NRA? These are questions that will be answered by American Rifleman Editor-in-Chief Mark Keefe in a presentation that addresses biggest rift between the NRA and the Army Ordnance Department.