by
posted on July 24, 2018
Support NRA American Rifleman
DONATE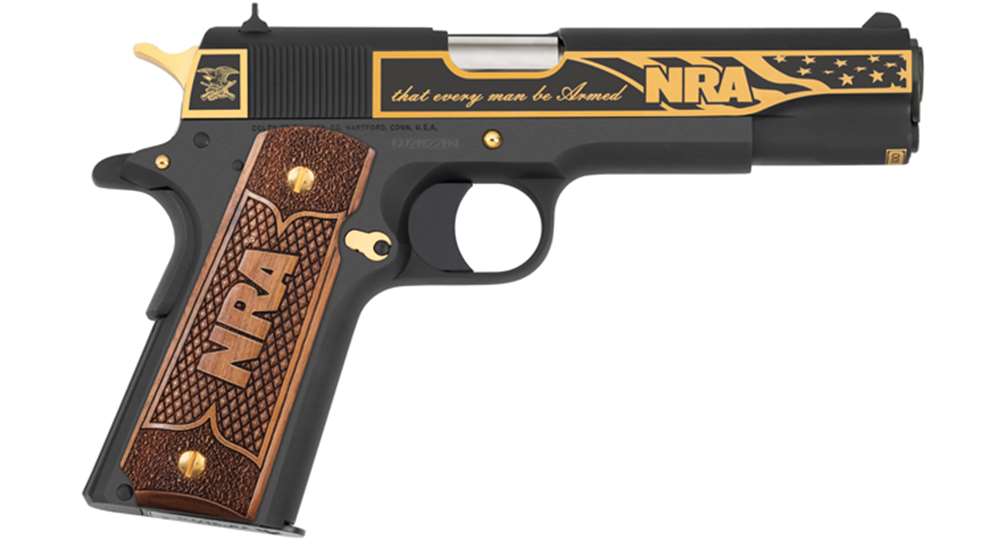 For nearly 150 years, The National Rifle Association has served as America's first line of defense in preserving the heritage of the Founding Fathers. Now America Remembers has announced it is honoring the NRA's tireless and patriotic commitment to protect Second Amendment rights with the NRA Right to Bear Arms Tribute Pistol. The Tribute is issued on a Colt Government Model .45—a classic and storied American sidearm.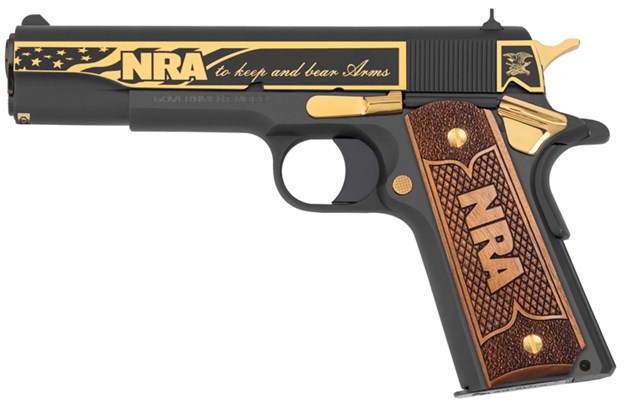 Both sides of the pistol feature elegant 24-karat gold decorated artwork and banners, including "NRA" set against a backdrop of stars and stripes with "to keep and bear Arms" in elegant script on the left and "that every man be Armed" on the right. Also proudly displayed at the breech of the slide is the familiar American bald eagle with its wings and talons extended atop a pair of crossed rifles and a shield adorned with the stars and stripes from the seal of the NRA.
The Tribute features custom grips of stippled walnut, with the NRA boldly featured. As a final touch of elegance, the grip screws, slide stop, hammer, safety lock and magazine catch are polished and decorated in 24-karat gold.

The National Rifle Association was established by Civil War veterans, and today is comprised of nearly six million avid members who share a common bond—an appreciation of firearms, a commitment to safety and responsibility, and a belief in the constitutional right to keep and bear arms. Like the NRA, the classic Colt Government Model .45 has a long history of defending America's freedom. Designed by legendary gunmaker John Moses Browning, the Colt .45 was the official sidearm of American military officers for more than three-quarters of a century, and the pistol saw action in the major military campaigns from World War I through the Vietnam War, and continues in use today in the military. Born for a combat role, the Colt .45 was utterly reliable, virtually indestructible and awesome in its stopping power. Today, more than a century after its introduction, the Colt .45 remains a favorite among firearm and military enthusiasts and collectors the world over.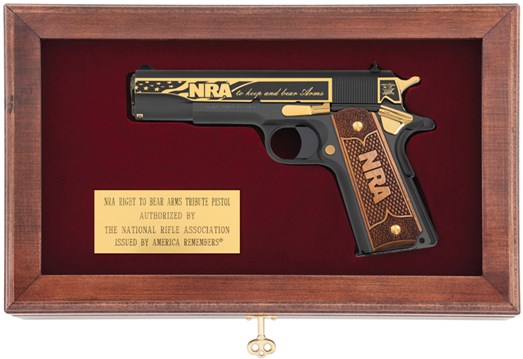 An optional custom-built, wooden display case is available for purchase.
The NRA Right to Bear Arms Tribute Pistol is issued exclusively by America Remembers and authorized by the National Rifle Association in an exclusive edition of only 500 Tribute pistols. America Remembers will arrange delivery of the working Tribute through a licensed firearm dealer of the buyer's choice. For more, visit America Remembers.