Support NRA American Rifleman
DONATE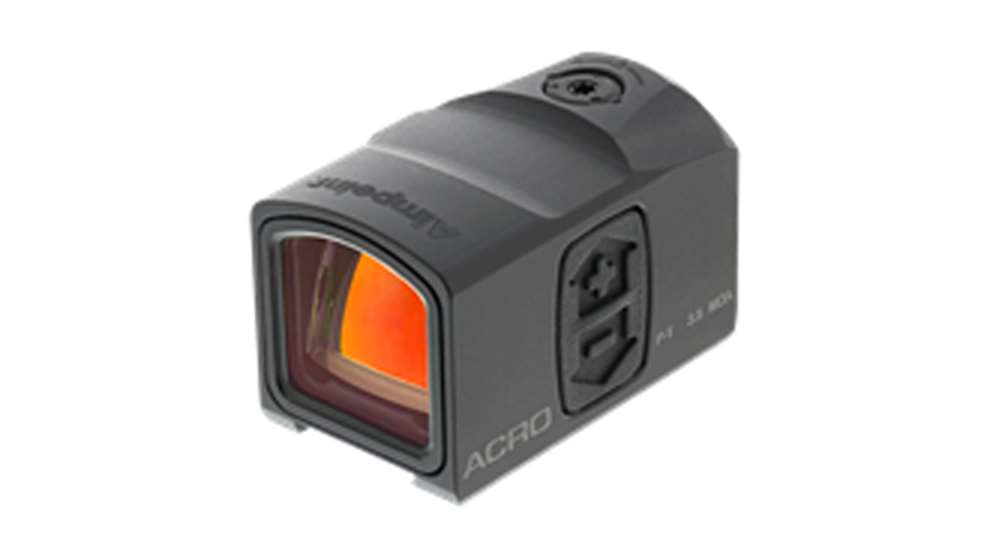 In response to shooters' requests for a small, enclosed red-dot sight for handguns, Aimpoint has introduced a new line of red-dot sights, the ACRO (Advanced Compact Reflex Optic) Series.
Utilizing Aimpoint's advanced sight technology, the sight is the first of its kind on the market. The Acro P-1 offers an enclosed system, which is considered more durable than those with open systems. It is also the only sight in its size category fully tested for shock, vibration, temperature span and other environmental stress.
The Acro P-1 optic adds negligible size and weight to the equipment, and has been successfully tested with a minimum of 20,000 rounds on a .40-cal pistol slide.
Designed for direct integration onto pistol slides, the Acro P-1 can also be used as a backup sight for magnifying scopes, personal-defense weapons, and on any system where a small red dot is applicable.
The Acro P-1 sight is a 1X (non-magnifying) parallax-free optic that features a 3.5 minute of angle (MOA) red dot for fast target acquisition. It is fully submersible to 25 meters and allows continuous operation for more than one year on a single CR1225 battery. Dot intensity is adjusted with side push buttons.
"The development of the Acro P-1 sight sets a new standard for compact pistol mounted reflex optics," said Aimpoint AB President Lennart Ljungfelt. "The commitment we make to our customers is to develop the highest performing red-dot sights available."

For more, visit Aimpoint.com.