by
posted on May 15, 2013
Support NRA American Rifleman
DONATE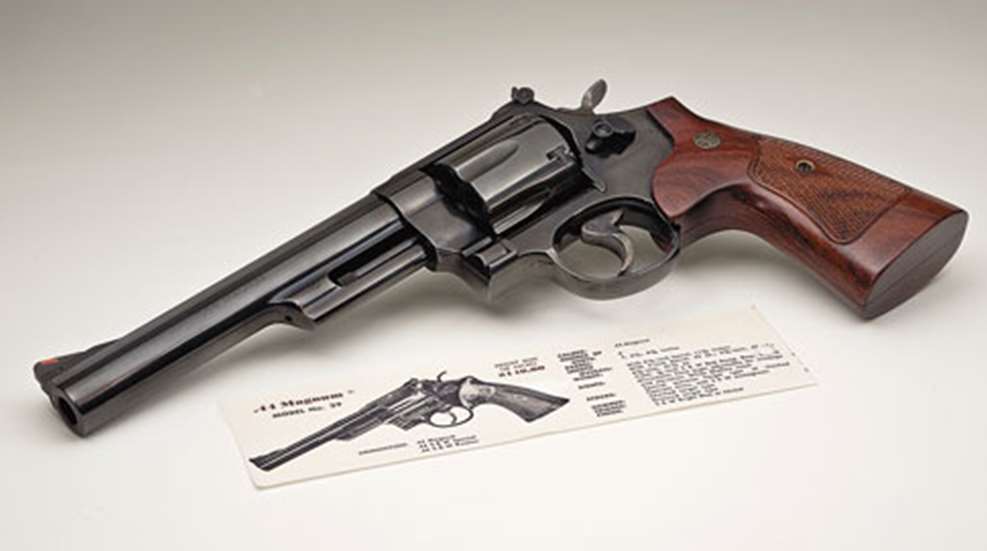 Back in the 1950s, a stumpy, vociferous and opinionated cowboy from Salmon, Idaho, was once again stirring the pot of arms and ammunition manufacturers. For decades Elmer Keith had been touting powerful revolvers for lawmen and outdoorsmen. It was Keith, along with Phil Sharpe and Doug Wesson, who developed the .357 Mag. in 1935. Keith's strategy was simple: Take a heavy-for-caliber cast bullet-often of his own design-and crunch it over a generous dollop of (then) Hercules 2400 powder. Light it off with a magnum primer and see what it would do. Recoil was never considered. He and an ad hoc group of big-bore pistoleros , calling themselves the .44 Associates, had began experimenting under the same strategy with N-frame .44 Spl. Smith & Wesson revolvers as far back as the 1920s.
Keith wasn't totally dismissive of safety and engineering parameters. He considered loading the .45 Colt to these higher pressures, but soon realized that the thinner case and cylinder walls would not stand up to the constant battering his loads produced. Too, there were more bullet designs available in .44 caliber than .45, providing a better platform for experimentation.
A prolific writer, Keith had no compunction about touting his work in gun publications, notably American Rifleman and Guns & Ammo. Keith, backed by a dedicated cadre of followers, badgered Smith & Wesson and Remington to come out with a revolver mated to the heavy .44 Spl. loads he preferred. Carl Hellstrom, president of Smith & Wesson, and R.H Coleman of Remington took notice of the uproar and began discussions to implement the idea of a magnum .44-caliber revolver. Hellstrom asked Remington to come up with a cartridge design, and by the summer of 1954 Remington sent to Smith & Wesson a cartridge design that was an 1/8-inch longer than the .44 Spl. cartridge.
In mid-July of that year, Smith & Wesson made four specially heat-treated examples of its N-frame Hand Ejector model chambered for the new Remington round. The companies exchanged products and began testing the new revolvers. Test results indicated that the new cartridge was effective and accurate, but it was suggested that the barrel and frame of the new revolver be beefed up for both recoil absorption, as well as longevity. Those changes added some 7 1/2 ounces to the weight of the revolver. Tests of the heavier revolver were conducted during the winter of 1955, and the factory made ready to manufacture the new magnum.
On Dec. 29, 1955, the first .44 Mag. revolver came off the Smith & Wesson line. That revolver went to R.H. Coleman. A second .44 Mag. was completed in January 1956, and it went to Maj. Gen. Julian S. Hatcher of the NRA Technical Staff. A third .44 Mag. was completed on January 27, 1956, and was sent to Elmer Keith.
Initial reports were favorable to the new revolver, and orders were brisk. Though catalogued at the beginning as being available with either a 4- or 6 1/2-inch barrel, the first 500 .44 Mags. were made with a 6 1/2-inch barrel. It would be several months before a 4-inch .44 Mag. was offered. The 8 3/8-inch barrel was made available in 1958. That same year 500 copies of the .44 Mag. were made with 5-inch barrels and are eagerly sought after by collectors for their rarity.
Then a little reality set in. At the time, the .44 Mag. was the most powerful handgun ever produced, and not every shooter was ready to handle it. Stories abounded of .44 Mag. revolvers showing back up in gun shops or up for private sale with a nearly full box of ammunition. It seems that many handgunners found the revolver too tough to shoot.
June 1957, saw the Smith & Wesson .44 Mag. get the name we all know today-the Model 29. That is when the factory decreed that all revolvers were to have their model numbers stamped on the yoke. The Model 29 continued to have strong sales, eventually edging out the Model 24, a.k.a the Model 1950 Target in .44 Spl. from the line in 1966.
Lawmen of the day that were blessed with the freedom to choose their armament initially flocked to the Model 29, especially with the 4-inch barrel. Many, however, got their own reality check. First, the 1,500 fps velocity claims for a 245-grain bullet were achieved with a 7 1/2-inch test barrel. The 4-inch barrel yielded 1,180 fps and did so at the expense of a distracting muzzle blast and recoil that prevented quick follow-up shots. While some officers-primarily rural-clung to the big .44, most found it too robust for their tastes. Also, in urban environs, over-penetration became an issue.
Then came Clint Eastwood's "Dirty Harry" movies beginning in 1971. Eastwood starred as a somewhat rogue San Francisco homicide inspector with a 6 1/2-inch-barrelled Model 29 as a co-star. Each movie in the series featured him using the iconic revolver to blast his way to justice. The movies, Eastwood and the Model 29 were big hits with the public, and there was such a resurgence in popularity of the big Smith & Wesson that it was constantly backordered from the factory and often commanded significant premiums above its list price. Theatric technology of the day gave the .44 Mag. an aura of absolute invincibility and power. But once again, handgunners found the Model 29 tough to handle with full-house magnum ammo, and many "barely used" Model 29s went up for sale.
Handgun hunting began to take off in popularity soon afterward, and is where the Model 29 really shined. Guys began taking a variety of big-game animals with the .44 Mag. all over the world. Everything from white-tailed deer to polar bear to elephant has fallen to Elmer Keith's brainchild. It was the handgun hunters of the late '70s, along with the handgun silhouette shooters of the '80s and '90s that spawned the search for even more powerful handguns that we see today.
Fifty-seven years after its introduction, many want to dismiss the .44 Mag. as a minimal hunting cartridge and the Model 29 as a weak platform for a hunting handgun. Those who participate in this kind of talk should remember that when it was designed no one was making bullets heavier than 250 or 260 grains for this cartridge. I have cleanly killed many deer and feral pigs with my .44s-both Special and Magnum-and never found it wanting as a hunting cartridge.
The Model 29 has evolved over the years. Modern iterations favor stainless steel-called the Model 629 by Smith & Wesson-often with a heavy under lug to help attenuate the recoil of the modern heavy-bullet loads. But the Model 29 is still part of Smith & Wesson's vast line of handguns, now under the Classic banner. It is an honor and respect that has been well earned.