posted on October 25, 2017
Support NRA American Rifleman
DONATE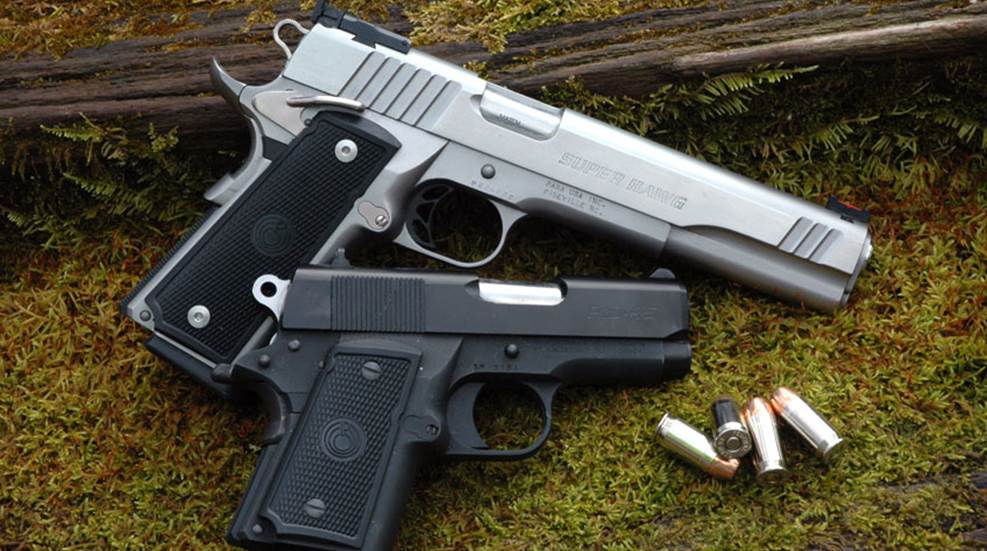 After having relocated from Canada to North Carolina, Para USA, which has since been bought out by Remington, was perhaps the best-known maker of wide-body M1911-style pistols, with models such as the 6"-barreled Super Hawg and 3"-barreled P10-45 holding 14 and 11 rounds, respectively.
One day, many years ago, my wife said Bill Wilson was on the phone, and I knew that meant that my new race gun was on its way. Like many other shooters who used custom M1911 pistols in U.S. Practical Shooting Ass'n/Int'l Practical Shooting Confederation (USPSA/IPSC) action-pistol competition, I was making the move from .45 ACP to .38 Super. The blued-steel beauty was built on a Colt frame and slide, and its compensated barrel would make snake-eye double-taps on paper targets quick and easy. Rows of steel Pepper poppers would topple like stalks of wheat before a scythe.
Among other bells and whistles were an extended, bilateral thumb safety, high-hold grip safety and a magazine-well funnel for smooth reloads. An Aimpoint red-dot sight assured accurate bullet placement and quick target acquisition. Each of the six magazines, hand-tuned for the gun, would hold 10 rounds of "major" power factor ammunition. During testing, I was told, 10 bullets consistently snugged inside 2" at 50 yds. With the USPSA Nationals only a few months away, upcoming days would be filled with hours of practice and competition on a local level with my wonderful new pistol.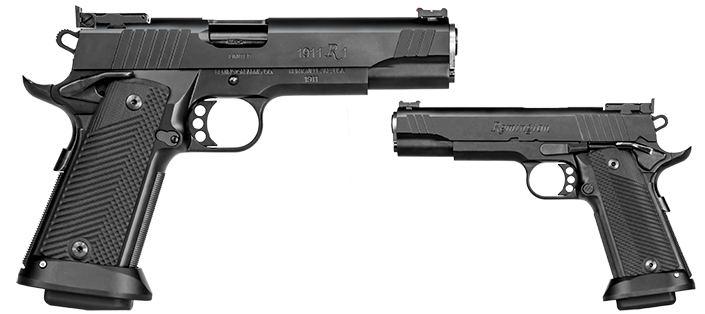 Later that same day, another shooting friend called, informing me that a company neither of us had previously heard of was introducing a wide-body frame for the M1911 pistol. Its double-stack magazine was said to hold close to 20 of the .38 Super cartridges. Before I had even laid hands on my new Wilson Combat pistol, it had been made obsolete for Open Class competition. I stayed with my beloved 11-shooter for as long as possible, but the writing was on the wall—I would need to switch to a gun of higher capacity or be content with winning matches only when no one else shows up. With a heavy heart, I eventually bit the bullet and retired that beautiful single-stack .38 Super.
The company with the exciting new high-capacity 1911 frame was Para-Ordnance Mfg. Co. of Toronto, Canada (May 2010, p. 54). It was co-founded in 1985 by Thanos Polyzos, who was a lawyer by trade, and by engineer Ted Szabo. Friends since childhood, they shared a strong interest in shooting, and their first product was a paintball gun capable of spitting out 1,200 rounds per minute, marketed as a close-combat training tool for military and law enforcement personnel.
At the time, the grand old M1911 pistol was rapidly losing the arms race among recreational shooters to double-stack pistols in 9 mm Luger. Hardly a month went by without a new, higher-capacity "wonder-nine" being introduced. Meanwhile, magazine capacity for the M1911 pistol was stuck at seven rounds of .45 ACP, same as it had been throughout its production life. Eight-round magazines were available, but, in those days, they were not reliable. Introduction of the Para-Ordnance high-capacity frame in 1988 leveled the personal defense playing field for the M1911 and, equally important, it guaranteed a continuation of absolute domination in the Open Division of USPSA action-pistol shooting.
The Para-Ordnance frame was introduced in steel and aluminum, with the latter option eventually discontinued. Carefully choosing a bumper pad for the double-stack magazine gave John Browning's pistol the capability of holding 21 cartridges of .38 Super. When extended magazines were later approved for competition, capacity jumped to a "load-on-Sunday-and-shoot-all-week" 27 rounds. Those of us who thrived on matches with plenty of running and gunning had found total happiness! There were two groups of shooters—those who had a .38 Super built around the Para frame and those who had one in the works.


The first custom Para I used in competition had a Colt Gold Cup slide shortened to 6¾", a full-profile compensator by Kim Stroud, Irv Stone's barrel with a full-profile compensator, Bob Krieger's Acc-U-Rail system and an Aimpoint red-dot sight held in place by a Jack Wiegand mount. Soon after the C-More sight became available, I had Don Fraley build another gun with a lightened slide of standard length along with John Nowlin's barrel and seven-port compensator. At about that same time, Bill Wilson built me a Limited Class pistol in .45 ACP on the Para frame.
Few companies can survive by manufacturing frames alone, so, in 1990, Para-Ordnance introduced its first complete pistol, the P14-45. Some years later, when the gunmaker moved to Charlotte, N.C., the name changed to Para USA. It continued to offer a number of wide-body M1911s, with the smallest being the Warthog with 3" barrel. It weighed 24 ozs. and held 11 rounds of .45 ACP. Also in .45 ACP, the Expert and Black Ops were full-size guns with 5" barrels. The Pro Custom was available in 9 mm Luger (18), .40 S&W (16) and .45 ACP (14). Weights ranged from 41 to 45 ozs. Other variations of the Pro Custom in those three chamberings were built for use in action pistol competition.
Remington bought Para USA in 2012, subsequently closed the Charlotte plant and moved operations to Huntsville, Ala. Eventually, the Paras were "integrated" into the Remington brand. Recently, Remington announced that the R1 Limited double stack would be available in 9 mm Luger, .40 S&W and .45 ACP with magazine capacities of 19, 18 and 16, respectively.
Back to the late '80s. Others quickly hopped aboard the high-capacity 1911 express, and among them was well-known pistolsmith Virgil Tripp. His company, Tripp Research, specialized in making M1911 parts by electrical discharge machining, some sold by Chip McCormick, who had been a top shooter in USPSA/IPSC competition. Around 1991, Tripp joined forces with Sandy Strayer, an engineer who specialized in computer-aided design, and the company name was eventually changed to Strayer-Tripp Int'l, to eventually become STI. The high-capacity frame they designed was (and still is) cleverly called the 2011.
A grip molded of reinforced plastic is mechanically joined to a steel upper section comprising the slide rails and dustcover. Grips of various colors are easily interchanged. Due to its modular construction, the frame is lighter than the all-steel Para frame at no sacrifice in durability. The first frame I examined back in the 1990s weighed only 10 ozs., or 4 ozs. less than for a steel single-stack frame. With a circumference of 5 11⁄16", the grip of the STI frame is only about 3/8" larger than a single-stack frame and about 1/8" slimmer than the grip of the Para frame.
STI began offering complete pistols in 1993, and soon thereafter started a custom shop that, through the years, has been headed by several of the country's top pistolsmiths, including Benny Hill and Dave Dawson. Both eventually moved on to start shops of their own. For quite a few years, the STI custom shop flourished, but the decision was eventually made to close it down while concentrating solely on selling cookie-cutter pistols. It was not a good plan. While standard-production pistols were selling about as fast as they could be built, the demand from customers who wanted a gun built their way eventually became too much to ignore, so the custom shop reopened its doors in 2009.
Strayer left STI in 1994 to form a company called SVI, and, later that year, Dave and Shirley Skinner—who were avid IPSC shooters and longtime friends of Virgil Tripp— bought into STI. In 1997 Tripp sold the remaining shares of the company to the Skinners and started another company called Tripp Research, Inc. STI really took off in the capable hands of the Skinners, and, in 2005, they sold the entire company to the employees of STI.
The 2011 modular frame alone is still available, but STI also offers complete pistols. Standard chamberings are 9 mm Luger, .38 Super, .40 S&W, 10 mm Auto and .45 ACP. Guns range in size from the Tactical Light with 4" barrel in 9 mm Luger or .45 ACP to the 6" Perfect Ten in 10 mm Auto. The company also continues to build guns for both the Open and Limited classes of USPSA/IPSC competition.
Through the years I have carried and competed with several STI guns, two built by Benny Hill and Dave Dawson. A 5" Eagle 5.1 in .45 ACP was long my favorite for Limited class competition, and while the same gun in .40 S&W was tried, I never shot it as well. These days, the .45, and its 17-round magazines, is retired from competitive shooting, and spends most of its time riding in the console of my Suburban. Magazines capable of holding 19 rounds are also available, but they extend farther below the bottom of the frame.
While STI and Para pioneered the production of high-capacity M1911 pistols, they have by no means been the only shows in town. Caspian Arms Ltd., long-time producer of top-quality M1911 parts, introduced its frame in 1991. Rather than manufacturing in house, Caspian contracted with Ruger to investment cast the frames. They then go to Caspian's Vermont facility where they undergo more than 30 machining operations in preparation for the custom gun market.
Caspian does not build complete guns, but the frame is available in titanium or carbon steel. Just as the STI and Para frames have been the foundations for building thousands of guns used in competition, so it goes with the Caspian frame. Soon after its introduction, top-ranked USPSA/IPSC competitors Matt McLaren and Kay Clark used custom guns in .38 Super to win the men's and women's divisions of not only the National Championships but the World Shoot as well. Other users of guns built around the Caspian frame include: Travis Tomasie, who won the USPSA Limited championship match in 2008; KC Eusebio, who won the Steel Challenge during the same year; and Bruce Piatt, who won the Limited Multi-Gun championship, also in 2008.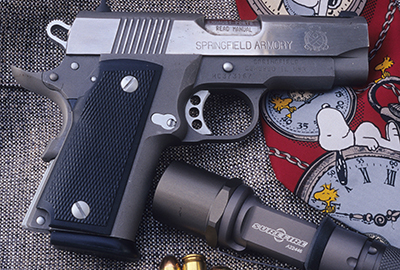 Kimber introduced its high-capacity M1911 in 1997 as the Kimber Polymer and, later, the Kimber Ten. Despite the name, the magazines that came with my gun hold 14 rounds of .45 ACP. Also offered in 9 mm Luger, .38 Super and .40 S&W, various models were made with 3"-, 4"- and 5"-barrels. A target version with fully adjustable sights called the Gold Match was also available. It was somewhat of a knock-off of the STI frame, except the steel slide rail assembly and polymer grip were permanently bonded together. The frame was made by the Israeli firm of BUL Transmark and then shipped to Kimber for additional fabrication and fitting of an upper assembly. Though BUL initially made the entire frame, Kimber eventually started machining the rail/dustcover insert from stainless steel and shipping it to Tel Aviv where it was molded into the polymer grip. The Kimber Ten was discontinued around 2002, but the M-5 version manufactured entirely by BUL became available directly through that company's U.S. distributor. It was also imported for a short time by Charles Daly.
Springfield Armory used to have a high-capacity M1911 frame, but, while a few production guns were offered through the years, they are no longer available. Custom guns were used in competition by Rob Leatham who, last time I checked, had won the USPSA National championship an incredible 25 times.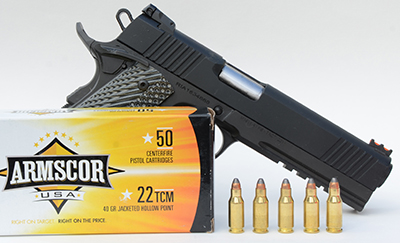 The latest addition to the high-capper market is Rock Island Armory, which offers numerous double-stack M1911 models with either 4.25", 5" or 6" barrels. Magazine capacities are 17 rounds in .22 TCM and 9 mm Luger, 16 in .40 S&W and 10 mm Auto and 14 in .45 ACP. The .22 TCM pushes a 40-gr. bullet at 1875 f.p.s. and is also available in a combo gun with an extra barrel in 9 mm Luger (August 2017, p. 76). The same magazine works with both cartridges. I have not tried a high-capacity gun from this company, but a single-stack 10 mm proved to be impressive for the money.
You might be wondering how high-capacity M1911s compare in weight to the single-stackers. Les Baer Custom no longer offers the HC-40 in .40 S&W on the Caspian frame, but the one I shot weighed 42.5 ozs. with empty magazine. That's about 3.5 ozs. less than a single-stack gun loaded with eight cartridges. My 5" STI Eagle 5.1 in .45 ACP weighs 40.9 ozs. empty, or about an ounce more than an empty 1911 single-stacker. A 5" Wilson .45 on the Para frame tips the scale at 42.3 ozs., while a Kimber Polymer with the same barrel length in .45 ACP weighs 34.3 ozs.
The high-capacity M1911 pistol seemed like a great idea 27 years ago, and for some applications it still is. But compared to John Browning's original design, its sales have never exceeded a snail's pace. It continues to lead the race among competitors who run fast and shoot many rounds quickly, but in every other category the old single-stack pistol is a clear winner by a country mile. Weight distribution could be a factor. One of my 5" single-stackers filled to the brim with nine rounds of .45 ACP, along with an extra loaded eight-round magazine, weighs in at 54.5 ozs. That's the exact same weight as my STI Edge fully loaded with 18 rounds. Favoring the single-stacker is its better weight distribution for belt carry when the gun is carried on one side of the body and half a pound of extra ammunition is on the opposite side. In favor of the double-stacker is 18 rounds of firepower without reloading. A second magazine loaded with 17 rounds adds 14.6 ozs. to the load.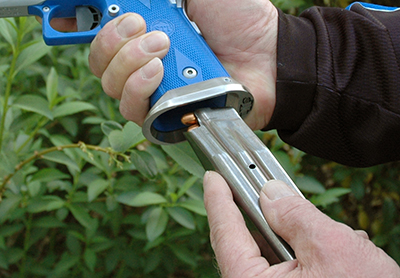 Also in favor of the high-capacity gun is a huge magazine well opening in the frame that can make reloading smoother and, therefore, quicker than is the case with a single-stack gun. Back to the negative side of the argument, greater thickness in the grip makes it more difficult to conceal beneath light clothing. Finishing up on a positive note, by spreading recoil over a slightly larger area of the hand, a thicker grip makes the gun more comfortable to shoot and easier to control during rapid fire—at least for shooters with hands ranging in size from medium to large.
In the final analysis, the wide-body M1911-style pistol might best be considered a specialist's tool. There are certainly other, more-compact, high-capacity .45 ACPs on the market. But there's something undeniably attractive about that Browning design and its single-action trigger. As with most gun-buying decisions, only the user can ultimately determine whether he or she will benefit from the double-stack's unique combination of qualities.