Support NRA American Rifleman
DONATE
There are always interesting new guns launched at the National Association of Sporting Goods Wholesalers (NASGW) Expo and Annual Meeting. However, this year's show had more new models on display than usual, which implies that we'll see even more at the 2020 SHOT Show.
In 2019, the product trends included several freshly minted non-NFA compact shotguns. This year we're going to see plenty of new and existing defensive handguns with optics-ready slides. Some will be shipping with factory installed optics. On the long gun side, companies are looking to spice things up by adopting the quickly growing 6.5 PRC cartridge. Look for product diversification that includes reduced price models, lightweight options and uncommon action types including lever-action shotguns and revolver carbines. Here's a closer look at what you have to look forward to next year:
Alfa Proj Double-Action Revolvers
Although semi-automatic pistols can be found at just about every price point, double-action revolvers tend to be priced at either end of the spectrum. There are the more costly models at one end (Colt, Ruger, Smith & Wesson, Kimber) and the budget-price options at the other (Rossi,Taurus, Charter Arms, Armscor). Recognizing the need for quality mid-price options, Blue Line Solutions will be bringing the Alfa Proj brand of revolvers to the U.S. Market.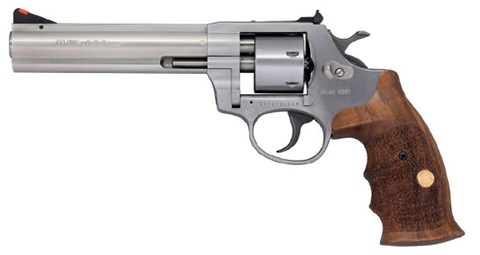 Established in 1993, this Czechoslovakian manufacturer's extensive line-up of mid-size, six-shot double-action revolvers has gained popularity in Europe and Canada. These handguns offer a step up in quality, compared to some budget models, with prices range from $300 to $600, depending on model. Alfa Proj makes alloy frames, blued carbon-steel or stainless models in concealed-carry, sporting and target-shooting configurations. Features include barrel lengths from 2" to 8", wood and synthetic grips along with popular caliber options including .22 LR, .22 Mag, .38 Spl. and .357 Mag. The model that caught my eye was the wood-gripped, 6" barrel 9 mm model shown here. It looks like an enjoyable and inexpensive way to punch targets at the range.
American Tactical
American Tactical (AT) offers a diverse selection of affordable imports that continues to grow. This year the company will be adding a pistol version of the popular Galeo AK platform. This milled receiver semi-automatic is chambered in 5.56 NATO, sports a 13" phosphated barrel and has a suggested price of $1299.95.

For outdoor enthusiasts, the company will be offering the RUKX Gear combo. The RUKX backpack is designed for hiking and camping and available in a variety of common sporting gear colors including black (shown), tan, blue, yellow and orange. A dedicated firearms storage pocket contains adjustable straps and enough space to carry a split AR-15 pistol or one of AT's folding 18.5" barrel Nomad single-shot shotguns. Customers will be able to purchase an empty RUKX pack for a suggested retail price of $79.99 or a pack and Nomad combo (12-ga, 20-ga. or .410 18.5" models) for $179.99.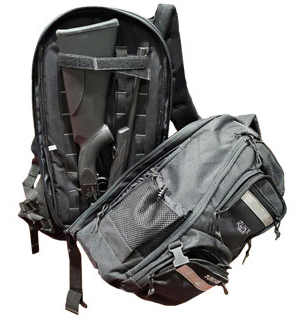 Battle Rifle Company Workhorse Series
Battle Rifle Company is preparing to launch its Workhorse series of more affordable AR-15 rifles and pistols chambered in 5.56 NATO and 9 mm. But unlike some price point ARs, the Workhorse ships with an upgraded set of features. These guns are built around the company's forged BAD-15 7075-T6 aluminum receiver with a free-float M-LOK handguard, three-position grip and the new RACK ambidextrous charging handle. The controls include a nickel Teflon coated trigger, an enhanced magazine release, billet trigger guard, enhanced bolt catch and the latest BAD-ASS-PRO ambidextrous safety selector. MSRP: TBA


Black Aces Tactical Pro Series L Lever-Action 12-gauge 
Some folks tend to forget that it was Black Aces Tactical that cleared the path for the commercial success of non-NFA 12-gauge firearms a few years ago with its Tactical DTRS. The only problem with this box fed pump-action was the $1,500 price tag. Since then, the company has worked diligently to expand its non-NFA defensive and sporting scattergun line-up to include several more affordable options.

As of this writing, the company has pump-actions and semi-automatics, both tube fed and with removable box magazines, side-by-sides, over/under and even a bullpup configuration, with prices ranging from $399 to $679. In other words, many of its offerings are often half the price of the competition. One option that stood out among several new models is the Pro Series L lever-action 12-gauge, which looks like a great option for those who prefer levers to pumps. Shown here with a nickel finish and walnut furniture, this lever gun has an 18.5" barrel, 6+1 shell capacity and it ships with a matching wood pistol grip in addition to the shoulder stock. Suggested prices range from $399 to $469 for this model, which is available now.
Bond Arms Rough Grizzly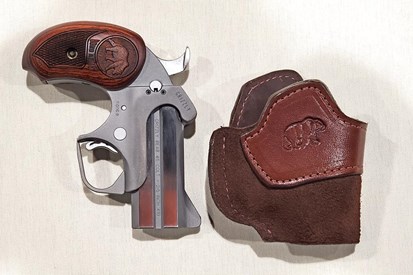 There has been plenty of demand for Bond Arms' budget-friendly Rough Series of double-barrel pistols since they were released earlier this year. Outfitted with all of the same high-quality stainless steel components as the more expensive models, the Rough Neck and Rowdy pistols simply have less polish and finish work resulting in significantly reduced prices under $300. For those customers who want a Rough pistol with a few more features, Bond will be offering the Grizzly. This 3" barrel .45 Colt/.410 model ships with bear logo extended rosewood grips and a custom leather in-the-waistband holster. The suggested retail price for this combo is $377, which is just $78 more than the Rowdy Model. Look for the Grizzly to start shipping in the first quarter of 2020.  
Century Arms Canik TP9 Elite SC Pistol
Century Arms has enjoyed steady sales of its budget-priced, but feature-rich, series of TP9 polymer-framed 9 mm pistols made for them by Canik of Turkey. Earlier this year the catalog grew to include the TP9 Elite Combat, a duty-size pistol with all the bells and whistles for 3-gun competition and tactical application. Now the company has added the TP9 Elite SC, a sub-compact TP9 for concealed carry with an optics ready slide. Other features include a Tungsten Cerakote over nitride slide finish, iron sights that can be co-witnessed with a red dot optic, two interchangeable back straps and a reversible magazine release. This pistol ships with a 12-round and extended 15-round magazine along with a synthetic belt holster that can be worn inside or outside the waistband. MSRP: $429.99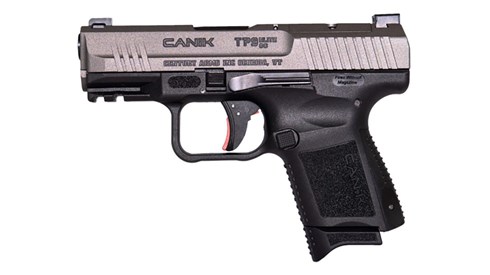 Charles Daly 500 Series .410 Double-Barrel Field Shotgun
Charles Daly imports a variety of Turkish shotguns ranging from polymer-stocked security pump-actions to beautifully crafted sporting over/under models. This year the booth was exhibiting an eye-catching side-by-side that I just had to pick up. It was a new .410 version of the company's 500 series with dual triggers, exposed hammers and a choice of an embellished model (fully engraved receiver, gold appointments) or field grade option (half-engraved receiver, black appointments). The 28" long blued steel barrels feature Rem Choke threading for removable chokes and the furniture is made of walnut. In case this double barrel wasn't already beautiful and interesting enough, the company installed a release lever that allows it to fold in half for easy transport. This model ships with a leather sling and a storage case. MSRP: $725 to $875



Charter Arms Professional 6-shot .357 
Charter Arms specializes in compact, lightweight double-action revolvers that are easy to carry in the field or for self-defense. A couple of years ago the company added a slightly larger frame, which allowed them to convert its 5-shot .38 and .44 caliber design into .45 Colt and .41 Rem. Mag models. That frame was also used to make the 7-shot .32 H&R Magnum Professional (#63270), a member of the company's Blacknitride+ series of revolvers. For 2020, more Professional offerings are on the way, including the 6-shot .357 Mag. version shown here (#63526) with a 3" barrel, fiber optic front sight, walnut grips and the series' signature black nitride finish. This gun has yet to be officially announced, so you're getting a sneak peek at it here. Look for the .357 Mag. version of the Professional to start shipping around the first quarter of 2020 with a suggested retail price of $406.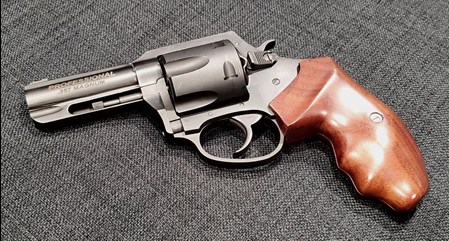 Chiappa Firearms
Chiappa Firearms seems to have interesting new models to consider every year. The company has developed a new weather-resistant series of lever-guns called the 1892 L.A. Wildlands which will include fixed barrel and takedown versions chambered for .45-70 and .44 Mag. The gun metal is treated with a Dark Grey Cerakote. The 16.5" round profile barrels are topped with both a Picatinny optics rail and Skinner type peep sight paired with fiber optic front sights. The laminated gray and black stocks blend in nicely with the Cerakote finish.



Prices start at $1,599
Designed for target shooting competitions, the new .38 Spl. Rhino Match Master was definitely the most noticeable new revolver on the floor. This revolver's 6" barrel is topped with an adjustable Aristocrat sight system along with a competition-grade Hogue Micarta target grip. The aluminum frame and steel components are treated with a gray PVD finish. It balances beautifully, which it should with a suggested retail price of $2,990.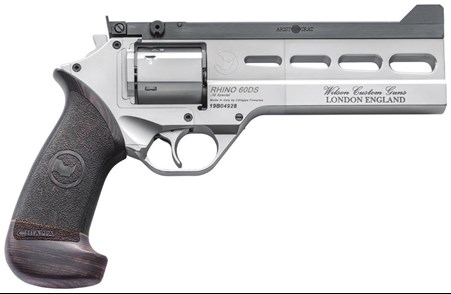 Heritage Rough Rider Rancher Rimfire Revolver Carbine 
Heritage Manufacturing Inc. has offered a variety budget priced .22 LR and .22 Mag convertible rimfire Rough Rider single-action revolvers for quite some time. These handy little wheelguns are a favorite for casual plinking and small-game hunting with real world prices below $200. This year the company is taking this platform in a brand new direction, or an old one, depending on how you look at it.



The new Rough Rider Rancher .22 LR rimfire revolver carbine is a handy little rifle inspired by the revolver carbines of the 19th century. The blued steel Rancher features a 16.125" round profile barrel with an adjustable Buckhorn sight system. The alloy frame has been replaced with a steel frame that has extensions to support a straight, checkered walnut shoulder stock. This rifle ships with an adjustable leather sling with a suggested retail price of $297.39.
Italian Firearms Group Giavone Over/Under Shotgun
The manufacturers that are a part of the Italian Firearms Group (IFG) take the production of fine sporting shotguns seriously. The Italian-made over/unders are among the best-looking shotguns we get to see at this show. This year IFG is importing a beautifully crafted Giavone over/under, which has been designed specifically for small-frame enthusiasts. This shotgun is available with 28" or 30" barrels chambered in either 12 gauge or 20 gauge The length of pull has been shortened to 13.5" and a soft rubber recoil pad installed. The key changes for accommodating smaller hands are found in the shoulder stock. The pistol grip has a tighter radius and no palm swell for a thinner profile. Other features include an adjustable trigger, a raised-stock comb and five extended competition chokes. MSRP: TBA



Inland Manufacturing M30 Gen II Chassis M1 Series
Inland Manufacturing brings the classic World War II-era M1 Carbine into the 21st century with the new M30 Gen II series featuring the company's in-house precision rifle chassis system. Its high-quality barreled receivers and actions are already more accurate than many of the rapidly produced originals. The milled aluminum chassis provides multiple adjustable contact points for increased accuracy. This chassis system provides other up-to-date features including an optics rail, accessory slots and AR-15 compatible connection points for the pistol grip and shoulder stock. The M30 Gen II will launch with a carbine and two pistol configurations. The chassis system will also be available as a shoulder stock upgrade for those who already own a mil-spec M1 Carbine. MSRP: TBA



Kel-Tec P17 .22 LR Pistol
Just ahead of this year's NASGW expo, Kel-Tec announced the release of its latest .22 rimfire pistol called the P17. While the CP33, released at the first of the year, is bulked up to support certain target shooting features and a 33-round magazine, the P17 has been slimmed down for easy carry in the field. With its 17-round magazine fully loaded the pistol weighs less than 14 oz. Along with its low weight, this pistol is listed at a low suggested retail price of $199.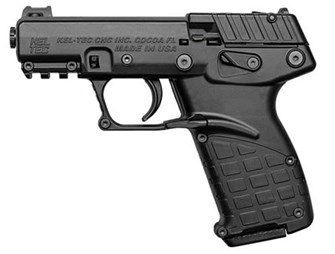 Keystone Sporting Arms 91/30 Mini Mil-Surp Series
Keystone Sporting Arms is launching a new series of rimfire "Mini Mil-Surp" replicas. This will be a collection of five World War I and World War II rifles scaled down for youth shooters, collectors and fans of .22 LR. The first model out the door is a fully functional single-shot miniature of the classic Mosin-Nagant 91/30 Rifle used by the Russians in World War II.

In the late 1990s and early 2000s, surplus Mosin Nagant rifles were all the rage among curio and relic collectors. They had an interesting historical background, the guns were inexpensive to buy and 440-round sardine tins of ammo could be purchased at gun shows for $69. The cheap 7.62x54R ammo has mostly dried up, but the Keystone version is still inexpensive to feed. I included a photo of someone holding the gun so folks could appreciate just how small it really is. Customers can choose from a limited edition version with a replica shipping crate for $499 or a standard model for $399.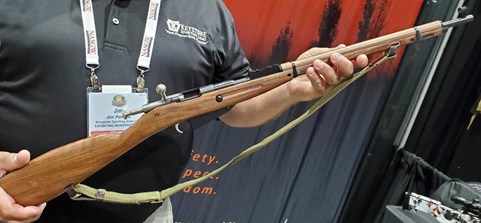 Magnum Research 6-Shot BFR Revolvers
Magnum Research is famous for the massive Desert Eagle semi-automatic pistol seen in so many TV shows and movies. However, the company also offers a series of beefy 5-shot, stainless steel single-action revolvers called the BFR. The long-cylinder version is chambered for rifle cartridges, including the .45-70 Govt. and .30-30 Win., while the short cylinder models (shown) pack a punch with cartridges like the .50AE, and .500 Linebaugh. This year the company is scaling back the KAPOW factor to make room for more cartridges in the first ever 6-shot versions of the BFR. Available chambered in .44 Mag or .357 Mag, these BFRs offer the same features and custom options as previous models. Pricing will be in line with other short-cylinder options, depending on features selected.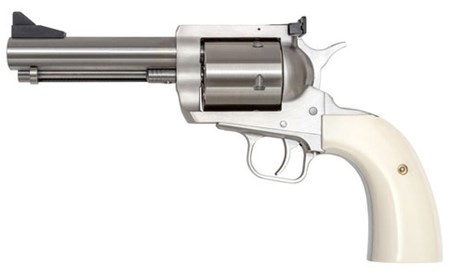 North American Arms 4" Ranger II
North American Arms is best known for its impressively diverse line-up of tiny stainless steel single-action revolvers. These little 5-shot rimfires are chambered for .22 LR or .22 Mag with the larger models weighing in at under half a pound. This year the Ranger II series of break-top Minis will literally be expanded with the addition of a 4" barrel version to the existing 2.5" and 1.25" options. You can read more about the 2.5" version here.



Rock River Arms Precision Bolt-Action Rifles
Founded in 1996, Rock River Arms (RRA) was originally a maker of custom 1911 pistols. By the time I discovered the company, it was cranking out an impressive array of AR-15 platforms. For 2020, RRA will be adding precision chassis bolt-actions to their catalog. The first model out of the gate will be the RRA RBG-IS chambered in 6.5 Creedmoor and 7.62 NATO/.308 Win. The short-action receiver is fitted with the customer's choice of a 22" or 24" cryo-treated stainless steel Wilson fluted bull barrel. Other features include the KRG Chassis system, an AICS compatible magazine well and a 20 MOA Picatinny sight rail. MSRP: $4250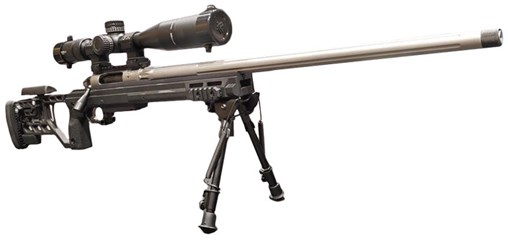 Savage Arms 6.5 PRC Offerings
Although it took a few years for precision rifle enthusiasts and hunters to catch on to the benefits of the 6.5 Creedmoor, Hornady's 2-year-old 6.5 PRC cartridge is picking up steam very quickly. In essence, the 6.5 PRC has the positive characteristics of the 6.5 Creedmoor with a 200 f.p.s. boost in velocity. The result is added performance for the target shooters reaching out to and past 1000 yards plus increased knock down for big-game hunters.

Savage Arms is embracing the 6.5 PRC in 2020 with no less than seven new bolt-action configurations. Model options will range from the top-end Model 10 GRS to the affordably priced 110 Engage Hunter. Shown here is the 110 APEX Storm stainless steel hunting rifle. It ships with a 24" barrel, adjustable synthetic stock and a factory installed 3-9x40 mm Vortex Crossfire II scope for a suggested price of $749. So far I've been impressed with this new cartridge and the Savage rifles I've worked with, so I'm looking forward to seeing how well they work together.
Smith & Wesson M&P 2.0 Sub Compact 9 mm Pistol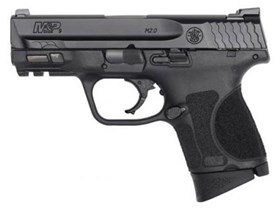 Smith & Wesson's M&P series of striker-fired, polymer-frame pistols has been successful for duty use and self-defense for several years. Now the duty size and compact M&P 2.0 models is joined by a new sub-compact version, which was already given a First Look by NRA Publications editors. This latest model's trimmed down barrel and grip length make it more comfortable to carry concealed. The sub-compact will be available in the same calibers as the larger models, including 9 mm, 40 S&W, and 45 ACP.  Other features include an embedded stainless steel chassis, stainless steel slide and two magazines. MSRP: $569



TNW Firearms ASR LTE 9
One of my favorite finds this year was TNW Firearms ASR LTE 9. ASR stands for the Aero Survival rifle, which is a series of pistol-caliber takedown carbines intended for use in survival situations. These direct blowback-operated semi-automatic carbines are tough, accurate and reliable in less than hospitable weather conditions. The barrels simply twist off for more compact storage. These rifles are also caliber convertible which allows one receiver to fire semi-automatic cartridges ranging from the 9 mm to the much more potent 10 mm. The trade off for this caliber convertibility is a beefier build to handle the hotter calibers which, in turn, means the gun weighs more.



However, the new ASR LTE 9 is a dedicated 9 mm only version of the ASR that weighs less than the original version. The barrel and receiver have been slimmed and trimmed to bring the gun's unloaded weight down from 5.5 lbs. to just 3.8 lbs. It handles like a rimfire rifle but offers much better downrange stopping power. With the low recoil and affordable price of 9 mm ammunition, it's a rifle the whole family can enjoy. Optional ASR barrel shrouds and rifle-toting backpacks are available from TNW. MSRP: $799

TPS Arms M6 Takedown Survival Rifle
TPS Arms is offering new caliber options for the company's version of this classic takedown survival gun. In the years after World War II, military pilots contributed to the design of takedown carbines that could be used to harvest game animals for food when their plans crashed in the wilderness areas. Designed by Lt. Col. Franklin S. Allen, the original 14" barrel M6 was manufactured for the Army's Ordnance Corps by Harrington & Richardson. The original M6 featured blued steel and over/under double-barrels with a .410 bore shotgun barrel on the bottom and a .22 Hornet barrel up top.





The TPS version of the M6 features the same rugged construction, removable barrels and aluminum shoulder stock storage. However, the barrels have been stretched out to 18.25", the .410 barrel has removable chokes, and company offers additional rifle caliber options to the .22 Hornet top barrel including .22 LR, .22 WMR, .17 HMR and most recently .357 Mag. Choose from a variety of sight systems and optional internal shell storage plates for the stock. MSRP: Starting At $589
TriStar Firearms .410 Turkey Guns
Thanks to the popularity of Federal Premium's TSS .410 Turkey load, more companies are offering .410 turkey guns, including TriStar Firearms. While several of the turkey hunting .410s I've seen are single shots, this company is offering adult-size and youth semi-automatics. The Viper G2 .410 Turkey (top) features a Mid Night Bronze Cerakote finish for the receiver and barrel,  Mossy Oak Digital Bottomlands camouflage synthetic stocks and a rubberized pistol grip. This gun will fire 2.5" and 3" .410 bore shells interchangeably, with a suggested retail price of $715.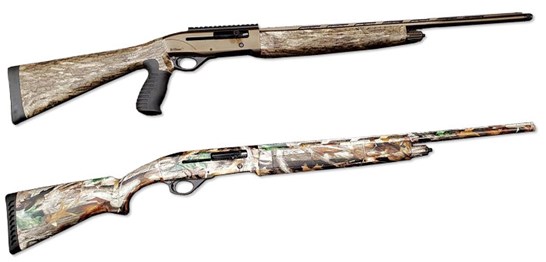 The Viper G2 .410 Youth semi-auto (Bottom) has a 13" shoulder stock for small-frame shooters. It ships with three Beretta/Benelli Mobil type interchangeable chokes, a fiber-optic front sight and Soft Touch synthetic stocks for improved handling. This model is available in a black finish for the suggested retail price of $595 or Mossy Oak Camouflage finish for $685.