Support NRA American Rifleman
DONATE
Mother's Day, Valentine's Day, birthday, anniversary—all justifiable excuses for a range day. Man or woman, if you're heading to the range with a significant female in your life, why not pack your bag with a pistol you'll both enjoy shooting. Here are some of the newest, hottest and affordable handguns that men love but are also gaining tremendous traction among women.  
Smith & Wesson M&P380 Shield EZ
Chambering: .380 ACP
Capacity: 8+1
Introduced: 2018



The Smith & Wesson M&P380 Shield EZ—simply the "EZ" in the familiar—earned our respect in 2018 as the overall favorite handgun in the 3rd Annual American Rifleman Ladies Pistol Project. The .380-cal. entry into S&W's famed M&P line of semi-automatic pistols was rated highly for its ease of operation, specifically its easy-to-rack slide and easy-to-load magazine, even among those with physical limitations such as arthritis. Many who typically struggle loading magazines were surprised that they could load a full 8-round EZ mag. Because the 68 women of all ages who tested this pistol validated our previous findings, we awarded it the American Rifleman Golden Bullseye Award for 2019's Women's Innovation Product. It's the perfect gun for women who have been hesitant to try (or try again) the semi-automatic platform. The MSRP $399 For those who want to add a little bling to the little black gun, S&W has introduced a Performance Center model of the EZ, featuring a ported, Titanium-coated, gold finish barrel, among other PC features. The PC model carries an MSRP of $502.  
Mossberg MC1sc
Chambering: 9 mm Luger
Capacity 6+1 (extended 7-round mag available)
Introduced: 2019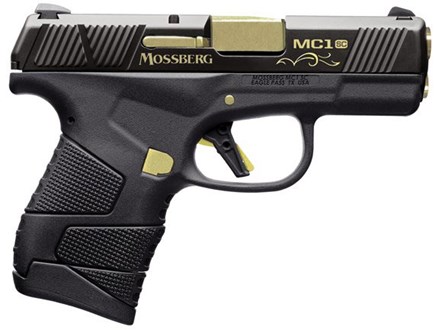 By now most folks are aware that Mossberg surprised the shooting community and firearm industry when it unveiled the MC1sc 9 mm pistol in early 2019—its first production pistol in the company's 100 years of existence since the Brownie. Since then, the subcompact polymer pistol has received high marks from shooters of all levels, including American Rifleman editors. The pistol ships with its exclusive clear magazines but the pistol also functions with Glock G43 magazines. One of the pistol's most appealing features is its easy takedown, which requires a user to simply lock the slide to the rear, remove the rear sideplate by pressing the integral button and pulling it down and out, then extract the striker assembly from the rear of the slide. It makes cleaning the pistol actually a happy chore. For now Mossberg is offering the pistol in a three-white-dot configuration, a TruGlo Tritium night-sight version, as well as a Viridian trigger-guard-mounted red laser model. MSRP starts at $425
Stoeger STR-9
Chambering: 9 mm Luger
Capacity:  15+1
Introduced: 2019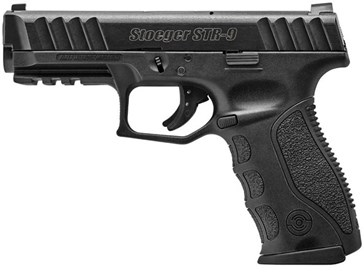 Stoeger—another manufacturer best known for its semi-automatic, over-under and side-by-side shotguns—brought out its first polymer 9 mm pistol at the 2019 SHOT Show. The Stoeger STR-9 has drawn a lot of comparisons to the Glock 19, with its trigger blade safety and similar lock-up/take down and overall dimensions. We've since had a little range time with this new 9 mm polymer, and can attest to its crisp trigger reset, comfortable grip and minimal recoil. It can be fitted with one of three backstraps to adjust the grip frame to different users, and there is a three-slot accessory rail in the dustcover. The bare-bones gun with the medium backstrap and one magazine has an MSRP of $349. Add tritium sights and two more magazines and the price is still just $449. 
SIG Sauer P365
Chambering: 9 mm Luger
Capacity: 10+1
Introduced: 2018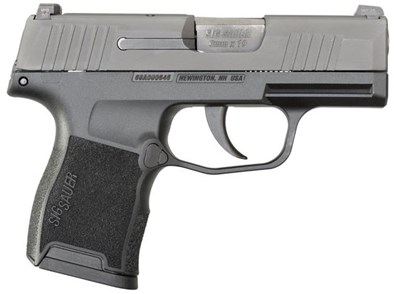 SIG Sauer's P365 micro-compact pistol was one of the best-selling pistols in its category during its debut year. It placed sixth in the 3rd Annual American Rifleman Ladies Pistol Project (fifth in carry size), getting high marks for its fit and function as rated by the 68 participants. The 10-round capacity gun (a 12-round mag is also available) with its flush-fitting magazine was a game changer upon its introduction for the concealed-carry market. SIG Sauer accomplished this feat by designing a new magazine that starts as a double stack then tapers to a single stack, providing that on-board round count. The gun remains about an inch wide, however it doubles the magazine capacity from some of its competitors. Most importantly, this diminutive pistol is extremely shootable, unlike some other nines in this class. Trigger pull is smooth and consistent, helping to make this little gun one you will be happy to take to the range. MSRP is $599.
Glock 48 and 43X
Chambering: 9 mm Luger
Capacity: 10+1
Introduced: 2019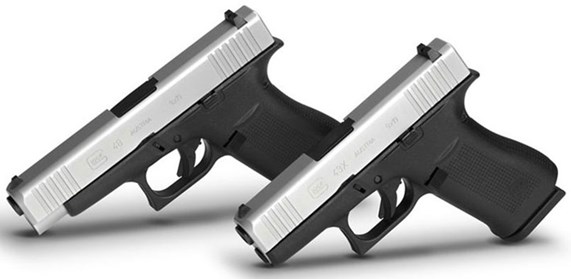 When the 9 mm Glock single-stack subcompact Slimline G43 came along several years ago, many questioned, "What took them so long!?" Yet despite its concealable size, its short grip frame gave some individuals with larger hands pause to consider it their ideal carry choice; others still found size limitations in concealing the beloved G19 compact. For a best-of-all-worlds response, Glock has released two new models in its Silver Slimline series, the G43X and the G48. The G43X sports the same slide length and frame thickness as the original G43, with a lengthened grip frame to accept a 10-round single stack magazine. The slide is treated with a matte silver nPVD for a two-tone finish, and a set of slide serrations have been added near the muzzle. The difference between the G43X and the G48 is the length, which has been extended in the 48 to that of a Glock 19—6.85". Other features found on both pistols include a match-grade Glock Marksman Barrel (GMB), built-in beavertail, reversible magazine catch and three-sight configuration including standard, Glock Night Sights, and Ameriglo Bold options. The Silver Slimline models have an MSRP starting at $580.

Walther CCP M2
Chambering: 9 mm
Capacity: 8+1
Introduced: 2018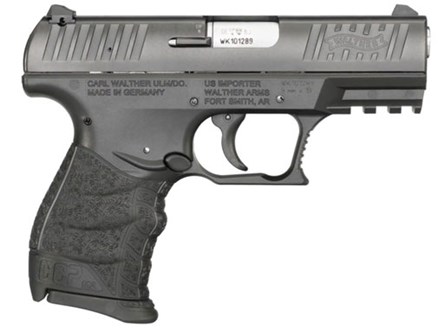 When it was introduced in 2014, the Walther CCP 9 mm semi-automatic pistol received high praise from users for its excellent ergonomics and shootability, which can be partly attributed to the CCP's trademark Softcoil gas-delayed blowback system. Ease of use and comfort aside, a common complaint about the CCP was a high level of difficulty in field stripping and cleaning. Walther's latest iteration of the Concealed Carry Pistol—the CCP M2—seems to have resolved that issue, having incorporated a tool-free takedown mechanism in the rear of the slide. The CCP has ranked respectably in all three American Rifleman Ladies Pistol Project studies. MSRP: $469
SIG Sauer P238
Chambering: .380 ACP
Capacity: 7+1
Introduced: 2009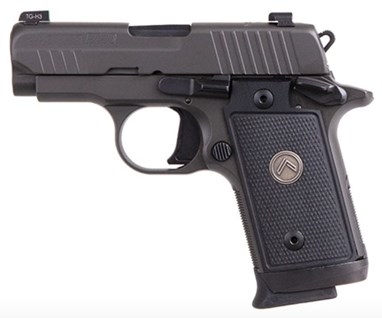 OK, you got us. The SIG Sauer P238—introduced in 2009—is not new at all, although SIG continues to introduce new configurations like the recently added Legion model (above). However, the perennial popularity of this 1911-style .380 ACP concealed-carry pistol among men and women almost demands a place among these latest and hottest-selling pistols. It's still counted among SIG's best sellers, and the company offers it in at least 20 grip configurations. The P238 ranked as the participants favorite pistol in our first American Rifleman Ladies Pistol Project in 2016, and has placed in the top three in the subsequent studies. The 7+1 capacity micro-compact pistol was praised for its effortless slide manipulation, bright sights, single-action, M1911-style trigger and superb recoil management. MSRP starts at $629. For those who love this pistol but want a little more juice, a 9 mm P938 is also available.

Springfield 911
Chambering: 380 ACP
Capacity: 6+1 or 7+1
Introduced: 2018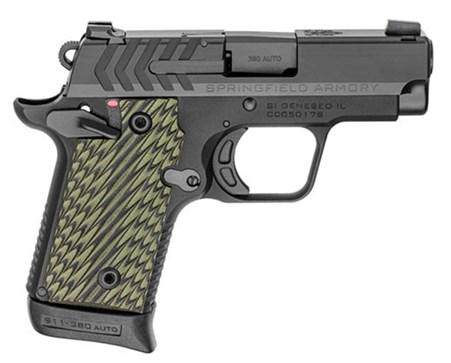 Springfield Armory's first new pistol introduction of 2018 was the 911 .380 ACP, the manufacturer's most concealable firearm to date. Springfield had optimized the frame-to-slide-to-trigger guard relationship, creating handling characteristics unique among small pistols of its kind and offering small-frame shooting with the familiarity of a 1911. American Rifleman editors were so impressed by this diminutive pistol they awarded it the 2019 Golden Bullseye for Tactical Gun of the Year. The 911 .380 carries a crisp, short-reset 5-lb. trigger with the industry's only G10 Trigger shoe produced by Hogue. The 911 features an ambidextrous safety and is matched with an Ameriglo Pro-Glo green tritium front sight inside a yellow luminescent circle, and a tactical rack U-notch rear sight with green tritium inside of white luminescent circles. Additional variants have since been added. At 5.5" long and less then 4" high, along with a smooth profile, the pistol remains easily hidden until necessary. A flush 6-round and 7-round extended magazine provides added capacity. Two configurations of the 911 .380 are also offered with integrated green Viridian laser grips. MSRP starts at $599.  A 9 mm Luger model was added in early 2019.

Did We Say 9? 
Who said we could count ... .? Here are numbers 9—and 10. Two of the most exciting .22 Long Rifle handguns released in 2019 are the semi-automatic Taurus TX22 pistol and the Ruger Single-Action Wrangler revolver. Check them out here:

Taurus TX22
Caliber: .22 Long Rifle
Capacity: 16
Introduced: 2019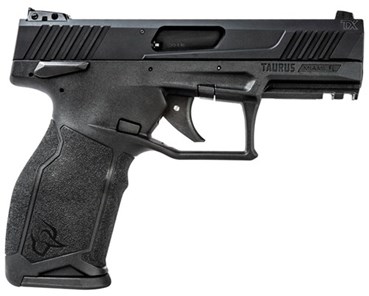 Taurus' TX22 polymer-frame pistol has racy, modern lines, and its low bore axis and a generous beavertail really let the shooter get into the gun. It comes with a bilateral manual safety at the frame's rear, and the magazine release is reversible for lefties. Sights are three-dot with a dovetailed front and a windage- and elevation-adjustable, low-profile rear. Magazine capacity is 16 rounds, and that's with a width of only 1.25". The pistol's best feature, though, is its crisp, single-action trigger—called the Taurus Pittman Trigger System—that breaks at about 4 lbs. with a short reset. MSRP $349

Ruger Wrangler Single-Action Revolver
Caliber: .22 Long Rifle
Capacity: 6 Rounds
Introduced: 2019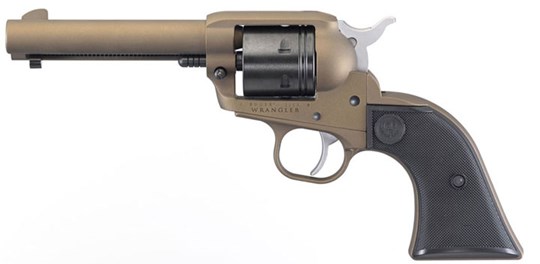 Ruger's new Wrangler single-action revolver chambered in .22 Long Rifle is built on the legacy of the popular Ruger Single-Six. Its affordability makes this revolver ideal for learning to shoot or just experiencing the fun of single-action shooting. Initially offered in three Cerakote models—black, silver and bronze—the new Wrangler is a feature-packed revolver and an exceptional value. The standard checkered black grip panels can be swapped for Single-Six panels, allowing for a variety of customized options. The Wrangler will fit in Single-Six holsters that accommodate 4-5/8" barrels. MSRP $249