by
posted on April 6, 2016
Support NRA American Rifleman
DONATE
Not everyone who enjoys the shooting sports is graced with a Herculean physique. Those enthusiasts who have a more compact structure are usually looking for quality rifles and shotguns that feature a shorter length-of-pull (LOP), aren't too heavy to swing, and produce a moderate or low level of felt recoil. Fortunately, there are several options that can be a great fit for smaller gun wranglers, some of which may surprise you. Here is a countdown of models to keep in mind: 


8. Ruger Model 77 Rotary Magazine Rifles 
Ruger blends the best of its rugged all-weather, bolt-action rifle design and reliable removable rotary magazines in the Model 77/357 and 77/44 rifles. Chambered for the .357 Mag. or .44 Mag. respectively, these 5.5-lb. carbines feature a stainless-steel construction, 18.5" barrel, adjustable iron sights, a synthetic stock and a 13.5" LOP. Chambered for classic magnum-power revolver cartridges, these rifles produce a modest kick while still providing plenty of power for close range hunting. Both models arrive with a set of 1" stainless-steel scope rings. 

7. Mossberg 500 Bantam Tactical 20-ga. Shotguns 
Many youth model 20-ga. pump-action shotguns have been pressed into service as reduced-recoil defensive guns because they are lighter and easier to manage than a 12-ga. But Mossberg offers a more practical alternative with its series of Model 500 Bantam Tactical 20-ga. pumps. Available in six different configurations, these shotguns provide the proven reliability of the Model 500 series design with features including ghost ring sights, extended magazine tubes, and several different shoulder stock options. Look for them under the 500 Special Purpose listings on the Mossberg website. 

6. The M1 Carbine 
The M1 semi-auto carbine was developed to fill the requirement for a lighter, handier rifle to be used by U.S. support troops working behind the front lines. Chambered for the soft-shooting .30 Carbine cartridge, and fitted with a compact wooden stock, the M1 went into service in 1942 and would remain in active service for half a century. As one of the most highly produced American combat rifles, the M1 has long been a popular option on the civilian market for collecting, target shooting and self defense. Enjoy the easy operation of an original WWII model, or look for factory fresh American-made replicas from Inland Manufacturing and Auto Ordnance. 


5. Savage Model 42 Combo Gun 
The Savage Model 42 is a modern revival of the company's break-action, double-barrel combo gun. The upper barrel is chambered for .22 Long Rifle while the lower barrel accepts both 2½" and 3" .410 shotgun shells. A lever on top of the hammer allows the shooter to  quickly switch between barrels. Weighing just 4-lbs. 11-oz., this gun has an LOP of 13.5" and a slender stock. It's an ideal choice for new shooters, small game hunting, camping or just enjoying the great outdoors.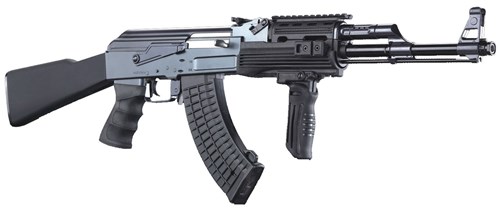 4. The AK-47 Rifle 
Originally designed for the Soviet Red Army by Mikhail Kalashnikov, the AK platform has become one of the most prolific firearms in the world. In its classic configuration, the AK-47 is fitted with a compact pistol grip and wood stock with a short LOP of around 12.75". The 7.62×39mm cartridge produces a moderate level of felt recoil, is relatively plentiful and affordable to buy, and it is ballistically similar to the .30-30 Winchester. This makes it a suitable choice for hunting medium-sized game at intermediate distances, or for self-defense. This rifle is heavier than the others on this list, usually tipping the scales at around 8 lbs. unloaded. But the trade-off for the extra weight is a reduced level of felt recoil.


3. Henry Lever-Action Rimfire Rifles 
Henry Repeating Arms takes the fun of shooting .22 rimfire cartridges to a whole new level with its American-made H001 and Golden Boy series of lever-action rifles. Weighing between 4.25- to 6.75 lbs. with LOPs ranging from 13" to 14", there is a Henry sized to fit just about everyone. Their mild level of felt recoil, top notch accuracy and buttery smooth actions makes these lever guns comfortable to shoot all day long. Caliber options include .22 Long Rifle models (which will also shoot .22 Long and .22 Short), .17 HMR, and .22 Mag. 

2. Ruger 10/22 Semi-Auto Rifle 
Few rifles have garnered as much loyalty among American sportsmen as Ruger's 10/22 rimfire rifle. Recently celebrating its 50th year in production, the 10/22 has been manufactured in several configurations, including a tactical model, a bench rest pistol and a Takedown that breaks in half for easy storage. The average 10/22 weighs about 5 lbs., has a LOP just under 14" and an overall length of 37". These dimensions make it a semi-auto that can be enjoyed by every member of the family. 


1. AR-15 M4 Carbine 
It shouldn't come as much of a surprise that the versatile and ubiquitous AR platform, or Modern Sporting Rifle if you prefer, can be a great fit for small-frame shooters. In a basic carbine (M4) configuration, fitted with a standard 16" barrel and light-weight polymer furniture, an AR-15 can weigh around 6 lbs. unloaded. A six-position adjustable shoulder stock provides a LOP ranging from 10.25" to 13.50", which allows it to fit just about anyone. Chambered in .223 Rem. (5.56 NATO), the rifle produces a modest and easy to control level of felt recoil. A wide variety of models are available from several manufacturers, including Windham Weaponry, Diamondback, and Ruger.