by
posted on September 23, 2021
Support NRA American Rifleman
DONATE
I've enjoyed shooting AR-15 type pistols in a variety of calibers including .223 Rem., .300 BLK, 7.62x39 mm and even the thumpy .450 Bushmaster. But the Big Kahunas of the AR pistol set are built around AR-10 receivers and chambered in 7.62 NATO and .308 Win. And as readers know, if there's a bigger version of a handgun, it's in my nature to give it a try!
I've chased .308 pistol stories for years but the guns were too far out on the fringe of general shooting interests for publishers to be interested in the story. Things changed in 2020 when some of the better-known manufacturers added AR-10 pistols to their production line-up, including Springfield Armory's 10.3" barrel Saint Victor model. This shift of the .308s from niche guns to something more mainstream opened up the review opportunity I was looking for.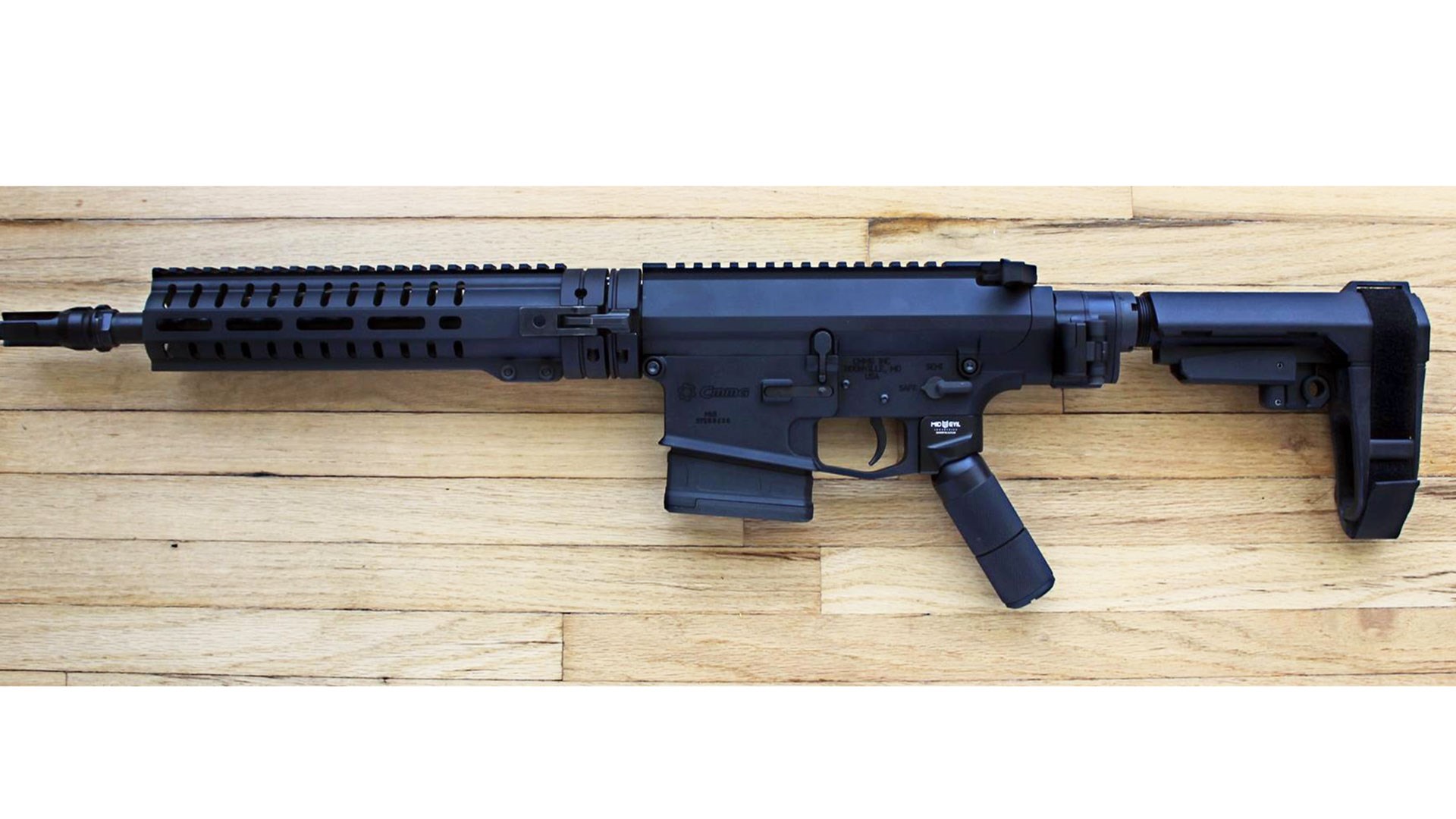 As is often the case for those of us who build ARs, I looked over the factory-assembled pistols and thought why settle for a 'store-bought' model when the gun I really want could be assembled with an at-home build? So, I teamed up with some top-notch companies to elevate the project to an at-home build of the .308 semi-automatic with the features I had in mind.
The pistol I had planned came together nicely. But in the days before taking it to the range, I was introduced to three more components that would take the build in a new direction. Adding them would convert this already slick semi-automatic into a takedown pistol. It could be a potent .308 Win. pistol with a folding stock, a quick release barrel assembly and an adjustable grip. There wasn't anything else quite like it available on the market and the cool factor was just too much to resist. So I took it apart and reassembled it into a takedown model. Here's how it came together and performed at the shooting range.
The Base Gun Build
To build this gas-impingement operated .308 pistol, I turned to CMMG for the lion's share of the components. I've worked with complete rifles and components from this company for some time and have yet to be disappointed. The pistol's Mk3 upper and lower receivers are milled from billets of 7075 T6 aluminum and treated with a matte black hard-coat anodized finish.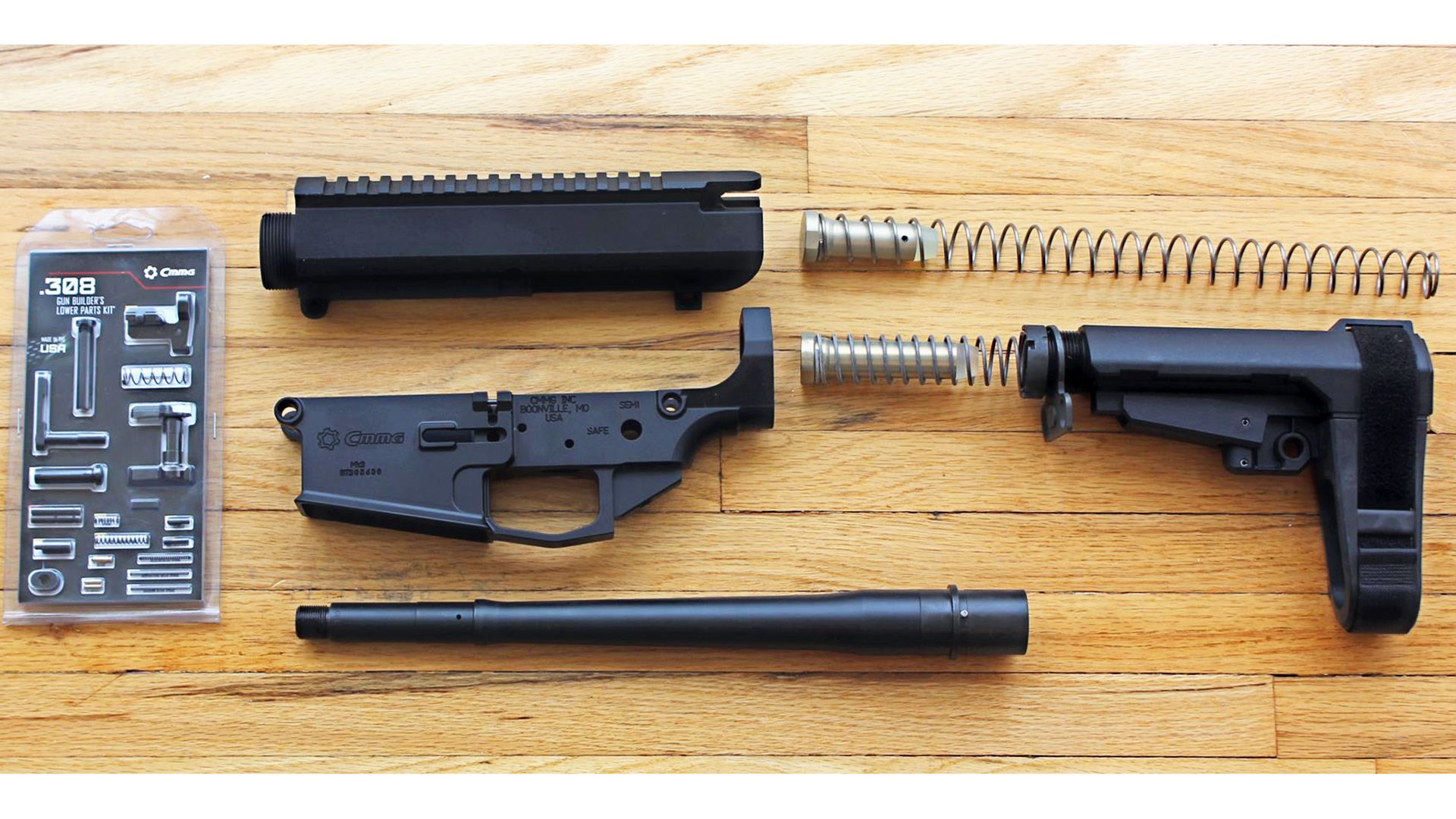 The upper is topped with an integral Picatinny optics rail but there is no forward assist port. The lower receiver has an integrated trigger guard and it will accept either LR-308 or SR-25 type magazines. The stripped lower was built out using an Mk3 Gun Builder's lower parts kit. The barrel length was a key consideration for this build. If the barrel was too short (barrels as short as 7.5" are available) the gun would essentially be an expensive camera flash.
Too long and it would be a carbine that didn't eat its vegetables. CMMG's 12.5" Medium Taper barrel was selected after some consideration because it's short enough to be pistol-like while still squeezing respectable levels of performance out of .308-caliber cartridges. This barrel is made of 4140 chromoly steel with an interior and exterior salt-bath nitride finish. It features 1:10" right-handed rifling, a mid-length gas port, a .750" gas block journal and a muzzle threaded at 5/8-24 TPI.
The handguard was originally a 12" model but the quick release barrel system pushed the guard forward past the muzzle of the barrel. It was traded out for a 9" long Mk3 RML9 handguard with MLOK accessory slots. The complete buffer assembly is CMMG's 4-position adjustable standard-length RipBrace stabilizing brace kit. It shipped with an AR-15 buffer and spring, both of which were traded out for Mk3 series AR-10 compatible parts.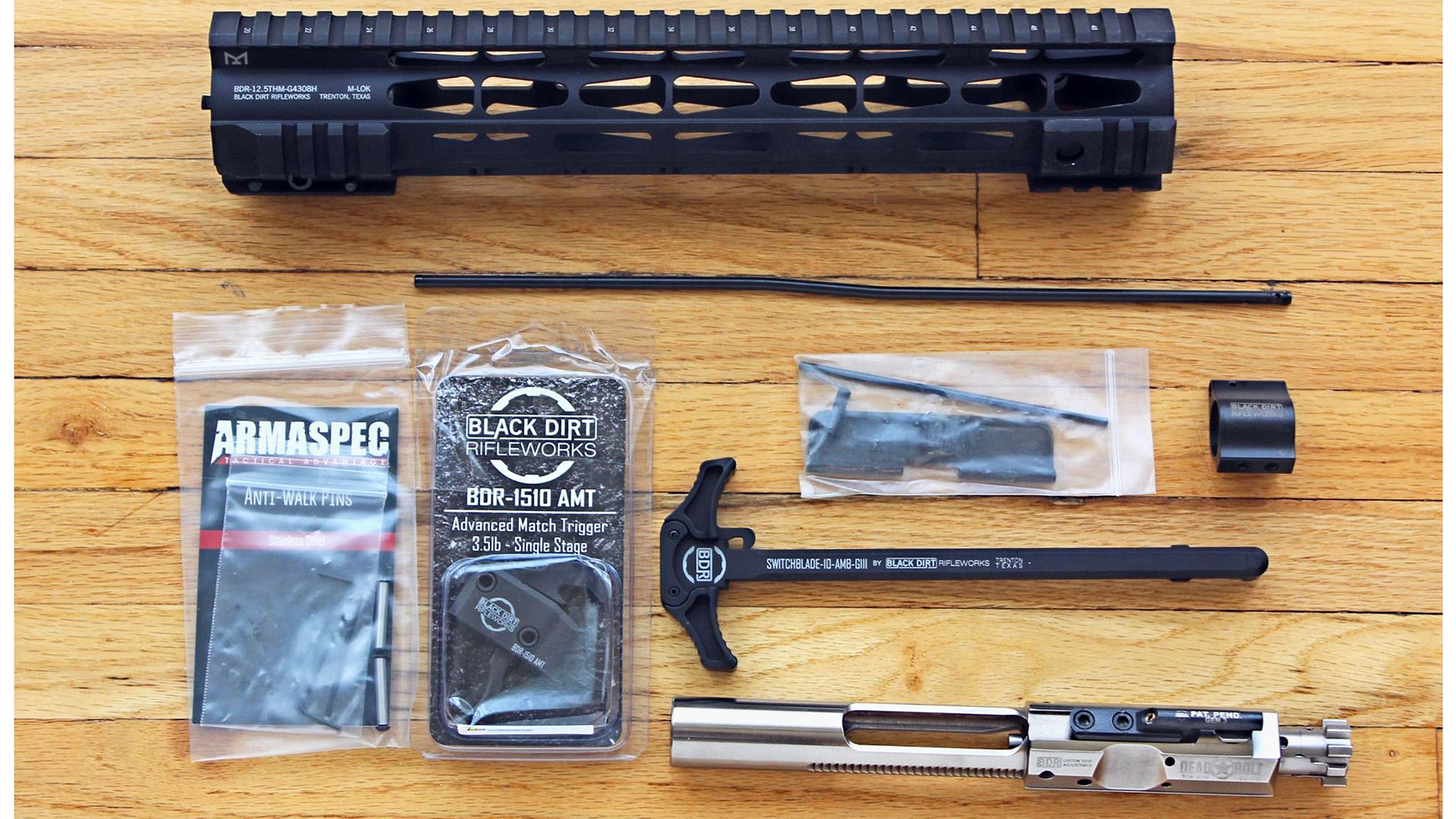 Ground Zero Precision (GZP) is a company that has been on the scene ever since I started dabbling in AR pistol builds. They provided the heart of the build, a NiB-coated adjustable custom shop Dead Bolt bolt carrier group. The low-friction nickel boron coating and adjustable gas key are an ideal combination for pistol platforms or for use with sound suppressors. The charging handle is the properly oversized ambidextrous Switchblade10 G3 from Black Dirt Rifle Works.
The Mil-Spec trigger from the lower parts kit was replaced with Black Dirt Rifle Works Advanced Match Trigger. This drop-in, single-stage trigger group features an aluminum housing, a curved steel trigger bow and smooth trigger pull. The trigger breaks cleanly with 3-lbs. of trigger pull according to a Lymans digital trigger gauge.
GZP filled out the build with a low profile gas block, stainless steel Armaspec anti-walk trigger pins and a dust cover kit for the upper receiver's ejection port. The pistol was capped off with a Dead Air Silencer's 3-prong flash hider and outfitted with a set of XS Sight's XTI DXW Big Dot offset sights for use in close quarters or as a back-up sight system for use with an optic.
The Breakdown of the Takedown
Transforming this pistol into a takedown model called for a quick release barrel system (QRB) and a folding stock adapter. I appreciate my associates, who are more familiar with these components, who guided me to high quality parts so as to avoid the counterfeits and knock offs floating around this segment of the market place.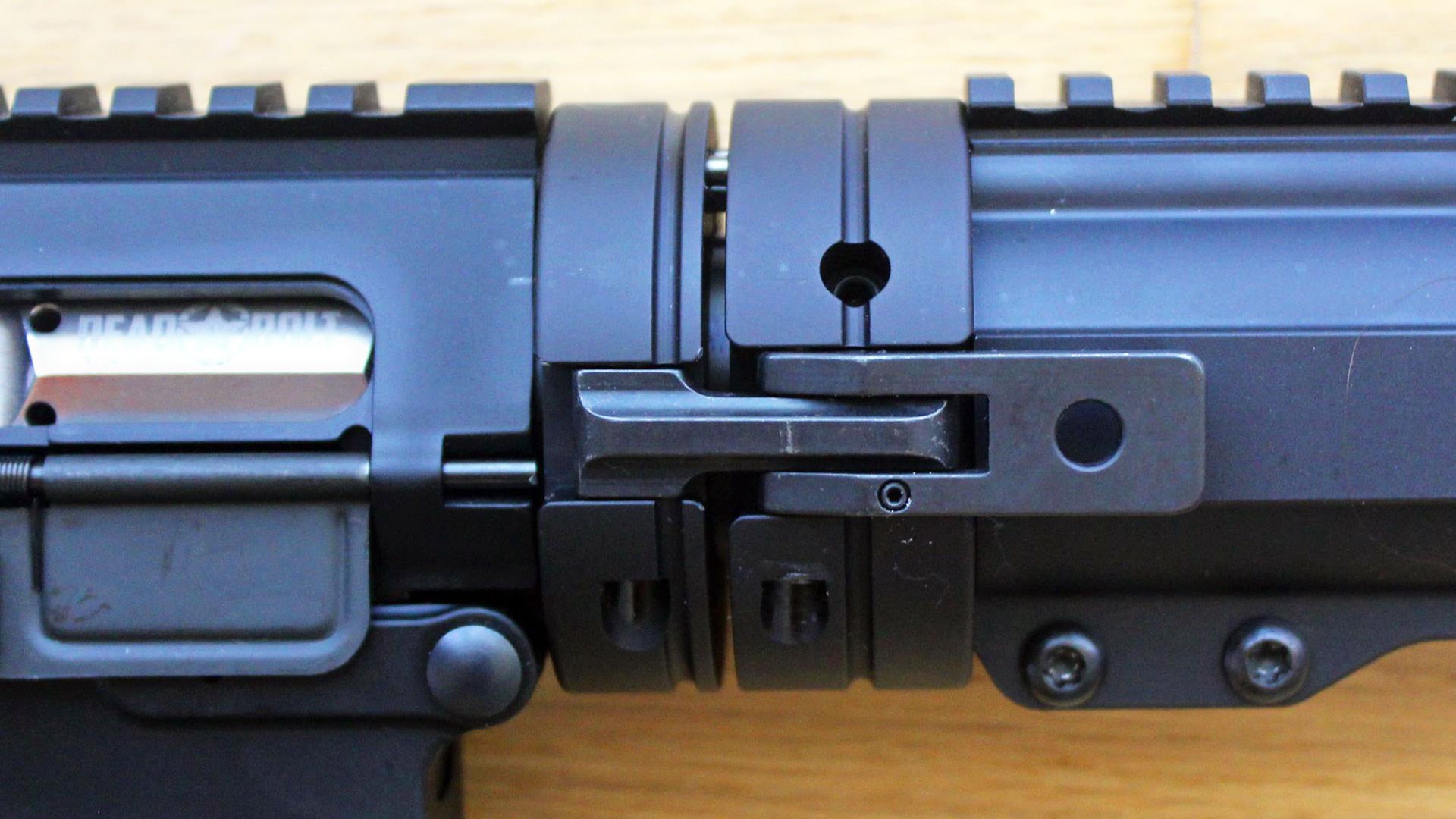 A close-up view of the Cry Havoc Tactical AR-15 and AR-10 Gen 3 QRB kit installed and locked.
Cry Havoc Tactical's  AR-15 and AR-10 Gen 3 QRB kits are ruggedly built and simple to use.  The system consists of two rounded hard-anodized aluminum plates, an upper receiver mounting nut and a proprietary two-piece gas system. Once installed, releasing the barrel plate's two locking latches allows the complete barrel assembly, handguard and all, to be lifted out of the upper receiver.
A pair of guide pins protects the gas tube and properly aligns the barrel assembly as it is locked back into place without changing the barrel's head spacing or point of impact. This system deserves more attention than I can give it here but stay tuned for more information.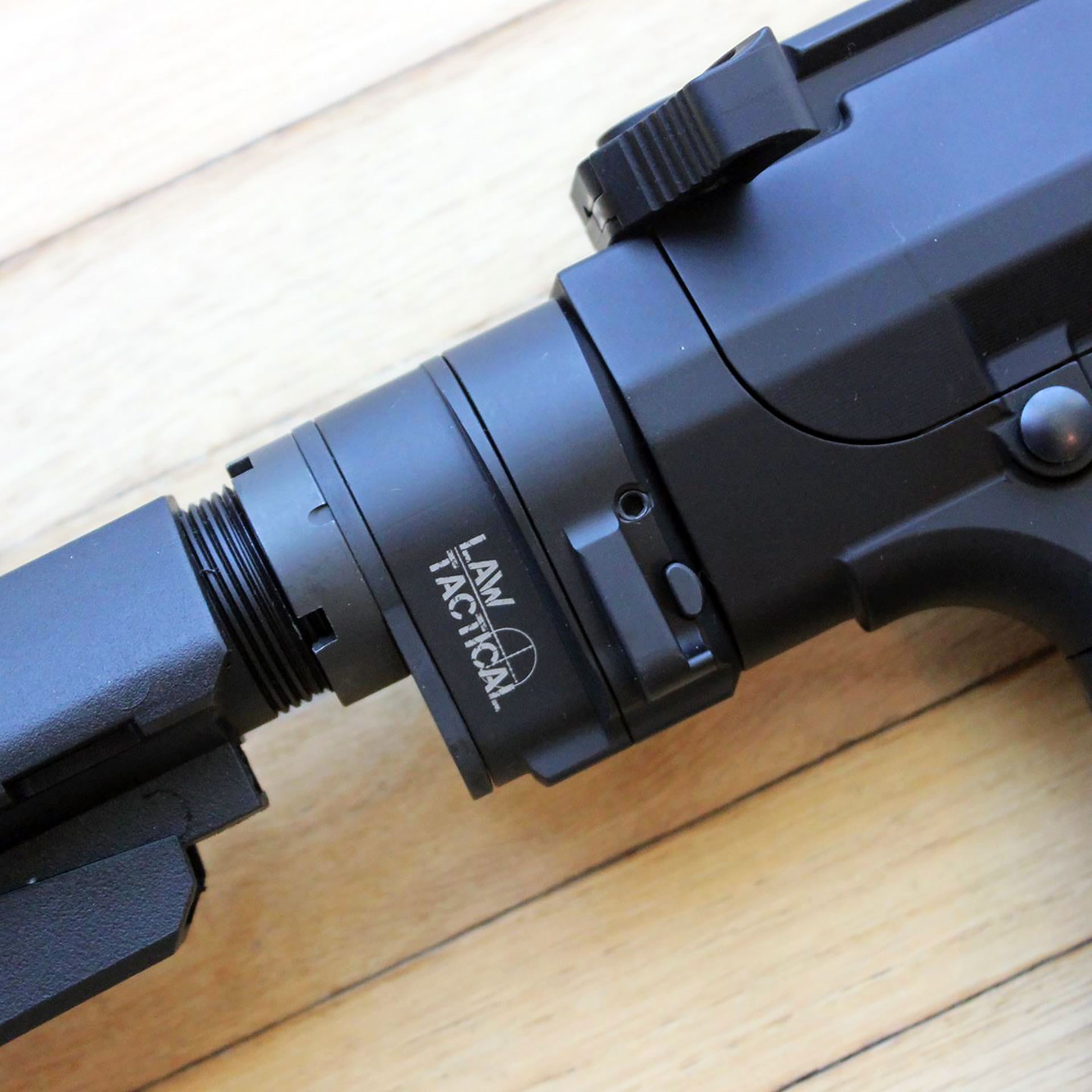 A close-up view of the Law Tactical Gen 3-M folding stock adapter.
Law Tactical's Gen 3-M military-grade folding stock adapter is made here in the United States from hardened 4140 steel treated with a durable matte black DLC coating. Simply stated, it's a threaded, hinged adapter that converts traditional fixed-stock AR platforms into folding stock rifles and pistols, including .308 AR-10s like this one. It arrives with all of the hardware needed including a bolt carrier group extension. It has a convenient single-button operation and the hinge is tension adjustable. It adds 1.3" to the stock's length-of-pull.
Mid-Evil Industries recently released the 360 degree ARG, or Adjustable Rifle Grip. Developed in collaboration with Hopkins Industries, the ARG is made from textured 6061-T6 aluminum and treated with a hard-coat anodized finish. The round-post grip is mounted via a pivot that allows it to turn and tilt. Twisting the lower half of the grip locks the grip in place once it's in the desired position. Although it is not technically a 'folding' grip, is tilts back enough to make a difference.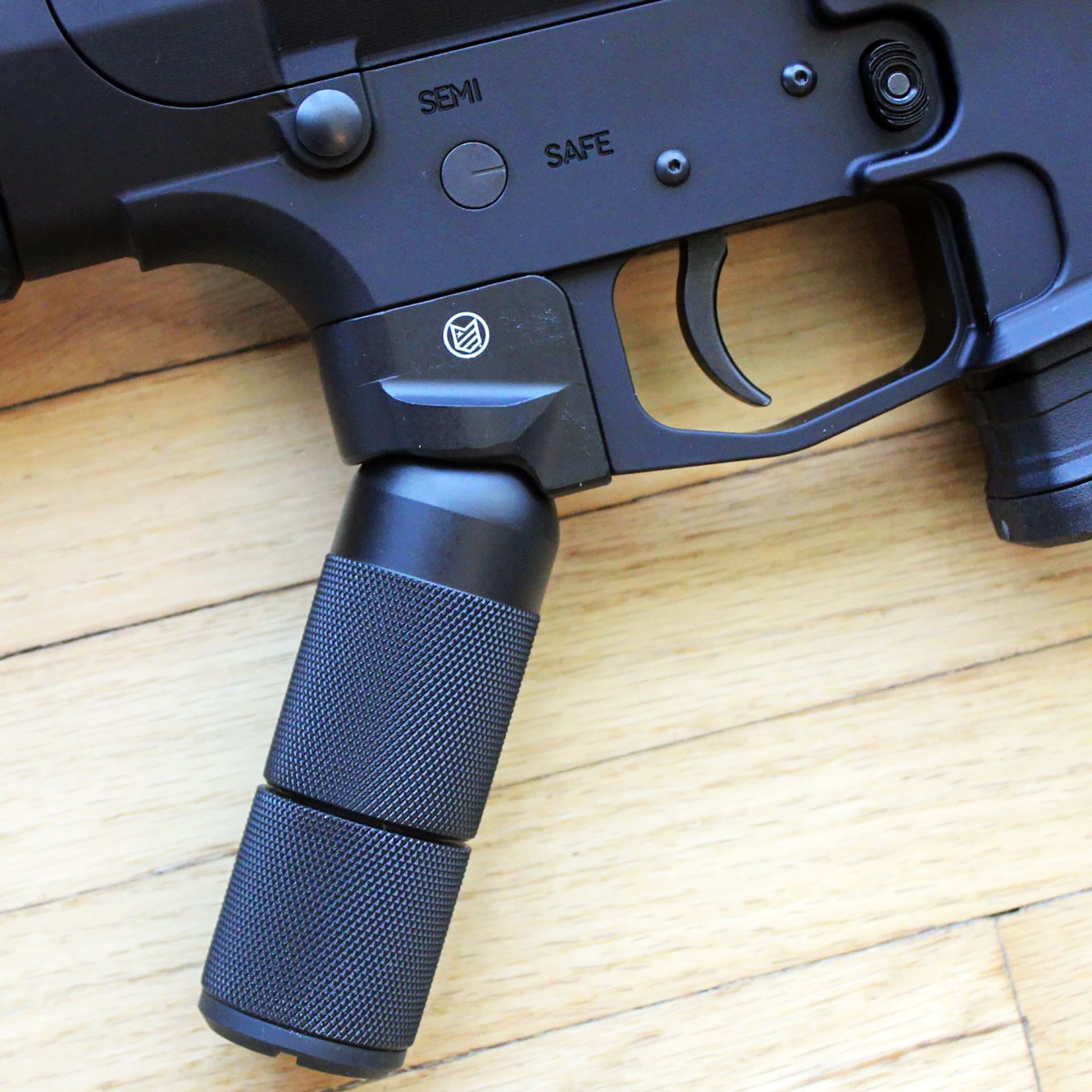 A close-up view of the Mid-Evil Industries 360 degree ARG, or Adjustable Rifle Grip.
I was hesitant to try the ARG because, at first glance, it looks a bit like a gimmick. But it proved to be one of the most comfortable and practical AR grips I've worked with so far. It locked up nice and tight at every angle and stayed locked under recoil. I look forward to trying this grip with other AR grip compatible firearms.
These three components added some weight to the pistol. The finished gun, sans optic and magazine, tips the scales at 9-lbs. 1-oz., which is about 8-oz. heavier than a 16" Aero Precision M5E1 AR-10 carbine  I put together. However, the takedown add-ons allow the 34.75" long pistol to be broken down and tucked into a 15.25" long, 6.25" high, and 5.50" wide storage space, or, a compartment that's comparable in size to a hiking boot box. It's worth the weight.
At Home on the Range
Holding this big pistol at arm's length comfortably, with the wrist brace wrapped around the forearm, will take additional time at the gym and a few more cans of spinach than I'm willing to eat. I'm perfectly happy to classify this particular build as a semi-automatic bench rest target pistol. This pistol was loud but it produced manageable levels of felt recoil. For accuracy testing it was fitted with a now discontinued Bushnell Elite Tactical SMRS 1-6.5x 24mm SFP scope.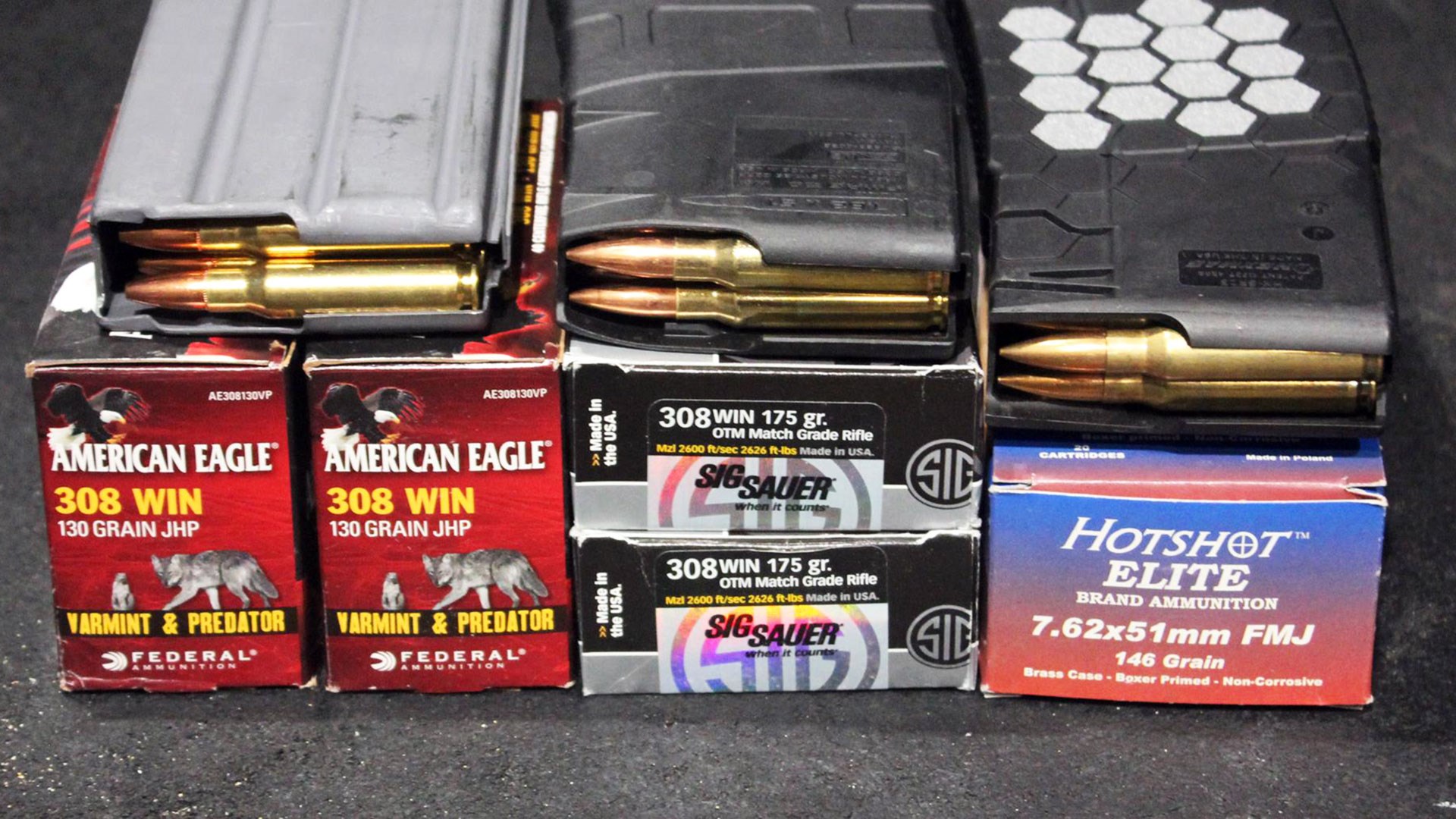 Some of the various ammunition loads and magazines used in testing.
One of the concerns with adding more moving parts to a proven platform is that they will gum up the works. But that was not the case here. The takedown pistol came together neatly without any complications or component compatibility issues during assembly. It operated flawlessly with all of the magazines, including 10-round and 20-round aluminum, steel and polymer boxes from Brownells, Duramag, Hexmag and Magpul, and ammunition tested once the adjustable gas block was properly tuned for the shorter barrel.
The pistol was unloaded, completely taken down and put back together again a couple of times during the formal accuracy testing. There were no discernible changes in reliability or accuracy. There was some head scratching as to what would be a fair accuracy test distance for a gun like this one. We settled on 50 yards for formal five-shot group testing with a few informal groups fired at 100 yards thrown in for comparison.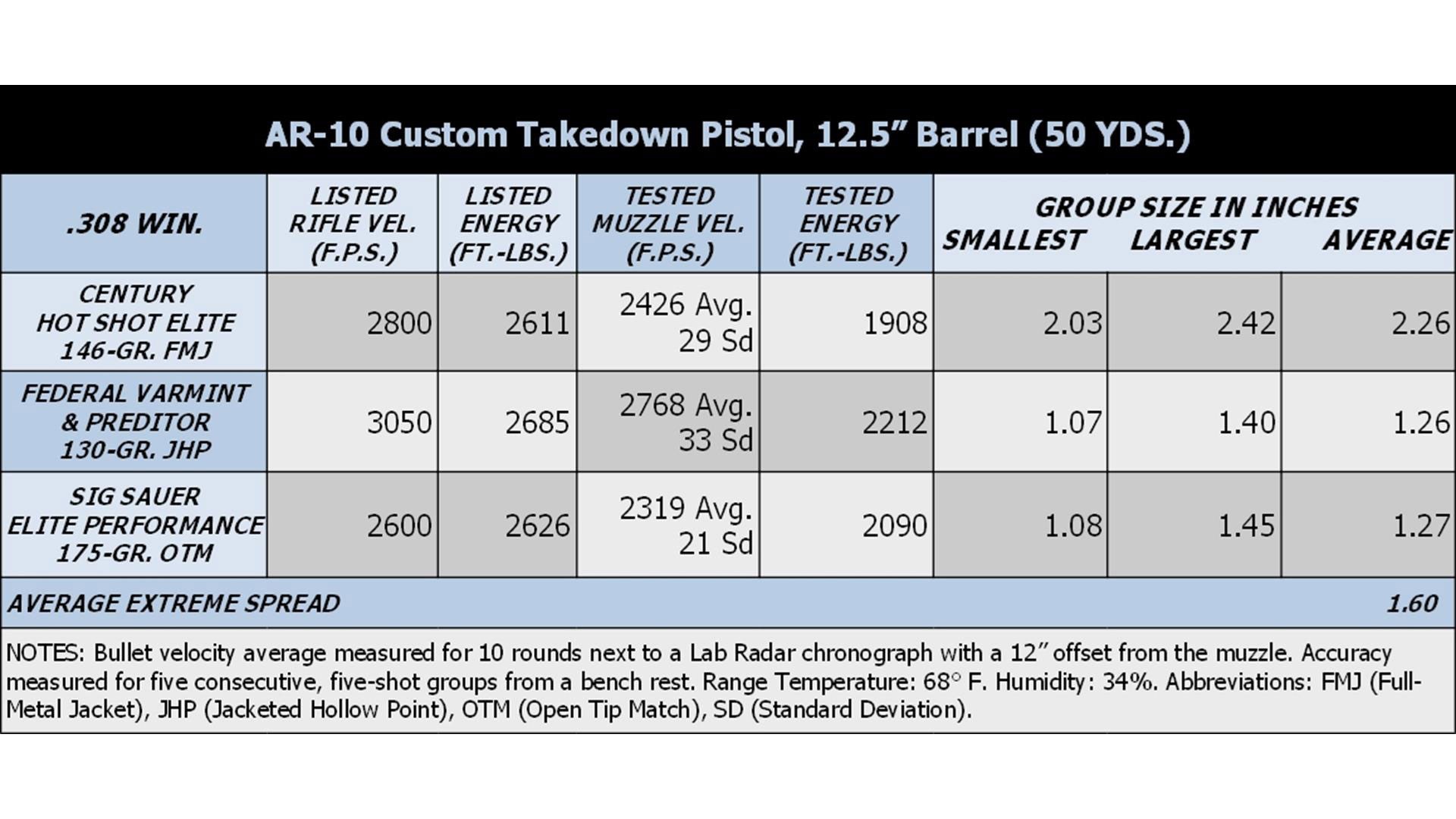 As expected, the shorter 12.5" barrel caused bullet velocities to drop when compared to the ammunition manufacturer's rifle velocities, which are commonly generated in laboratory-like conditions. Average muzzle velocities fell between 281-fps. to 374-fps. for a corresponding muzzle energy reduction of around 473-ftlbs. to 703-ftlbs., depending on the load fired. The 50-yard 5-shot groups were around 1.25" in size when using premium grade ammunition. The groups fired at 100-yards knocked out group sizes that hovered right around 2.25".
Wrapping Up
Much like the 'smallest possible' exotic 9 mm AR-15 pistol I pulled together a few years ago, this .308-caliber AR-10 takedown pistol pushes the limits of what's possible. Can the beefy AR-10 pistol be converted into takedown gun like its more svelte AR-15 compatriots? Yes, it can. But will it still be reliable with those added moving parts? It will if quality components are used.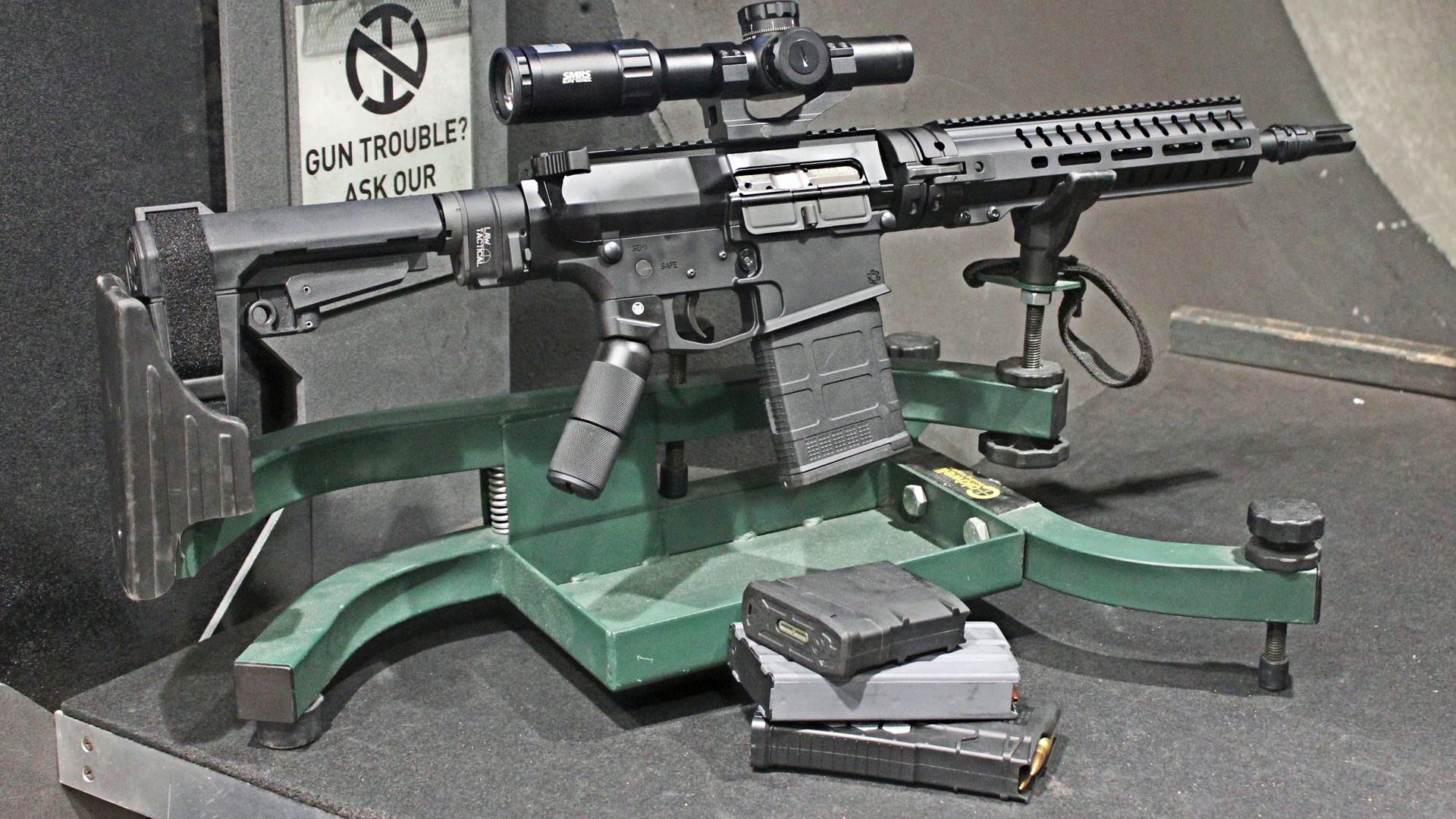 The finished pistol during test-firing with the Bushnell Elite Tactical SMRS 1-6.5x 24mm SFP scope mounted.
That leaves us with the question of practicality. This is one of the more technically challenging AR builds I've worked on. It took longer to complete because there were more components to work with and a learning curve with the parts I haven't used before. Although the power and 100-yard + accuracy potential of this pistol is respectable within its class, an AR-10 rifle is going to provide better performance numbers in most cases.
The components alone cost over $3,000 before considering shipping, taxes, and labor, which is a financial investment some enthusiasts are going to find prohibitive. Is a .308 pistol capable of accuracy and performance levels that make it a useful option? You'll have to look over the numbers and decide that for yourself. Was this build a worthwhile investment? You bet!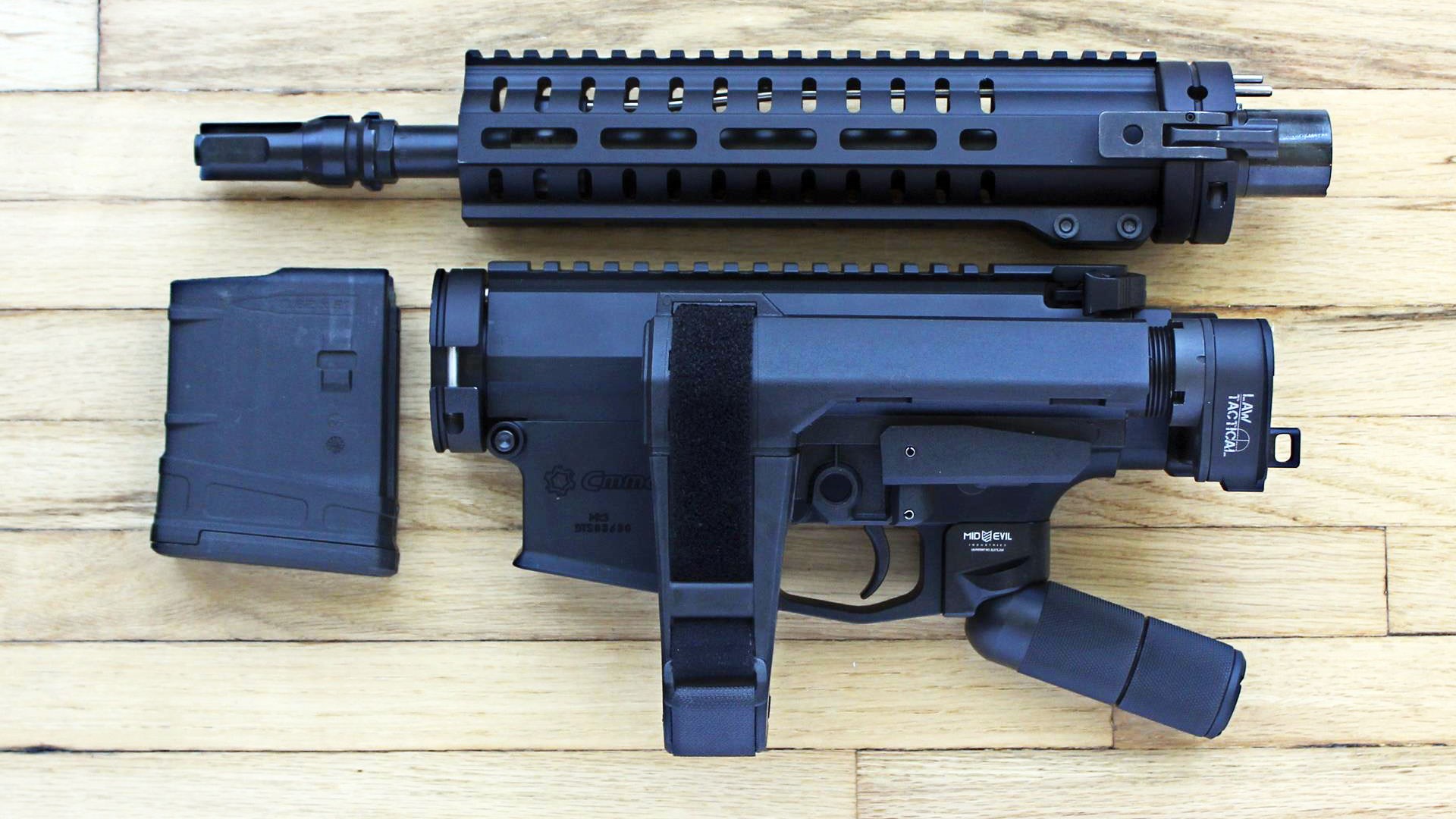 The pistol disassembled for stowage.
Not only did I get to scratch a years-old .308 pistol itch, but I got to do it with style. This pistol offers plenty of punch for a pistol with a 20+1 cartridge capacity and it can be conveniently stowed in storage spaces that would never fit a fixed barrel gun. I picked up a few tips I didn't know before, made some new friends along the way and the pistol is just as cool to work with as I hoped it would be. I'm looking forward to building another, somewhat smaller, takedown pistol using what I learned from this one.
Component Providers & Specifications:
CMMG, Inc. (CMMG)
Cry Havoc Tactical (CHT)
Dead Air Silencers (DAS)
Ground Zero Precision (GZP)
Law Tactical, LLC (LT)
Mid-Evil Industries (MEI)
Model: At-Home Custom AR-10 Takedown Pistol
Pistol Action: Gas-Impingement Semi-automatic
Caliber: 7.62 NATO/.308 Win.
Upper Receiver: CMMG Mk3, Milled Billet 7075 T6 Aluminum Hard-Coat Anodized (38BA157) $275
Ejection Port Cover: GZP AR10 Dust Cover Assembly (GZP-AR10-DCA-PB) $15
Forward Assist: No
Charging Handle: GZP Black Dirt Rifle Works Switchblade10 G3 308 Ambi $85
Bolt Carrier Group (BCG): GZP NiB Finish Adjustable Gas Custom Shop Dead Bolt (BDR-CS308BCG-NIB-AG-PB) $385
Barrel: CMMG 12.5" Medium Taper, Mid-Length Gas Port, .750″ Gas Journal (38D920A) $260
Barrel Material: 4140 Cromoly Steel, Interior and Exterior Salt Bath Nitride Finish
Rifling: 6-Groove 1:10" RH
Muzzle Threading: 5/8-24 TPI
Muzzle Device: DAS 3-Prong Flash Hider, 5/8-24 TPI $89
Gas Block: GZP .750 Super Performance Low Profile (BDR-SPGB750) $24
Gas Tube: Included with QRB Kit
Handguard: CMMG 9" Mk3 RML9 Hand Guard Kit, MLOK (#38DA240) $210
Barrel Takedown Kit: CHT 308 QRB, Mid Length $425
Lower Receiver: CMMG Mk3, Milled Billet 7075 T6 Aluminum, Hard Coat Anodized Finish  (38CA1C3) $350
Lower Parts: CMMG Mk3 Gun Builder's Kit (38CA61A) $55
Trigger Pins: GZP Armaspec Stainless Anti-Walk Pins (ARM36-SS-PB) $11
Trigger: GZP Black Dirt Rifle Works Advanced Match Trigger (BDR-1510AMT) $125
Trigger Pull: 3-lbs. as Tested
Pistol Grip: Mid-Evil Tactical 360° Adjustable Rifle Grip (ARG) $120
AR Folding Stock Adapter: LT GEN 3-M (99312) $270 at Brownells
Wrist Brace Assembly: CMMG 4-Postion Adjustable Standard RipBrace Kit (55CA9F7) $200
AR-10 Buffer: CMMG Mk3 Carbine (38CA929) $40
AR-10 Buffer Spring: CMMG Mk3 Carbine (38CA98E) $6
Sights: XS Sights Off Set XTI DXW Big Dot (AR-0008-1N) $180
Magazine Type: LR-308 or SR-25
Capacity: 10 or 20 Rounds
Assembled Overall Length: 32" to 34.75"
Disassembled Storage Dimensions: 15.25" Long, 6.25" High, 5.50" Wide
Weight: 9-lbs. 1.2-oz. (No magazine or Optic)
Suggested Retail: $3,125 (Taxes, Shipping & Labor Not Included)