Trijicon has miniaturized its Rugged Miniature Reflex (RMR) to accommodate semi-automatic pistols commonly used for concealed carry. The RMR is known for its service life in the U.S. Military and has captured the eyes of the sport-shooting community. Now Trijicon aims its latest design, at the everyday carry (EDC) market with a trim, snag-free design with trusted electronics suitable for lifesaving situations.
The new RMR Concealed Carry (RMRcc) iteration is available with in two red-dot configurations: 3.25 MOA and 6.5 MOA. The unit is constructed of aluminum, houses premium lenses and features waterproof construction that weighs a mere 1 oz., including battery. A single 3V, 2032-series battery powers the RMRcc for a service life of 4+ years, according to the manufacturer.
For optimum life, the unit must be stored at an average temperature of 70 degrees Fahrenheit and maintained at a power setting between 4 and 8. Brightness settings can be set to automatic. Two settings are provided to accommodate use in association with night-vision equipment. Adjustments for windage and elevation can be made simply, with each tick representing 3 MOA of impact shift—Trijicon provides for an adjustment range of 150 MOA.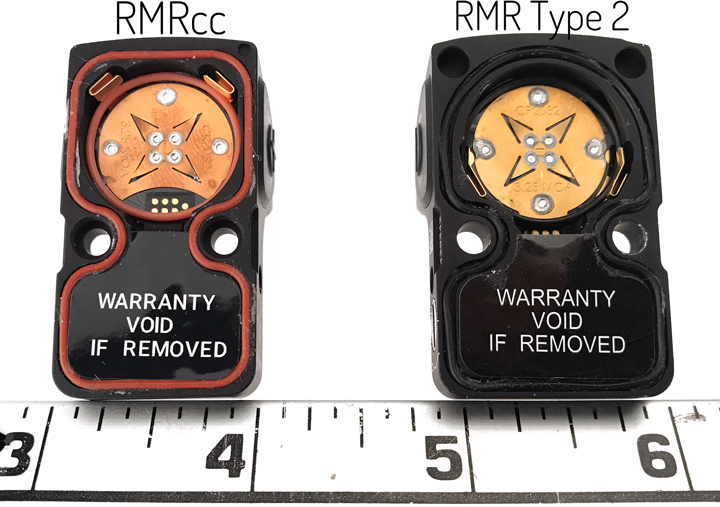 The units underside appears nearly identical to the company's RMR Type 2 model. A rubber seal treated in lubricant helps to ward off contamination once the unit is fully seated into position against the seal plate provided. The miniaturized RMRcc size difference is mostly noticed at its face, it measures 0.9" square, which is a few tenths of an inch smaller than its predecessor. Overall length between the two are equal, measured at at 1.8".
The RMRcc is designed to fit firearms from companies such as
Glock
,
Kimber
,
SIG Sauer
,
Smith & Wesson
,
Springfield Armory
and
Walther
. Manufacturer suggested retail price is set for $699. Included is a seal plate, 2 screws, Torx key, user manual, lens cloth and a company sticker. For more information, please visit the
trijicon.com
.