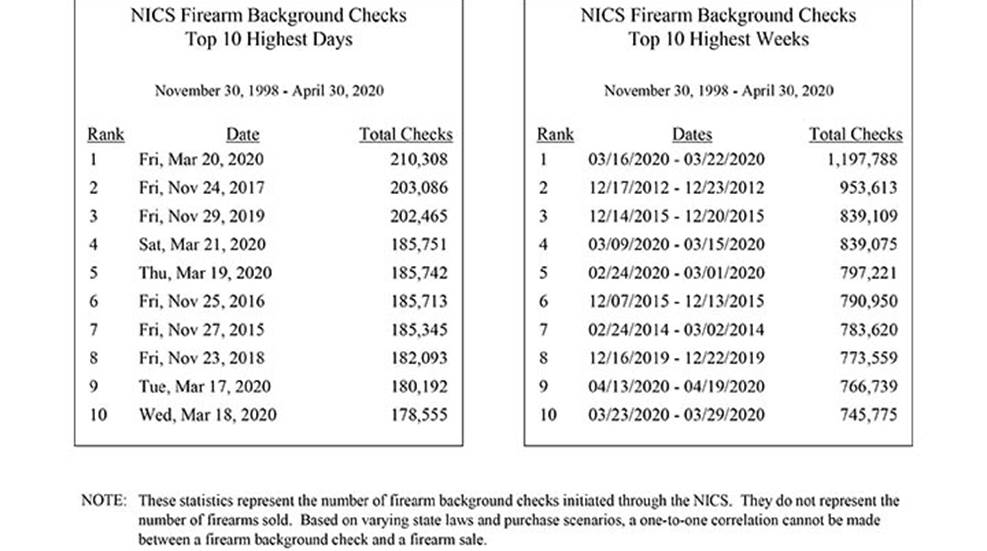 April 2020 was another record-setter for gun sales, although figures did not come close to the scalding pace of March 2020. Small Arms Analytics & Forecasting (SAAF) estimated the number of firearms sold last month in the United States was 1,797,910, an increase of 71.3 percent when compared to the same reporting period last year. The organization's estimate of gun sales in April 2019—to put the annual increase in perspective—came in at less than one million, and it continued what was then a three-month decline.
Figures for April 2020 pale by comparison to the 2,583,238 firearms sold during March 2020, however declines during tax season are a historic trend. This year, the deadline for filing was extended to July 15, and there was no shortage of enthusiasts making purchases through an FFL.
In fact, April 13 to 19 now holds ninth position among the top-10 weeks of National Instant Criminal Background System (NICS) check volume processed by the FBI. March 16 to 22 (2020) holds the current record in the category, with a total of 1,197,788. Six on the list are from this year and March now owns half of the bureau's daily records.
NICS checks include administrative use of the system, including carry permits, which render the raw numbers an inaccurate reflection of actual gun sales. They are, however, considered a relative barometer of purchases and SAAF and the National Shooting Sports Foundation employ a variety of methods to distill the data into a more precise estimate. Further clouding the issue, are those locations in which enthusiasts with a valid concealed-carry permit are not subjected to another NICS check for purchases.
A SAAF press release dissected the buyer preference for April. "Likely single handgun sales (1,085,046) increased year-over-year by 83.1% whereas single long-gun sales (560,353) increased year-over-year by 51.7%," it states. "All other likely background check-related sales (152,512) increased year-over-year by 74.6%."