by
posted on February 5, 2020
Support NRA American Rifleman
DONATE
PepperBall is now offering a small, non-lethal defensive launcher in its self-defense lineup. The Compact is the newest addition to the PepperBall pepper-spray projectile series of launchers, which includes the laser and flashlight assisted LifeLite handheld launcher, along with the pistol-styled TCP multi-shot launcher which released last year. 

According to PepperBall's GM of the Personal Defense Division Kyle Tengwall, the Compact was developed per consumer requests specifically for "runners, hikers, and many others who want to defend themselves on the go." The intention is for it to easily tuck away and be withdrawn without the need for a holster or storage in a pack, as is the case with the previous launchers. Coming in at 6.5" tall by 1.25" long and 1.75" wide with a weight of just 1.5 oz., it is the smallest offering in the lineup, and most importantly, small enough to easily fit inside a pocket without adding too much weight.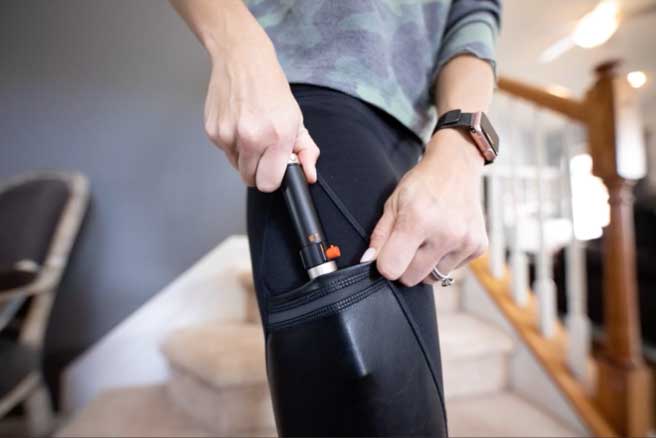 The PepperBall Personal Defense Compact Launcher is a single-shot, reloadable device which shoots a .68-cal., irritant-filled ball projectile, the same type used with the larger LifeLite launcher, up to 30 feet with up to 14 joules of energy. Once the projectile hits the intended target or something in the vicinity, it bursts open, releasing the irritant compound contained inside in a disorienting cloud that can expand up to 12 feet wide.
Projectiles are launched through the use of a changeable C02 or N2 canister installed inside the launcher. The effect of the cloud is temporarily incapacitating and impermanent, but effective. This is the same 2-percent PAVA irritant compound that originated in a 1996 DARPA program and subsequently used by military and law-enforcement agencies. The Compact is offered at a MSRP of $24.99. For more information on PepperBall products, please visit the company's website at pepperball.com.