Though today the name Mossberg is most associated with shotguns, for more than a century the company has manufactured everything from handguns to hunting rifles. It got its start, however, with .22-cal. firearms. The company, founded by Swedish immigrant and former Iver Johnson employee Oscar Frederick Mossberg, started in 1919 with the unique, four-barrel, .22 Long Rifle Brownie pistol and followed soon after with the Model K slide-action .22 rifle. Beginning in 1930, Mossberg introduced a line of utilitarian, single-shot, bolt-action rifles designed to meet the needs of the average American living through the Great Depression.
In 1938, Mossberg revamped its bread-and-butter .22 rifle lineup, with many industry firsts, including adjustable trigger pulls, quick-detachable sling swivels, a thumb safety with a "stop light" indicator of red and green dots and some of the first truly left-handed bolt-action rifles. The new rifles featured a "Mauser-type" bolt handle moved to the rear of the action. This allowed the rifles to be set up for telescopic sights, for which Mossberg supplied a line of affordable scopes. Utilizing stamped metal and synthetic parts (the stylized molded trigger guard with finger grooves would define the look of Mossberg .22 rifles and bolt-action shotguns for the next three decades) Mossberg built what it called "sound, well-engineered firearms at moderate prices."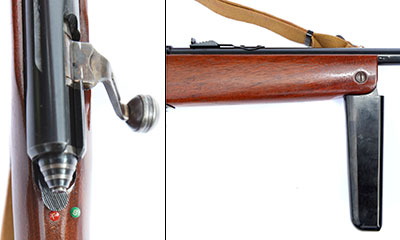 The new design was also used as the basis for an affordable line of adult-size target rifles with aperture sights. Of these, the Model 44 was adopted by the U.S. military as a training rifle during World War II. More than 50,000 of the rifles were procured by the U.S. government during the war, and, since then, many have been sold and distributed to civilians and shooting clubs through the Civilian Marksmanship Program (CMP). 
Following World War II, a slightly updated 100-series of Mossberg .22 rifles was introduced. Among them was the 142A, a bolt-action design that fed from a seven-shot detachable box magazine. A semi-automatic version, the 152, was also introduced. To appeal to the recently returned G.I., Mossberg advertised the rifles as "army-type carbines … inspired by the famous U.S. Army M1 Carbine."

Both rifles featured sights that mimicked the M1, with a receiver-mounted rear aperture and a front post with two protective ears. Also like the M1 carbine, the rifles had sling swivels mounted on the left side of their walnut stock and came from the factory equipped with military-type web slings. A unique feature of the 142 and 152 was a molded synthetic (early models used wood) fore-end that would fold down to form a vertical hand grip or an informal monopod for prone shooting.
The K version of the 142, as pictured, was introduced in 1953 and manufactured until 1957. It differed from the A model by having a simpler sighting system—an open rear sight and unprotected front sight mounted on its 18" barrel. The 100-series of Mossberg .22s would eventually include more than a dozen different models of tubular- and box-magazine-fed semi-automatic and bolt-action rifles. While collector interest in these postwar Mossbergs is limited, they still represent a good shooting value. The 142K pictured is in NRA Good condition and includes its original sling. As such, it is worth $250.
By the late 1950s, Mossberg had once again updated its .22 rifle lineup with the 300-series. These models continued to be manufactured until the mid-1980s. The Mossberg company, still family-owned, has expanded its product line over the past few decades to include modern sporting rifles, high-powered hunting rifles and even compact self-defense handguns. Also cataloged are basic, affordable .22-cal. rifles, reminders of the company's humble beginnings making "sound, well-engineered firearms at moderate prices."
Gun: 142K
Manufacturer: O. F. Mossberg & Sons
Chambering: .22 Long Rifle
Manufactured: c. 1955
Condition: NRA Good (Modern Gun Standards)
Value: $250