by
posted on January 13, 2020
Support NRA American Rifleman
DONATE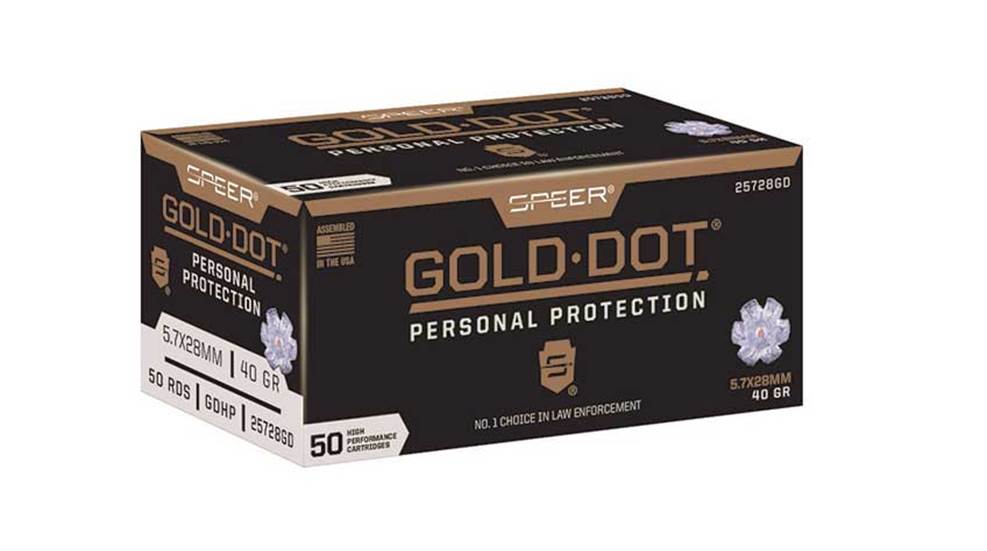 For years, the 5.7x28 mm cartridge was a unique option that only a few enthusiasts enjoyed. Part of the reason for this limited fan following is that few guns were chambered for the round, since the small-caliber, high-velocity cartridge was purpose-built for a select few guns, notably the
FN America
FiveSeven and P90. However, several other companies have rolled out gun in the 5.7x28 mm, including
Ruger
and
CMMG
, and
Speer Ammo
now offers new fodder in the form of its Gold Dot personal-protection load.
The Speer Gold Dot 5.7x28 mm load is the first 5.7 cartridge designed specifically for self-defense use. Just like other bullets in the company's Gold Dot lineup, this round is constructed with the company's trademarked Uni-Cor method, which bonds the bullet jacket to the lead core at the atomic level.
The benefit of this unique bonding process is that it virtually eliminates any chance that the jacket will peel away from the core, which ensures that the round will stay together and punch through any tough barriers while providing consistent, predictable performance. This molecular-bonding process is particularly important for a high-velocity round like the 5.7x28 mm, which can travel at speeds of up to 2,800 fps. 
Other features found in this Speer Gold Dot 5.7x28 mm load include a uniform bullet jacket that's designed to enhance accuracy, as well as high-quality brass cases, dependable primers and a specially developed propellant that aims to ensure improved feeding and ballistics inside the range of 5.7x28 mm firearms. The rounds feature a 40-grain bullet, and the Speer packs ship with 50 rounds to a box. The suggested retail price per box is $51.95. For more information on this new load from Speer, visit
speer-ammo.com
.
In addition to the FN America FiveSeven and the semi-automatic PS90, Ruger released
its Ruger-57 in 2020
, giving consumers a more affordable handgun chambered for this high-velocity cartridge. CMMG also expanded its Banshee lineup with an
option chambered for the 5.7x28 mm
.