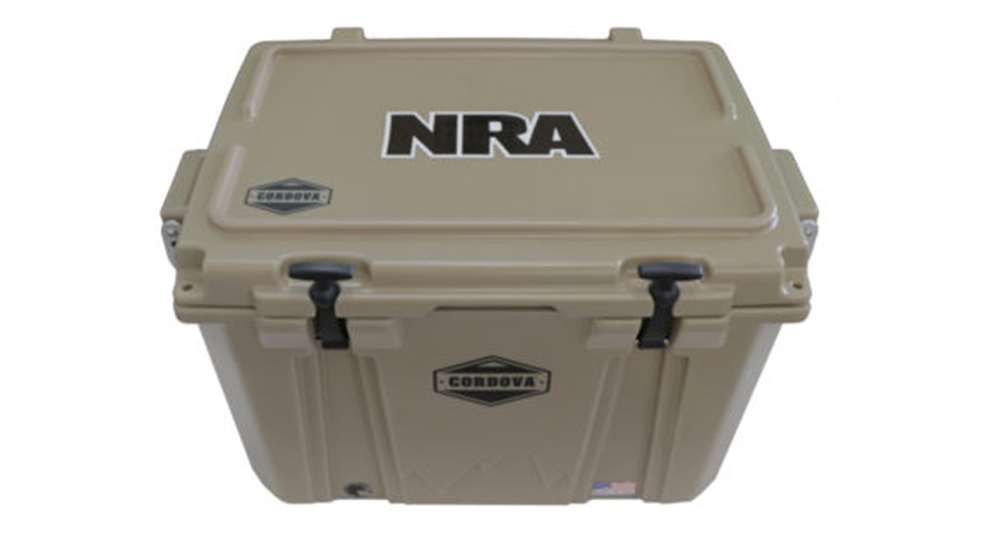 On Oct. 18, 2018, NRA announced Cordova Outdoors as its Official Licensed Cooler of the NRA. "How can you not love a company whose slogan is '2A is in our DNA'?" asked NRA Store Director Lee Colquitt, during the 2018 Friends of NRA (FONRA) vendor preview meeting.
Cordova was founded in 2015 in Idaho by Scott Campbell after a cooler failure on his new Mastercraft boat. After boasting that he could build a better cooler, Scott went to work designing and building a cooler to fit his boat. At that time, the company was named Ice Age Coolers. 
In January 2018, Boise businessman Doug McMaster purchased Ice Age Coolers and changed itse name to Cordova LLC. He added a production line, and within several months, all hardbody Cordova coolers were being produced in Idaho. Being able to manufacture and control quality enabled Cordova to lower its price point, and provide coolers to vendors with a separation from some of the other well-known brands in the industry. Being the new kid on the block of the cooler industry has allowed Cordova LLC to create features on its coolers that even the well-established cooler companies cannot match. Its patented lid lock, CNC-machined aluminum handles, and top-mount lid latches set the Cordova Cooler apart from its competitors. Cordova LLC has invested heavily in facilities and tooling and is well-positioned to be a serious competitor in a very competitive market.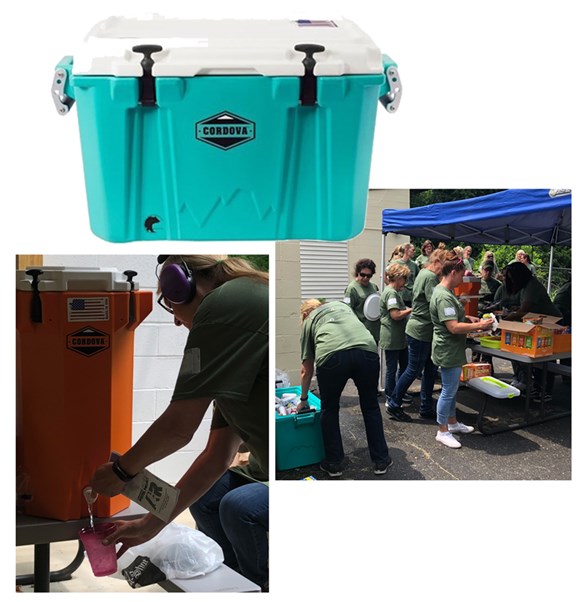 Cordova supplied coolers for the latest American Rifleman Ladies Pistol Project in summer of 2018.

Doing right by the customer, building quality products, and treating others as you would like to be treated are only a few reasons why NRA selected Cordova as its Official Licensed Cooler. "First and foremost, we wanted a company who produced products made in the USA," said Kathy Purtell, merchandise manager for Friends of NRA. 
"We have always manufactured our rotomolded coolers in the United States, and we are now one of only a select few who manufactures and distributes their own product," said Cordova owner Doug McMaster. "We feel that adds to our quality control process."
Although Cordova is new to the NRA as a whole, it has long been a supporter of the FONRA program, providing coolers to several of the states near them for their fundraising events. As the coolers were growing in popularity at these events, the opportunity to become the official cooler of the NRA presented itself. "Cordova decided to get involved with Friends of NRA before the national agreement because of our beliefs in the NRA and the Second Amendment," McMaster said.

Through the partnership with the FONRA, Cordova hopes to assist with the education of and preservation of the Second Amendment. "To ensure the freedoms that we currently enjoy, we must educate the young people and counter the assault on the Second Amendment and the constitution," said McMaster. "In this era of 'internet knowledge' there is way too much misinformation that is passed along as the truth. To make sure the values we cherish and survive, we must educate the young people."
Cordova coolers' excellent ice retention, unique features, and its made-in-the USA principle made them the top choice for NRA. "We are excited for the opportunity to work with the NRA and its affiliates," said McMaster. 

Product Preview: Cordova 50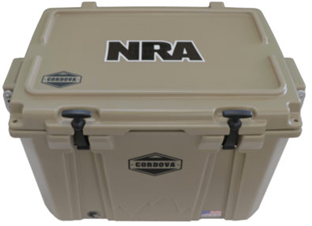 With a capacity of 48 quarts (12 gallons), and external dimensions measuring 28.25"x18"x16.75", the Cordova 50 is the company's medium-size, hard-sided roto-molded cooler. Proudly made in the USA, the highly insulated cooler features rubberized feet to keep it secured in place, a tab system that holds the lid open while in use, two bottle openers integrated into each carry handle and provisions for two locks. The Cordova 50 Medium Cooler, which retails for $275, is available in five colors: aqua, gray, orange, sand and white—and is now available with the NRA logo on the lid.