by
posted on April 2, 2018
Support NRA American Rifleman
DONATE
When one takes the time to consider the designs and features found in Kel-Tec's catalog, including the folding Sub 2000 pistol-caliber carbine, the PMR-30 .22 Mag semi-automatic pistol with its pie-wedge 30-round magazines and the dual magazine tubes of the KSG shotgun, it's readily apparent that this is a company that marches to the beat of its own drummer.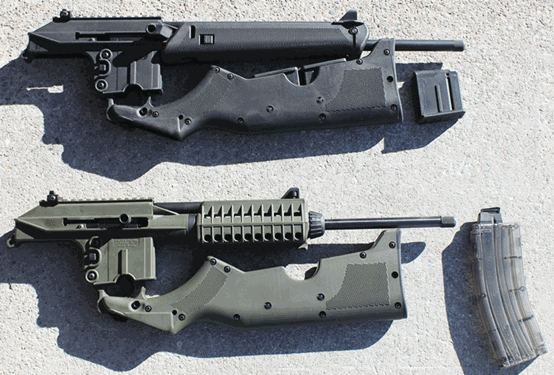 For several years now, Kel-Tec has offered the flexible SU series of sport/utility rifles with lightweight polymer stocks, which fold nearly in half by removing a single takedown pin. The current lineup offers no less than seven variations of the center-fire SU-16 model chambered for .223 Rem./5.56 NATO and two SU-22 rimfire models chambered in .22 LR. For this review, I opted to spend some quality time at the range with the SU-16CA (black) and SU-22CA (OD green) in order to learn more about this unusual platform.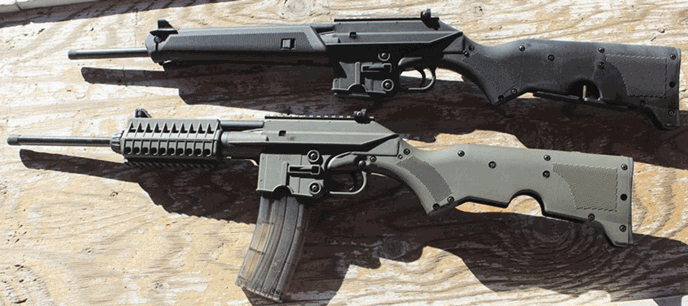 These two SU series CA models each sport some unique configuration options while having some key features in common. The center-fire SU-16CA semi-automatic features a 16" medium profile barrel, a long stroke gas-piston system located over the barrel, a Johnson/Stoner breech locking system, an AR-15-type rotating bolt and a specialized case-deflecting reciprocating charging handle located on the right side of the receiver behind the ejection port. The rimfire SU-22CA employs a simplified blow-back operated action, a slimmer 16" barrel profile and a round charging handle. These differences in the barrels and action types make the SU-22CA nearly a pound lighter than the SU-16CA, which is just 5 lbs. 2 oz. without a magazine, according to my trusty digital postal scale.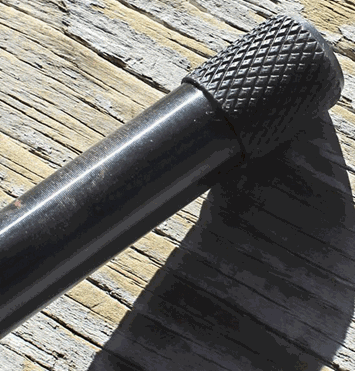 The CA models have AR-type adjustable front post sights paired with removable blued peep sights at the rear. The front sights are mounted directly to the gas blocks with winged extensions on either side to protect against unintentional impacts. Moving the sight back from the muzzle to this position reduces the sight radius by about 5". However, it frees up the muzzle to be threaded at 1/2-28" TPI for muzzle devices and sound suppressors. Knurled thread protectors are provided.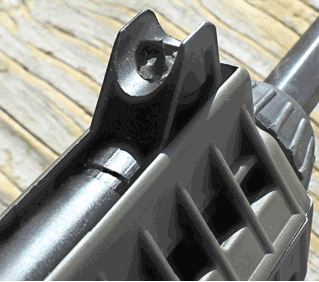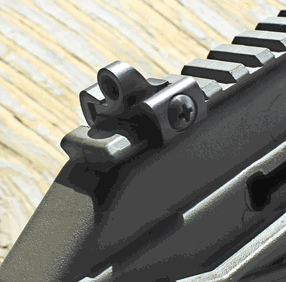 Durable high-impact polymer is molded into sections that are secured to each other using Phillips head screws to form the receivers and the hinged trigger group housing. The receivers are topped with molded in MIL-STD-1913 Picatinny rails to support an optic. A square polymer magazine release button is located on the right side of the magazine well and a blued steel manual bolt catch button is located on the underside of the magazine well just in front of the trigger guard.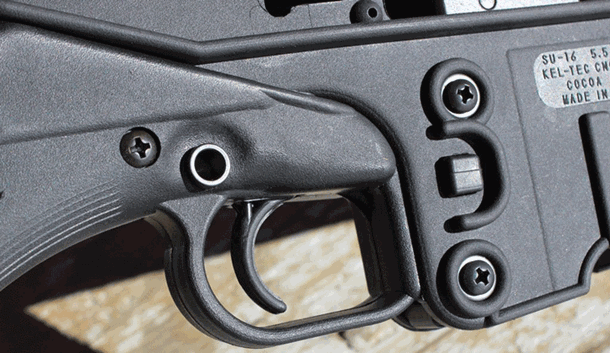 The hinged trigger group housing, trigger guard and hollow shoulder stock are all part of a single unit which is fitted with a textured rubber recoil pad. A steel cross bolt safety button is located above and behind the bow shaped polymer trigger. The hollow portion of the shoulder stock is designed to store two of the company's 10-round .223/5.56 magazines or one 30-round mil-spec aluminum body magazine. Polymer AR magazines are too wide to fit into this space while Atchisson-compatible .22 LR magazines suitable for the SU-22CA are too long.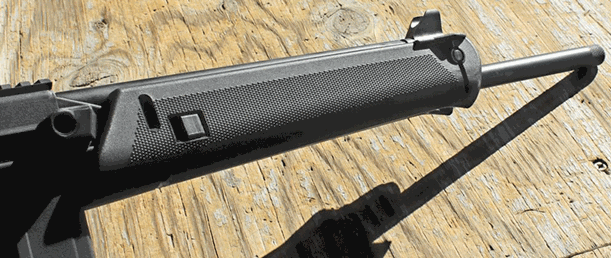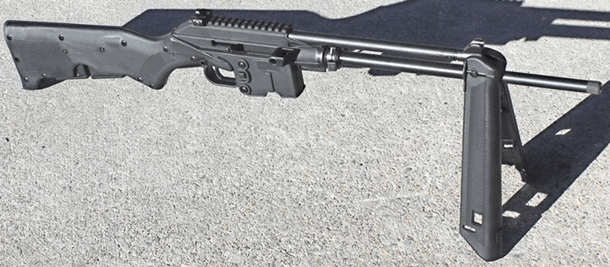 These two rifles have distinctive handguards. In the spirit of Jeff Cooper's Scout Rifle concept, the SU-16CA's handguard contains a spring loaded release lever which, when pressed, allows the two halves of the guard to swing forward to form a bipod. It's a slick feature that makes a lot of sense for a survival gun. The SU-22CA sports an M4-style fixed handguard secured in place by a removable barrel nut. The underside of the handguard has a molded in 5.25" accessory rail suitable for lights, lasers or bipods.
Folding the SU rifles is a simple process. Start by removing the magazine from the magazine well, verifying the rifle is completely unloaded and then placing the bolt in the forward (closed) position. The takedown pin is located in the grip about 2" behind the cross bolt safety button. Using a pin punch, or similar tool, press the takedown pin all the way out of the stock. Swing the stock up under the barrel. A notch in the base of the shoulder stock locks onto the barrel to keep the rifle folded. The takedown pin can be pressed back into its place in the receiver for storage.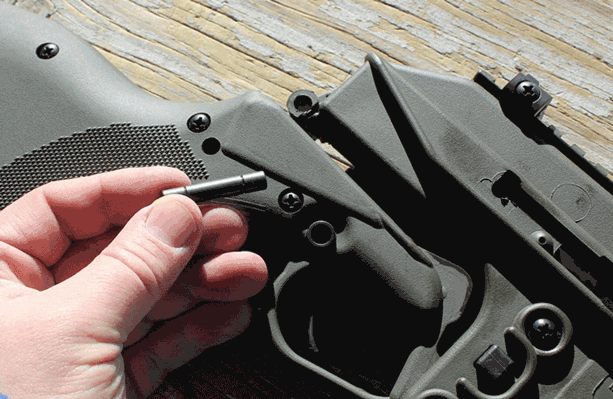 When folded, the SU rifles will fit into a storage space that's about 25" long, 7" wide and 3" deep. That's a good size for a variety of compact storage spaces. It should be noted that the trigger guard fits up inside the magazine well preventing the storage of a magazine in that particular space. But magazines can still be stored in the hollow of the shoulder stock. Because the action and trigger group are exposed when the rifles are folded, it would be a good idea to place them in some sort of cover or case to keep out dirt when transporting them.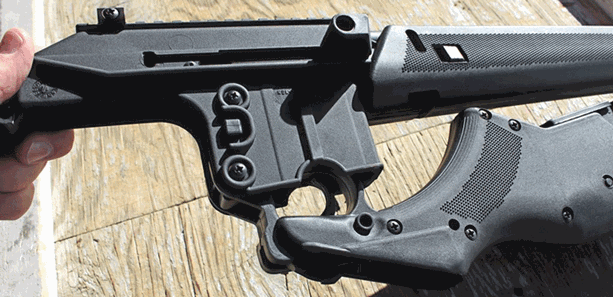 As I put these SU rifles through their paces, I found that the experience of working with them was similar to other Kel-Tec products I've tested. The controls cycled smoothly and reliably. The overall design made them feel good to hold and swing thanks to the lightweight and good balance. Felt recoil was modest and easy to manage on and off the bench. The cosmetics, however, left a bit to be desired. Obviously non-reflective polymers will never please the eye in the same way as richly oiled hardwood. That being said, the gaps in the two halves of the trigger guards and the sanding of the mold marks could have been handled with more finesse.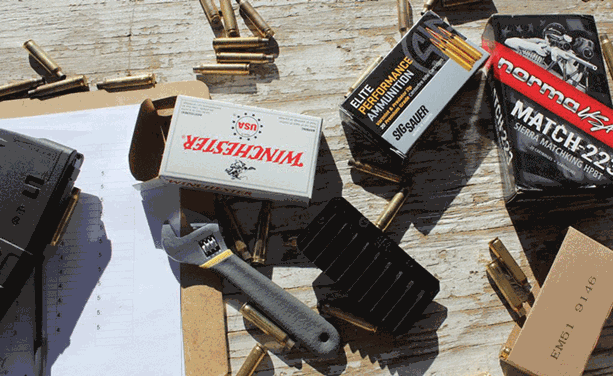 The SU-16CA's two-stage trigger was smooth with a light take up and a fairly clean break with 5 lbs. 2 oz. of trigger pull. The rifle was topped with a Bushnell SMRS Elite Tactical 1-6.5x24 mm BTR-2 reticle scope using a Weaver Tactical SPR Optics rail mount for all informal and formal testing. The AR-compatible magazines included three 10-round factory magazines, a Surefeed 30 aluminum magazine, a windowed Magpul PMAG 30 AR/M4 GEN M3 magazine fitted with a Ground Zero Precision TTI Firepower magazine extension and a Troy Industries polymer Battlemag. All of the magazines and test ammunition got along with each other swimmingly resulting in no malfunctions.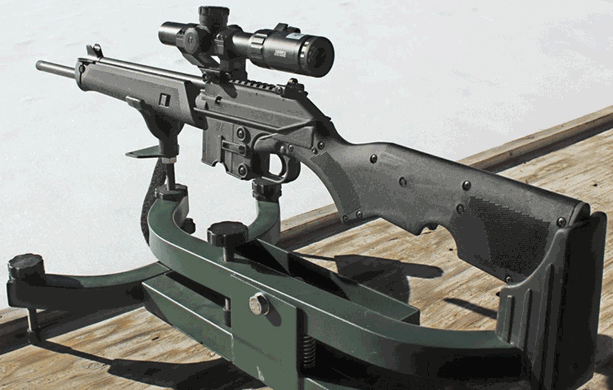 Formal benchrested accuracy testing was conducted with targets set at 100 yards using practice, match and hunting-grade ammunition. Winchester USA 55-gr. full-metal jacket rounds printed a best five-shot group of 1.43" with a five-group average of 1.63". Norma USA's Match-.223 loads topped with 77-gr. Sierra Matchking hollow-point boat tails yielded a best group of 1.15" with an average of 1.23". The SU-16CA's best groups of the day were produced using SIG Sauer Elite Performance Varmint & Predator 40-gr. ballistic tips with a best group of 1.03" and an average of 1.09".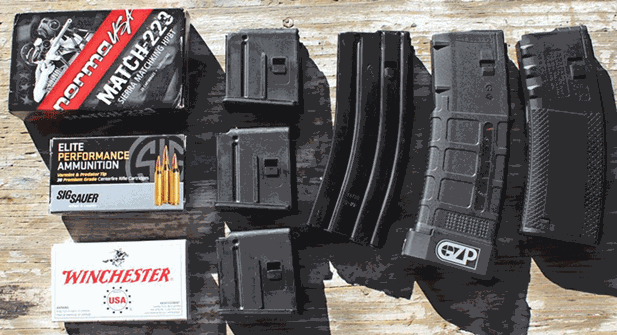 The SU-22CA's trigger had a longer, slightly heavier take up and required 9 lbs. 6 oz. of trigger pull at the break. This rifle was fitted with Bushnell's AR Optics 2-7x32 mm rimfire scope using a Weaver SPR Optics Tactical rail mount. The tested magazines included a total of three Black Dog Machine 25+1 capacity AR-15 .22 Sonic Weld magazines with smoked polymer bodies. The rifle suffered some odd malfunctions that seemed to come and go until I gave the magazines a closer inspection. One of them had hairline fractures that were not clearly visible until the magazine had been loaded a few times. My best guess is that it got gently crunched at some point in the shipping process, but not enough to be obvious. Once that particular magazine was pulled from the rotation, the rifle ran smoothly with all loads tested.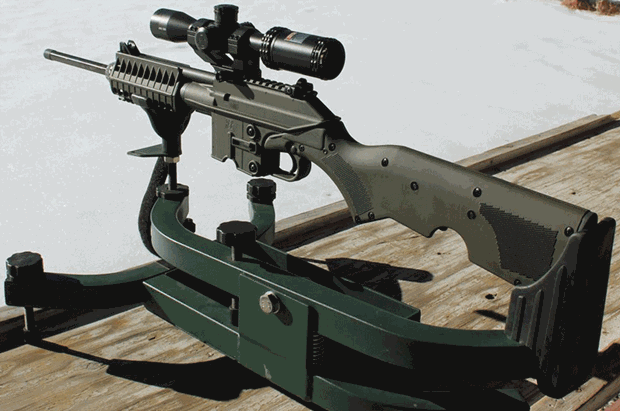 The targets were moved to 50 yards for formal accuracy testing. Winchester's Varmint HE 37-gr. copper-plated segmented hollow points leave the muzzle at a listed velocity of 1,400 f.p.s. and break into three segments when they strike the target. This load punched out a best five-shot group of 1.38" with a five-group average of 1.50". Browning's BPR 40-gr. lead round nose load launches at 1,435 f.p.s. and produced a best group of 1.42" with an average of 1.45". Norma USA's TAC-.22 40-gr. lead round nose loaded to 1,066 f.p.s. proved to be exceptionally consistent in this rifle with a best group of 0.81" and an average of 0.84"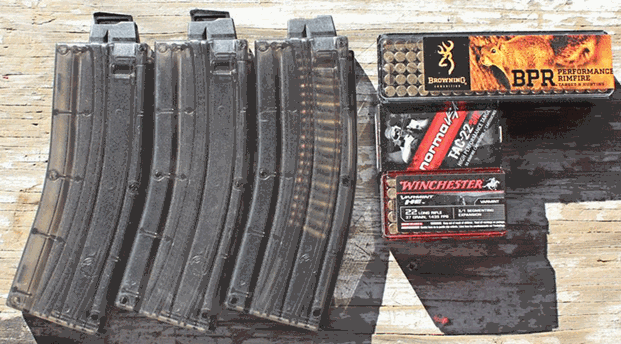 I've had my eye on the Kel-Tec SU series rifles for some time now, and I'm glad to report that they lived up to my expectations. The SU-22CA is just as light and handy as a .22 rimfire carbine needs to be for ventilating soup cans, small game hunting sessions in the field or enjoyable afternoons spent at the shooting range. The stock and controls make this rifle accessible to a wide range of body shapes and experience levels along with a set of features that will please the tactically minded. Real world pricing (around $350) is in harmony with other models in this rimfire class.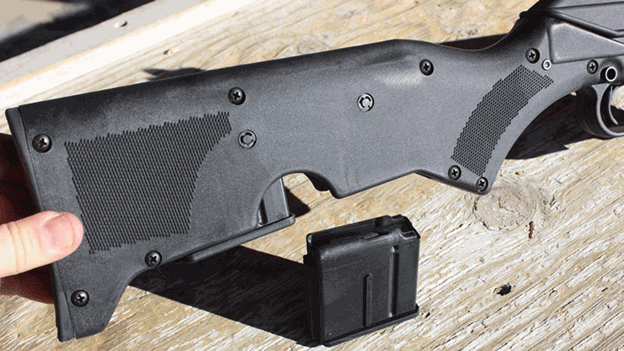 The SU-16CA is smartly designed to fill its role as a sports/utility rifle with panache. It's ruggedly built, easy to operate and the folding stock allows it to be tucked into storage spaces where other rifles won't fit. It weighs just over a pound less than an AR-15 carbine but accepts the same ammunition and easy-to-find magazines. It's a self contained system with iron sights, a fore-end that quickly converts to a bi-pod and the means to store between 20 to 30 rounds of ammunition, loaded into magazines, inside the shoulder stock's storage compartment. All this and it can be fitted with an optic and muzzle devices as well. With real world prices hovering around $600, this model deserves consideration if you're looking for a bug-out bag or the trunk of your car.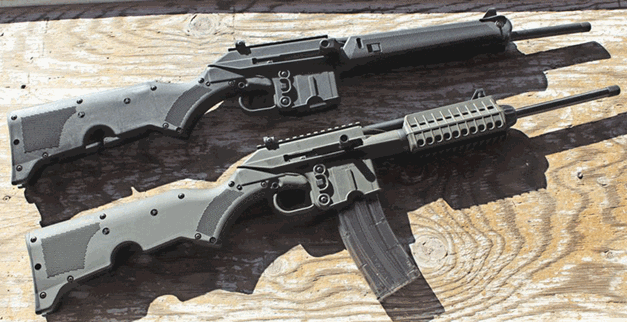 Specifications:
Manufacturer: Kel-Tec
Model: SU-16CA
Caliber: 5.56 mm NATO/.223 Remington
Action: Gas Operated Semi-Automatic
Steel Component Finish: Blued
Stock: High-Impact Textured Polymer
Front Sight: Gas Block Mounted Adjustable AR-Type Post
Rear Sight: Removable Peep
Barrel Length: 16"
Trigger: Polymer Bow, Single Stage
Trigger Pull: Two Stage, 6 lbs. 4 oz. (As Tested)
Length of Pull (LOP): 13.75"
Overall Length: 35.9"
Folded Length: 24.9"
Weight: 5 lbs. 2 oz. (No Magazine)
Magazine Type: AR-15 Compatible  
Capacity: 10-Round Factory Polymer
Twist: 1:7" RH
Rifle Grooves: 6
Accessories: One Magazine, Screw Driver, Owner's Manual
MSRP: $794.55
Optic: Bushnell SMRS Elite Tactical 1-6.5x24 mm with BTR-2 Reticle (ET1624J) $1,822.45
Scope Mount: Weaver Tactical SPR Optics Tactical Rail Mount, 1"/30 mm (48377) $90.45 
Model: SU-22CA
Action: Blow-Back Operated Semi-Automatic Rimfire
Caliber: .22 Long Rifle
Steel Component Finish: Blued
Stock: High-Impact Textured Polymer
Front Sight: Gas Block Mounted Adjustable AR-Type Post
Rear Sight: Removable Peep
Barrel Length: 16"
Trigger: Polymer Bow, Single Stage
Trigger Pull: Two Stage, 9 lbs. 6 oz. (As Tested)
Length of Pull (LOP): 13.75"
Overall Length: 35.9"
Folded Length: 24.9"
Weight: 4 lbs. 3 oz. (No Magazine)
Magazine Type: Atchisson-Compatible
Capacity: 25 +1 Rounds
Twist: 1:16" RH
Rifle Grooves: 6
Accessories: One Magazine, Screw Driver, Owner's Manual
MSRP: $503.64
Optic: Bushnell AR Optics 2-7x32 mm (AR92732) $173
Scope Mount: Weaver Tactical SPR Optics Tactical Rail Mount for 1" and 30 mm Tubes (48377) $90.45