by
posted on December 28, 2018
Support NRA American Rifleman
DONATE
In 1966, James Leatherwood started Leatherwood Optics, and the U.S. Army would soon issue his Automatic Ranging and Trajectory (ART II) scopes to its snipers for use during the war in Vietnam. Following the conflict, Leatherwood turned his attention to building high-quality scopes that ordinary American civilians could afford, which he accomplished by sourcing parts from China while keeping control of his products' design and quality.
Although he passed away in 2015, Leatherwood's company lives on today as Hi-Lux Optics of Torrance, Calif., and the riflescope reviewed here is intended specifically for use in NRA High Power and CMP "Across the Course" matches—the Hi-Lux XTC1-4X34 competition riflescope.
In 2017, the NRA updated its rules for the High Power division to allow optics with a maximum magnification of 4.5X and a maximum objective size of 34 mm. In response, Hi-Lux produced a scope that would conform perfectly to the rules. The XTC is a 1-4X variable-power scope that features a 30 mm tube and a 34 mm adjustable objective lens.
The scope features oversize target turrets that are precise and produce both tactile and audible clicks. The turrets are marked both on the dials and on the scope body, so shooters can quickly see where the turret is set within the scope's vast adjustment range without breaking the shooting position. The turrets can be indexed to zero with an Allen wrench.
Staff tested the precision and repeatability of the adjustment dials by zeroing the scope, then locking it in a shooting vise and viewing crosshair movement over a 1" grid target. It was confirmed that each click equaled 1/4" of movement at 100 yds. Turning the dial 75 clicks in each direction and then 75 back confirmed that the crosshair returned to its original location. The scope's lenses are fully multi-coated for clarity, brightness and glare mitigation, and performed well in direct sun as well as low light—on par with some optics made in Japan or the Philippines that we've tested costing more.
The 10.2", 16.5-oz. XTC is adjustable for parallax by turning its objective bell. This is important for a scope intended for use in 200-, 300- and 600-yd. matches, with each distance clearly marked. But the scope is also versatile—parallax settings of 15, 20, 40 and 100 yds. (and infinity) are also marked for use on an airgun, crossbow, shotgun or for close-range defensive scenarios. Its versatility is further enhanced by a green illuminated reticle that features a 12-position rheostat with two "off" positions.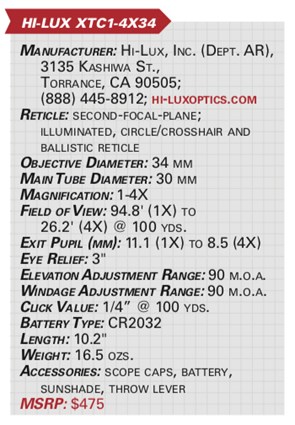 Located in the second focal plane, the reticle's tapered lines guide the eye to a floating crosshair that's surrounded by a 300-degree circle that, when illuminated, hastens target acquisition. Under the circle are four additional floating crosshairs for precise hold-over points if the shooter chooses not to dial. Each crosshair features graduated windage marks. On either side of the central crosshair are two floating crosshairs for windage holds if the shooter dials for elevation.
In order to evaluate the XTC, we froze the Hi-Lux, then fully submerged it for one hour. The scope showed signs of internal moisture and fogging, so we called the company and were sent a new unit. The subsequent scope proved to be waterproof. After re-attaching the new unit to a rifle and zeroing, the scope and rifle were stood vertically on the rifle's buttstock and allowed to fall over three times onto grass before being fired again to check zero. The scope held zero.
Tailor-made for competition use in High Power Matches, the Hi-Lux XTC1-4X34 scope is nonetheless an excellent all-around optic for hunting or recreation. With a retail price of $475, few options on the market offer as many features for the money.