posted on December 11, 2018
Support NRA American Rifleman
DONATE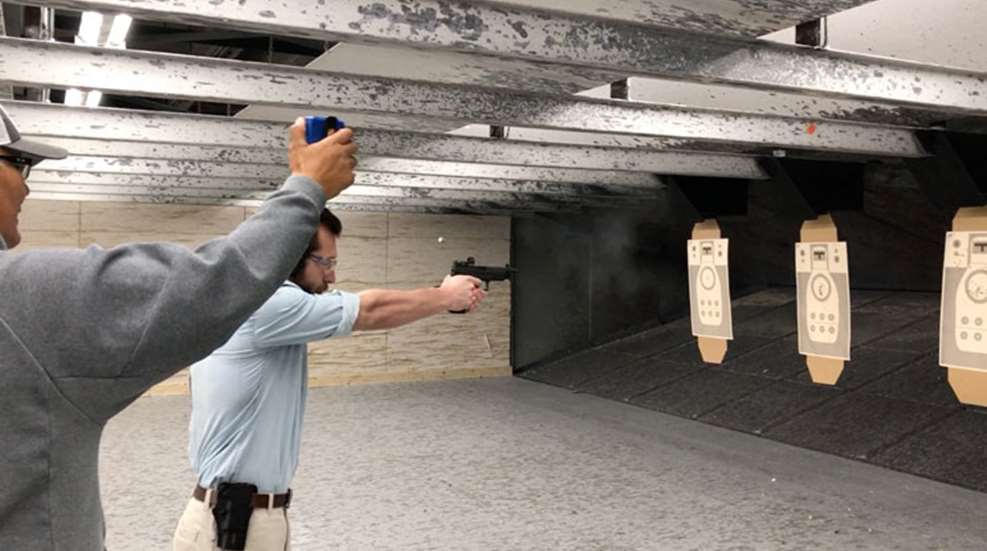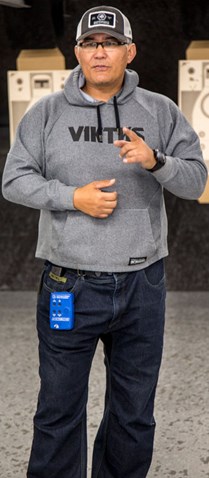 Pistol-mounted red-dot sights are trending at a breakneck pace, with many shooters eagerly embracing the technology and swearing off iron sights forever. On the other end of the spectrum though, the new platform has an equal number of critics who, leery of change, seem to find endless flaws with the system.

So what's the truth and who's right? Red-dot aficionado and Modern Samurai Project founder Scott Jedlinkski recently shared his expertise with editors during a visit to NRA Headquarters, offering a thorough rundown on how to properly run a red-dot equipped pistol.
Our range day began with an acknowledgement by Jedlinski of the usual charges often levied against red-dot sights on pistols. "They aren't quick enough up-close!" for example, or "The batteries will always die when you need them." But Jedlinski, dismissing such statements (the second of which can be remedied simply by changing batteries every six months), endeavored to prove the effectiveness of the red-dot not by argument, but through real-time use on the range.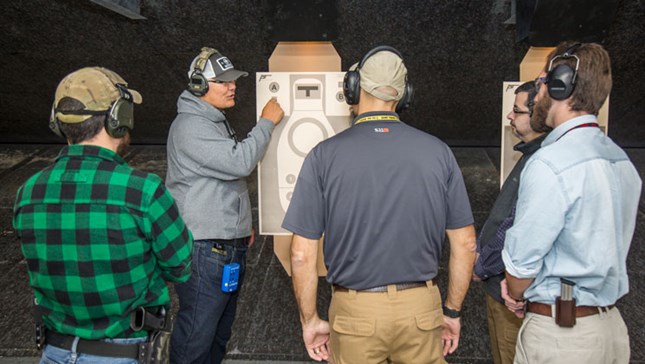 Many experienced shooters have for years recognized the effectiveness of the red-dot for precise, ranged shooting, thus the bulk of our work centered on two intrinsically related topics: close-quarters use and dot acquisition.
The most interesting thing about using a red-dot up close (here defined as up to five yards, depending on personal comfort) is that you don't actually have to use the red-dot. This is in no way, shape or form a discussion or endorsement of point shooting; this is aimed fire without the principle sighting system. Disclaimer aside, in order to avoid wasting time finding the perfect red-dot sight picture, Jedlinski introduced us to three ways to accurately sight and shoot a nearby target: the "back-of-slide," the "ghost ring" and the "guillotine."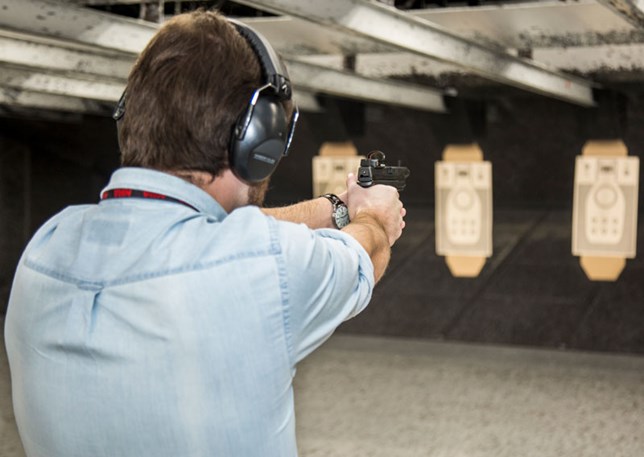 Back of Slide
The most basic, and the one that can be used no matter your pistol's sighting system, is the "back-of-slide." Simply block out the center of your target with the back of your pistol's slide, and pull the trigger. While indexing this position certainly takes some practice, once you get the hang of it you can be assured of quick and accurate shots, virtually negating any "lag" from spending time on sight picture.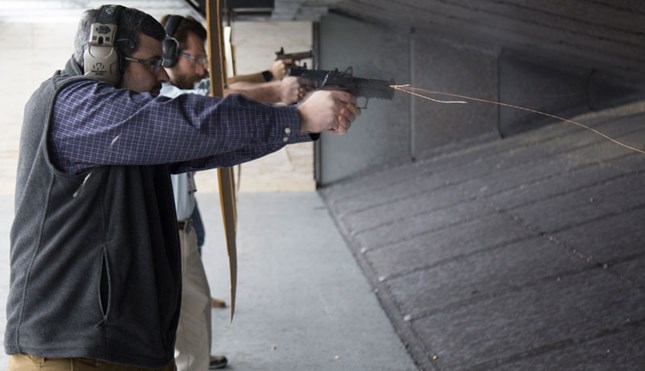 Ghost Ring
The second, the "ghost ring," is probably the most intuitive. Using the ghost-ring method calls for nothing more than finding your target in the glass of the red-dot and firing, no dot required. Will you blow a ragged hole in the 10-ring shooting like this? Probably not. But you'll certainly hit center mass. The only disadvantage with this method is that many will be tempted to revert to more exacting fire if they catch a glimpse of the dot somewhere on the glass. This reflex can, of course, be trained out.

Guillotine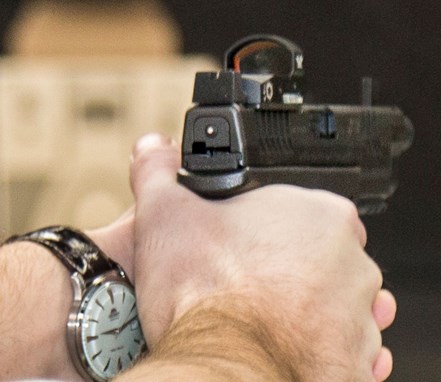 Finally, the "guillotine," (my personal favorite of the three) involves bisecting your target with the top of the red-dot housing. Allowing for a little more field of view than the back-of-slide, while negating any chance you'll focus in on the dot, the guillotine method appears to be fast and relatively accurate, particularly for a self-defense scenario.

Now that's all well and good, you might be thinking, yet we still haven't focused on actually using the red-dot. In fact, we have exclusively covered how to work around it! Rest-assured, we're getting there.
Using The Red Dot
When you actually have time to use the red-dot's—well—dot, the system is almost unparalleled, and it takes less time than you think. While many shooters have issues initially finding the dot (further spurring notions of the red-dot pistol's ineffective nature in fast-paced environments), it comes down more to improper indexing and a lack of familiarity with the platform than integral deficiencies within the system.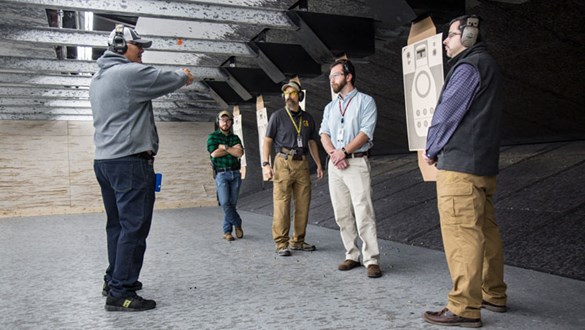 One of the most common problems Jedlinski said he encounters (and I can safely say I did nothing to alter this general statistic) is people losing the dot to one side or the other while bringing the gun up, prompting a frenzied, panicky search for that little red ball. Without straying too far from the topic at hand into the fundamentals of accessing, this phenomenon can be caused by any number of mechanical problems, such as tilting to the side upon draw, thrusting your head forward in a turtle-like fashion, or stiff-arming the pistol out in front of you. When a draw is executed properly, using the 3 o'clock position as an example, the pistol slips the holster as your non-firing hand comes to the center of your chest; your non-firing hand meets the pistol at this center point during its journey forward, and helps push it out to your firing position. If all this is done correctly, the dot will descend in an almost perfectly vertical line into your field of vision, without prompting any search-and-rescue operations. Overall, this is not too different from how most of us strive to deploy our irons; the red-dot is simply more exacting in revealing our own defects. 



Red-dots are sold today by nearly every pistol sight manufacturer, like these from Aimpoint, SIG Sauer, Bushnell and, the newcomer to the red-dot market, Crimson Trace.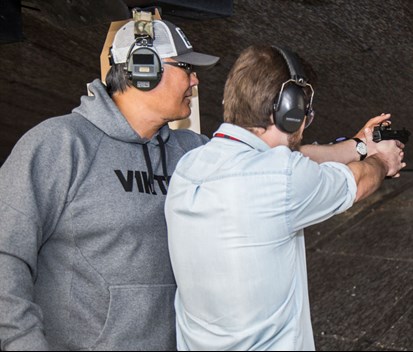 So are red-dot sights for everyone? Of course not. Generalizations of that sort are rarely true. If you're already a USPSA Grand Master with irons, there is no real reason to switch if you don't want to. But for those whose eyesight is beginning to fade, newer shooters not yet accustomed to a specific platform, or even for old hands who want to try something new, there is no truth to the adage that irons are always faster than red-dots. Try the platform out for yourself and see, you just might like it. Should you decide to go this route, I can give no better recommendation than Scott Jedlinski and the Modern Samurai Project. A resolute professional, and a staunch advocate for the adoption of the red-dot platform, Jedlinski can provide you with all the insights needed to make a well-educated decision. Check out him and his team at modernsamuraiproject.com.  For another take on this great class, check out Jay Grazio's article over at our sister publication, Shooting Illustrated.