Support NRA American Rifleman
DONATE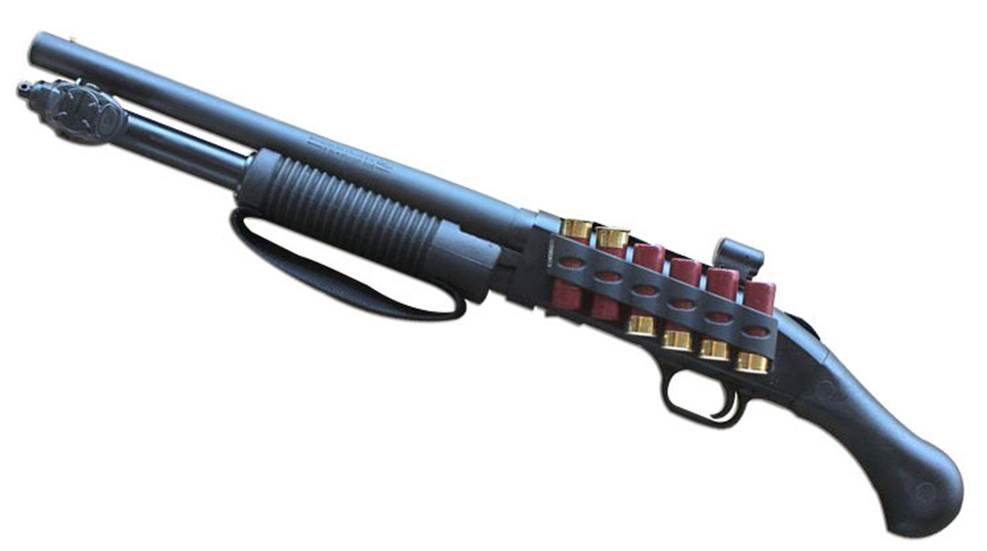 Earlier this year I enjoyed testing the new non-NFA 14" barrel Mossberg 590 Shockwave pump-action 12 ga. As I mentioned in the review, this gun successfully straddles the categories of serious defensive tool and fun movie gun. The Shockwave employs most of the same components as standard 590 shotguns, which means there are plenty of accessories available for it. So, of course, I had to tinker with it.

I set out to find upgrades to dress up the Shockwave that would meet certain criteria. They needed to make the Shockwave a more effective defensive tool without making overly heavy since that would defeat the purpose of the gun. The upgrades needed to be durable and easy to install without the need for gunsmithing or permanent alterations to the firearm. And if the accessories looked cool too, well, that would be a bonus for the Hollywood checklist.
The Shockwave's receiver arrives drilled and tapped for a scope base making this one of most easily installed, and least expensive, upgrades for this gun. The short barrel and abbreviated Raptor grip do not lend themselves to shooting with an optic. But the installation of a Weaver Tactical # 48333 multi-slot Picatinny rail for just $9.49 facilitates the attachment of light, laser and combo modules quite nicely. Since this 12 ga. is likely to be shot from the hip, obscuring the brass bead sight is not much of a concern.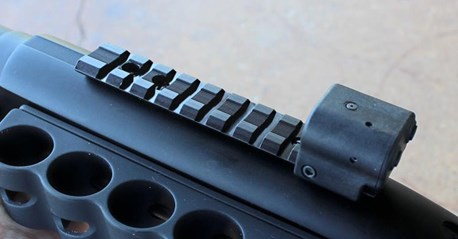 LaserLyte currently offers two versions of the company's rail mounted red laser Center Mass laser sights, the Lyte Ryder and CM-MK4. Both sights use a splitter lens placed over the laser diode to project nine red dots of light. A single dot provides a central aiming point with eight dots surrounding it in a halo pattern that spreads apart as target distance increases (much like shot pellets do). Operators can shoot with both eyes open for improved situational awareness and get a better idea of how far they are from their target by the size of the laser pattern.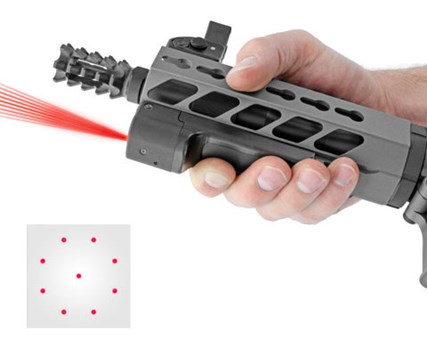 The Lyte Ryder has a 2.3" pressure activation switch built right in to it. A single squeeze of the switch activates the momentary-on mode while two squeezes sets it to constant-on. Constructed of 6061 T6 aluminum and glass filled nylon, this model requires 4" of rail space to install and provides up to 2.5 hours of constant-on run time using three 357 silver oxide button cell batteries. It's easy to activate by reaching up and around the receiver with the support hand as if slap loading a cartridge into the receiver.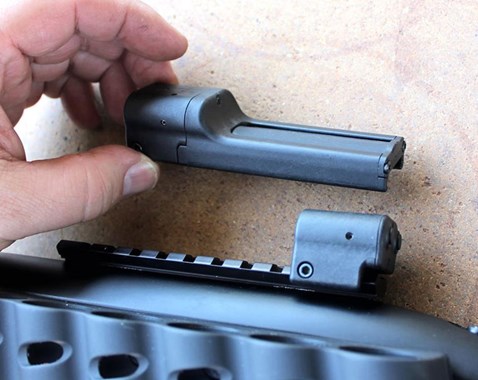 The compact CM-MK4 sight was designed for use with accessory railed pistols. Just over an inch in length with a polymer housing, this low-profile module weighs just half an ounce. It's activated by pressing one (or both) of the two round rubber buttons located at the rear of the housing. I tried both sight configurations and either works just fine. I settled on the CM-MK4 for testing because I liked the ease of activation it provides. After pressing the Shockwave's tang-mounted safety switch forward into the Fire position with the thumb of the shooting hand, it's only a short distance more to mash the activation button(s) of the CM-MK4 to turn it on.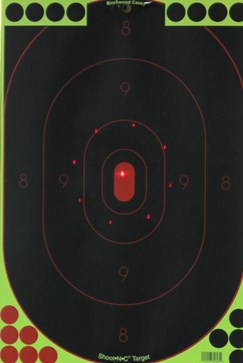 It's easy to master and dependable under stress. The sight is adjustable for height and windage. It only took a few shots to sight in at 7-yards so that the laser pattern and shot patterns were hitting center mass.
If you want to mount accessories near the muzzle of this gun, the ambidextrous GG&G Tactical Mossberg 590 Tactical Flashlight Mount is the way to go. Manufactured using AS-35 Geneva steel and 6061-T6 billet aluminum, this mount weighs just 1.3-oz and ships with a lifetime warranty. It supports a 1 .75" (four slot) MIL-STD-1913 accessory rail that rests to the right or left side of the barrel. It slips onto the magazine tube between the barrel ring and the magazine cap, no alterations required. The rail arm extends out from the magazine tube just enough to allow the polymer forend to cycle properly. This mount is also available with dual sling loops.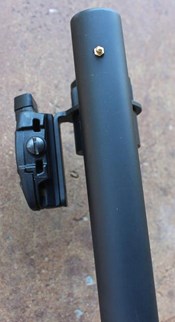 The GG&G mount was fitted with the low-profile Mission First Tactical TORCH Backup Light (TBLW) with dual white LEDs. In this case I chose it because it's one of the least bulky lights available with its low-profile housing and 0.78-oz. weight. This light module has an IPX7 waterproof rating, a 10-year storage shelf life, and uses a single replaceable CR2016 battery generating 20 lumens of illumination for up to 12 hours of constant-on run time. The wide rubber on/off switch is within easy reach of the support hand thumb when the forend is in the forward position making the light as intuitive to activate as the LaserLyte sight.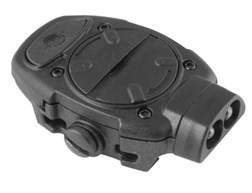 While the Shockwave's 5+1 ammunition capacity is impressive for its size, it never hurts to keep additional rounds at hand. Some folks opt for shoulder slings with shell loops which can be a good option for full-size shotguns. I think attaching a shell sling to this particular gun would be too cumbersome. A side saddle for the receiver makes more sense.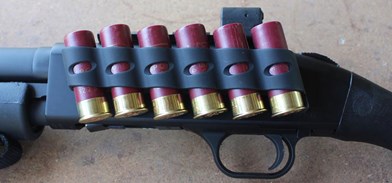 GG&G Tactical offers a professional grade 6-shot side saddle manufactured from 6061-T 6 aluminum with a Type III matte black hard anodized finish. The saddle holds 12 ga. shells at a 15 degree angle for increased speed when bottom loading the magazine tube or top loading the chamber. Shells are securely held in place by a replaceable rubber support bar that runs through all six of the saddle's ports. It will accept 3" and 2 ¾" long shells and even 1 ¾" Aguila Ammunition Mini shells with the brass bases facing up or facing down, depending on the shooter's reloading style.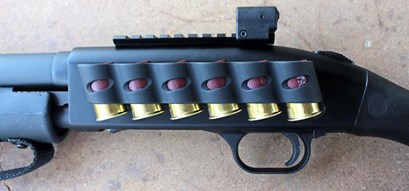 If you want to keep even more ammunition at hand, Mossberg offers shell storage belts and bandoliers for under $30. Constructed of durable nylon with reinforced cartridge loops and heavy-duty webbing, the shell loops will accommodate 12 or 20 ga. shells. The fully adjustable belt fits waist sizes from 27" to 44" and holds up to 25-rounds of ammunition. The bandolier keeps up to 45 shells within reach for quick reloads with an adjustable length ranging from 48" to 58". Either of these sets of shell loops can be rolled up and tucked into a range bag or staged with the Shockwave for personal protection.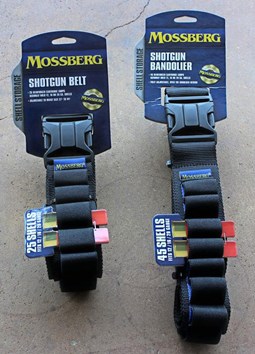 For incognito transportation, I immediately reached for a BLACKHAWK! Diversion Racquet Rifle Case (shown) only to find out that it has since been discontinued. Several companies now offer covert bags of various types and sizes that will fit the Shockwave. Another less expensive option is to keep an eye out for generic paint ball gun cases. I have a padded case I picked up at a big box store on sale for $12.99 a few years back that's a perfect fit for the shockwave.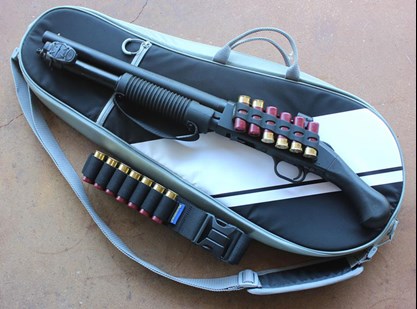 For those who want their practical upgrades to boost the Shockwave's Hollywood movie gun appeal, the nine laser dots of the Laserlyte sight is hard to beat. The addition of the gun mounted accessories increased the unloaded weight of the Shockwave by just 9.7-oz. without spoiling the balance or adding a bunch of snag points. All of the add-ons proved to be reliable, easy to use and effective.               

Tested Accessories:
Test Gun: Mossberg 590 Shockwave $455
Optics Rail: Weaver Tactical Multi-Slot Mossberg 590 (#48333) $9.49
Laser Sight: LaserLyte Center Mass (CM-MK4) $164.95
Light Mount: GG&G Tactical Mossberg 590 Tactical Flashlight Mount (GGG-1655R) $29.95
Rail-Mounted Light: Mission First Tactical Torch Backup Light (TBLW) $49.99
Side Saddle: GG&G Tactical Mossberg 590 6-Round (GGG-1515) $74.95
Belt & Bandolier: Mossberg Shotgun Belt (#93502) $26.99, Bandolier (#93501) $29.99