Support NRA American Rifleman
DONATE
The Theater 300, from MILO Range Training Systems, utilizes five high-definition projectors and Surround Sound to envelope trainees within 300-degrees of interactive surfaces, providing the company's most fully immersive use-of-force training experience. The system, which offers scenario authoring that allows a single instructor to run a simulation that responds to the actions and decisions of the user/users, is compatible with the company's line of simulated firearms and will register fired hits and misses accordingly.
Senior Executive Editor Brian C. Sheetz traveled to MILO Range's Ann Arbor, Mich., headquarters recently with the "American Rifleman TV" crew to film an upcoming episode, and he had the opportunity to run the Theater 300 through a couple scenarios.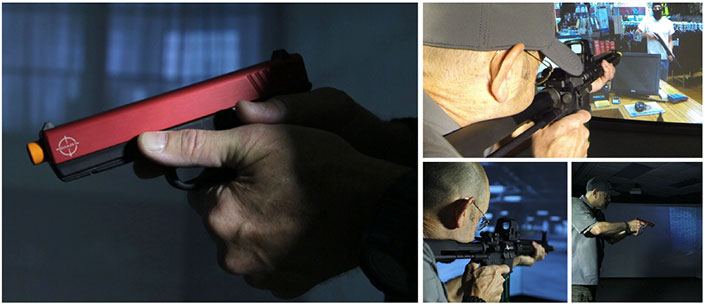 A potent tool that allows peace officers to train not only in close quarters combat but also in situational awareness and verbal de-escalation skills, some MILO Range systems are even making their way onto the consumer market—allowing civilians to experience a taste of the stresses and difficulties of law enforcement work. A commercial spinoff dubbed SMART, for Simulated Marksmanship Active Response Training, is now available for establishments that wish to offer a state-of-the-art training simulator to consumers. To find out more, visit smartsimulator.com.