by
Mark A. Keefe, IV, Editorial Director
posted on April 12, 2016
Support NRA American Rifleman
DONATE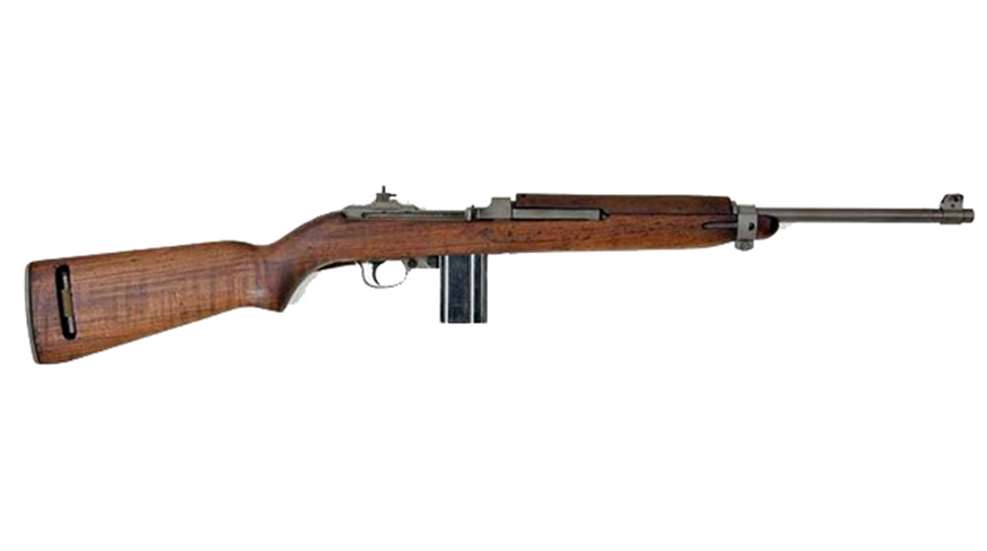 Want to know what is on the minds of the American shooting public? Try answering the mail addressed to American Rifleman for a while. And this month, anyway, it seems to be the M1 carbine. Between "When the Deer Come Running" about its use in combat in Korea, and Kelly Young's story "Inland's Return: (Re)producing Quality," it seems we have caused a retro, walnut-stocked tsunami of interest in the M1 Carbine. 



Although adopted by the U.S. Army as a "light rifle" more than seven decades ago, the M1 carbine still has a role to play. Of course, it is one of the most collected military arms of World War II. With 10 wartime makers stretching from Winchester to Rock-Ola, and all the changes made to the gun during the service history, it is a rich field for collectors. Have you priced an all-original M1A1 paratrooper carbine recently? It's not quite a semester at Harvard, but it's getting there.
Nostalgia plays a big part. But that doesn't fully explain why both Auto-Ordnance and Inland Manufacturing have these guns rolling off the production line today. And both companies offer models that look like the guns that accompanied soldiers and Marines, respectively, who waded ashore on Omaha Beach or hit Yellow 1 on Iwo Jima. The fact that these guns are historically accurate, come with a manufacturer's warranty, and shooting them does not greatly diminish their value, has appeal for many.


But the M1 carbine is also a very fun gun to shoot. And one that has little recoil. I remember going to DCM (now Civilian Marksmanship Program Matches) years ago, and the small-statured folks were provided and trained on the use of the M1 carbine. The short length of pull, negligible recoil and sufficient accuracy—at least out to 200 yards—had people competing and having fun with the little guns.
But there are also those who view the M1 carbine as an extremely practical personal protection gun. The ballistics of the .30 Carbine are obviously inferior when compared to World War II "Caliber .30, Ball, M2" (.30-'06 Sprg.), but it is actually more ballistically effective than a .357 Magnum. And you don't hear people saying .357 Magnum is a pipsqueak cartridge.
One must compare apples to apples.
Also, the M1 carbine provides an 18" barrel and a decent sight radius. The original flip sight is a useful aperture, but the later adjustable sights actually works pretty well out to 300 yards, which is about the ballistic edge of the envelope for the carbine.
The carbine has an extremely reliable short-stroke gas piston—thank you David Marshall "Carbine" Williams—that is one of the most efficient semi-automatic operating systems invented.
And it has a very good magazine. Both the original 15-round and the later 30-round magazines are staggered, double-feed magazines. In short, they are easy to load.
And the stories of 30 Carbine around "bouncing off" opponents at "Frozen Chosin" and elsewhere have everything to do with the service ball load up the time. It's taken a while for the bullets to catch up. It's not just ball and softpoints anymore. When you look at the advances in personal protection and hunting rounds, including from Cor-Bon and Hornady, you see that the M1 carbine, at reasonable ranges can be extremely effective personal protection.
Add an Ultimak M6 top handguard with a rail and a red-dot optic, and you have a very handy little carbine that weighs in at just over 5 lbs. fully loaded.
And while there is a trend toward .223-Rem. caliber pistols these days, I must say that the Advisor pistol as made by Inland today attracted my attention.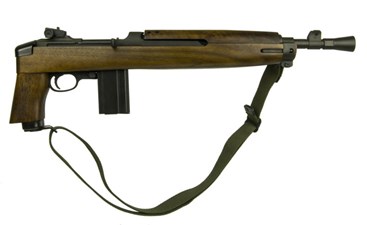 Manufactured as a handgun on the stock of the M1A1 paratrooper carbine (sans the wire folding stock) with an abbreviated barrel, it is a gun that I decided I would have to obtain from the moment I first saw it at the MKS Supply booth last year. While I have several examples of the original World War II carbine, the Advisor made me reflexively reach for my checkbook. Classic lines, Parkerized steel and American walnut; you can even smell the linseed oil wafting off its protective finish from 10 feet away. Yes, maybe there something to this M1 carbine thing.

Walnut just may be the new black.

M1 carbine images courtesy NRAMuseum.com.