by
posted on November 14, 2016
Support NRA American Rifleman
DONATE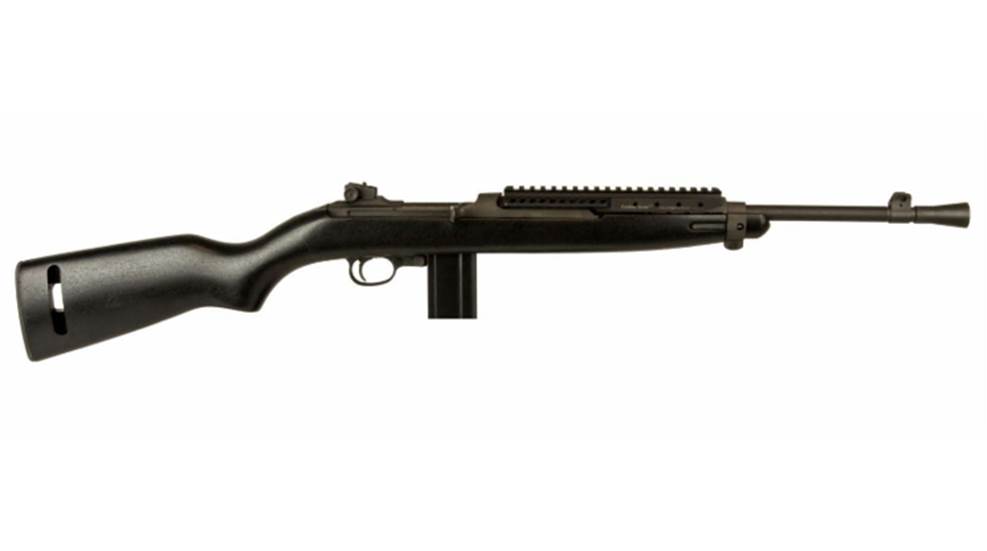 Over the last few years, we've seen an uptick in the popularity of M1 Carbines among civilian shooters here in the United States. This particular gun has become popular enough that some gun companies, including Legacy Sports International, Auto-Ordnance and Inland Manufacturing Inc. are churning out new production M1 Carbines to supplement the flagging surplus supply.
I've heard a couple of interesting explanations as to why this 75-year-old rifle continues to hold the shooting community's attention. One thought is that the popularity of recent World War II television shows and movies ("Saints and Soldiers", "Saving Private Ryan", "Band of Brothers") is driving up the demand for collectables from this time period, including surplus and replica M1 Carbines. That certainly makes sense.
The other explanation is the one that piqued my interest and resulted in this write up. More than one shooting instructor I know has said that when they teach defensive rifle classes, the M1 Carbines show up in students' hands right alongside of AR-, AK- and HK-pattern rifles. In other words, even with all of the modern combat carbines to choose from, some folks still prefer the M1 Carbine for personal and home protection. And so, I decided to take another look at this platform in general and see if I could find a model that would fit the criteria for a good home-defense option. 
When seriously considering a particular firearm for self-defense, it's always a good idea to seek out someone who's had experience with it. In this case, the person I talked to first was none other than my dear ol' dad. In 1953 the Korean conflict was wrapping up, but the draft was still in full force. My father, who was 17 at the time, filled out and filed a draft card as required by law. But instead of waiting for a draft notification to come in the mail, Dad followed my Grandfather's advice and volunteered to become a citizen soldier by joining the Headquarters Battery XI Corps Artillery division of the Utah National Guard.
In the course of his training and service, along with the other enlisted men, Dad qualified with the M1 Garand chambered in .30-06 Springfield, the M3 "grease gun" submachine gun in .45 ACP, and the M1 Carbine in .30 Carbine. He was assigned to HQ as a clerk where he was issued an M1 Carbine.
I really enjoyed this conversation with Dad because I learned things about his time in the National Guard that I had never heard before (including some terrific practical jokes). But when we finally got down to business I asked him about the M1 Carbine. Based on his experience, did he think that the M1 Carbine would be a good option for home defense? His answer was, "Why, yes! It certainly would."
He then proceeded to give a list of reasons in support of the M1 Carbine that lined up with my mental checklist of positive qualities to look for in a home-defense gun. The M1 Carbine's design makes it simple to operate and easy to master. It's lightweight and compact, so it will fit responsible operators of both the tall-frame and small-frame variety. The recoil produced by this platform is mild and easy to manage, thus it's a good fit for folks with less upper-body strength. The action is robust, reliable and battle proven. The removable box magazine allows for quick reloads and an ammunition capacity ranging from 10 to 30 rounds. And Dad said there's nothing wrong with a steel buttplate firmly attached to a solid walnut stock just in case a few well-placed butt strokes are required (yes, he's old school but still cool).



So far so good but I wanted more empirical data to work with. Positive handling characteristics are important, but so are accuracy and ammunition performance. I started looking for an M1 Carbine model that was suited to home defense. As it turned out, Inland Manufacturing recently released what I was looking for in the form of its M1 Scout model.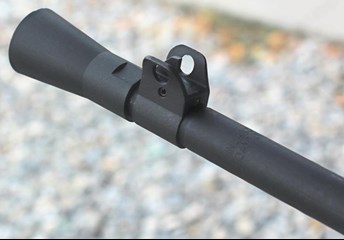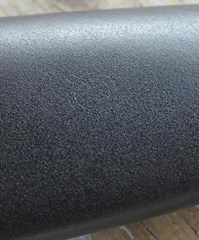 The barrel, adjustable iron sights, trigger group, magazine release and action of the Scout are the same as Inland's 1945 model. However, the muzzle has been threaded and fitted with the same conical flashhider that's found on the Jungle and Advisor models. The black stock is not polymer. It's walnut-treated with a durable black coating to provide a no-slip texturing that's effective in cold and wet weather.

The most modern upgrade to the M1 Scout is the new milled-aluminum Mini-Scout-Mount. Designed to fit all U.S. military specification M1 Carbines, this handguard has an 8" integral Picatinny sight rail, a non-reflective black hard anodized finish and can be mounted without any permanent alterations to the gun. A deep groove runs down the middle of the rail so that the operator can still use the factory iron sights.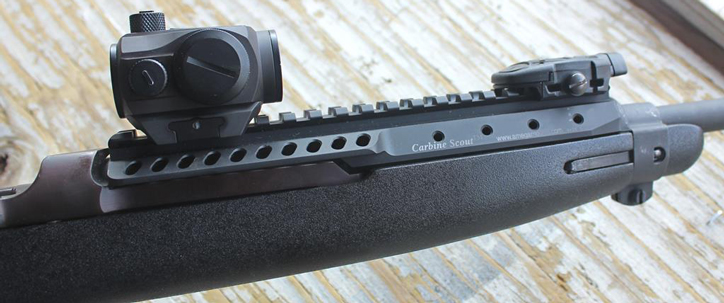 For off-the-bench and formal accuracy testing, the rifle's rail was fitted with a compact variable brightness Truglo Tru-Tec 2 MOA 20 mm Red Dot optic. It's a good idea to have a back-up light on a home-defense gun, so I tried attaching a Mission First Tactical (MFT) TORCH Backup Light (TBLW) at the front of the rail. At just ¾ oz., the dual LED TORCH provides 20 Lumens of brightness while having such a slim profile that it didn't block the view through the red dot optic.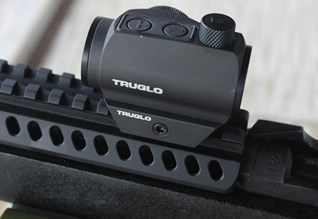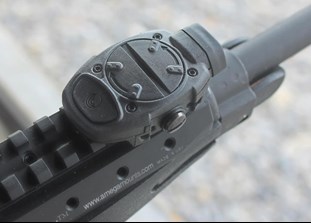 The M1 Scout not only worked properly, it was fun to shoot. This little carbine handled more like a Ruger 10/22 than a combat rifle. The felt recoil was all-day mild. The bolt requires only a modest amount of pressure to manually cycle and the magazine is easy to load. All of the rifle's controls worked properly, the trigger had a smooth pull and there were no malfunctions or problems of any kind throughout the testing process.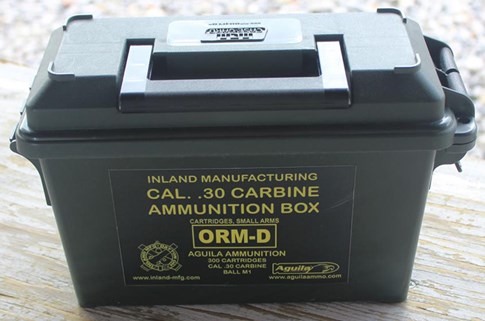 The two primary criticisms that have stuck to the M1 Carbine over the years are a lack of accuracy and the belief that it's chambered in a pithy cartridge. Let's take a moment to put a few things in perspective. War-time production M1 Carbines were made by several manufacturers (some better than others) with the goal of producing as many as possible, as quickly as possible. As a result, those carbines produced 100-yard groups of anywhere from 3" to 6" in size. The Inland Scout, however, produced consistent groups that hovered right around 2" to 2.50" for bench-rested shots at 100 yards. For home-defense situations ranging from contact distance to 25 yards, this gun will do the trick.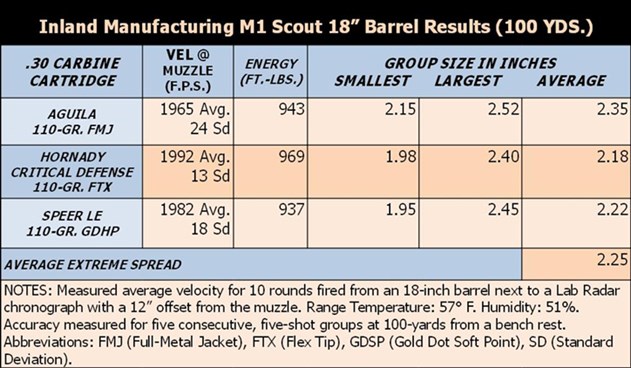 What about the anemic .30 Carbine cartridge? Remember that the M1 Carbine was specifically designed to operate as an intermediate combat rifle that would offer greater range and better terminal performance than the G.I. 1911 .45 ACP pistol while being smaller, lighter and generating less felt recoil than the M1 Garand chambered in .30-06. If you look at the previous table, you'll see that of the three 110-gr. .30 Carbine loads tested in this rifle, the Hornady Critical Defense FTX load yielded the highest level of muzzle energy at 969 ft.-lbs. The Aguila full-metal-jacket round produced 943 ft.-lbs. of energy followed by Speer LE Gold Dot soft points at 937 ft.-lbs.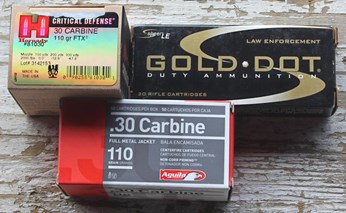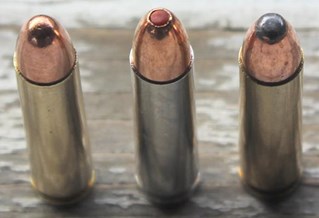 But how do those energy levels compare to other center-fire defensive options? With the Hornady load producing both the best accuracy and velocity, I pulled up the company's complete rifle and handgun ballistics chart and checked a few popular handgun and rifle loads. I threw in the .30-06 for comparison. Here's what I found (note that the factory listing for the .30 Carbine load is slightly faster than my test results):
            Cartridge:                                                  Firearm:         Velocity:        Energy:
            9 mm +P 124-gr. XTP                                  (Handgun)      1175 fps.        380 ft.-lbs.
            .45 Auto +P 200-gr. XTP                            (Handgun)      1,055 fps.      494 ft.-lbs.
            .357 Mag. 125-gr. FTX                                 (Handgun)       1,500 fps.       624 ft.-lbs.
            .30 Carbine 110-gr. FTX                            (Carbine)       2000 fps.      977 ft.-lbs.
            .223 Rem. 55-gr. HP                                     (Carbine)       3240 fps.       1282 ft.-lbs.
            .30-30 Win. 150-gr. RN                                 (Rifle)            2100 fps.       1469 ft.-lbs.
            .30-06 150-gr. GMX                                      (Rifle)            3080 fps.       3159 ft.-lbs.
 
The data shows that when the standard for performance is the .30-06, then yes, the .30 Carbine is a powder-puff load. However, just as it was designed to do, the .30 Carbine produces more terminal energy than the .45 ACP. In fact, it's capable of producing 36 percent more energy than a full power .357 Mag. revolver. And the last I checked, there really isn't anyone out there that I trust calling the .357 Mag. a pithy defensive option.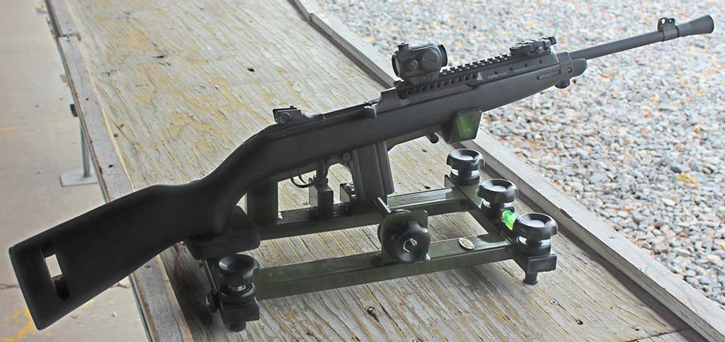 Did the Inland Manufacturing's M1 Scout pass this test as a home-defense gun? I'm going to say yes and give it a thumbs up. This lightweight carbine handles nicely, runs well and offers sufficient stopping power at home-defense distances. I think this is a top-notch choice for those who want or need a low-recoil option that's reliable and easy to operate. The optics rail and flashhider are just what the platform needs to allow the use of quality tactical lights and optics.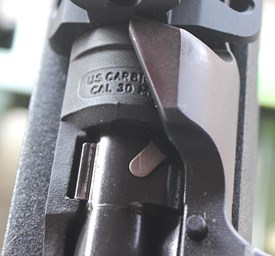 I'm not ready to toss out any of the modern semi-automatics I like to work with or to say that this gun is necessarily superior to other well-trusted options on the market. However, I do think that those who choose a new production M1 Carbine like this one for personal protection will be properly armed should the need arise.

NRA Specifications
Manufacturer: Inland Manufacturing, LLC.
Distributor: MKS Supply
Model: M1 Scout
Action: Gas-Operated Rotating Bolt Semi-Automatic
Caliber: .30 Carbine
Finish: Parkerized
Shoulder Stock: Matte Black Texture Finished Walnut with Steel Buttplate
Front Sight: Fixed
Rear Sight: Adjustable Peep Aperture
Barrel Length: 18.00"
Muzzle Thread: 1/2-28 TPI
Muzzle Device: Conical Flash Hider
Handguard: Milled Aluminum with Integral 8" Picatinny Rail
Overall Length: 35.75"
Length of Pull (LOP): 13.25"
Trigger Pull: 6 lbs. 4 oz.
Weight: 5 lbs. 5 oz. without Magazine
Capacity: Accepts 10-, 20- or 30-Round Military Removable Box Magazines
Twist: 1:20" RH
Rifle Grooves: 4
Accessories: One 15-Round Magazine, Owner's Manual
MSRP: $1,049
Red Dot Optic: TruGlo Tru-Tec 2 MOA 20 mm Red Dot $221
Compact Light: Mission First Tactical (MFT) TORCH Backup Light (TBLW) $49.99