by
posted on April 6, 2015
Support NRA American Rifleman
DONATE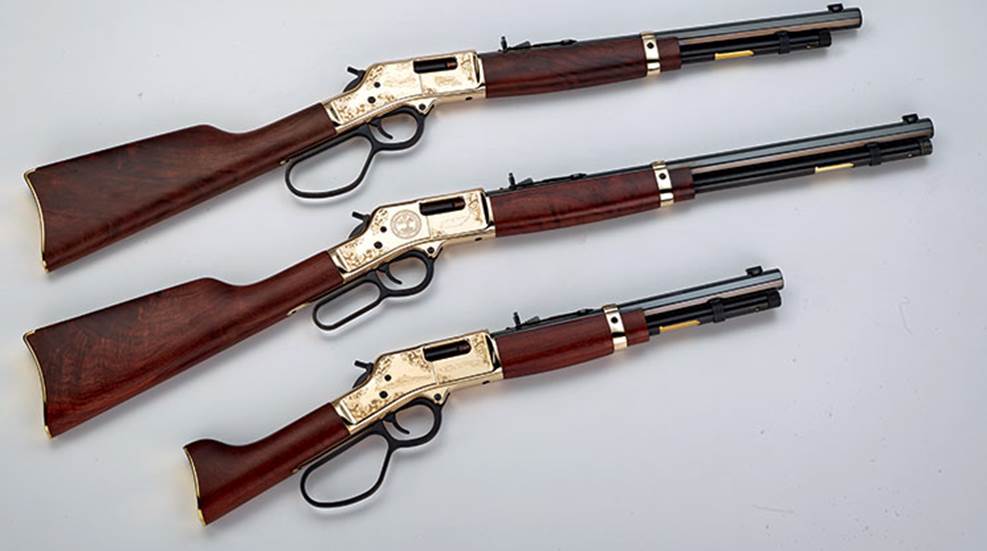 On the receiver of the Big Boy Classic, an engraved outline of Tennessee and the state's official seal cover the right-side rear and forward panels, respectively, and the left side has the NRA logo on the rear panel, with the state's unofficial nickname, "Volunteer State" on the forward one. The nickname's origin comes from when many Tennessee men volunteered to enlist for the War of 1812, per Governor Blount's call. This left-side engraving follows suit for all three receivers.
The Big Boy Carbine has an image of the Boeing B-17F Flying Fortress Memphis Belle on the right-rear panel, with the wording "Memphis Belle B-17" in a flowing banner, on the forward one. Its name came from its pilot, Capt. Robert K. Morgan, whose sweetheart at the time, Margaret Polk, was from Memphis. With that affiliation, after the War ended, Memphis mayor Walter Chandler procured the bomber for display in the city for the low sum of $350! It is worth millions today. Starting in the summer of 1949, the bomber was displayed at the National Guard Armory. In October 2005, it was moved to the USAF Museum in Dayton, Ohio, for restoration, where it remains today.
The Big Boy Mare's Leg features an engraved image of the battleship USS Tennessee (BB-43) on the right-rear panel, with another flowing banner in the forward area, displaying the words USS Tennessee, within. During the attack on Pearl Harbor, the battleship was damaged, but not sunk. It was repaired and then served in the Pacific Theater until the end of WWII, participating in the last battleship vs. battleship confrontation in the Battle of Surigao Strait, October 25, 1944.