Support NRA American Rifleman
DONATE
Many Americans have simply never handled a firearm, let alone been introduced to the shooting sports by a friend, family member or colleague. Getting more people to the range in a safe, comfortable and controlled environment is something a lot of gun owners talk about, but we here at NRA Publications are taking steps to help you do something about it. Please take time to read the following message from NRA Publications Executive Director Doug Hamlin:
Dear Fellow Member:
What if you learned that, soon, you could help NRA grow and get stronger, help good people in your community, and have a chance to win valuable gift cards, while taking part in one of your favorite activities? 
We hope every American Rifleman reader will join in the soon-to-be-launched NRA Mentor Program, an outreach from NRA Publications in conjunction with SIG Sauer and Magpul Industries. In short, we want to make May 2015 a special time when Americans learn to shoot.
Getting involved is easy. Throughout the entire month, we're encouraging all 5 million NRA members to take beginning shooters to the range. During the past five years, about 40 million Americans purchased their first guns. Many are in need of qualified assistance, and quite likely some of them are co-workers, neighbors or even family members. Along with providing a safe place to shoot, you can help budding shooters understand firearm safety, handling and range protocol. 

Visit NRA Guide For New Shooters for details on the NRA Mentor Program, including a free, detachable "Guide for New Shooters," which supports mentors with basic advice on how to get started, firearm safety, gear, shooting tips, and details on gun cleaning and storage. This section also explains how to enter the Mentor Sweepstakes for a chance to win gift cards from Bass Pro Shops and the NRA Store.
Because new shooters are prime candidates to become new NRA members, the guide includes a membership application. Just think how strong NRA will be, going into the all-important 2016 elections, with tens of thousands, hundreds of thousands or even a million new members in our ranks!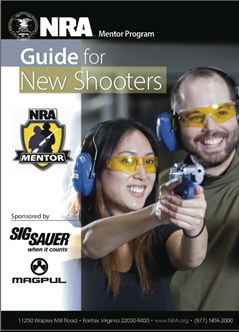 NRA leads the nation when it comes to firearms safety and education, and at nrainstructors.org you can learn about the many courses offered by NRA Certified Instructors—or even how to become one yourself.
When given fair opportunity, nearly everyone enjoys shooting. It's fun, it's gratifying, it's a practical skill well worth developing. By lending a hand, we can show, once again, that NRA members are the good guys. Please join me and become an NRA Mentor!
Doug Hamlin
Executive Director NRA Publications
Take time to read the Guide for New Shooters and pass it on to a new shooter in your life before you head out to the range.