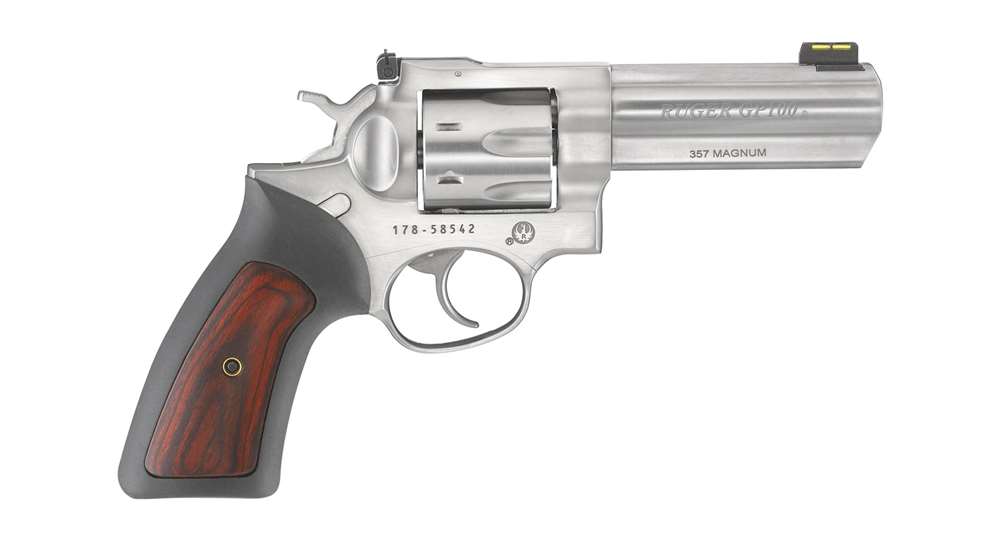 The first Ruger GP100 revolvers hit the market in 1985. Their initial attraction was solid construction that allowed even recoil-timid shooters to comfortably handle .357 Mag. loads, but it didn't take long for enthusiasts to discover an American-made quality that couldn't be ignored. The double action arrived with the kind of innovative features that keep it among the company's best sellers, but since its first appearance more chamberings and versions have been added to the line.
Longevity and performance are key ingredients in the GP100 line. American Rifleman's review of a seven-shot, .357 Mag. model explains, "The frame is machined from a 410 stainless steel casting. To increase strength, there's no sideplate; instead, the internal parts are installed either through the top or bottom of the grip frame. Contributing to the test revolver's 40-ozs. weight and front-heavy feel is a 3/4"-thick, 4.2" barrel…While somewhat taxing for everyday, all-day carry, the heft greatly reduces the perceived recoil of stout .357 Mag. loads. Of course, in addition to .357 Mag. ammunition, the gun can safely fire .38 Spl. +P and .38 Spl. loads as well."
Nine "standard" versions are available from Ruger, with another 18 models through various distributor channels. MSRPs aren't available for the latter variants, but the former versions run $949 to $1,069. Chamberings available are .22 LR and .357 Mag. Distributors also handle .44 Spl. and 10 mm GP100s. Cylinder capacity varies by chambering and model, but are five, six, seven (.44 Spl.) and 10 (.22 LR) cartridges. Barrel lengths run between 2.5" and 6".
There's also a GP100 Match Champion line, with four models, chambered either in .357 Mag. or 10 mm. Each have a 4.2" barrel, six-round capacity and MSRP is $1,199.
And for those who like to test their skills at weekend matches, Ruger also offers a Super GP100 Competition Revolver from its Custom Shop. It's chambered in 9 mm Luger, has an eight-round capacity and wears a Hogue hardwood grip. The half-lug 6" sleeve and shroud barrel is contoured for fast ejection. It's ideal for those high-volume shooting and has an MSRP of $1,749.
As for performance, our review of the seven-round .357 Mag. version concluded, "In any of its various standard configurations, the GP100 would be a fine choice for home defense, protection on the trail, hunting feral hogs and deer-size game, or plinking (especially with low-cost and light-recoiling .38 Spl. ammunition)."