by
posted on October 8, 2019
Support NRA American Rifleman
DONATE
In order for something to warrant the effort of counterfeiting, it must be popular, expensive and easy to cosmetically replicate. We see this with fine chronometers, expensive handbags and, sadly, even firearm components and accessories. While nearly every area of the firearm market is plagued with these scammers, arguably no area is hit harder than optics. After seeing my share of these abominations on the firing line and at the occasional gun show table, I thought it would be a service to the firearm community to put together a few side-by-side comparisons covering the spectrum of aiming devices.
Leupold VX-3
Naturally, high-end glass would find itself victim to counterfeiting, and so of course Leupold has found itself in the crosshair. With a little searching we were able to locate a questionable VX-3 4.5-14X 40 mm scope on one of those discount online retailers. As this scope was discontinued a few years back it makes it plausible to find one at a bargain … but at the $92 it was listed for, that would be about 87 percent off MSRP. This model even sports a mil-dot reticle, despite that not being listed as an available option on the Leupold website. Knowing this was probably a fake, I clicked "buy" and waited close to four weeks for it to arrive. This length of time was my first red flag, as fakes often come from overseas.

Before I get into what was wrong, let's look at what was done right, as it was impressive. For starters, the glass wasn't half bad. While it was almost as clear as the genuine VX that we put it up against, the picture suffered from distortion. A hasty buyer might just chalk that up to focus, especially if they are hustling along at a busy gun show. The next feature that was spot on was the Leupold emblem. Not only was it perfect, but it was also period correct, as is has gone through recent revisions. The final aspect that I like to check on all optics is turret quality. On our fake the clicks were actually crisp and tactile, although it is doubtful that they will stay that way very long.
While some of the most difficult aspects to replicate were perfect, it boggled my mind they couldn't match the hue of Leopold's signature golden ring. Upon further inspection, the Roman numeral III was used instead of "3" which is not very common in Leupold nomenclature. Lastly, the scope included a pair of cheaply made rings, which Leupold would never include with a genuine optic. However, a keen eye is not needed to spot a Leupold fake—potential consumers can always call 1-800-Leupold to have a serial number checked. Just for fun, I gave them a buzz and had them run the serial number of our suspect optic. They were able to confirm it was 100-percent Chinesium.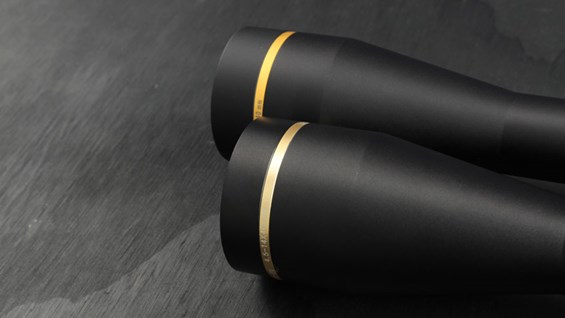 Meprolight M21
Once something enters military service it quickly gathers a following, which in turn attracts the scammers. Such is the case of the Meprolight M21 self-illuminating reflex optic. This unique aiming system doesn't rely on batteries to generate its reticle; instead it uses a fiber-optic system to gather the necessary light needed to create the image. That would, of course, make it absolutely useless in the dark, so it also contains a Tritium backup system to keep it glowing should something go bump in the night. With a street price of around $425, one would think he'd hit the jackpot after discovering one for $95. Well, when it arrived at our door three weeks later it was a different casino game that came to mind: craps.
Our fake didn't even have the courtesy to introduce itself—it had absolutely no markings anywhere on the housing, and I do mean nothing. Not even a poorly recreated logo or bogus serial number. As we started our once-over, the light collection system itself showed some of the biggest discrepancies. A genuine M21 uses an opaque hood that displays just a hint of green fiber-optic material. The hood of our fake sight exposed bright red fiber-optic strands—not exactly stealthy. If that wasn't enough to give it away, a quick glance on the underside showed us cheap hex screws where Torx fasteners should be. This might seem insignificant, but this is usually done because the materials they are holding together are so weak, having the means of applying extra pressure (which Torx fasteners afford the user) will likely result in stripping. It's also a good place to save money, which is what fraudulent manufacturing is all about. The final eye-raising aesthetic issue was the color-filled directional indicators.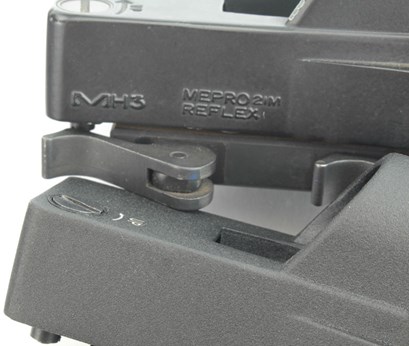 This thing was busted before we ever peered through it, but when we did, we were shocked to see there was barely a hint of a reticle, even with direct light shining down on it. After flipping the lights off we quickly realized that the unit was void of the Tritium backup system as well. This particular fake was built to be sold exclusively online, as even an inexperienced shooter would pick up on the issues the moment they had it in their hands.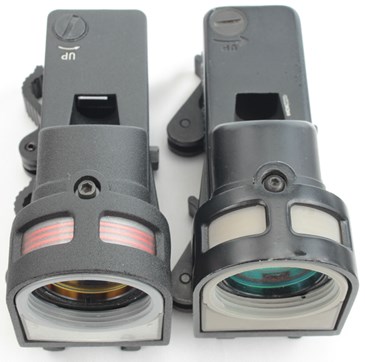 Magpul MBUS
In a world of high-tech optic counterfeiting, one would think good ol' iron sights would be safe. Unfortunately, even these are subject to poor replication, as we often see with Magpul's MBUS sights. The pair will normally run you just shy of $100, however in the deep dark corners of the internet they can be found for a mere $8.
Well, something can be had for that price, but they certainly aren't MBUS sights. Again, after a three-week wait, two pieces of plastic junk showed up in an envelope slathered with symbols I couldn't decipher. While what was inside mimicked the quick-deploy action of the originals, they were heavily flawed. A brief side-by-side inspection revealed that the logo was not drawn properly, or placed in the correct location. Serrations for deployment were also missing on the fakes. While these are merely cosmetic issues, we thought the missing windage adjustment scale on the rear sight might cause some issues when attempting to zero.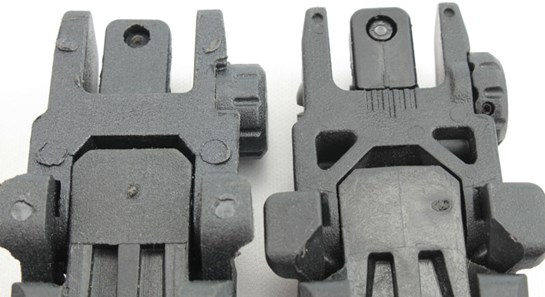 Most of us could live without these features, but the knock-off's futility was revealed when we addressed the mechanical aspects. First, in lieu of the spring-loaded front sight post retention system, the fakes just used a cheap set screw to keep it from spinning. The post was also threaded into bare plastic, making it a sure bet that it will eventually strip and fall out. The rear sight also had mechanical issues, as the adjustment knob was stiff and didn't move the aperture every time it clicked. Said aperture also exhibited a good bit of free motion, doing nothing for shot-to-shot consistency. Our final issue was noticed during mounting. Genuine MBUS sights are built with a smooth-shafted mounting screw—our fakes used a fully threaded screw that is likely to damage the finish on your upper receiver. Should you get this far and still aren't sure if you have fake sights, just shoot your gun a few times—the real ones hold zero.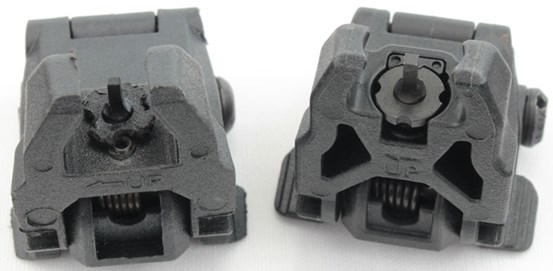 These three examples are just a tiny cross section of firearm-related goods that are counterfeited. While most of the aspects listed above were specific to just the one product, they can be used to get an idea of what to look for when shopping. Oftentimes the same methodology is used on similar products. Furthermore, try to keep purchases restricted to reputable retailers, as they are less likely to have counterfeit products sitting on their shelves. Above all, caveat emptor—be careful of deals that are too good to be true, as they usually are.

Additional Reading:
Leupold Adds Six New Models to the VX Freedom Line