Support NRA American Rifleman
DONATE
Leupold & Stevens, Inc., has announced the addition of six new optics to the award-winning VX-Freedom line of riflescopes—including a Scout scope, an EFR model, and a CDS dial compatible model, among others.
This second wave of VX-Freedom riflescopes comes on the heels of the 10 models announced in early 2018. The extended lineup will feature two models ideal for AR/MSR platforms, a 1.5-4x20 with AR-Ballistic reticle, and a 3-9x40 with TMR (Tactical Milling Reticle.) Both feature 0.1 Mil/Click adjustments to match the milliradian increments of the reticles. Also added to the lineup is an Extended Eye Relief 1.5-4x28 Scout scope, and a close focus EFR (Extended Focus Range) 3-9x33 with Fine Duplex reticle, which is ideal for rimfires and airguns. Rounding out the new additions are a 3-9x40 featuring Leupold's Custom Dial System (CDS) and a .450 Bushmaster model, also in 3-9x40.
"The VX-Freedom line was designed to deliver the versatility and performance that hunters and shooters expect from the Leupold brand, at a tremendous value," said Tim Lesser, vice president of product development for Leupold & Stevens, Inc. "We knew that, after getting a look at the VX-Freedom series, consumers would demand the same relentless value and performance from AR and Scout specific models, and we are excited that we're able to deliver what they've been asking for."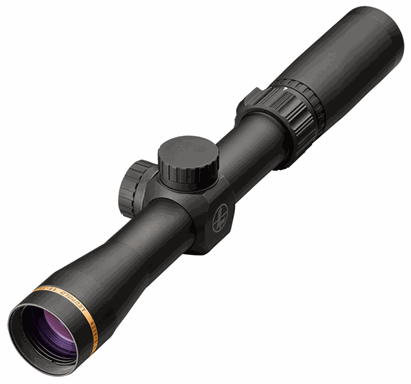 The entire VX-Freedom line is designed, machined, and assembled in the United States with one purpose in mind—to give consumers the freedom to put a Leupold on any hunting rifle, .22, AR, or long gun, knowing it will perform for a lifetime. Military-spec lens coatings provide abrasion resistance, protecting the riflescope in the most challenging terrain. An ergonomically advanced power selector ring is low-profile, but provides exceptional grip and ease of use, even in the cold, wet or when wearing gloves.
VX-Freedom riflescopes also deliver excellent performance in low-light situations and are exceptional at glare management, thanks to the proprietary Leupold Twilight Light Management System. A combination of lens coatings and physical design elements in the riflescope itself, the Twilight Light Management System helps hunters make the most of low-light conditions found at dawn and dusk.
The new VX-Freedom line is everything consumers have come to expect from a Leupold—and backed by the company's Full Lifetime Guarantee.

For more information, visit Leupold.com.