Lorin Michki is a young artist who is making a lot of noise with his detailed firearm illustrations. In an era of digital design, Lorin has gone old school, leveraging his traditional skills with pen and ink to visually connect with the golden age of firearms, illustrating gunpowder, steel and wood in all its glory. I found it quite interesting to meet a member of the next generation of American gun owners—a man who celebrates his Second Amendment rights with a pistol and a pen, and finds them both mightier than the sword.
Q: What inspired you to create illustrations of firearms?
It started around 2011 while I was in college. I had only been shooting a few times as a kid, but right around the time I turned 21, I became interested in owning a handgun. I was mainly interested in Single Action Army type revolvers and M1911s, because I grew up watching movies like "Tombstone" and "Saving Private Ryan." However, I was quickly interested in all kinds of firearms and the history of their design. I first started drawing firearms because of their visual impact and the emotional effect they have on the viewer, and ultimately because I found them fascinating. My work in college was a bit more conceptual, so the firearms served as a great subject matter for creating a consistent overall tone within my body of artwork.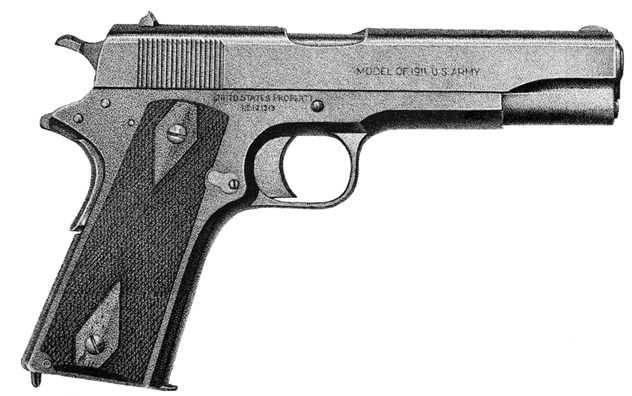 Q:  How do you decide on your subjects? And what type of firearms interest you the most?
As far as my personal work, I really enjoy drawing guns that have unique stories connected to them, like the "Fitz Special" or a firearm used by someone famous. Mostly I just enjoy drawing firearms that are visually appealing to me. As much as I prefer to do my shooting with more modern pistols and rifles, I would much rather draw firearms that were made in the first half of the 20th century.
Q:  Tell us a little bit about your style. There are not many illustrators who use your classic approach anymore. What kind of challenges does this present to you as an artist? I earned my degree in fine art and as such my expertise is in traditional media (pen, pencil, charcoal and painting). While I do use Photoshop and other digital programs, I find that I'm at my best with traditional drawing tools and paper. The main challenge I have is translating my traditional work into a digital format for my customers who require that.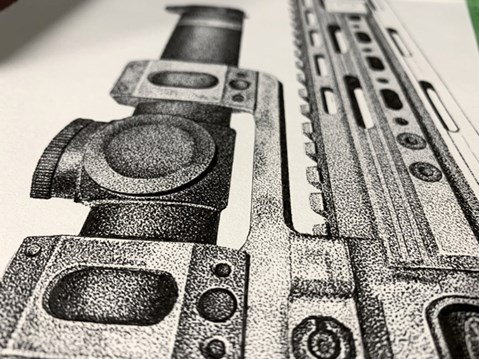 Q:  So far, what have been your favorite firearms subjects? And can you tell us a little bit about your plans for the future? My favorite subjects have become my 1:1 scale firearm pen and ink drawings. They're the most challenging and the most time consuming, so I don't get to work on them too often, but I feel they are the most accomplished drawings I have made so far—particularly the large rifle drawings.  My first 1:1 scale gun drawing was a really ambitious project—a pen drawing of an AR-15 that my friend and I assembled (my lower and his upper). My main goal was to see if I could actually do a stippled pen drawing at that size, and also make it look photo-realistic. Since then I've done large pen drawings of several firearms, including an AK-74-U Krinkov, a STG-44, an M1 Carbine, several different pistols like M1911s, Berettas, Glocks, S&W and Colt revolvers, and a few obscure guns like the Whitney Wolverine. 



As far as my plans go, I have a lot of ideas I want to pursue. Right now, I'm busy with producing commissioned work, but I have some ideas for a book I want to write and illustrate. I've also got a few other commercial ideas that I've had on my mind. Ultimately, I'll be happy to be doing what I'm doing for the foreseeable future. 
Q:  Tell us about the kind of responses you get to your work?
It's mostly compliments. I do occasionally get the "art critic" or the person who wished I would've drawn a different gun. My last art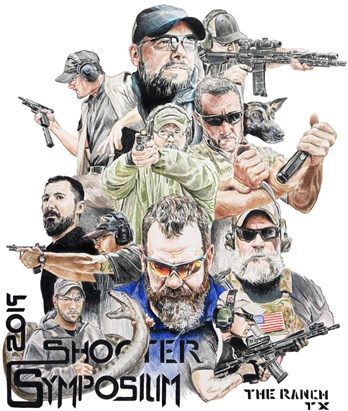 exhibition drew some flak from some locals that weren't happy with the gallery owner for allowing me to show my work. Fortunately, he thought their hysterical response was as funny as I did!
Q:  Have you been around firearms throughout your life? How do they fit into your life today as an adult?
My dad had firearms when I was a kid. We went shooting a few times, but guns weren't a major aspect of my life at that point. But they have become a big part of my life in the past eight years or so. I'm very interested in firearms training, since I am an armed citizen with a concealed-carry permit. I try to take as many classes as I can, and I read as much as I can about various self-defense techniques and firearms safety related topics.    
Q:  You are a young man. What do you think about your generation and their involvement with firearms in America during the years ahead? 
I'll admit that I'm a bit worried about the future of civil rights in general—and I include gun rights among our civil rights. I see too many people willing to vote away our freedoms for the sake of some illusion of safety. I think there are a lot of people in my age group who are very interested in the rights and freedoms of the individual, but we have a major uphill battle ahead of us. I'm not sure how many of the younger folks who enjoy firearms will be willing to actively campaign to preserve the freedoms we have. The corporate media and the social media monitors have all but ensured that anyone who doesn't follow their narrative is either banned from the conversation or ridiculed into silence. And I think that will only intensify. I know it's a bit of a pessimistic outlook, but that doesn't mean I'm giving up. I do think that large groups like the NRA need to really start getting serious about winning over the younger generations if we hope to win this fight.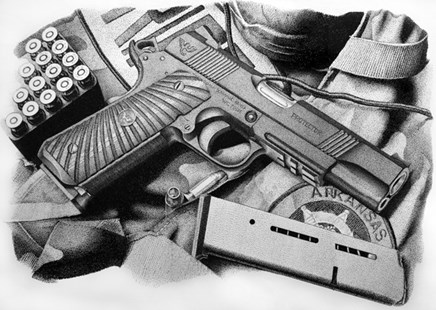 Q:  How can firearms enthusiasts view and acquire your work?
If anyone is interested in seeing my work, acquiring signed prints or even commissioning an original drawing, my website is drawnfire.com (I am currently in the process of updating that site). I can also be reached via Facebook at facebook.com/drawnfire, on Instagram at "drawnfire lorinmichki," and finally by email at [email protected]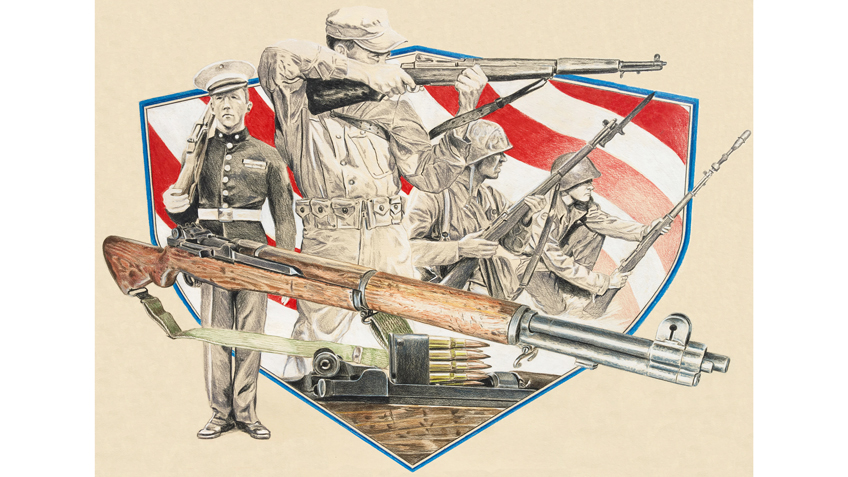 Images:
All artwork provided courtesy of the artist, Lorin Michki