by
posted on August 30, 2010
Support NRA American Rifleman
DONATE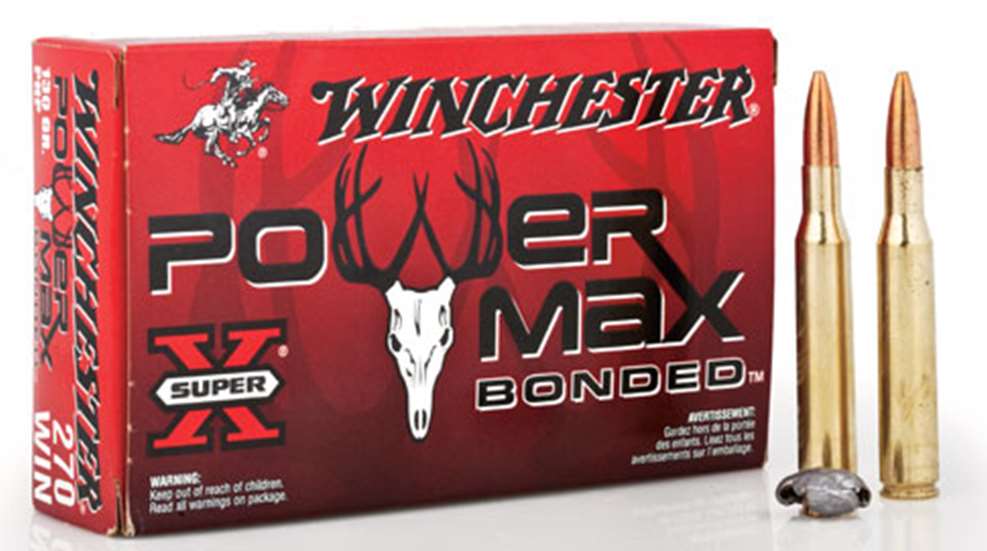 Since 1922, Winchester's signature, yet value-priced, Super-X hunting line has been a staple for hunters, with Power-Point constituting the majority of the offerings since its 1964 introduction. Power-Point's age and widespread use attests to the effectiveness of the design; however, the company sought to improve its performance without significantly increasing the bottom line, effectively placing it between Power-Point and Ballistic Silvertip in terms of terminal ballistics and cost. Enter Super-X Power Max Bonded ammunition.
Power Max Bonded's protected-hollow-point (PHP) features a jacket of 95 percent copper/5 percent zinc and a core of lead alloy; however; the two are bonded via an undisclosed, proprietary process. The tapered, non-skived jacket varies according to caliber, bullet weight and velocity (cartridge used) to provide reliable, optimal expansion, weight retention and penetration characteristics.
How a recovered Power Max Bonded PHP measures, in both expansion and weight retention, depends on the bullet's path and obstacles encountered. "Typical" weight is 60 percent, and expansion is 1 1/2 times original bullet diameter. According to Winchester, the PHP will upset reliably out to 500 yards (except for the 150-grain, .30-30 Win., which, because of the cartridge's limitations, will perform closer to 300 yards.) Like other Super-X loads, Power Max Bonded has non-nickel-plated cases.
Power Max Bonded ammunition was first tested for accuracy at the range, and then to observe its effectiveness afield, an American Rifleman staff member joined several outdoor writers in hunting white-tailed deer in Uvalde, Texas, with Southern Outdoor Experience (SOE) Hunts. Five consecutive, five-shot groups were fired at 100 yards with the 150-grain load from a Thompson/Center Venture chambered in .30-'06 Sprg. They averaged 1.24 inches and posted an average muzzle velocity of 2,877 fps. A Nosler Model 48 Custom Sporter rifle chambered in .308 Win. grouped the 150-grain load into 1.02 inches and had a muzzle velocity of 2,816 fps. Standard deviations were 19 and 14, respectively.
During the Texas hunt, Power Max Bonded accounted for more than a half dozen white-tailed deer using T/C Ventures chambered in .270 Win. and .308 Win. Using 130- and 150-grain bullets, respectively, there was only one recovered projectile and no lost animals. Postmortem inspections revealed the bullet delivered excellent terminal ballistics, illustrating that although designed for deer, Super-X Power Max Bonded ammunition is fully capable of handling other domestic and international species, given proper selection of the cartridge and bullet weight. The single recovered 0.277-inch, 130-grain PHP fired from a .270 Win. entered a quartering-away buck 87 yards distant several inches forward of the last rib, and came to rest against the hide on the off-side shoulder. The bullet weighed 92 grains (71 percent weight retention) and expanded to 0.355 inches—close to what Winchester claims.
Super-X Power Max Bonded is currently offered in one or more bullet weight options in most popular chamberings from .243 Win. to .300 Win. Mag., including several Winchester Short Magnums (WSMs).
By reapplying beneficial technology used in several of the company's other products in a lower-cost option, Winchester has created a product that is not only superior to its predecessor, but also priced attractively enough for majority of hunters to enjoy.