Support NRA American Rifleman
DONATE
The last time I fired up this writing machine to compose another blog, the matter at hand was the venerable Python revolver from Colt. We went into great detail as to the gun's origins, service life, performance and current value. That last point—monetary value—is a well-nigh incredible matter to fully comprehend. Today, almost any shootable Python is worth at least a thousand dollars, but a pristine one (which cost $125 at its introduction) brings several thousand. And some of the more rare and unusual variations of the breed sell for even more. This happens because of the virtual certainty that there will never be any more of them, as well as the iconic nature of the gun's construction. Also, there is the legendary manner in which the gun performs in use—the real origin of the reputation. You'll remember how I recalled my personal interest in the Python as a policeman's service gun and how I was bummed by the loss of mine to a burglar.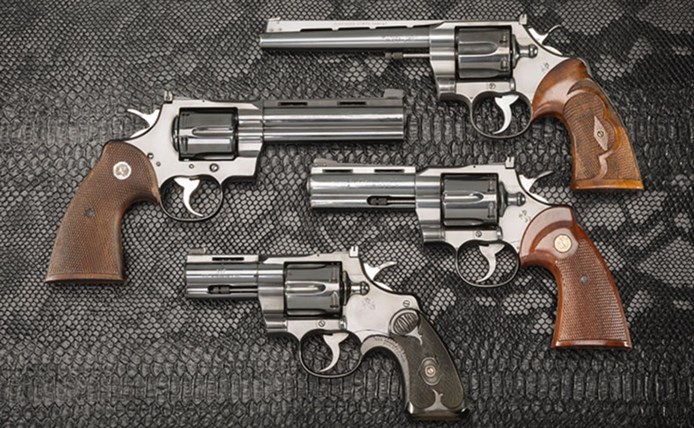 Pythons were not the first choice of most policemen in those days, but they did have many fans. I was just getting into the fun of learning a new system when theft brought it to a halt. Police work is behind me these days and there is a little time to spend on old and unresolved interests, so I recently dusted off the whole Colt DA/SA revolver thing. The current situation is such that I could not afford a Python at today's prices, but a good condition Trooper was available, so I started there. Around the time I lost that first Python, I was having a lot of work performed by pistolsmith George Matthews in Downey, California. He once mentioned that he had "made" several Pythons. I am about to describe that procedure by which I recently had several Pythons made and I would have you know that this was not my original idea. I also want you to know that I am interested in shooting these guns and not making money off of selling them. With that advisory in mind, let's get on with it ... enter the Trython.
The Trython looks and performs exactly like a Python, but can be put together with the right parts and the services of a (very) good pistolsmith. Basically, a Trython is a Colt Trooper revolver with a Python barrel replacing the Trooper one. The name is mine, a contraction of Trooper and Python. When Colt first considered a premium Magnum revolver in the late 40s or early 50s, they were building a series of sturdy medium frame revolvers. The basic foundation, known as the Colt "I" frame, was used to build guns in calibers ranging from .22 Long Rifle to .41 Long Colt. Some of the earlier versions of this frame were known as the "E" frame, but suffice it to say that Colt's workhorse mediums—Official Police, Army Special, Officer's Model Match—started here. It was also used to build a gun called the Trooper. In .22, .38 Special and .357 Magnum, this early-1950s vintage medium sold very well. Still, serious target shooters sometimes sent their revolvers off to custom pistolsmiths for special work on sights, actions and barrels. King's of San Francisco was one such firm and a fully customized King Colt Official Police is pictured here.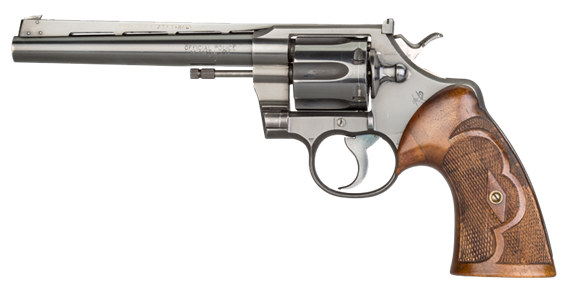 It sort of looks like a Python, but it isn't. This Colt Official Police has become a Colt-King Super Match revolver and dates to the '50s. Complete with Roper grips, the much-modified working .38 was a partial inspiration for the legendary Python.

Note the racy ventilated rib—more on that later. In the same early-50s period, Colt Firearm's main competition was the other established firm on the banks of the Connecticut river, Smith & Wesson. They were returning the pre-war .357 Magnum to production. Colt answered with the Python.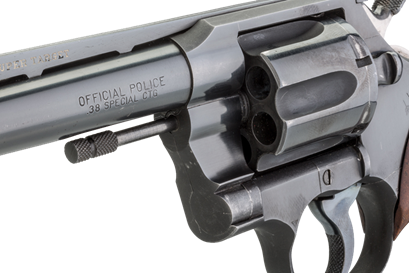 King's Gun Works of San Francisco installed their ventilated rib and other custom features on a plain, medium-frame service revolver.
The Python was—at least mechanically—a slightly-modified Trooper frame into which is fitted a new shaped barrel. The barrel featured a full-length underlug with a squared-off front profile. Also, Colt's superb machinists shaped the top of the barrel to include an integral ventilated rib that is just plain sexy. The result is the Colt revolver that today demands astronomical prices in mint condition. But more to the point of our discussion, this is the recipe for a Python: screw a Python barrel into a slightly modified Trooper frame. That's really what it is all about. You now have a Trython.
Well, of course, there's a bit more to it. Where do you get a Python barrel? Numrich Gun Parts has them as this is written. Also, a lot of guys in the wheelgun police era wanted to change the length of their Python and the company was cooperative with spare barrels as cheap as about $35. Most commonly, six-inchers became fours, which left a perfectly good six-inch barrel in someone's parts box. Others are possible, as more than 600,000 Pythons came out of the plant in 2 ½-, 3-, 4-, 6-, and 8-inch lengths. I see them on the online auctions often. Where there's a will, there's a way.
What about the Trooper revolver to work with?  They seem to be fairly easy to find, also. I bought the two you see with this article (finished up as Trythons) from online auctions. You may also find them locally, as they were a common police revolver. If you are going to do this, I would hope that you find a decent specimen for your gunsmith to work with. The lockwork of the "V" spring DA Colt revolvers is challenging to tune.
When the gunsmith gets a decent gun and a Python barrel, he is ready to begin. The first step is to unscrew the barrel from your Trooper. Don't try his yourself, as there is every likelihood that you will mangle the barrel or completely ruin the frame. With the barrel removed by a competent gunsmith, compare the threading on the Trooper barrel to that of the new Python barrel—it's the same. You can screw the Python barrel into the Trooper frame, just finger tight. This gives you something of an idea as to how your gun is going to balance and feel. But it looks like hell.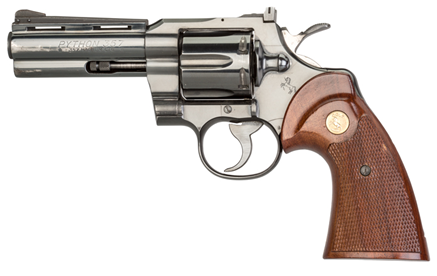 Colt Python barrel screwed into a Colt Trooper frame—yep, the barrel-to-frame threading is the same on both guns. It would not work, but that notch is unacceptable.

While it is true that both frames are fundamentally the same, the Trooper frame differs in that the top front corner was finished to match up with the back end of a round Trooper barrel. The Python barrel has an integral ventilated rib and it fits into the frame OK, but there is a huge notch in the resulting gun's profile. To make it look right, we have to turn the Trooper frame into a Python frame, at least in terms of dimension and shape. This can only be done by welding a glob of steel onto the Trooper frame, then grinding and filing it down to exactly the same shape as that of a Python.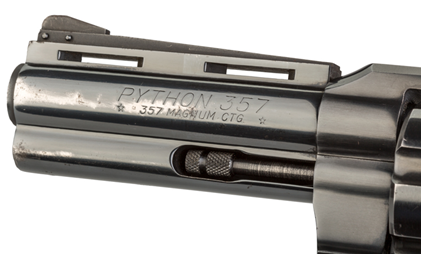 The Trooper frame must be modified by welding material into the notch and filling it to the exact contours of the Python frame. It takes a welder who knows what he is doing and a gunsmith who can carve steel.
It took a single sentence to describe what was done, but it took a lifetime of gunsmithing experience to get it done and have it come out looking exactly right. This is not a terribly difficult job for a good pistolsmith, but the filing to final shape requires experience in carving good Yankee steel. Look close at that transition point on one of the pictured Trythons. See the dimple on the corner? It was filed down to perfect shape and matches perfectly the one on the other side. And "perfectly" is a word I do not use often in describing these things.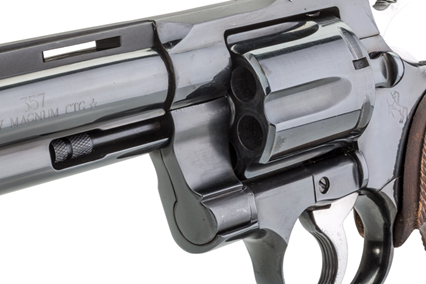 Perfect results at the critical barrel frame juncture. A Python barrel and modified Trooper frame result in a Trython.
With a newly shaped Trython frame in hand, the gunsmith can fit your barrel, tune the gun's action and re-blue the project. The idea is to get you shooting a gun with every meaningful characteristic of the original Colt premium .357 Mag. How happy you are with a Trython depends on what barrel you start with and how it is finished up. I recently had two guns done and I'm  absolutely delighted with the result. I started with 8" .38 Spl. Python  barrels from Numrich. I can recall the days when Colt tried an experiment with this Python variant, only to have it meet with limited success. Excess barrels went to the parts people and I got a couple.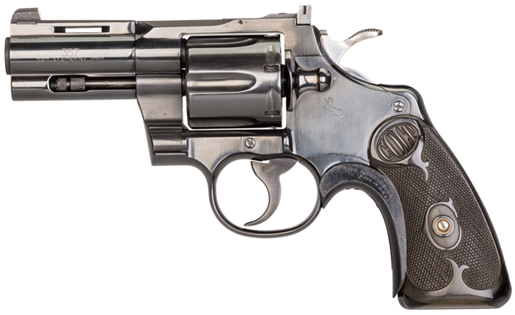 The barrel for the racy short-barreled Trython was originally the rearmost 3 inches of an 8" .38 Spl. barrel.
My first Trython was done up as already described, with the barrel cut to three inches. This is the elusive barrel length that was originally used by the factory in very limited numbers. It creates a sort of semi-snubbie gun that balances (and looks) better than the 2 ½-incher. When you measure three inches forward from the threaded end of the original 8-inch tube, your cut will miss all of the barrel markings. It will also fall at a convenient place on the ventilated rib. Rather than attempting to replicate the original front sight base, the gunsmith fitted an X/S Sights white so-called "marshmallow" front sight, complete with Tritium dot. I also looked about for grips for a semi-snubbie revolver—something appropriate for a gun that might be carried concealed. Deep in my possibles box of gun good stuff, I found the ideal pair. From an early Colt Army Special, they were factory original hard rubber. These century-old, jet-black checkered grips had the stylized "C" for Colt around the screw hole, as well as fancy borders around the fine checkering. As requested, the gunsmith duplicated the rounded butt contours of both frame and grips, as was used by the Custom Shop on a few Pythons. Finished with a new Pachmayr grip adapter, the result is an all-black, great-handling .357 Mag. that looks cool.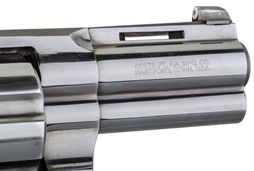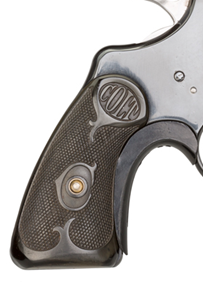 Left: The short barrel is a better feel than the company-standard 2.5" snubby. It has a muzzle-forward balance more like the popular 4" Pythons. Right: With a tip of the hat to olden times at Colt, these 100-year-old hard rubber grips were used on Wiley's first Trython. The frame was round-butted like a Colt Marshall and the grips were easily modified to fit. Also note the Pachmayr grip adapter, another oldie-but-goodie feature.
The second of my Trythons was a bit more exotic. It was made in essentially the same manner as the 3-inch version, but this time the Python barrel was cut five inches from the breech end. I had never seen a factory-original 5-inch Python, but I can recall an after market gun offered for sale on one of the on-line auctions in the past year or two. Doubtless, it was an after market modification. 
Cutting the barrel at the 5-inch point really messes up the barrel markings and the ventilated rib. My gunsmith polished away the markings and replaced them in a proper spacing. The rib required a small amount of welding, but the result was a very handy holster gun with a unique look. For grips on this gun, I went even deeper into that possibles box and came up with a pair of original Type I Python grips. For the first few years, Colt furnished their premium .357 with full-sized target grips where the checkering ran all the way to the top edge. These give my Trython a bit of Colt class.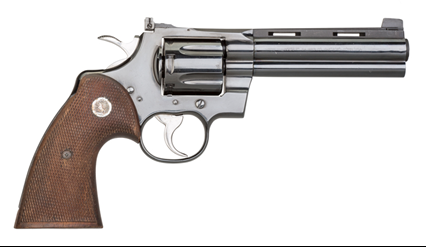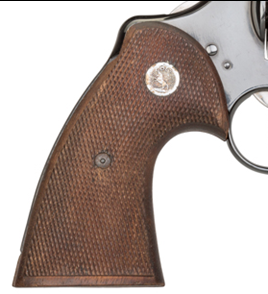 Colt never offered its premium .357 in 5" configuration, so Wiley put this Trython together with that barrel length. It turned out to be a remarkably attractive compromise, as well as being a great shooter. And yeah, it will need a custom holster. Deep in that box of old stuff you'd never throw away, there was a pair of these so-called Type 1 grips. They are walnut with Colt medallions and factory-original. Note the checkering, which runs all the way to the top.

Just as sure as the sun coming up in the morning, someone is going to be unhappy with what I have done to build these two revolvers. My intent was pure and simple—put together a pair of guns with all the Python features and shoot them. Few of us have the wherewithal to buy a new Python for several thousand dollars and shoot it. But I won't think twice about throwing mine in the gun bag every time I go to the range. Also, this may be a somewhat unknown practice, but it has been done in the past and referred to in several written sources. By the way, I am convinced that the welding, etc. is mechanically sound.  
By now, I am sure that at least a few of you are chomping at the bit to build yourself a Trython. Lots of gunsmiths might be able to do it for you. My experience was with Terry Tussey of Carson City, Nevada. Terry has worked on my crazy projects for many years and I cannot endorse him highly enough.
Next time, I'll take the Trythons to the range and wring 'em out. 'Till then, eh.