by
Christopher Olsen, Managing Editor
posted on April 23, 2023
Support NRA American Rifleman
DONATE
Not long ago, I encountered a very interesting used gun for sale and have been curious about its authenticity ever since. My first judgement, due to my ignorance of its existence, was that the used bullpup shotgun was, in fact, a kit gun someone had assembled from aftermarket parts. And considering how strong the aftermarket is for Mossberg Model 500 shotguns, I was certain that had to be the case. But according to American Rifleman's Tech Files, O.F. Mossberg & Sons cataloged a compact, bullpup version of its Model 500, called the Model 500B, throughout the 1980s. The design first appeared on the second-to-last page of the company's 1985 catalog, as shown below. However, the production run for those Model 500B shotguns was short-lived.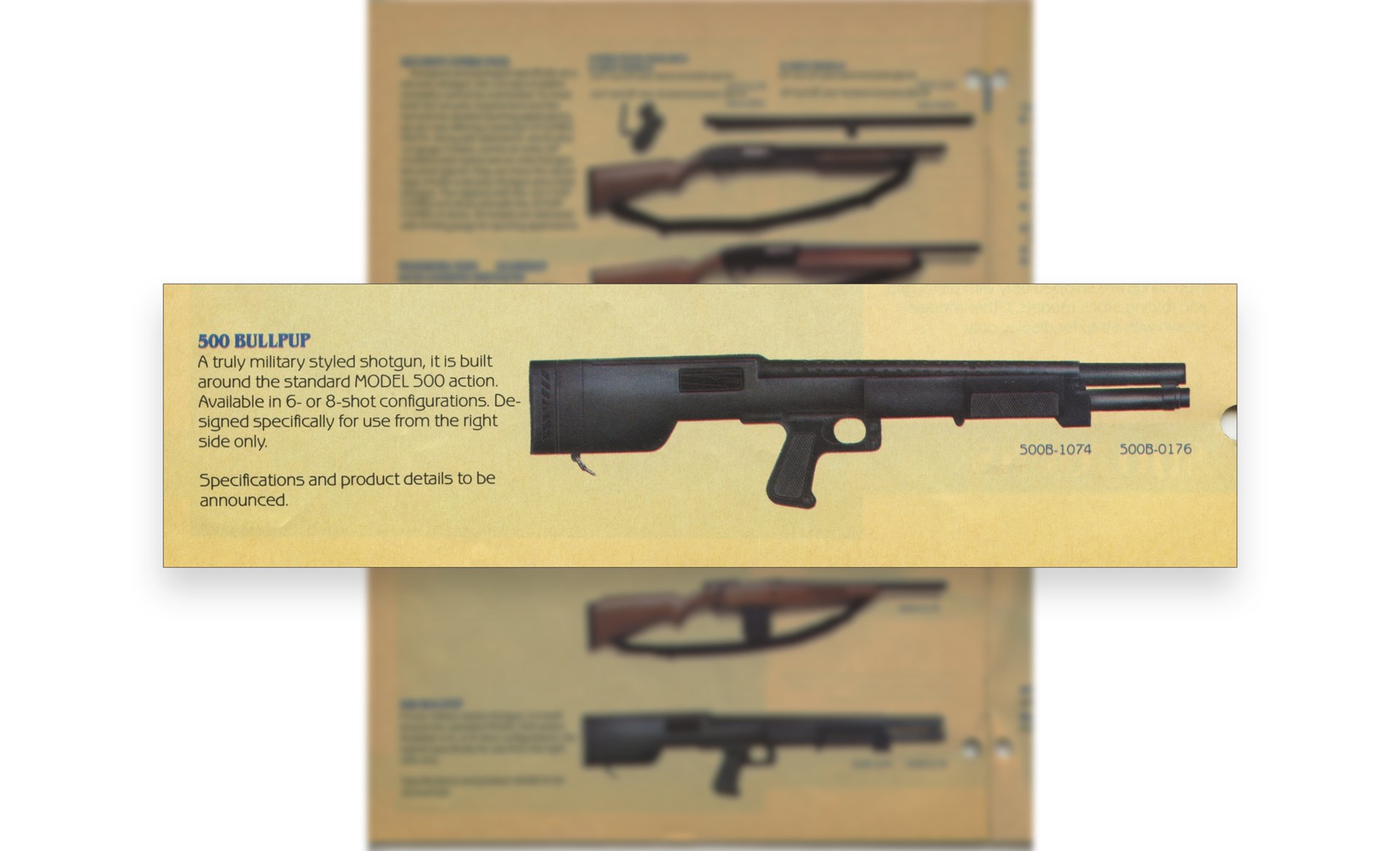 "A truly military styled shotgun, it is built around the standard MODEL 500 action. Available in 6- or 8-shot configurations. Designed specifically for use from the right side only. Specifications and product details to be announced."
It is safe to assume this catalog entry was a "soft launch" of product, because according to the 44th Edition Blue Book of Gun Values (BBGV), Mossberg's manufacturing dates for the Model 500B are listed from 1986 to 1990. BBGV's listing for the Model 500 Bullpup also says: "12 ga., 18 1/2 (6 shot) or 20 (9 shot) in. barrel, bullpup configuration, 6 or 9 shot mag., includes shrouded barrel, carrying handle, ejection port in stock, employs high impact materials." The gun's last known manufacturer suggested retail price is listed at $425.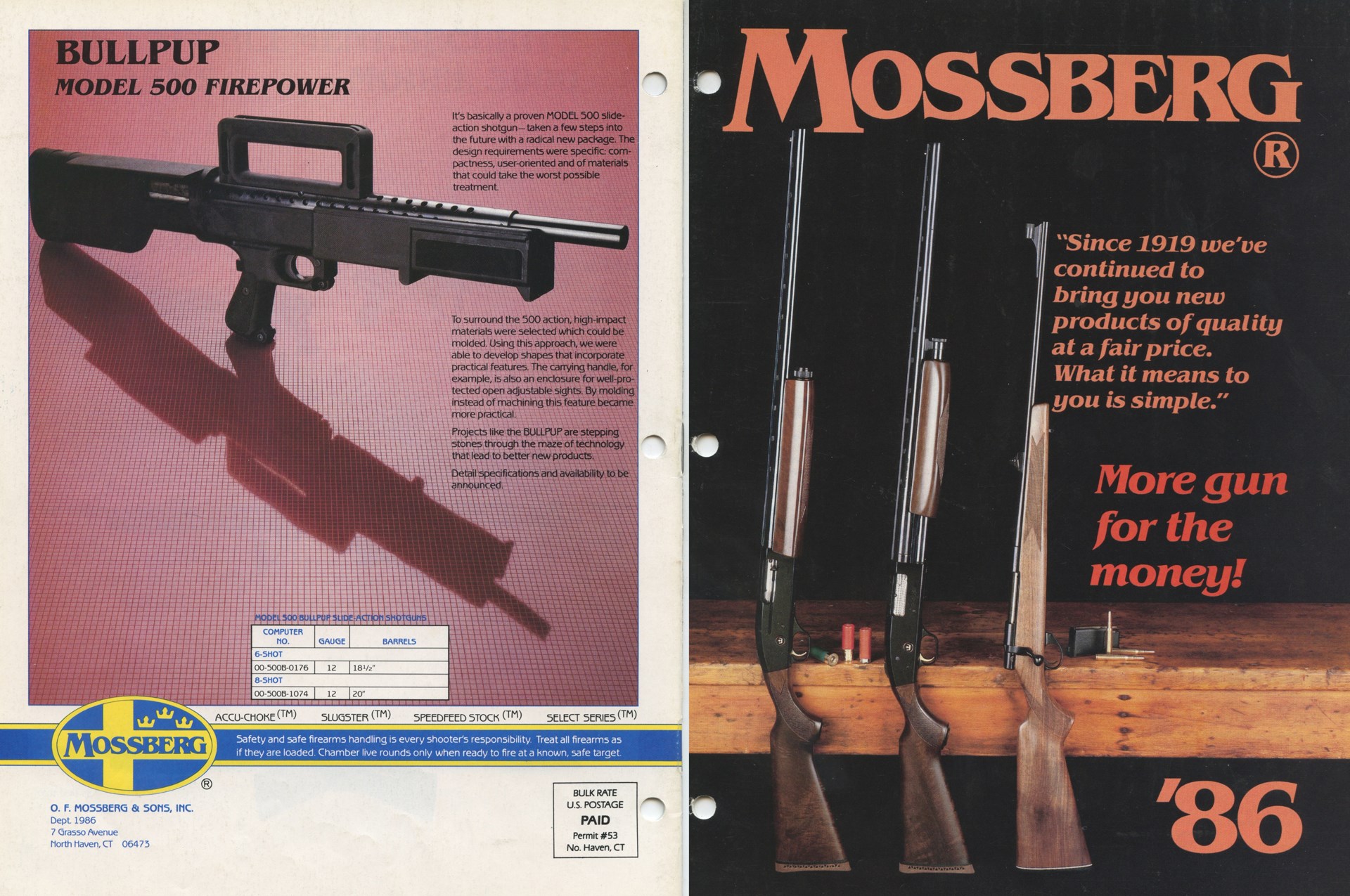 Emblazoned on the back cover (above) of the O.F. Mossberg & Sons 1986 catalog boldly reveals the then-new Model 500 Bullpup in a dynamic angle backed by red lighting. Atop the page is printed "FIREPOWER" followed by a few paragraphs of text and a small spec box at the bottom. The 1986 catalog description reads:
It's basically a proven MODEL 500 slide-action shotgun—taken a few steps into the future with a radical new package. The design requirements were specific compactness, user-oriented and of materials that could take the worst possible treatment.
To surround the 500 action, high-impact materials were selected which could be molded. Using this approach, we were able to develop shapes that incorporate practical features. The carrying handle, for example, is also an enclosed for well-protected open adjustable sights. By molding instead of machining this feature became more practical.
Projects like the BULLPUP are stepping stones through the maze of technology that lead to better new products.
Remember this was during the mid-1980s, a time when the use of polymers typically was foreshadowed with verbiage such as "space-age" or "futuristic" or, even "hi-tech." In fact, the use of polymers in the firearm industry at the time was revolutionary, and such visionaries in mechanical engineering at the time saw a bright, polymer-laden future ahead.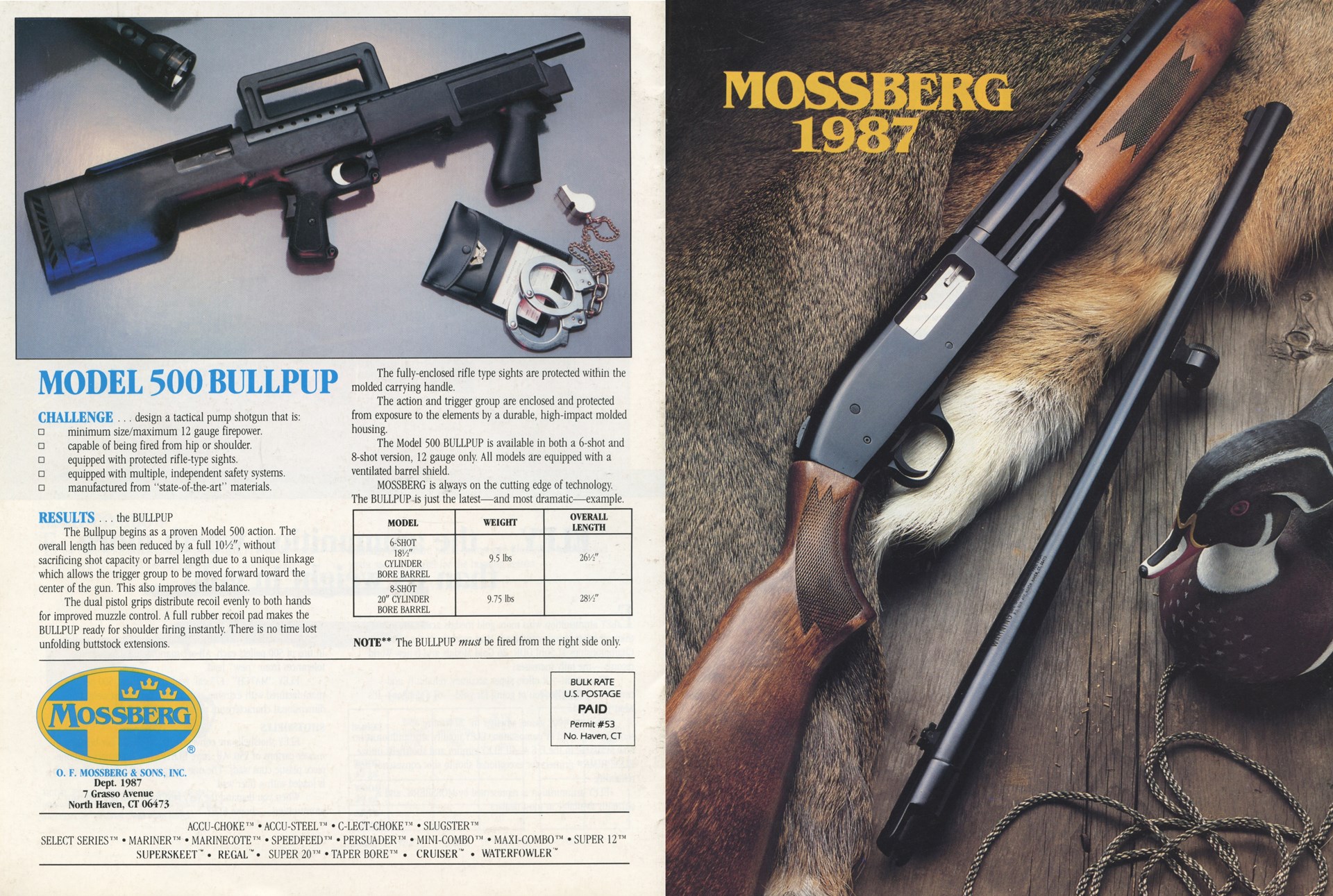 So, what happened to the Mossberg Model 500B? Well, in 1987, the Mossberg Bullpup appeared again on the back cover (above), obviously themed to appeal to law enforcement with the handcuffs, badge and flashlight accessories shown. Black and blue colors also highlight the theme. However, the 1988 catalog featured many additions to the Model 500 lineup, but its 500 Bullpup entry stayed the same. Then, in 1989, things started to change. By this time, the Model 500 Bullpup appears to be gaining steam and Mossberg issued its catalog with a thorough section dedicated to the new-ish scattergun. In fact, there was a line extension included at this time, too, where Mossberg announced a new, 9-shot version called the Model 590 Bullpup that year. Wait; pump the brakes! Yes, there is an obvious discrepancy happening. Even though BBGV notates the gun as having a 9-shot capacity from 1986-on, previous M500B catalogs list the gun as having either 6-shot or 8-shot capacities, depending on barrel length, until 1989. Was this a case of either a longer tube, or a number that counts for a round in the chamber in addition to the tube capacity? It is hard to say.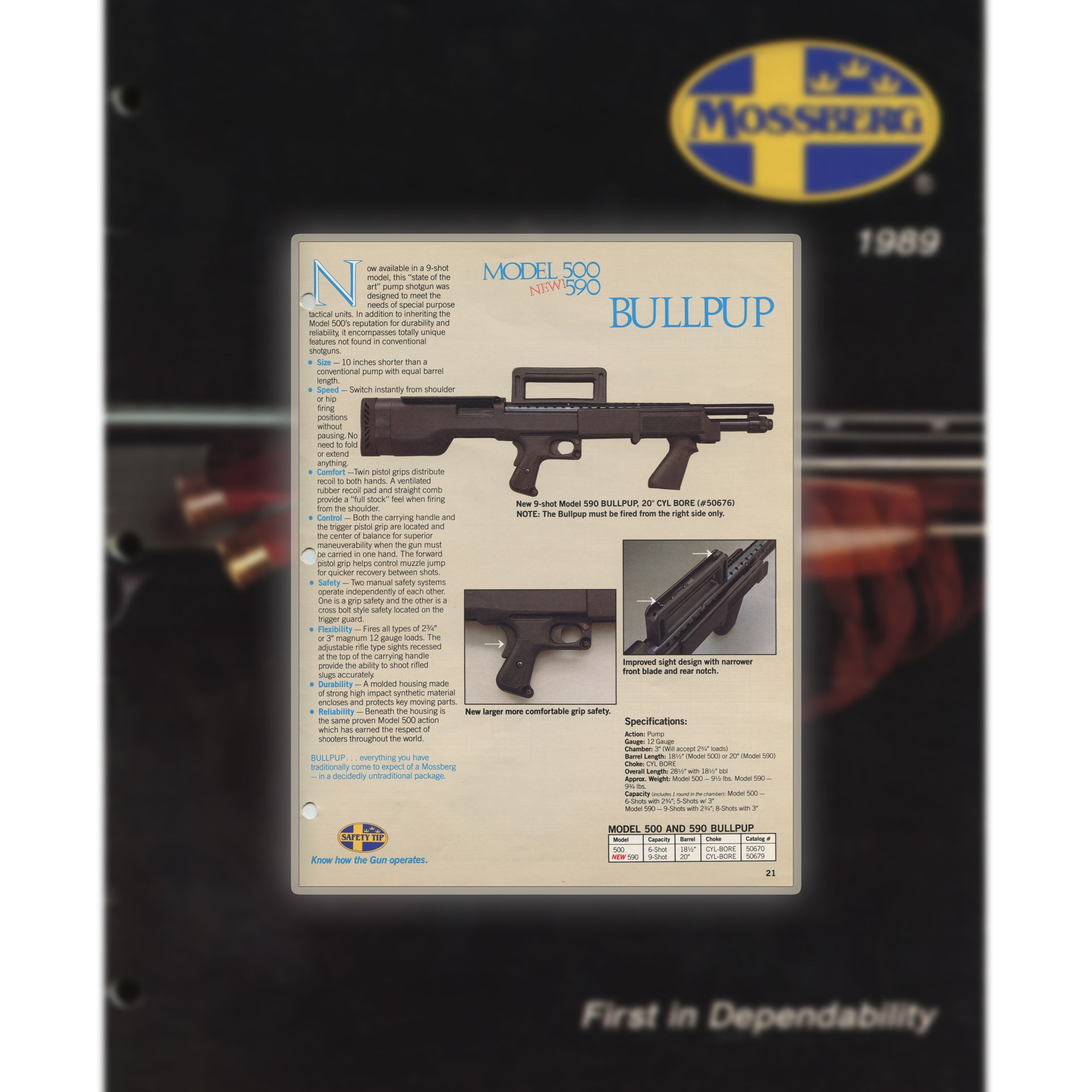 But, this impactful blurb, "BULLPUP . . . everything you have traditionally come to expect of a Mossberg—in a decidedly untraditional package," was found in conjunction with the Model 590 Bullpup listing from 1989 (above), which leads me to my next points of mention: One of the most identifiable features of the Model 500 and Model 590 pump-action shotgun design is the tang-mounted safety, and considering the bullpup configuration employed during the 80s, the traditional tang-mounted safety design was replaced by a crossbolt-style button mounted in the forward portion of the trigger guard. For that 1989 catalog year, Mossberg announced it had enlarged its Bullpup's grip safety, too, in addition to an improved sight design in the carry handle that contained a narrower front blade and rear notch. Sadly, this was nearly the end for Mossberg's Model 500 and 590 Bullpup, as 1990 is cited as the last year for production.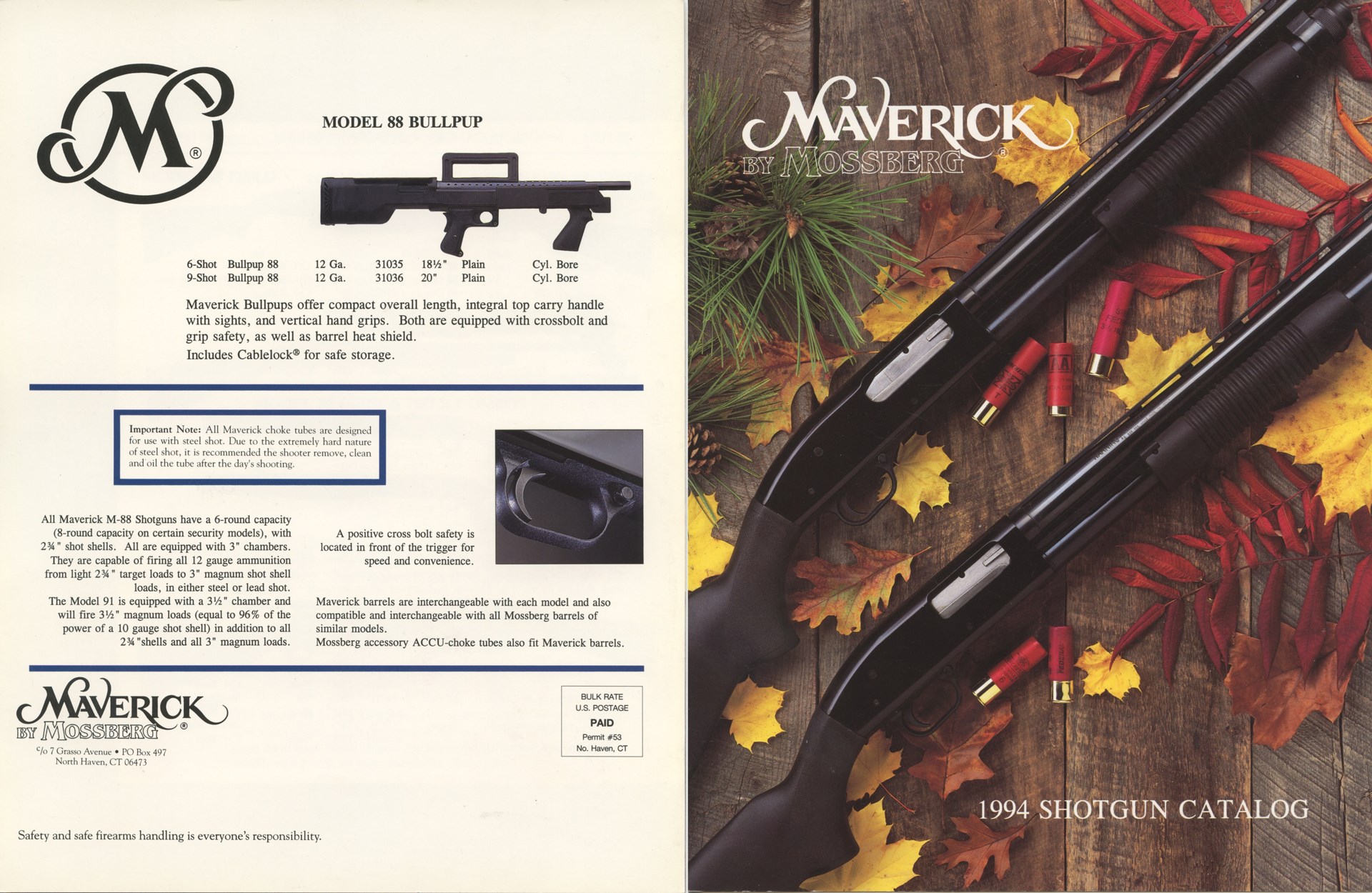 However, following the gun's 1990 disappearance from company literature, several years later, the taciturn pump-action bullpup appeared in the firm's Maverick catalog. Dubbed the Maverick Model 88 Bullpup, it unsurprisingly appears to be identical to the M500B previously displayed throughout Mossberg's catalogs. As for more Mossberg Model 500 and Model 590 Bullpups, we'll just have to wait and see if the namesake firm decides to buck tradition, again, and re-release a 'modern' version of its previous Bullpup design. Until then, I guess us tinkerers are left to the aftermarket.