by
posted on July 4, 2022
Support NRA American Rifleman
DONATE
Poets, philosophers, politicians—and husbands—have all shipwrecked on the rocks in their quest for an answer to the age-old question, "What do women want?" Some may argue that this pursuit has been diluted by a modern era of gender neutrality and misplaced pronouns. When it comes to handguns, however, where size and shape are indisputably at odds with the physiology of the average woman's hand, it seems German engineering is helping to unlock this enigma.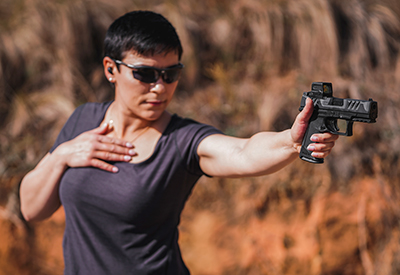 Coincidentally, we at NRAWomen.com have been grappling with the "What do women want?" dilemma in earnest for some years—at least six, officially, when we kicked off our first Ladies Pistol Project (LPP) to determine which features women prefer in a handgun. Since then, through an 18-question survey, hundreds of women have answered a series of true/false statements about the samples of handguns they were asked to fire, specifically on form and fit: placement of controls, ease of use and overall comfort and feel of the guns.
The general conclusion drawn from our LPP studies is that, while there is no one single gun that is right for all women, what is "right for you" should be the objective. That said, our collective data shows irrefutable commonalities among the handguns that women have selected as their overall favorites. Some of the things we learned in LPP2 are that women prefer their concealed-carry handguns chambered in 9 mm Luger over .380 ACP, they prefer barrel lengths of 3.25" or greater, and they prefer pistols that weigh 20 ozs. or more. We also uncovered a preference for striker-fired pistols, and most respondents prefer trigger weights greater than 6 lbs. but less than 7 lbs.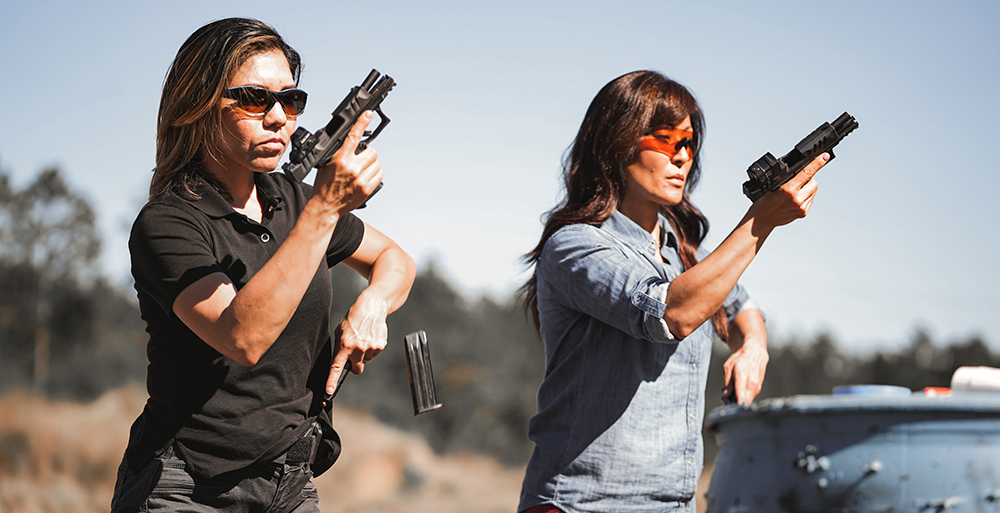 The first three true/false questions we presented in our survey focused on the placement of controls:
I can reach the trigger easily.
I can reach the magazine/cylinder release easily.
I can manipulate the slide stop lever and lock the action open.
That these critical statements are listed first is by design. Being unable to reach and operate the controls with ease can wreck an otherwise fun outing at the range, or worse, mean the difference between life and death in a self-defense scenario—for men and women alike.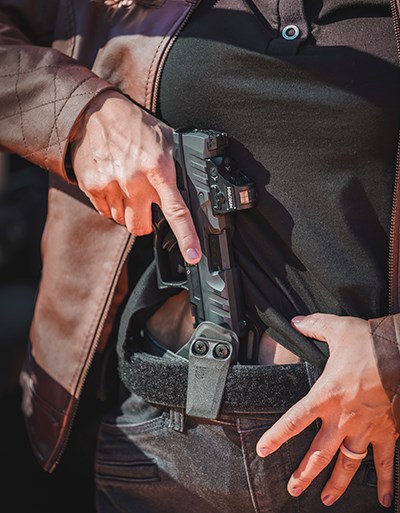 LPPs And Walther Pistols
It's fair to say that the various Walther striker-fired pistols included in our multiple surveys have had an impressive showing. The original 9 mm Luger-chambered Walther CCP, which ranked second in the first LPP, was awarded two NRA Golden Bullseyes for "Women's Innovation Product of the Year" in 2015. In LPP3, the CCP M2 fared in the top 10 out of 26 pistols. Although Walther reportedly did not make the CCP specifically for women, it inadvertently created a following.
In October 2021, the new Walther PDP Compact made its way into our LPP4 survey. Of the 14 semi-automatic 9 mm pistols presented to our 21 participants to shoot, the PDP Compact model was so well-liked for its form and function that it ranked second in the standings. Ultimately, NRAWomen.com editors awarded it the 2022 NRA Women Golden Bullseye for Handgun Of The Year, an honor that wasn't difficult to justify. When I tested this pistol shortly after its release, my target reflected all that was good about this gun—great ergonomics, balance, a superb trigger and comfortable grip texture—with no evidence of the flinch that typically plagues my initial striker-fired pistol shots. I was equally pleased when the results of the LPP4 survey came back with corroborating sentiments. Frankly, I didn't know how Walther could top this pistol, but company engineers apparently thought differently.
It turns out that, while we were extolling the virtues of the PDP Compact, Walther was working on a PDP F-Series designed specifically for women. I was both intrigued and skeptical.
Marketing Guns To Women
Don't get me wrong. The firearm industry's modern progress in creating, improving and marketing outdoor products to women has been admirable, moving beyond adding colorful grips to a snub-nose revolver and magically expecting her to work the double-action trigger with a smile on her face. Thankfully, the concept of shrink-it-and-pink-it is largely behind us, too, with thoughtful features now being applied to guns that address some issues we've identified in our surveys. One successful standout comes to mind—the M&P Shield EZ pistol, with its easy-to-manipulate slide. It should be noted, however, that even though the EZ was not marketed as a "woman's gun," Smith & Wesson smartly advertised features that solved a problem for certain shooters. The main selling point for this pistol—an easily racked slide—practically eliminated an obstacle that disproportionately afflicts women gun owners, as well as those with hand-strength issues resulting from conditions such as arthritis. The gun has been an incredible success story, but it surely was an anomaly.


Previous efforts to offer handguns in a variety of colors and finishes were an early attempt to capture our attention, a failed experiment from which manufacturers have learned that serious women gun owners don't fall for superficial gimmicks. Nor are we monolithic. I have long suspected that this strategy masked a concern by manufacturers that building a gun for half of the population would alienate the other half. In many respects, calling a gun a "woman's gun" was a risky business decision. With one third of new gun purchases today being made by women, however, it is a statistic that cannot be ignored.
Tatiana Whitlock, a member of the Walther Defense Division, agrees, "The contemporary woman buying a firearm isn't so interested in those types of features," she said. "Color is kind of irrelevant—it's the functionality she's looking for. The woman walking into the gun shop now is well-educated, has done her homework and researched her purchase."
So forgive me if the concept of an actual woman's gun seems anathema to the way we've been operating. After all, we have been adapting to shooting handguns the way they have been presented to us for so long, we actually had to create the Ladies Pistol Project to discern the good from the not-so-good. For a woman to trust a gun enough to protect herself and her family, it has to fit properly, shoot without causing discomfort and offer enough encouragement that she wants to become proficient with it.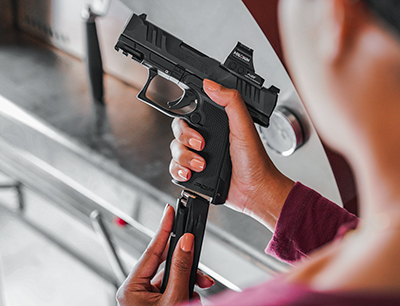 Walther Gets It Right
Part of me really wants to believe Walther read and absorbed the data collected in past LPPs. Another part of me wants to believe that, somehow, a female engineer was able to successfully pitch the idea to company executives. Regardless, it does not surprise me that it would be Walther taking the lead on cracking the code; it was only a matter of time and effort before the company leveraged the success of the CCP, PPQ and PDP Compact models.
Remember that first question in our Ladies Pistol Project: Can I easily reach the trigger? Overextending the index finger to reach the trigger on any gun can lead to taking bad shots. But it's a fact that women, on average, have shorter fingers than men—an inconvenient truth that Walther was willing to address. Instead of the obvious solution arrived at by some gunmakers, which is to just make the entire gun smaller, Walther had a different idea: If she can't bring her finger to the trigger, let's bring the trigger to her finger. It is a solution as logical as tailoring pants or jackets that are a little too big, yet one that so far only Walther has considered important enough to invest in.
Walther didn't stop there in its F-Series reduction theory. In fact, Whitlock says the PDP F-Series was specifically engineered from the ground up with all of the same features of the PDP, but tuned specifically for the contours of a woman's hand, increasing a woman's ability to utilize the firearm without having to make adjustments.
Along with a 20 percent reduction in slide force—yes, you will notice this immediately—Walther also completely re-designed the grip, which was altered to match a woman's hand. Whitlock, who acted as a consultant during the re-design process, says, "It's not only an intuitive grip, it's an intelligent grip." Whitlock explains that altering the grip angle results in a straight grip, which translates to a higher purchase, thus better mitigating recoil. Ultimately, the grip circumference contributes to a much-improved reach to the trigger, which allows contact with the front, flat face of the trigger, she said. "This means we no longer have to adjust our grip." That in itself is a game-changer for women who struggle with grip size and shape.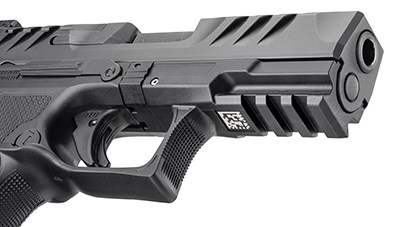 After firing the F-Series PDP 4" model (it also comes in a 3.5"-barrel size) just as well as I fired the PDP Compact, my skepticism had all but evaporated. My target was similarly patterned, but the difference was how much more I enjoyed shooting the F-Series—which was hard for me to admit. The gun simply fit my smallish hands better, and I did not have to stop shooting to occasionally adjust my grip. There are many other features that add to its appeal, like its optics-ready capability and incredible grip texture that was brought over from the other PDPs.
My colleague, NRA Publications Editorial Director Mark Keefe, is in fact a man, but he has spent the better part of his career examining and evaluating new guns, so I enlisted his help to provide detailed technical descriptions of the new Walther PDP F-Series pistol, and you can read his article here.
Despite its engineering accomplishments, I think the real proof of success for the PDP F-Series will come when women have the opportunity to shoot it, perhaps in an LPP5, and we calculate their feedback. After all, through the LPP, we have spent years helping women, through a process of elimination, find the right gun for them. Walther's decision to take seriously the potential for firearms for women could mean the PDP F-Series is the first entry into what might be a new category of concealed-carry firearms: concealed-carry handguns, based on science, built for women. Such pistols would boast the same aesthetics indistinguishable from a "man's" handgun, chambered in a cartridge that can save lives and that lend themselves to extended range time. They would be handguns that promote and encourage a woman's familiarity, proficiency and confidence. That's what women want. More importantly, it's what women need. And for now, it appears at long last, Walther has cracked that age-old code.