Support NRA American Rifleman
DONATE
Stuck: It's a feeling of helplessness that most anyone who drives a truck or SUV off the beaten path has come to know and will not soon forget. It's that sinking sensation, pun intended, when the wheels spin, the engine races, mud flies in all directions and you suddenly realize that there is absolutely no chance of regaining your forward momentum. In other words, it's the point at which you comprehend that your journey on wheels may be over and that getting back to civilization may require the use of your legs instead. You could call for help, of course—that is if you have the right communications gear and can get a signal—but why depend on someone else to get you out of a bind? Why not simply plan for such an eventuality beforehand and pack along one or more pieces of self-recovery gear? Sure, it involves a bit more advance planning and no small expenditure of funds, but, frankly, it's the only way to confidently venture cross country.
Hunters and wilderness explorers have been driving off-road for decades, and in that time some of the more enterprising invented self-recovery devices that have since been refined and proven in nearly every conceivable circumstance. Today's rough-road travelers can simply purchase these tools off-the-shelf. In no particular order, and admittedly incorporating some redundancy, the following five products are widely considered the best of their respective types. All are absolutely devoid of gimmickry, built to last and require no more power to operate than your own two hands can provide.
---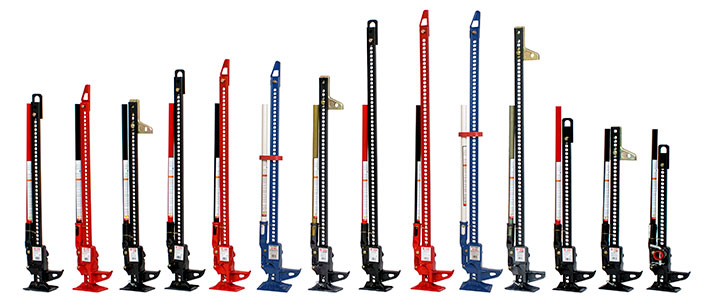 Move It
One piece of gear that has become so commonly associated with vehicles at least intended to go off-road, enjoying nearly ornamental status on bumpers and hoods everywhere, is the Hi-Lift Jack (hi-lift.com). That's not at all to suggest that this incredibly versatile device, which is somewhat reminiscent of an old-fashioned bumper jack, is itself a poseur. In fact, quite the opposite is true, as the U.S.-made Hi-Lift is brutishly strong. Its solid cast steel construction makes it capable of lifting up the entire end of a vehicle, allowing the surface under it to be built up with traction-bearing rocks and branches. Oriented horizontally, it also serves as a manual winch—albeit with less efficiency than a true come-along. If that weren't enough, the Hi-Lift can be used as a clamp or spreader. With an upright of specially processed 80,000-p.s.i. tensile strength high-carbon steel, a rated capacity of 4,660 lbs. and a weight of around 30 lbs., it is efficient as well. Various lengths are available, but the feature-packed 60" X-Treme ($128) shown here may be the best choice if space allows. Considering its incredible capabilities and relatively low cost, there is no good excuse to leave the Hi-Lift behind.
---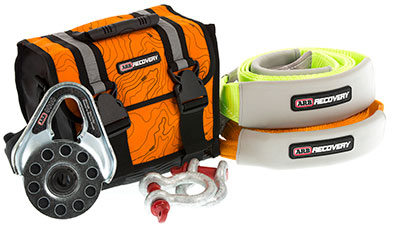 Hook Up
Perhaps better known for its excellent replacement bumpers with integrated winch mounts and bull bars, ARB (arbusa.com) also manufactures locking differentials, awnings, 12-volt fridge/freezers and air compressors, making it a mainstay of the overland vehicle community worldwide. Its Recovery Kit ($280) includes: an Ultralight Snatch Block rated to 20,000 lbs. that can be disassembled for cleaning; two bow shackles rated to 10,640 lbs.; one 10-ft. nylon tree trunk protector rated to 26,500 lbs.; one 30-ft. elastic nylon snatch strap rated to 17,500 lbs.; and a stout 10"x12"x7" nylon bag in which to carry it all. The snatch block allows for double lining a metal or synthetic rope, thereby multiplying the force being applied to it, and it can be used to redirect the rope's angle of pull. The protector and bow shackles allow everything to be hooked together and the snatch strap allows a rescue vehicle to take a running start and jerk a stuck vehicle free without inflicting damage.
---

Get Traction
What happens when incredibly high-strength, engineering-grade nylon is molded to form studded panels that can be wedged between a vehicle's tires and the gooey muck in which they're mired? The tires simply climb up the ramp-like structures, allowing the vehicle to drive across them to firmer ground. That's the idea behind Australian-made Maxtrax (us.maxtrax.com.au), which are so effective and durable they're used by their own country's military and by those of the United States and France—along with off-road racers, law enforcement, and aid and mining companies worldwide. The 45.25"x13"x2.75" tracks ($300/pr.) weigh 7 lbs., 8 ozs. apiece and are engineered with longitudinal beams for strength, yet they nest to maximize storage space. Sloping ramps on each end allow them to be used as shovels to remove debris from under a vehicle. Maxtrax are available in a variety of colors, from Safety Orange to Olive Drab, and come with nylon leashes allowing their retrieval from the muck.
---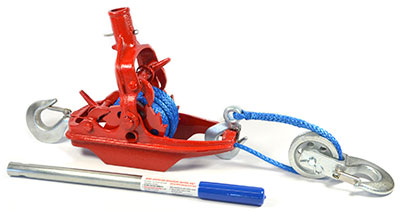 Ratchet Out
The term "come-along" conjures images of spindly gizmos suited only for light duty, but the More Power Puller, manufactured in Ohio by the Wyeth Scott Co. (wyeth-scott.com) since 1934, is a true hand-operated winch—possibly the most durably constructed such device in the consumer realm. The 26-lb. unit, which measures 17"x6.5"x8", comes in 2- and 3-ton ratings and relies on solid ductile iron and steel construction. The 3-ton model boasts a 12,000-lb. pulling capacity and 6,000-lb. dead-lift capability. Its coaxial-style frame makes it less prone to flopping around during use than other designs, and its simple controls are easy to manipulate. Models are available with wire rope and AmSteel Blue synthetic rope ($258-$378) in 20- or 35-ft. lengths. Not light and not inexpensive, the More Power Puller is, nonetheless, a faithful brute that you'll be glad is on your side when the chips are down.
---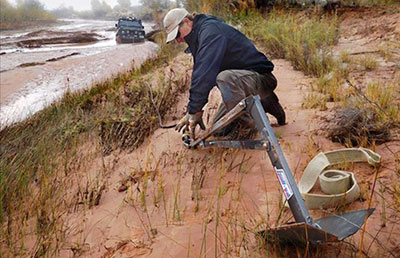 Grab Hold
What if there are no trees or boulders to serve as anchor points for your jack, come-along or winch? No problem, just select a spot in the desired direction of travel and set your own anchor. The U.S.-made Pull-Pal (pullpal.com) leverages mechanical force by biting into the terrain with ever-greater tenacity as increasing load is applied to an attached line. With its large, plow-like blade and cantilevered, triangulated arm, the Pull-Pal works not only in solid ground but in sand, snow and mud, and a loop allows retrieval with a rope. The 11,000-lb.-rated model shown here ($360) weighs 35 lbs., has a 10"x24" spade and folds to 47". It is designed for Jeeps through mid-size trucks, but one smaller and two larger models accommodate ATVs and heavier vehicles, respectively. Optional accessories include an exterior mounting kit and a padded soft case that also serves as a ground mat.
---
While it may not be necessary to carry all of the items listed above, doing so will set you back no more, cost- and weight-wise, than an electric winch outfit, which typically requires a specialty bumper and/or receiver mounts, the attendant wiring and an extra battery or heavy-duty alternator. And one big advantage of the devices reviewed here is that they can be easily transferred from one vehicle to another.
Another point worth mentioning is that using any self-recovery gear can be dangerous. So be careful, read and follow the manufacturers' instructions and warnings, and wear eye protection and gloves. In the end, self-recovery gear should help ensure that the next time you venture into terrain that becomes difficult to traverse, you'll be more likely to get back safely on your own.