by
posted on October 28, 2014
Support NRA American Rifleman
DONATE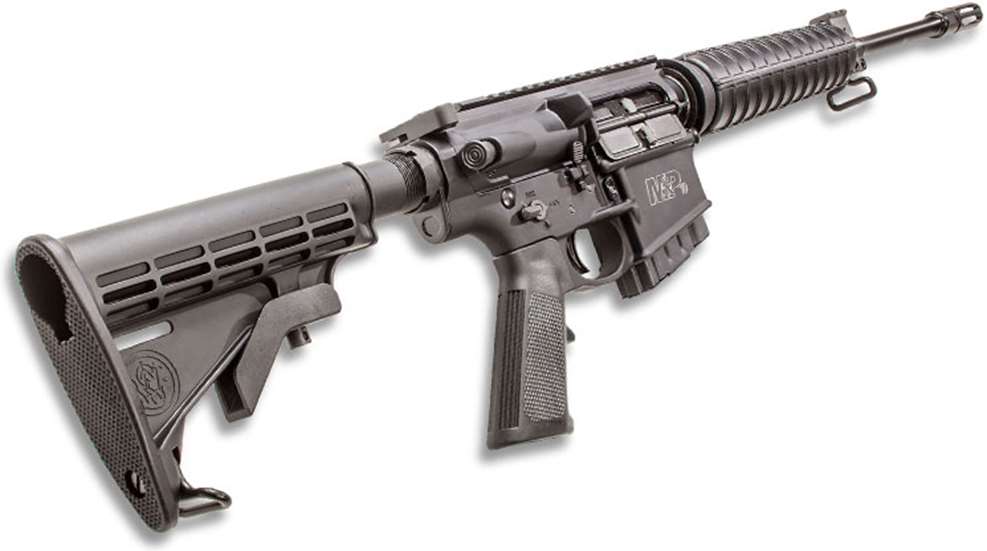 America's riflemen are always game for gearing up to shoot at bullseyes, silhouettes and uniquely themed 3-gun targets, but, lest they forget, there is a relentless force of 6 million resource-pillaging feral hogs marching like sappers through the wire that also deserve to be targeted. Weighing up to 400 lbs. and smarter than your Labrador, the male members of this crop-mauling militia sport armor that can turn away lead and have tusks that can split a softer-bodied critter wide open.
Perhaps you have no intentions of hunting big game, and that's fine, but it would be a fallacy to ignore the lessons that hunters—and soldiers—have gleaned about terminal ballistics. Simply put, the .308 Win. delivers substantially more energy on target than a .223 Rem. So, if a rifle is available in a reliable, high-capacity version nearly identical to the one with which you're already familiar, why not choose it in a chambering such as .308 Win. that is capable of dropping a real-life threat with less critical dependency on bullet type or shot angle?
Sure, there's more recoil. A 7-lb., .223 Rem. rifle delivers roughly 3.7 ft.-lbs. of force against a shooter's shoulder compared to 15 ft.-lbs. from an 8-lb. .308 Win. (As consolation, Smith offers its M&P-22 rifle for practice.) But the .308 offers 1,000-1,200 more ft.-lbs. of energy at 100 yds. than the .223. Also, consider this: A wild pig consumes 5 percent of its body weight in forage per day and one sow can have two litters of six piglets per year. The latter is why state game departments are losing the battle to quell the wild pig rebellion.
In essence, this essay is not a debate between calibers, but a review of one rifle well suited for targets as well as the more pragmatic uses of hunting, long-range shooting and personal defense. It is also one of the better values available in such calibers. That gun is Smith and Wesson's M&P10.
The 162-year-old firm has struck a chord with its Military & Police line of tactical firearms—pistols were introduced in 2005, followed by rifles in 2006—and it's not all about marketing. Rather, it's because of the proven track record that they have among users in the sporting, hunting, competitive and armed services arenas. Specifically, its .223 Rem. AR-style, M&P15 rifles are reliable, accurate and ergonomic thanks to forged receivers, precision rifled barrels, smart stock configurations and myriad options that tailor them to individual needs. Currently S&W offers its .308 Win. (7.62x51 mm NATO) caliber, Eugene Stoner-inspired, direct gas impingement-operated rifle in five configurations, although three of those are law-compliant versions of the model shown here, the M&P10.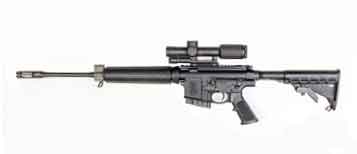 The M&P10 is built around an AR-style lower receiver forged of 7075-T6 aluminum. From the back of the magazine well rearward, the rifle's receiver and buttstock assembly is nearly identical to the company's M&P15; From the rear of the magazine well forward, however, it is longer (3.46") to accept the chambering's naturally larger magazines. (The M&P10 comes with one 20-round Magpul magazine, though a five-round aluminum example is used in this article's photography.) The receiver is finished in anodized matte black.
Internally its magazine well walls are a maximum of 0.234" thick. Likewise, the total lower receiver measures 9" long, 1.57" wide, and 2.62" tall. As such, it's slightly beefier than a typical AR-15 receiver (compare at 7.75", 1.31", and 2.54"), but not by much. In fact, the M&P10's total weight is 7.71 lbs. compared to the 6 lbs., 8 ozs. of an average AR-15.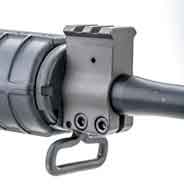 Unique to this M&P, the leading edge of the magazine well is grooved to lend a place of purchase for shooters who grasp that area with their weak hand held there. I don't condone that style, as I think the rifle can be better aimed and controlled with the off-hand farther up the fore-end, but, as I say, options are a good thing, and some shooters will like this feature that comes at a small price. The trigger guard is not the usual hinged type, but rather is machined integrally with the lower receiver.
Inside, this gun's firing mechanism—notably its hammer and sear—are metal-injection-molded. Some aficionados look askance at that manufacturing technique, but the fact is that Smith has spent considerable money on its tooling machines, and the parts are strong and smooth.
The M&P's buffer tube, containing the spring and buffer, is of the standard AR-configuration but made for the .308 Win. cartridge. Sliding over it, Smith chose the wildly popular M4-style, six-position collapsible stock that benefits smaller-statured shooters, too. It has a molded S&W emblem on its right side. Because of the .308's big-boy recoil and because the rifle has greater long-range applications, I would have preferred an adjustable stock with a thin rubber pad and cheek piece, but plenty of shooters adore this versatile stock. It's distinctly possible that Smith, much like in its choice of simple M4-style fore-end, opted for adequate and versatile furniture that allows the user to customize with his or her preferred aftermarket fore-end and buttstock while having minimal dollars invested in the factory stock. As further evidence of this decision, the company's M&P10 Camo version—that's obviously marketed toward hunters—comes standard with a full-length Magpul MOE stock.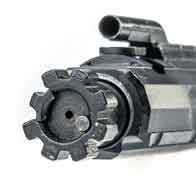 From the magazine well forward, the receiver is made more robustly than typical ARs to withstand the greater forces associated with the .308 Win. cartridge. Most notably, a tab of aluminum is forged into the receiver's left side above the magazine well both to bolster its strength and provide a recess for the left-hand magazine release lever. On the right side of the receiver, a 0.615"-long nodule was integrally forged to provide a pivot point for the rifle's right-hand bolt-release button. Those features, along with a two-position safety on both sides of the receiver, make the rifle's fire controls totally ambidextrous.
The rifle's right-hand magazine release is identical to that of most ARs with its fenced oval-shaped button that can be pushed with the trigger finger. But on the left side of the receiver a pivoting paddle, when pressed, pulls the existing magazine catch to the left, making it conducive for the trigger fingers of lefties. Unlike many AR-10-type rifles that mandate the trigger-guard-mounted bolt-release be cumbersomely pushed down, this rifle's dual releases can be mashed in with the left palm (like most ARs) or with the right palm for lefties.
The two-position safety and plastic pistol grip are like most other ARs, except that the safety is also located on the right side of the receiver for left handers, or for those righties who find it easier to manipulate with their trigger fingers. While the safety selector on the left (for righties) is 0.718" long, or 0.206" larger than the selector on the right, they can be swapped by removing the Allen screw that holds each in place. Being right handed, I find manipulation of the safety to the "safe" position is best accomplished via the right-side unit with the trigger finger—a move that mandates the trigger finger coming off the trigger.
The M&P10's upper features a 8.3" Picatinny rail that spans the top of the receiver—commonly called a "flat-top" style for its lack of a carry handle. This configuration has become dominant on ARs of all calibers because of the sighting options it allows. For those who like iron sights, they can either install a detachable rear sight and a front blade on the gas block rail, they can step into the optical age or they can do both. The rail's slots are numbered for reference.
The upper's ejection port wears a standard, spring-loaded dust cover and a forward assist button. Uniquely, four tiny plastic bumpers protruding slightly from the bearing surface—two forward and two in the rear—ensure tight lockup between the upper and lower receivers. This feature can only enhance accuracy and keep debris out of the action.
Affixed to the receiver is an 18" forged barrel that's turned from 4140 steel and button-rifled with Smith's 5R rifling at a 1:10" twist rate. It measures 1.20" in diameter at the nut, tapers to 0.750" at the gas block where it flows to its minimum diameter of 0.60" until it flares slightly to accommodate an elongated, 3.48" flash hider developed by Smith. As such, the M&P10 does nothing to quell the "whispy" and "pencil like" barrel clichés that are used to describe them. While such a contour has a bad reputation for accuracy when hot, its advantage is that it's lightweight. Its flash hider also serves as a thread protector that can be removed to accommodate a suppressor. Whatever your rifle's purpose, a suppressor can only enhance its usefulness.
The 5R rifling by Smith &Wesson is touted by the company to be superior, but if it were, I believe it would be commonly accepted as such. Fact is, there are plenty of good rifling styles, and with quality barrels, most can be made to shoot well. That said, I cannot argue with this rifle's accuracy results. While lower-quality hunting loads didn't post excellent numbers, premium ammunition routinely shot sub-minute-of-angle groups.
Like its .30-cal. AR-10 father—the original AR of any kind—the M&P features a direct gas impingement system to cycle its action. The M&P's gas tube spans 11.5". This "mid-length" is generally thought to be the ideal length for reliability. Much shorter, and more grime is passed into the action that can reduce reliability—at least in theory—while much longer and gas pressure can be reduced, thereby limiting the range of loads that can be reliably fired. The tube terminates in the rifle's 1.15"-long gas block. With its integral Picatinny rail on top and included sling swivel on bottom, this clamped-on gas block is a marvel of practicality. In sum, all is right with this rifle's action. I fired more than 500 rounds, comprising seven loads of varying brands, bullet and charge weights, and I witnessed only one malfunction.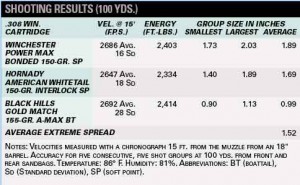 The M&P's 8.75", 9310 forged steel bolt is a 0.926"-diameter cylinder that steps to 1.11". This chrome-lined, hybrid bolt carrier is stepped so that the rear of it enters into the AR-15-size buffer tube normally, while the front of it is larger to lock up with the .30-cal. chamber. A chrome steel firing pin runs half its length; uniquely, the firing pin is arrested by a half-inch spring placed over it that retracts the pin from exposing itself on the bolt face until it's struck by the hammer. In this way, potential slam fires—made possible by a firing pin stuck in its exposed position—are minimized. Because the spring causes no undue assembly woes, it's a worthy addition. The firing pin's chrome finish is intended to allow it to overcome any potential damage from the softer brass cases.
The bolt's rotating face measures 0.887" in diameter and features a standard AR-style extractor, plunger-style ejector and eight locking lugs that interface with recesses in the barrel extension. If it doesn't, this rifle's forward assist button is very handy, especially when hunting. Rather than letting the bolt slam shut when loading the rifle, thereby alarming all animals within a tri-county region, simply ride the bolt home quietly, then apply pressure to the forward assist button to lock the bolt fully into battery. I would not have an AR-rifle for hunting that didn't have this feature.
With the exception of its grooved magazine well face, proprietary flash hider and ambidextrous controls (additions that are all made of metal), the M&P10 is a no-frills, tough-as-nails battle rifle that's perfect for the range, personal protection, pigs or any other large animal. In the past I have tried AR-10s for hunting, but have been dissuaded because carrying them is often like lugging a 10-lb. sledgehammer to the woods. Smith has done a great job shaving weight off its version of the AR-10, so much so that mine weighed only about a half pound more than my Remington Model 700, even with a scope and five rounds of ammunition. Because it is a .308, shooters must man-up, get a grip, a solid cheek weld and lean into it—basic rifle techniques—to shoot it well. But if they do, its recoil will feel like, well, like a pig-punishing .308 should.
It proved supremely reliable, and surprisingly accurate, especially given its non-free-floated, pencil barrel and "service rifle trigger." The trigger is heavier than it should be (although typical) at 6 lbs., 4 ozs. It's not horrible, but it's mushy with 1/4" of slack, and I can't figure out why S&W won't place a 3- to 4-lb. trigger on it. A great trigger from Timney, Geissele or others can be easily installed if you wish your long-range shooting to improve rapidly.
Despite the .308's capability, the M&P's designers never tried to make it a long-range rifle. Rather, it's an all-purpose, fast-handing rifle that provides more downrange performance than a smaller-caliber AR. I don't prefer the recoil pad-less stock, nor its plain-Jane M4 handguard, but folks like me can shuck such furniture like country corn and install the add-ons we want. An expensive inclusion of a machined-aluminum fore-end, for example, might only serve to pigeonhole shooters into configurations they do not prefer. So I commend Smith for going basic and practical. For more dedicated hunters, S&W offers a full-length, Magpul-stocked, Realtree camo version of the M&P10 that does not have the flash hider.
Not yet totally committed to the standard controls of an AR, I found the M&P's magazine- and bolt-release buttons liberating. I like options. Options can open more shooting techniques to those willing to consider them, and ultimately allow shooters and shooting to evolve. But what I like most about this gun is threefold: 1.) It's simple and tough; I literally threw it in my truck with no case while going hog hunting. It has no unnecessary parts to break. 2.) It's lightweight for a .308 AR, yet it's surprisingly accurate with premium ammunition. 3.) It's a .308, so if a wild boar—or marauding packs of them—become unruly, I won't worry about being underpowered, but rather about where to stash all the pork later.
Sure, smaller-caliber ARs are easy to shoot, en-vogue and relatively inexpensive, but they aren't necessarily at the power level of choice when the chips are down, the range is long or the combatants are charging with teeth bared. Quite simply, when the .308 Win. cartridge is offered in the same lightweight, accurate, fast rate-of-fire platform as the AR, it's a superior rifle for big game. The M&P10 is all that.
Most of us won't go to battle, but that doesn't mean we shouldn't prepare for it. Meantime, we can take to the fields and quell the hog rebellion with a rifle more suited for it—and maybe procure some bacon at the same time.
Smith & Wesson M&P10
Manufacturer: Smith and Wesson, 2100 Roosevelt Ave., Springfield, MA 01104;(800) 331-0852;
smith-wesson.com
Caliber: 7.62x51 mm NATO (.308 Win.)
Action Type: semi-automatic, direct gas impingement, repeating center-fire rifle
Receiver: forged 7075-T6 aluminum
Finish: anodized matt black
Magazine: 20-round Magpul; 5-, 10- and 25-round available
Overall Length: 41"
Barrel: 18" 4140 forged steel
Rifling: 5R button rifled, 1:10" twist
Weight: 7 lbs., 11 ozs.
Sights: none
Trigger Pull: single stage, 6 lbs., 4 ozs. (tested)
Stock: six-position M4-style collapsible: length of pull, 113⁄4"-15", drop at heel, 1/2"; drop at comb, 1/2"
Accessories: one magazine, hard plastic case, manual, chamber flag, cable lock
Suggested Retail Price: $1,619