posted on February 5, 2014
Support NRA American Rifleman
DONATE
Gun: S&W .38/44 Heavy Duty Model of 1950
Caliber: .38 Spl./.38 Super Police/.38/44 High Velocity/.38/44 High Speed (Note: All Heavy Duty barrels were marked .38 Spl.)
Serial No: S897XX (Post War "S" prefix denotes hammer block safety)
Condition: 60 percent-NRA Good (Modern Gun Condition Standards)
Manufactured: 1953
Value: $450 to $570 (based on the recent auction price for the gun pictured)
Some guns particularly reflect the era in which they were made. That is certainly the case with the Smith & Wesson .38/44 Heavy Duty, a brawny handful of revolver based on the N-frame S&W 44 Spl. Hand Ejector Third Model (also known as the Model 1926), but fitted with a .38 Spl. cylinder and barrel.
This hard-shooting hybrid came about, indirectly, due to Prohibition, the resultant production of illicit whiskey, and the corresponding rise of organized crime. With the crash of the stock market in 1929 and the onset of the Great Depression, organized crime became even more rampant. As a result, law enforcement was finding its standard .38 Spl. revolvers, which fired a 158-grain, round-nose bullet with a muzzle velocity of 755 f.p.s., no match for mobsters or bandits wearing "bullet-proof" vests and driving steel-bodied cars. To answer the lawmen's call for greater stopping power, S&W president Harold Wesson responded with what could be called the .38 Spl. +P of its day, a souped-up .38 Spl. that fired a 158-grain bullet with an increased muzzle velocity of 1175 f.p.s. and produced 460 feet-pounds. of energy at the muzzle, enough to punch through both sides of an automobile. Other .38/44 High Velocity bullet weights were soon commercially offered.
The .38/44 Heavy Duty was the only S&W revolver qualified to safely handle the new loads. It was introduced in 1930 with a fixed sight, 5-inch barrel, blued or nickeled finish, and walnut stocks, though 4- and 6½-inch barrel lengths were eventually offered. (A .38/44 Outdoorsman, sporting target sights and a 6½-inch barrel, was brought out in 1931.) Production of the .38/44 Heavy Duty was temporarily halted in 1941 and resumed in 1946. It became the Model of 1950 four years later, the Model 20 in 1957 and was finally discontinued in 1966, with a total post-war production of 20,604 revolvers.
The Heavy Duty Model of 1950 shown here was made in 1953 and features the post-war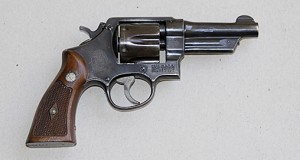 "S" prefix serial number. It sports a proper, tapered barrel in the less-frequently encountered 4-inch length. Although mechanically sound, the "plum"-colored cylinder is an indication of either a refinish or an imperfection in bluing the chrome-nickel cylinder. Nonetheless, in NRA Good condition, this gun sold for $570 at on-line auction house Lock, Stock & Barrel a few months ago. By comparison, a .38/44 Heavy Duty, circa 1935, with 5-inch barrel in NRA Very Good condition, sold for $711 in that same auction.