by
posted on March 8, 2018
Support NRA American Rifleman
DONATE
The few months from the end of 2017 to the beginning of 2018 could rightfully be called "Rugerpalooza," with Ruger launching more than 40 new models of semi-automatic pistols, revolvers and rifles during that time. And it looks like the new model launches for this year are not over quite yet because, believe it or not, a few more are still on the way.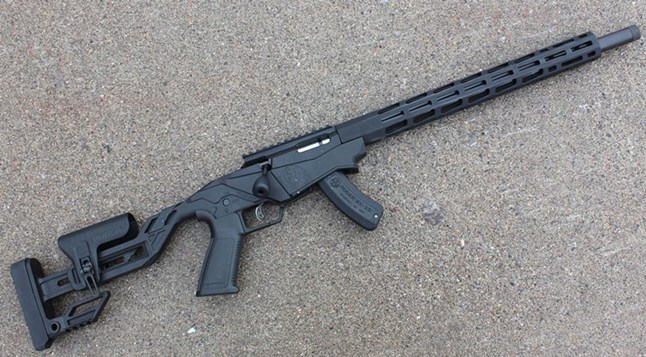 Amid the flurry of new product press releases jockeying for position in my email inbox, the new Ruger Precision Rimfire Rifle stood out from the crowd. As soon as I finished reading through the product specification sheet, I texted a link to my brother and said, "Imagine our kids showing up to shoot their hunters' safety qualifier with this!" He agreed that this scaled down .22 Long Rifle version of Ruger's Precision bolt-action platform would definitely make a lasting impression as it landed on the bench. My time at the range with this sharp-shooting rifle revealed that it makes tightly grouped impressions on targets downrange as well.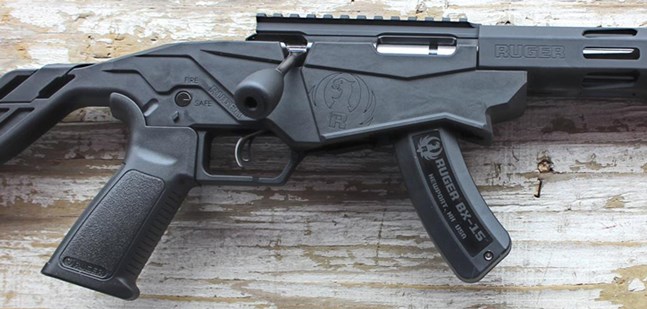 Like the center-fire version, the rimfire Precision Rifle is built around a CNC-machined pre-hardened 4140 chrome-moly steel receiver with an integral Picatinny optics rail. For those who wish to use this .22 as an understudy to the center-fire, removing a spring clip from the bolt assembly will alter the bolt throw from a rimfire 1-½" throw to a 3" throw, the same distance as that of the short-action .308 and 6.5 Creedmoor models. I left the bolt assembly unaltered to enjoy the shorter bolt throw for the quickest operation the extended bolt handle can provide.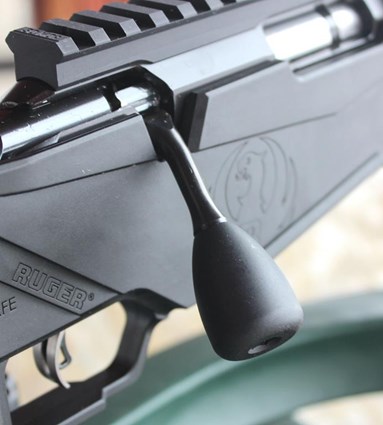 The 18" target grade bull barrel is cold-hammer-forged from 4140 alloy steel. The muzzle is threaded at ½"-28 TPI to accept muzzle devices and sound suppressors. A knurled thread protector is provided. The vented 15" long AR-type free-float handguard is constructed of hard anodized aluminum with Magpul M-LOK slots along its length on all four sides. Because the barrel and handguard are secured to the receiver using an AR-15 type barrel nut, they can be traded out using AR-style wrenches and headspace gauges.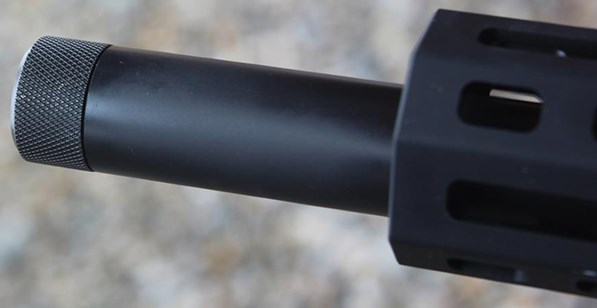 The Ruger Precision features a molded one-piece, glass-filled nylon chassis with an adjustable shoulder stock assembly. While the center-fire Precision has a more complex stock adjustment system with metallic components incorporated into it, the rimfire Precision's adjustable stock is all polymer with just one adjustment lever for stock length and cheek riser height.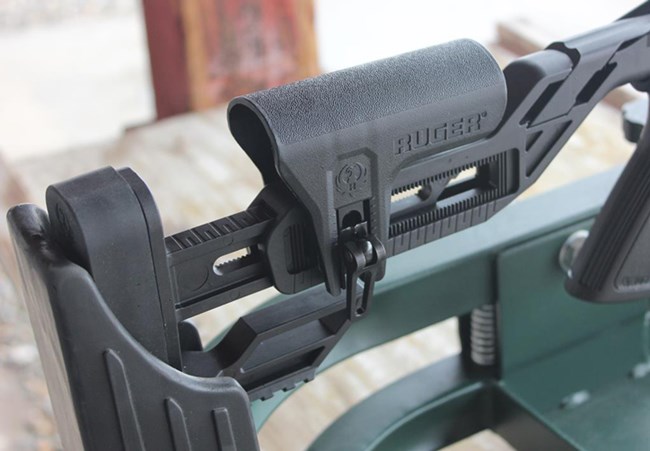 The stock is stiff, sturdy, lightweight and easy to adjust. Despite its simplification, the stock still provides key features including a thick textured recoil pad, QD sling swivel ports and Picatinny rail for mono pods. The removable AR pattern pistol grip is Ruger's own in-house model. The left-side safety selector is also influenced by AR design.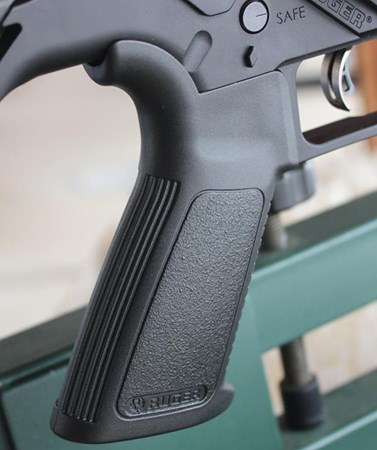 Ruger selected the adjustable Marksman trigger group for this rifle. It offers a trigger pull weight ranging from 2 lbs. 4 oz. up to 5 lbs. depending on the user's preferences. An adjustment tool is provided which can be stored in a compartment of the stock. The trigger arrived with the trigger pull set to a crisp, clean 2 lbs. 6 oz. and I saw no reason to change it.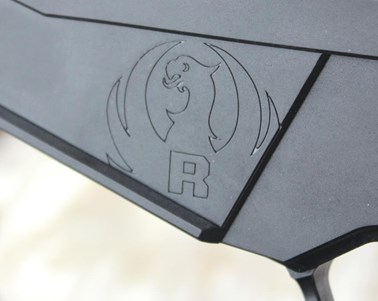 Thankfully, Ruger wisely decided to make the Precision Rimfire compatible with the company's ubiquitous 10/22 rotary magazines. This means it is infinitely more appealing than if it required a proprietary magazine. The rifle will accept all factory and most aftermarket magazines ranging from 10- to 30-round capacities. The BX-15 magazine provided with this model offers a just-right balance of ammunition capacity and easy loading without bumping into the bench top like the 30-rounders sometimes do. A 10/22-style release lever is located behind the magazine well.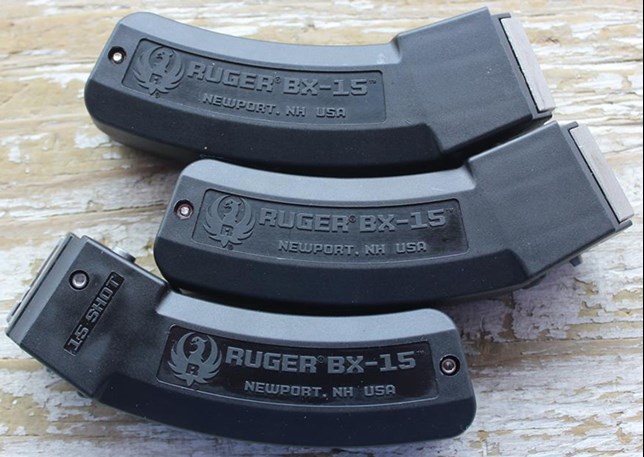 I haven't been too shy about expressing the enjoyment I get from hunkering down at a benchrest with sharp shooting .22s in my past reviews. I was looking forward to running this rifle and found it to be just what I hoped for. The action cycled smoothly shot after shot. The stock was easy to tune and the trigger a treat to operate. I fell in love with the Bushnell AR Optics 2-7x32 mm (AR92732) rimfire scope a couple of years ago. Mounted to this rifle using a Weaver SPR Optics Tactical rail mount, it was like the rifle and optic were specifically designed for each other.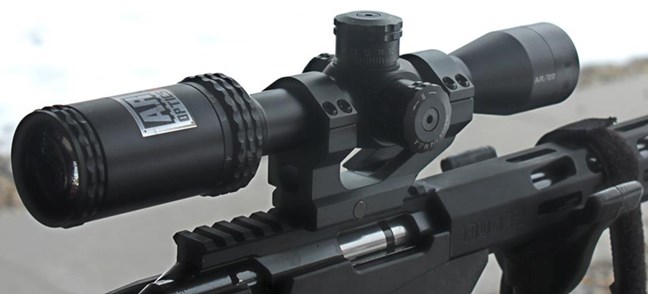 The only mechanical issue I ran into was the occasional failure to properly eject a spent shell casing when using the BX-15 magazine provided with the rifle. Instead of popping out of the action as they were supposed to, the casings would simply spin around in the ejection port waiting to be manually brushed or dumped out. This only occurred with the provided magazine. When using the other two BX-15 magazines I already had on hand, the problem disappeared completely with all loads fired. This minor inconvenience is not much of an issue for casual plinking. However, those who are looking to use the Precision Rimfire for competition will need to test their magazines thoroughly ahead of their next match.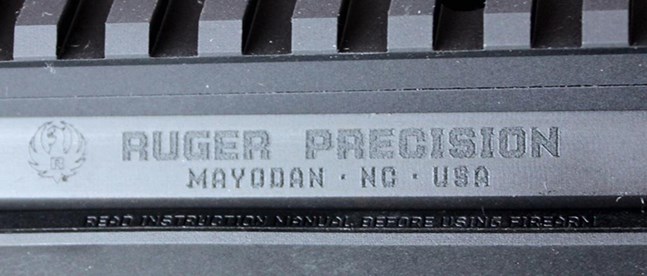 I went back through my records and looked at four of the most precise .22 rifles I've worked with so far, including the purpose-built Primary Weapons Systems T3 Summit bolt action (currently being reintroduced to the market by Volquartsen). The best 5-shot groups these rifles produced while I was pulling the trigger were between 0.79" to .80". The Precision's groups started in this best-of size range and then got better from there.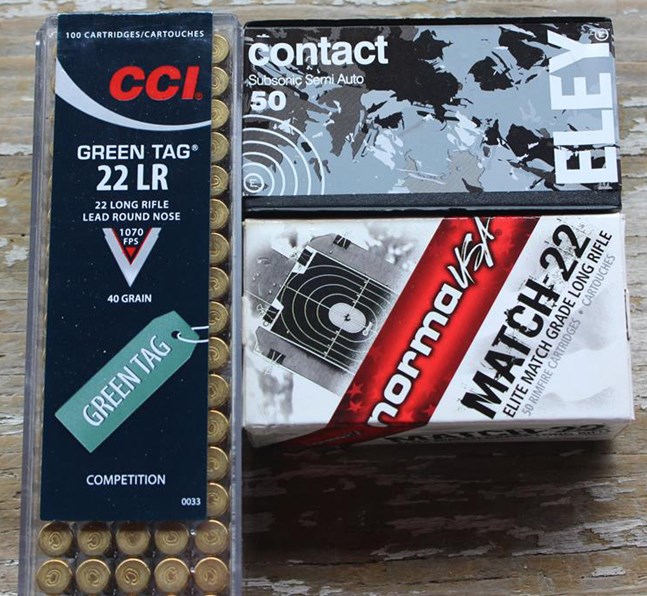 Norma USA's Match-22 40-gr. lead round nose loaded to a listed velocity of 1,100 f.p.s. printed a best group of 0.78" with a five group average of 0.83". CCI Green Tag 40-gr. lead round nose loads traveling at 1,070 f.p.s. yielded a best group of 0.68" with an average of 0.72". Apparently I got out of the rifle's way long enough for it to punch out a most satisfying ragged-hole group of 0.47" while firing Eley USA Contact Target 42-gr. lead round nose loads flying along at 1,090 f.p.s. The five group average with this load was just 0.56".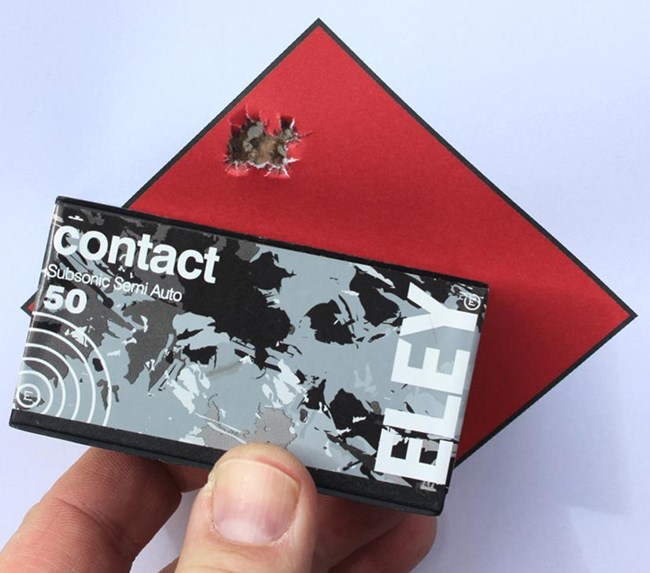 I set out to test the Ruger Precision Rimfire with fairly high expectations and the gun successfully exceeded them. While this rifle is a terrific understudy to the center-fire version, it stands on its own two feet as a top-notch target grade rimfire in its own right. Like the larger version, this model takes a big bite out of the price tag usually associated with this class of rifle. Looking back at the other target grade .22s I've tested, both factory and home built, the prices have ranged from $800 to $1,200. This rifle out shot them with a suggested retail price of $529. This is translating into real world prices much closer to $400, making it an even better value.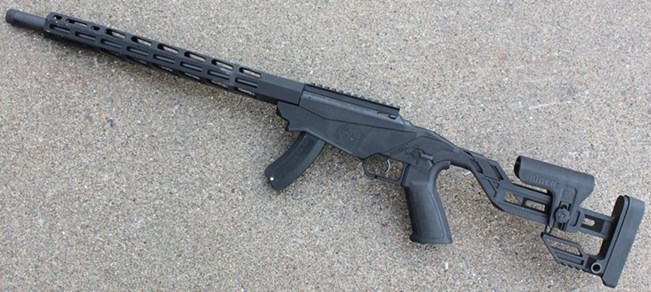 Specifications:
Manufacturer: Sturm, Ruger & Co.
Model: Precision Rimfire (8400)
Action: Bolt Action
Caliber: .22 LR
Receiver: CNC Machined Pre-Hardened 4140 Chrome-Moly Steel
Barrel: 18" Target Cold Hammer-Forged 4140 Steel Alloy, Matte Black Finish
Muzzle Threading: 1/2"-28 TPI with Knurled Thread Protector
Handguard: Magpul Aluminum Free-Float, M-LOK Accessory Slots
Handguard Finish: Hard Coat Anodized, Matte Black
Stock: Adjustable Quick-Fit Precision Rimfire with Removable Recoil Pad
Pistol Grip: Removable Ruger AR-15
Trigger: Ruger Marksman Adjustable, 2.25 to 5.0 lbs
Trigger Pull: 2 lbs. 6 oz. (As Tested)
Sights: None
Optics: Integral Scope Rail
Overall Length: 35" to 38.5"
Length of Pull (LOP): 12" to 15.5"
Weight: 7 lbs. 7 oz. with Empty BX-15 Magazine
Magazine Type: Ruger 10/22 Removable Rotary, Accepts All Sizes
Capacity: 15+1 Rounds
Twist: 1:16" RH
Rifle Grooves: 6
Accessories: One BX-15 Magazine, Trigger Adjustment Tool, Lock, Owner's Manual
MSRP: $529 
Optic: Bushnell AR Optics 2-7x32 mm (AR92732) $173
Scope Mount: Weaver SPR Optics Tactical Rail Mount for 1" and 30 mm Tubes (48377) $90.45