by
posted on October 30, 2014
Support NRA American Rifleman
DONATE
TriStar Sporting Arms is a familiar name for those who enjoy the imported sporting shotguns they provide to the U.S. market. Not long ago, the company decided to expand its catalog by adding a series of CZ-75 pattern semi-auto pistols. To do this, TriStar teamed up with Canik 55, a respected small-arms manufacturer based in Turkey that has become a major supplier for European militaries and law-enforcement agencies. So far, most of the pistols offered by TriStar have been reduced-weight models intended to entice the concealed-carry market. This year they are striving to catch the eye of target shooters and home defenders with the introduction of the all-steel model P-120 pistol.
The P-120 is a full-size, short-recoil-operated, locked-breech double-action/single action 9 mm pistol. The steel frame and slide are treated with a corrosion resistant matte black Cerakote finish. The slide is beveled for easier holstering and features both front and rear cocking serrations. Like other CZ-style pistols, the slide rides on full-length rails situated inside of the frame instead of wrapping over the frame like a 1911 slide. As a result, the slide has a narrower profile.
The metallic 3-dot sight system consists of a pinned front sight and a drift-adjustable dovetail rear sight. The 4.70-inch barrel is cut with traditional six land-and-groove rifling, making it safe to use with lead bullets. The sturdy full-length steel guide rod is paired with a single round-wire recoil spring. For shooters who like to use the trigger guard as a support hand finger rest, the guard of the P-120 has a flat, textured face. The pistol's controls are located on the left side, including the slide stop, a round low-profile magazine release button, and the thumb safety.
The thumb safety swings up into the Safe position and down to fire. It should be noted that the safety can be engaged when the skeletonized hammer is in any of its three positions: hammer down, half-cocked, and fully cocked. Because the P-120 is produced at a NATO-certified facility, this military grade pistol must pass rigorous test standards, including a drop test at 3 feet to ensure the hammer won't strike the firing pin when the safety is engaged. As a result, this pistol can be safely carried in double-action mode with a long and heavy trigger pull somewhere over 12-pounds for the first shot, cocked-and-locked for a much lighter 5-pound 7-ounce trigger pull, or half-cocked for a trigger pull of 10 pounds 1 ounce.
The hand-friendly, full-size grip frame is shaped for a comfortable shooting grip with a beavertail extension and lightly textured black polymer grip panels. For those who want a little extra purchase, the gun ships with a soft synthetic grip-enhancing band around the grip which is fairly easy to move up, move down, or remove if preferred. The grip's backstrap is smooth while the frontstrap has a series of straight-cut serrations to provide improved traction. An accessory rail, milled into the dust cover, will support the installation of a variety of laser sight and light modules.
At a time when some companies are being fairly stingy with accessories, TriStar sends more gear along with this pistol than one might expect for the price. The P-120 arrives in a lockable hard case with two blued steel 17-round Mec-Gar magazines. Both magazines have been fitted with polymer +2 extensions, bumping this pistols capacity up to 19+1 rounds. The case also contains the afore-mentioned grip band as well as a cleaning brush, patch rod, lock and a magazine loader.
So what sets the P-120 apart from its compatriots? The primary difference is the "old school" steel frame that pushes the pistol's weight up to 2 pounds 1 ounces with an unloaded magazine, which is about 11.5 ounces heavier than the alloy-framed models. Packing the pistol with 19 rounds of 9 mm ammo pushes the weight up to just over 3 pounds. In the age of ultra-light 9 mms, why would a shooter want more weight? The primary reason to go with something heavier is to reduce felt recoil. If a pistol is comfortable to shoot, it will promote more frequent practice, resulting in a greater level of proficiency. Increased pistol weight also reduces muzzle rise, which improves follow-up shot accuracy. This makes a heavier pistol ideal for both sporting applications and home-defense situations where every shot counts.
While the P-120 was on hand for testing, one of the new Hornady RAPiD Safes arrived for evaluation. The two products worked together nicely. The Hornady RAPiD stands out in a market flooded with quick-access strong boxes for several reasons. Rather than having to reach into the box and feel around to find the defensive pistol's grip, the gun is firmly sandwiched in a padded pop-up frame that lifts the gun up and out of the box as the lid opens. The frame leaves plenty of room for a light or laser accessory to be attached to the pistol. This pop-up feature can save precious moments that could otherwise be lost by fumbling around or having the gun catch on the interior of the strong box.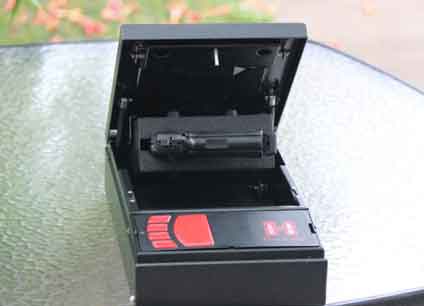 Hornady provides a variety of ways for authorized users to access the RAPiD safe quickly using radio-frequency identification (RFID) technology. The safe arrives with three RFID bracelets, a key fob and a wallet-sized card, any two of which can be programmed to open the safe when they are held near the sensor. The safe can also be accessed via a 4-button key pad or a round-key lock. The unit can be powered by eight AA batteries or the provided plug-in extension cord. Built to exceed the requirements outlined by the ASTM International F2456-04 standards for youth-resistant firearm containers, the Hornady system is rugged, fast and secure.
At the shooting range, the P-120 proved to be a real treat to work with. The slide was smooth and easy to cycle. The trigger was heavy but smooth in double-action mode, while providing a crisp break in single-action mode. All of the controls worked properly. Magazines locked firmly into place when loaded and dropped free when released. The thumb safety was easy to move into the Fire position, but it was stiff when moving it into the Safe position. This is not a game changer by any means, but something to be aware of.
The pistol ran reliably with everything it was fed, ranging from affordable bulk-box ammo to premium defensive hollow points. Although the perception of felt recoil is a fairly subjective matter, it's safe to say that the recoil of the P-120 can best be described as modest, if not mild.
The P-120 produced tight groups during off-hand drills. When it was settled into a bench rest for formal accuracy testing at 25 yards, it demonstrated much better accuracy than one would expect from an affordably priced semi-auto. A production pistol filled with factory ammo is doing its job when I can squeeze the groups down to somewhere around 3 to 3.5 inches. The P-120 yielded groups that were often well under 3 inches, which shows the pistol was outshooting the shooter.
The best single 5-shot group of 2.18 inches was produced using Federal Premium Guard Dog 105-gr. expanding full-metal jacket loads. This round also produced the best group average of 2.33 inches. Having both the full-metal jacket "T" and hollow-point "D" versions of Winchester's new Train & Defend 147-grain 9 mm ammunition on hand, both were fed to the P-120. They produced very similar groups, as advertized, with the 'T' load averaging 2.45 inches and the "D" round averaging 2.56 inches. The ammunition test set was rounded out with the high velocity Liberty Civil Defense 50-grain +P load, averaging 2.73 inches.
With the demand for concealed-carry pistols driving much of what's said about new guns right now, it's important to remember that not every gun owner is looking for the tiniest pistol they can find. Shooting TriStar's new P-120 was a refreshing reminder of why a full-sized all-steel 9 mm pistol like this one is a great investment. The ammo is affordable, it's comfortable to practice with, and the accuracy is top-notch. As of this writing, the real-world prices for this pistol are hovering much closer to the $400 dollar mark than the suggested retail price of $489. With such an attractive price and a capacity of 19+1 rounds, the P-120 is an ideal candidate for those who are looking for a 9mm to take to the range or for home defense.
TriStar P-120 Model: P-120
Distributor: TriStar Sporting Arms
Manufacturer: Canik 55, Turkey
Action: Double Action/Single Action
Caliber: 9 mm
Finish: Matte Black or Satin Chrome Cerakote
Grips: Textured Black Polymer
Sights: Fixed 3-Dot
Barrel Length: 4.70 Inches
Overall Length:  8.16 Inches
Height: 5.00"
Width: 1.35"
Weight: 41.6 ozs.
Capacity: 19+1 Rounds
Rifle Grooves:  6
Accessories: Two Magazines, Magazine Loader, Grip Band, Cleaning Kit, Hard Case, Lock, Owner's Manual
MSRP: $489 (Black), $509 (Chrome)